Big ideas.
Once a week.
Subscribe to our weekly newsletter.
Let's Have an American Christmas!
22 December, 2012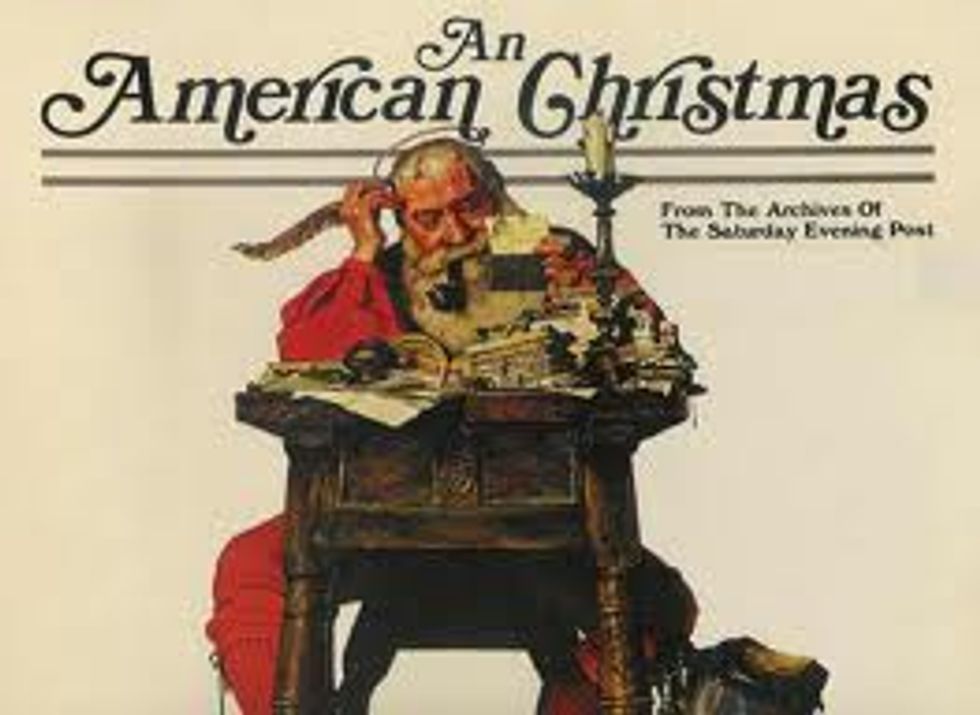 As some more traditionalist and religious conservatives have noted with disgust, that's the advice of Ayn Rand:
---
The best aspect of Christmas is the aspect usually decried by the mystics: the fact that Christmas has been commercialized. The gift-buying . . . stimulates an enormous outpouring of ingenuity in the creation of products devoted to a single purpose: to give men pleasure. And the street decorations put up by department stores and other institutions—the Christmas trees, the winking lights, the glittering colors—provide the city with a spectacular display, which only 'commercial greed' could afford to give us. One would have to be terribly depressed to resist the wonderful gaiety of that spectacle.
In a country like ours, Rand proclaimed, holidays will stop having predominately religious or other-worldly meanings.  Ours is a capitalist Christmas!  It's commercial ingenuity aimed at the rational (and, of course, selfish) goal of giving people pleasure.  Who could remain depressed watching "the wonderful gaiety" of "the spectacular display" of commercial greed?
Well, studies show that Christmas with lots of stuff and without family and God—without being in one sense or more "home for the holidays"—actually gets people down almost more than anything. It's routinely American, after all, to write a story making that obvious point.
We might say, in a beginning of a criticism of Rand's crude reductionism, that she really doesn't explain the pleasure of gift-giving.  Or even that of gift-receiving.
Someone might say, in support of the Rand thesis, that Christmas didn't even become a national holiday until 1870.  And it was around that time that the commercialization of Christmas was pushed insistently by the original huge department stores—beginning with Philadelphia's Wanamaker's.  We see in that wonderfully American and instantly traditional movie A Christmas Story (in which religion plays no role at all) the view that it's the glitter of the department store—and its Santa—that are at the real center of our Christmas longings.
We have to admit that the spectacular display that is the American city at Christmas has been in decline—at least in terms of class—with the fading away of the downtown department store.
We remember, of course, that the original Americans—the Puritans—opposed Christmas for Christian reasons.  It's nothing but a pagan holiday that justifies all sorts of decadent excesses in the name of birth of the son of God.  Anyone who knows a lot about the drunken and often destructive revelry of "the lords of misrule" in late-medieval England know the Puritans had a point.  Unfortunately, every time those Puritans had a point, they tended to push it beyond all reason.
Anyone familiar with the moving celebratory words and music of the English carols knows that Christmas was also quite a properly joyous festival  in honor of that redemptive birth:  "O Come All Ye Faithful," for example.  (Even the Bob Dylan version of "Adeste Fidelis" manages to be joyous.)
Our objections to the excessive commodification of Christmas remains basically Puritanical.  Our secularized Puritans sometimes display a hostility to the very idea of the religious holiday as offensive to our egalitarian identity.  But often the objection is softer and on behalf of a more Christian Christmas.  The evangelicals in my semi-rural county sometimes display signs saying "Christmas is a birthday" in their yards. And the objection to turning "Merry Christmas" into "Happy Holidays" is sometimes to the pointless hyper-commercialization Rand celebrates and Walmart promotes.
Our Puritans were against Christmas because it was un-Christian.  And our founders dissed it because it was un-republican and un-American.  It was a decaying English tradition unfit for our enlightened way of life, our new order of the ages.
The Christmas revival in the South was quicker and very antebellum.  The aristocratic southerners quickly became attuned to the gentle relational pleasure of traditional celebrations. And they lost Mr. Jefferson's hostility to what the Bible actually says about God becoming man by being born of a virgin.
We find another distinctively southern American form of Christmas in the "Christmas spiritual."  Most of these haunting tunes adorned with elegantly simple and profoundly Biblical words were written by slaves and collected after the war.  They were preserved and popularized through African-American churches and groups such as the Fisk Jubilee Singers.
Here is a good list of the top ten Christmas spirituals.  It has two flaws that I'm able to notice.  Where's "Mary Had a Baby"?  And "I Wonder as a Wander" is a white Appalachian Christmas song, which is also a distinctively American but somewhat different genre.
These spirituals typically had double meanings.  They indirectly refer to the coming redemptive act of being liberated from chattel slavery.  But they also, quite authentically, refer to the redemption described in the Bible, the redemption from sin and from our homelessness in this world.  Our African-American poets, at their best, showed us that neither form of "the theology of liberation" should stand alone.
So we might begin with them in developing our American criticism of Rand.
Here is a verse of the Christmas spiritual "Go Tell It on the Mountain":
When I was a seeker
I sought both night and day
I asked the Lord to help me
And he showed me the way
Who can deny that's somehow both the liberation described in Exodus and that described the gospels?  It's the truth—the truth about who we are—that shall set us free. 
The father of all giant sea bugs was recently discovered off the coast of Java.
SJADE 2018
Surprising Science
A new species of isopod with a resemblance to a certain Sith lord was just discovered.
It is the first known giant isopod from the Indian Ocean.
The finding extends the list of giant isopods even further.
Humanity knows surprisingly little about the ocean depths. An often-repeated bit of evidence for this is the fact that humanity has done a better job mapping the surface of Mars than the bottom of the sea. The creatures we find lurking in the watery abyss often surprise even the most dedicated researchers with their unique features and bizarre behavior.

A recent expedition off the coast of Java discovered a new isopod species remarkable for its size and resemblance to Darth Vader.
The ocean depths are home to many creatures that some consider to be unnatural.
Bathynomus raksasa specimen (left) next to a closely related supergiant isopod, B. giganteus (right)
Sidabalok CM, Wong HP-S, Ng PKL (ZooKeys 2020)
According to LiveScience, the Bathynomus genus is sometimes referred to as "Darth Vader of the Seas" because the crustaceans are shaped like the character's menacing helmet. Deemed Bathynomus raksasa ("raksasa" meaning "giant" in Indonesian), this cockroach-like creature can grow to over 30 cm (12 inches). It is one of several known species of giant ocean-going isopod. Like the other members of its order, it has compound eyes, seven body segments, two pairs of antennae, and four sets of jaws.
The incredible size of this species is likely a result of deep-sea gigantism. This is the tendency for creatures that inhabit deeper parts of the ocean to be much larger than closely related species that live in shallower waters. B. raksasa appears to make its home between 950 and 1,260 meters (3,117 and 4,134 ft) below sea level.
Perhaps fittingly for a creature so creepy looking, that is the lower sections of what is commonly called The Twilight Zone, named for the lack of light available at such depths.
It isn't the only giant isopod, far from it. Other species of ocean-going isopod can get up to 50 cm long (20 inches) and also look like they came out of a nightmare. These are the unusual ones, though. Most of the time, isopods stay at much more reasonable sizes.
The discovery of this new species was published in ZooKeys. The remainder of the specimens from the trip are still being analyzed. The full report will be published shortly.
What benefit does this find have for science? And is it as evil as it looks?
The discovery of a new species is always a cause for celebration in zoology. That this is the discovery of an animal that inhabits the deeps of the sea, one of the least explored areas humans can get to, is the icing on the cake.
Helen Wong of the National University of Singapore, who co-authored the species' description, explained the importance of the discovery:
"The identification of this new species is an indication of just how little we know about the oceans. There is certainly more for us to explore in terms of biodiversity in the deep sea of our region."
The animal's visual similarity to Darth Vader is a result of its compound eyes and the curious shape of its head. However, given the location of its discovery, the bottom of the remote seas, it may be associated with all manner of horrifically evil Elder Things and Great Old Ones.
As a form of civil disobedience, hacking can help make the world a better place.
Politics & Current Affairs
Hackers' motivations range from altruistic to nihilistic.
Altruistic hackers expose injustices, while nihilistic ones make society more dangerous.
The line between ethical and unethical hacking is not always clear.
The following is an excerpt from Coding Democracy by Maureen Webb. Reprinted with Permission from The MIT PRESS. Copyright 2020.
As people begin to hack more concertedly at the structures of the status quo, the reactions of those who benefit from things as they are will become more fierce and more punitive, at least until the "hackers" succeed in shifting the relevant power relationships. We know this from the history of social movements. At the dawning of the digital age, farmers who hack tractors will be ruthlessly punished.
Somewhere on the continuum of altruism and transgression is the kind of hacking that might lead the world toward more accountable government and informed citizenries.
Of course, it must be acknowledged that hackers are engaged in a whole range of acts, from the altruistic to the plainly nihilistic and dangerous. On the altruistic side of the continuum, they are creating free software (GNU/Linux and other software under GPL licenses), Creative Commons (Creative Commons licensing), and Open Access (designing digital interfaces to make public records and publicly funded research accessible). They are hacking surveillance and monopoly power (creating privacy tools, alternative services, cooperative platforms, and a new decentralized internet) and electoral politics and decision making (Cinque Stelle, En Comú, Ethelo, Liquid Democracy, and PartidoX). They have engaged in stunts to expose the technical flaws in voting, communications, and security systems widely used by, or imposed on, the public (by playing chess with Germany's election voting machines, hacking the German Bildschirmtext system, and stealing ministers' biometric identifiers). They have punished shady contractors like HackingTeam, HBGary, and Stratfor, spilling their corporate dealings and personal information across the internet. They have exposed the corruption of oligarchs, politicians, and hegemons (through the Panama Papers, WikiLeaks, and Xnet).
More notoriously, they have coordinated distributed denial of service (DDoS) attacks to retaliate against corporate and government conduct (such as the Anonymous DDoS that protested PayPal's boycott of WikiLeaks; the ingenious use of the Internet of Things to DDoS Amazon; and the shutdown of US and Canadian government IT systems). They have hacked into databases (Manning and Snowden), leaked state secrets (Manning, Snowden, and WikiLeaks), and, in doing so, betrayed their own governments (Manning betrayed US war secrets, and Snowden betrayed US security secrets). They have interfered with elections (such as the hack and leak of the Democratic National Committee in the middle of the 2016 US election) and sown disinformation (the Russian hacking of US social media). They have interfered with property rights in order to assert user ownership, self-determination, and free software's four freedoms (farmers have hacked DRM code to repair their tractors, and Geohot unlocked the iPhone and hacked the Samsung phone to allow users administrator-level access to their devices) and to assert open access to publicly funded research. They have created black markets to evade state justice systems (such as Silk Road on the dark web) and cryptocurrencies that could undermine state-regulated monetary systems. They have meddled in geopolitics as free agents (Anonymous and the Arab Spring, and Julian Assange and his conduct with the Trump campaign). They have mucked around in and could potentially impair or shut down critical infrastructure. (The notorious "WANK worm" attack on NASA is an early, notorious, example, but hackers could potentially target banking systems, stock exchanges, electrical grids, telecommunications systems, air traffic control, chemical plants, nuclear plants, and even military "doomsday machines.")
It is impossible to calculate where these acts nudge us as a species. Some uses of hacking — such as the malicious, nihilistic hacking that harms critical infrastructure and threatens lives, and the hacking in cyberwarfare that injures the critical interests of other countries and undermines their democratic processes — are abhorrent and cannot be defended. The unfolding digital era looks very grim when one considers the threat this kind of hacking poses to peace and democracy combined with the dystopian direction states and corporations are going with digital tech.
But somewhere on the continuum of altruism and transgression is the kind of hacking that might lead the world toward more accountable government and informed citizenries, less corrupt and unfair economic systems, wiser public uses of digital tech, more self-determination for the ordinary user, fairer commercial contracts, better conditions for innovation and creativity, more decentralized and robust infrastructure systems, and an abolition of doomsday machines. In short, some hacking might move us toward a digital world in which there are more rather than fewer democratic, humanist outcomes.
It is not clear where the line between "good" and "bad" hacking should be drawn or how to regulate it wisely in every instance. Citizens should inform themselves and begin to consider this line-drawing seriously, however, since we will be grappling intensely with it for the next century or more. My personal view is that digital tech should not be used for everything. I think we should go back to simpler ways of running electrical grids and elections, for example. Systems are more resilient when they are not wholly digital and when they are smaller, more local, and modular. Consumers should have analogue options for things like fridges and cars, and design priorities for household goods should be durability and clean energy use, not interconnectedness.
In setting legal standards, prohibiting something and enforcing the prohibition are two different things. Sometimes a desired social norm can be struck by prohibiting a thing and not enforcing it strenuously. And the law can also recognize the constructive role that civil disobedience plays in the evolution of social norms, through prosecutorial discretion and judicial discretion in sentencing.
Wau Holland told the young hackers at the Paradiso that the Chaos Computer Club was "not just a bunch of techno freaks: we've been thinking about the social consequences of technology from the very beginning." Societies themselves, however, are generally just beginning to grapple with the social consequences of digital technology and with how to characterize the various acts performed by hackers, morally and legally. Each act raises a set of complex questions. Societies' responses will be part of the dialectic that determines where we end up. Should these various hacker acts be treated as incidents of public service, free speech, free association, legitimate protest, civil disobedience, and harmless pranksterism? Or should they be treated as trespass, tortious interference, intellectual property infringement, theft, fraud, conspiracy, extortion, espionage, terrorism, and treason? I invite you to think about this as you consider how hacking has been treated by societies to date.
It could lead to a massive uptake in those previously hesitant.
Ian Forsyth/Getty Images
Coronavirus
A financial shot in the arm could be just what is needed for Americans unsure about vaccination.
On May 12, 2021, the Republican governor of Ohio, Mike DeWine, announced five US$1 million lottery prizes for those who are vaccinated. Meanwhile, in West Virginia, younger citizens are being enticed to get the shot with $100 savings bonds, and a state university in North Carolina is offering students who get vaccinated a chance to win the cost of housing. Many companies are paying vaccinated employees more money through bonuses or extra paid time off.
The push to get as many people vaccinated as possible is laudable and may well work. But leading behavioral scientists are worried that paying people to vaccinate could backfire if it makes people more skeptical of the shots. And ethicists have argued that it would be wrong, citing concerns over fairness and equity.
As a behavioral scientist and ethicist, I draw on an extensive body of research to help answer these questions. It suggests that incentives might work to save lives and, if properly structured, need not trample individual rights or be a huge expense for the government.
In the United States, incentives and disincentives are already used in health care. The U.S. system of privatized health insurance exposes patients to substantial deductibles and copays, not only to cover costs but to cut down on what could be deemed as wasteful health care – the thinking being that putting a cost to an emergency room visit, for example, might deter those who aren't really in need of that level of care.
In practice, this means patients are encouraged to decline both emergency and more routine care, since both are exposed to costs.
Paying for health behaviors
In the case of COVID-19, the vaccines are already free to consumers, which has undoubtedly encouraged people to be immunized. Studies have shown that reducing out-of-pocket costs can improve adherence to life-sustaining drugs, whether to prevent heart attacks or to manage diabetes.
A payment to take a drug goes one step further than simply reducing costs. And if properly designed, such incentives can change health behaviors.
Payments and cash prizes have been shown effective in encouraging blood donations, adherence to blood thinner drugs, blood glucose monitoring, physical activity and smoking cessation.
And for vaccination in particular, payments have been successful for human papillomavirus (HPV) in England; hepatitis B in the United States and the United Kingdom; and tetanus toxoid in Nigeria. The effects can be substantial: For example, for one group in the HPV study, the vaccination rate more than doubled with an incentive.
For COVID-19, there are no field studies to date, but several survey experiments, including one my group conducted with 1,000 Americans, find that incentives are likely to work. In our case, the incentive of a tax break was enough to encourage those hesitant about vaccinations to say they would take the shot.
Coercion concerns
Even if incentives will save lives by increasing vaccinations, there are still other ethical considerations. A key concern is protecting the autonomous choices of people to decide what they put into their own bodies. This may be especially important for the COVID-19 vaccines, which – although authorized as likely safe and effective – are not yet fully approved by the Food and Drug Administration.
But already people are often paid to participate in clinical trials for drugs that have not yet been approved by the FDA. Ethicists have worried that such payments may be "coercive" if the money is so attractive as to override a person's free choices or make them worse off overall.
One can quibble about whether the term "coercion" applies to offers of payment. But even if offers were coercive, payments may still be reasonable to save lives in a pandemic if they succeed in greater levels of immunization.
During the smallpox epidemic nearly 100 years ago, the U.S. Supreme Court upheld the power of states to mandate vaccines. Compared with mandating vaccination, the incentives to encourage vaccines seem innocuous.
Exploitation and paternalism
Yet some still worry. Bioethicists Emily Largent and Franklin Miller wrote in a recent paper that a payment might "unfairly" exploit "those U.S. residents who have lost jobs … or slipped into poverty during the pandemic," which could leave them feeling as if they have "no choice but to be vaccinated for cash." Others have noted that vaccine hesitancy is higher in nonwhite communities, where incomes tend to be lower, as is trust in the medical establishment.
Ethicists and policymakers should indeed focus on the poorest members of our community and seek to minimize racial disparities in both health outcomes and wealth. But there is no evidence that offering money is actually detrimental to such populations. Receiving money is a good thing. To suggest that we have to protect adults by denying them offers of money may come across as paternalism.
Some ethicists also argue that the money is better spent elsewhere to increase participation. States could spend the money making sure vaccines are convenient to everyone, for example, by bringing them to community events and churches. Money could also support various efforts to fight misinformation and communicate the importance of getting the shot.
The cost of incentives
Financial incentives could be expensive as a policy solution. As in Ohio, lottery drawings are one way to cap the overall cost of incentives while giving millions of people an additional reason to get their shot.
The tax code could also allow for a no-cost incentive for vaccination. Tax deductions and credits are often designed to encourage behaviors, such as savings or home ownership. Some states now have big budget surpluses and are considering tax relief measures. If a state announced now that such payments would be conditional on being vaccinated, then each person declining the shot would save the government money.
Ultimately, a well-designed vaccination incentive can help save lives and need not keep the ethicists up at night.

Christopher Robertson, Professor of Law, Boston University
This article is republished from The Conversation under a Creative Commons license. Read the original article.
Scroll down to load more…