Winston Churchill Believed We Weren't Alone in the Universe, Newly Found Essay Reveals
Churchill displays a surprising amount of knowledge on a question that we are still wrestling with.
16 February, 2017
Today, Winston Churchill is seen as a cigar chomping, bulldog-faced leader from generations past, adorning offices and college dorms, where he displays a slightly jovial or else dead calm expression, and often, under his visage, stands a quote which inspires and heartens toward perseverance. Churchill was the rallying voice of the British people during some of the darkest days of World War II.
---
He was also among the first to see Germany as a growing threat and helped modernize and prepare Britain for the oncoming fight. His speeches during the war helped soothe and strengthen the resolve of the British people. He also coined the phrase "iron curtain" in a speech a year after the war, regarding the Soviet Union and how it was beginning to control an enormous swath of Eastern Europe.
As one of history's foremost political and military leaders, Churchill is today looked upon with respect and admiration. What he is not well known for are his ruminations regarding science. According to a newly unearthed essay, the statesman contemplated our presence in the universe, and whether or not we are the only form of intelligent life.
Churchill was in fact a prolific writer. He'd been a military reporter and penned several books. But what's less well documented is that Churchill also wrote on topics as diverse as nuclear fission, cells, and evolution, with articles published throughout the 1920s and 30s. Some scholars believe that this newly discovered piece may have been inspired by the 1938 radio broadcast of The War of The Worlds by Orson Welles, which resulted in a "Mars fever."
Churchill kept close ties with scientists during and after the war, and was the first prime minister to bring on a science adviser. He spurred an interest in science in the country, supported the erecting of labs and telescopes, and even founded Churchill College, an institution much like MIT which has since turned out 32 Nobel Prize winners. During the war, he promoted the use of radar and supported the country's nuclear program.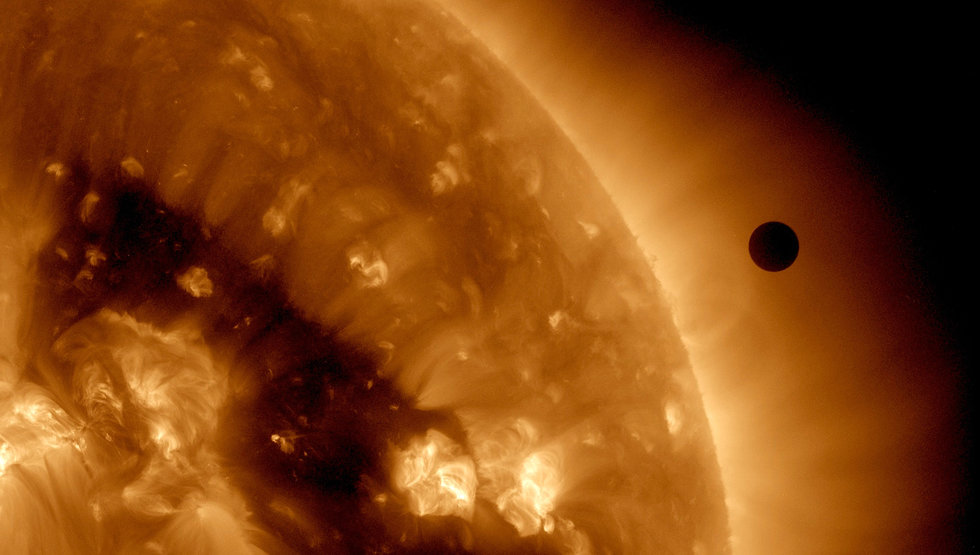 Churchill considered the Goldilocks Zone, and other astronomical principles in his argument.  
Still, it was a great shock when this newly discovered document entitled, "Are We Alone in the Universe?" was unearthed. The 11-page article was first written in 1939 and had been edited lightly for publication in the 1950s. Somehow, it had been forgotten. Then in the 1980s, a copy was given to the National Churchill Museum in Fulton, Missouri. There it remained until the museum's newest director, Timothy Riley, came across it in 2016.
After finding out it hadn't been published, he passed it on to the journal Nature. Soon, two other copies were found in UK archives. The journal didn't publish the article in its entirety.
Astrophysicist Dr. Mario Livio, who received the piece from Riley, penned the version in Nature. He told the BBC that copyright issues, for the time being, made its full publication impossible. But the museum is working to see that it will eventually be released. Livio gave insights into the famous leader's thinking, peppering his piece with quotes from the original text. Using the "Copernican Principle," Churchill argues that the vastness of the universe and the multiplicity of planets leads us to believe that we are not alone.
"The sun is merely one star in our galaxy, which contains several thousand millions of others" Churchill writes. From there, he presumes that there are probably other forms of "comparatively highly-organised life." Next, he concentrates on life's need for water. Though other liquids may support it, "nothing in our present knowledge entitles us to make such an assumption."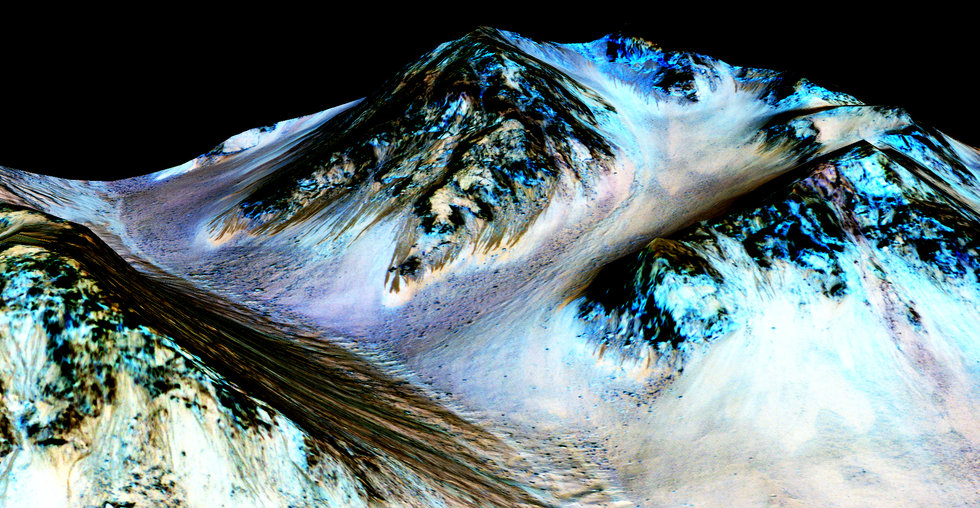 Water on Mars. Unfortunately, nothing lingers there now. But life may have inhabited the red planet in the past.
We are just beginning to learn that water is abundant in the universe, and can even be found on asteroids and on the moon. Next, Churchill concentrates on areas in solar systems which are in what we'd call today the "Goldilocks" zone, where a planet is far enough from a star as not to be too hot, but close enough so as not to be too cold. Having the right atmosphere and gravity to trap gases are important too, which Churchill considered.
He then states that Mars and Venus are our only neighbors who could harbor life. Venus's atmosphere is poisonous. But some studies suggest that it may have, at one time, been habitable. Today, astrobiologists consider Saturn's moon Titan or Jupiter's Europa as possible life-containing bodies.
Though Churchill says that our sun may be unique, he also states, "I am not sufficiently conceited to think that my sun is the only one with a family of planets." Churchill's words were extremely forward thinking, as the discovery of exoplanets only began two decades ago. He also foresaw the space program. "One day, possibly even in the not very distant future, it may be possible to travel to the Moon, or even to Venus and Mars." But whether we could cross the great distances to see if nearby exoplanets host life, Churchill was in doubt.
The then-prime-minister ends his essay by writing, "with hundreds of thousands of nebulae, each containing thousands of millions of suns, the odds are enormous that there must be immense numbers which possess planets whose circumstances would not render life impossible."
Then he says, "I, for one, am not so immensely impressed by the success we are making of our civilization here that I am prepared to think we are the only spot in this immense universe which contains living, thinking creatures, or that we are the highest type of mental and physical development which has ever appeared in the vast compass of space and time."
To learn more about this newly unearthed essay, click here: 
Swipe right to make the connections that could change your career.
Getty Images
Sponsored
Swipe right. Match. Meet over coffee or set up a call.
No, we aren't talking about Tinder. Introducing Shapr, a free app that helps people with synergistic professional goals and skill sets easily meet and collaborate.
In his final years, Martin Luther King, Jr. become increasingly focused on the problem of poverty in America.
(Photo by J. Wilds/Keystone/Getty Images)
Politics & Current Affairs
Despite being widely known for his leadership role in the American civil rights movement, Martin Luther King, Jr. also played a central role in organizing the Poor People's Campaign of 1968.
The campaign was one of the first to demand a guaranteed income for all poor families in America.
Today, the idea of a universal basic income is increasingly popular, and King's arguments in support of the policy still make a good case some 50 years later.
She met mere mortals with and without the Vatican's approval.
Strange Maps
For centuries, the Virgin Mary has appeared to the faithful, requesting devotion and promising comfort.
These maps show the geography of Marian apparitions – the handful approved by the Vatican, and many others.
Historically, Europe is where most apparitions have been reported, but the U.S. is pretty fertile ground too.
For Damien Echols, tattoos are part of his existential armor.
Videos
In prison Damien Echols was known by his number SK931, not his name, and had his hair sheared off. Stripped of his identity, the only thing he had left was his skin.
This is why he began tattooing things that are meaningful to him — to carry a "suit of armor" made up the images of the people and objects that have significance to him, from his friends to talismans.
Echols believes that all places are imbued with divinity: "If you interact with New York City as if there's an intelligence behind... then it will behave towards you the same way."
Big think's weekly newsletter.
Get smarter faster from the comfort of your inbox.
See our newsletter privacy policy
here
Most Popular
Most Recent
Big think's weekly newsletter.
Get smarter faster from the comfort of your inbox.
See our newsletter privacy policy
here
© Copyright 2007-2018 & BIG THINK, BIG THINK EDGE,
SMARTER FASTER trademarks owned by The Big Think, Inc. All rights reserved.