Why is it you can sense when someone's staring at you?
A complex biological system must work in concert for gaze detection to occur.
20 August, 2017
Say you're engrossed in a task, scrolling through your phone or reading a book. Suddenly that creepy, prickly feeling grabs hold of you. Someone's staring. You turn to find out who it is. Be they friend or foe, the feeling itself seems like an eerie sort of 6th sense. It's also a necessary part of being human, an adaptation that kept our ancestors alive. So how is it that we can even do this? It's actually an important feature of our sight, our brain, and certain social aspects of our species.
---
The biological phenomenon is known as "gaze detection" or "gaze perception." Neurological studies have found that the brain cells that initiate this response are very precise. If someone turns their gaze off of you by turning just a few degrees to their left or right, that eerie feeling quickly fades. Scientists suggest that a complex neural network is behind gaze detection.
So far, the neural network responsible in humans remain unidentified. A study with macaque monkeys however, discovered the neurological circuits responsible for their gaze detection, even getting down to the specific cells involved.
We do know that ten distinct brain regions are involved with human sight, and there may be more. The visual cortex is the main contributor. This is a large area at the back of the brain, which supports many important aspects of sight. But other areas, such as the amygdala, which registers threats, must also be involved with gaze detection somehow.
Humans are sensitive to the gaze of others. When another person changes the direction of their attention, we automatically follow their gaze. It's more than just being predators, who as a group are naturally sensitive and drawn toward changes in the environment. It also has to do with the cooperative and social nature of humans and how we've depended on one another throughout our history and development.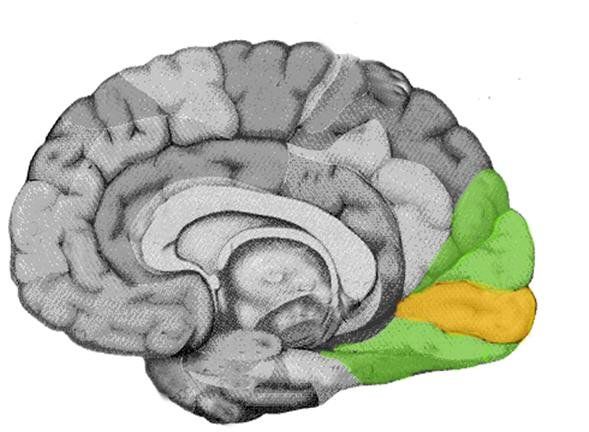 The visual cortex. By Coxer, Wikimedia Commons.
Another reason, if you look at human eyes in contrast to other animals, the sclera or white part surrounding the pupil is far larger. In most other species, the pupil takes up most of the eye. This is to obscure their eyes from predators. But for humans, a larger sclera allows us to notice the direction of each other's gaze quickly.
Of course, we don't have to be looking directly at someone to tell whether or not they're staring at us. We can also evaluate the direction of their attention through our peripheral vision. But this method is much less accurate. A pair of studies finds that we can only accurately detect whether or not someone is staring at us within four degrees of our "central fixation point."
It isn't always about seeing another's eyes. With our peripheral vision, we consider the position of their head. And other clues such as how their body is positioned lend to whether we think they're looking at us or not. What if we're not sure? Just to be safe, the brain errs on the side of caution. It assumes we're being stared at, if there's any doubt.
So what about when we feel someone staring from behind? According to a 2013 study published in the journal Current Biology, that's just a fail-safe. Humans are hardwired to think that someone is starting at us when we can't see them, even if we have no evidence to suggest so.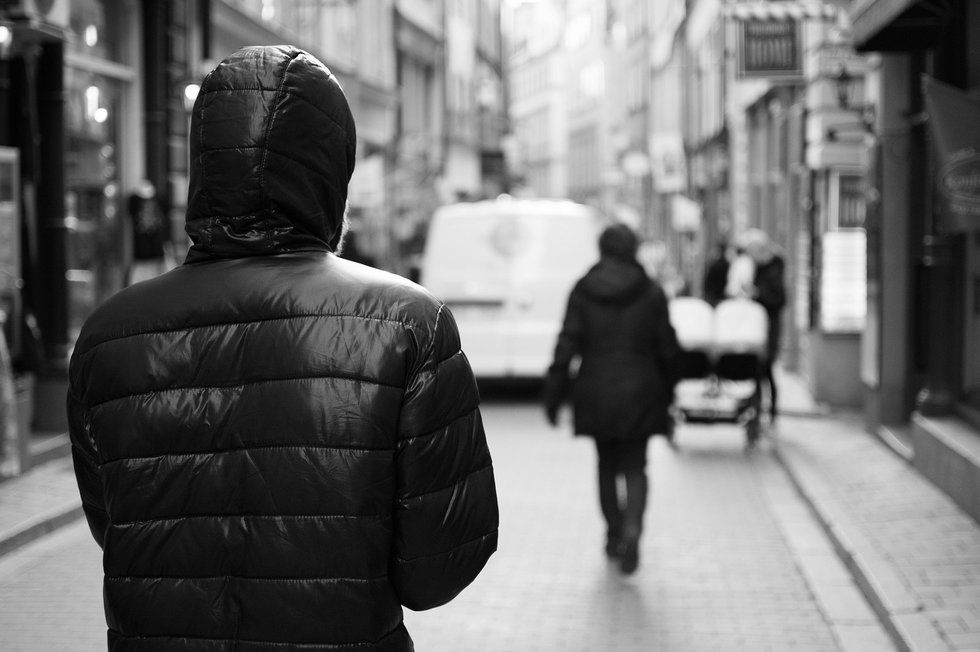 We're hardwired to assume someone is staring from behind. Getty Images.
Psychology Professor Colin Clifford of the University of Sydney's Vision Centre, found that when people can't tell where a person is looking, they automatically assume they're looking at them. "A direct gaze can signal dominance or a threat, and if you perceive something as a threat, you would not want to miss it," he said. "So simply assuming another person is looking at you may be the safest strategy."
Looking at someone is also a social cue. It usually means you want to talk to them. Since it's our natural inclination to assume someone behind us is staring, the feeling we get may initiate a self-fulfilling prophecy. When we turn around, our action calls up the other person's gaze. But when they meet our eyes, they give us the impression that they've been staring the whole time.
Another answer could be confirmation bias. We remember only the times we turned around and someone was staring (or appeared to be), and not the times they weren't. And that weird, tingly sensation? It's psychological and emanates from the thought of being stared at, not the physical act itself.
To learn more, click here:
Former president of the ACLU Nadine Strossen discusses whether our society should always defend free speech rights, even for groups who would oppose such rights.
Sponsored by Charles Koch Foundation
Former ACLU president Nadine Strossen understands that protecting free speech rights isn't always a straightforward proposition.
In this video, Strossen describes the reasoning behind why the ACLU defended the free speech rights of neo-Nazis in Skokie, Illinois, 1977.
The opinions expressed in this video do not necessarily reflect the views of the Charles Koch Foundation, which encourages the expression of diverse viewpoints within a culture of civil discourse and mutual respect.
Tap into the "Rest and Digest" System to Achieve Your Goals
Big Think Edge
In the fast-paced workplaces and productivity-focused societies many of us inhabit today, it is easy to burnout.
Emma Seppälä, a Stanford researcher on human happiness, recommends tapping into the parasympathetic nervous system instead—"rest and digest"rather than "fight or flight."
Aiming for energy management rather than time management will give you the resilience you need to excel at the things that really matter in your life and career, rather than living "mostly off" by attempting to seem "always on."
Steve Wozniak doesn't know if his phone is listening, but he's minimizing risks.
Photo by Bryan Steffy/Getty Images
Technology & Innovation
Steve Wozniak didn't hold back his feelings about the social media giant when stopped at an airport.
The Apple co-founder admitted that devices spying on his conversations is worrisome.
Wozniak deleted his Facebook account last year, recommending that "most people" should do the same.
When it comes to sniffing out whether a source is credible or not, even journalists can sometimes take the wrong approach.
Sponsored by Charles Koch Foundation
We all think that we're competent consumers of news media, but the research shows that even journalists struggle with identifying fact from fiction.
When judging whether a piece of media is true or not, most of us focus too much on the source itself. Knowledge has a context, and it's important to look at that context when trying to validate a source.
The opinions expressed in this video do not necessarily reflect the views of the Charles Koch Foundation, which encourages the expression of diverse viewpoints within a culture of civil discourse and mutual respect.