CRISPR for Human Embryos? Diseases, Yes – Designer Babies, No
Creating a race of super soldiers is off the table, too.
17 February, 2017
CRISPR-Cas9 is a precise method of gene editing. It can snip a gene out of the DNA sequence –say, a harmful mutation – then add a healthy gene to replace it. This new but exciting technique is being used in clinical trials to treat things like hereditary cancer. It could also be a godsend for certain genetic diseases, such as Huntington's or Tay-Sachs disease, among others. Experimental studies with cancer and blindness are slated to reap benefits this year.
---
Despite the great promise this new technique affords, there is controversy surrounding applying it to human embryos. One such concern is creating designer babies. Another is accidentally creating a hereditary disease and allowing it to enter the human genome. This could be passed down from parent to child, dooming future generations. But some fear that stifling regulation suppresses innovation and the march of progress. So, of course, there needs to be balance between regulation and freedom of exploration.
The National Academy of Sciences (NAS), aware of the growing debate, put together a committee of experts last year to consider the ethical quandaries the technique presents when applied to human embryos. It's just recently released its report, a full 261 pages, which suggests allowing CRISPR to be performed on embryos in certain instances, and barring others. The committee concluded that cures for serious diseases and disabilities should be allowed, especially when conventional medicine offers no "reasonable alternative." But the advisory panel won't abide designer babies or the creation of super soldiers.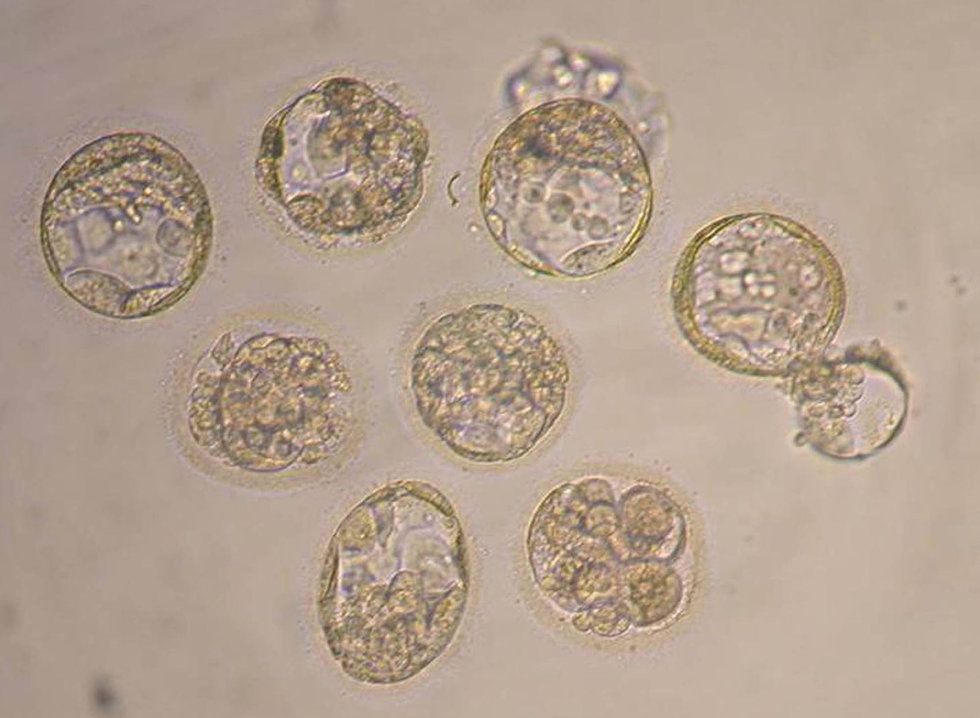 The committee suggests opening the door a crack, and allowing gene editing on embryos for research on certain diseases.
Richard Hynes co-chaired the committee. He wrote that since the science is flying by at an outrageous clip, we should keep a tight grasp on it for now. "You want to have a good control of what is being done," he wrote. Chinese scientists have already modified the DNA of five embryos as of 2015, using this technique. Sweden is also conducting advanced experiments, fueling the fear that the US could fall behind.
Many hailed the NAS committee's move. This framework should allow for more cancer studies and those on genetic diseases, like retinal degeneration, which can lead to blindness. But some say, the guidelines are still too stringent. There are a lot of genetic diseases such as muscular dystrophy, sickle cell anemia, or even Parkinson's, which may benefit from CRISPR experiments. But the panel fears allowing a technique whose outcome isn't entirely known.
University of Wisconsin ethicist Alta Charo was a co-chair of the advisory group. She said that although off-label uses, or those which a drug wasn't intended for, are tolerated with pharmaceuticals commonly, gene editing of embryos would not allow such a practice. What's more, a social consensus is needed before the gene editing of embryos becomes common practice. "It is essential for public discussions to precede any decisions about whether or how to pursue clinical trials of such applications," said Charo. "And we need to have them now."
Some fear that this technique could someday be used to add muscle tissue to a person's body to make them stronger or faster, or neural manipulation will be performed to reap greater intelligence. Gene editing may even allow for certain anti-aging features to become available. This last one might be allowed as a sort of preventative medicine.
With these guidelines, Charo and colleagues were clear: you can use gene editing to undo illness but not enhance the human body. Some geneticists find the prospect of genetic enhancement "ethically inviolable." Even so, the technique is not able to perform such feats, yet. "Genome editing to enhance traits or abilities beyond ordinary health raises concerns about whether the benefits can outweigh the risks, and about fairness if available only to some people," Charo said.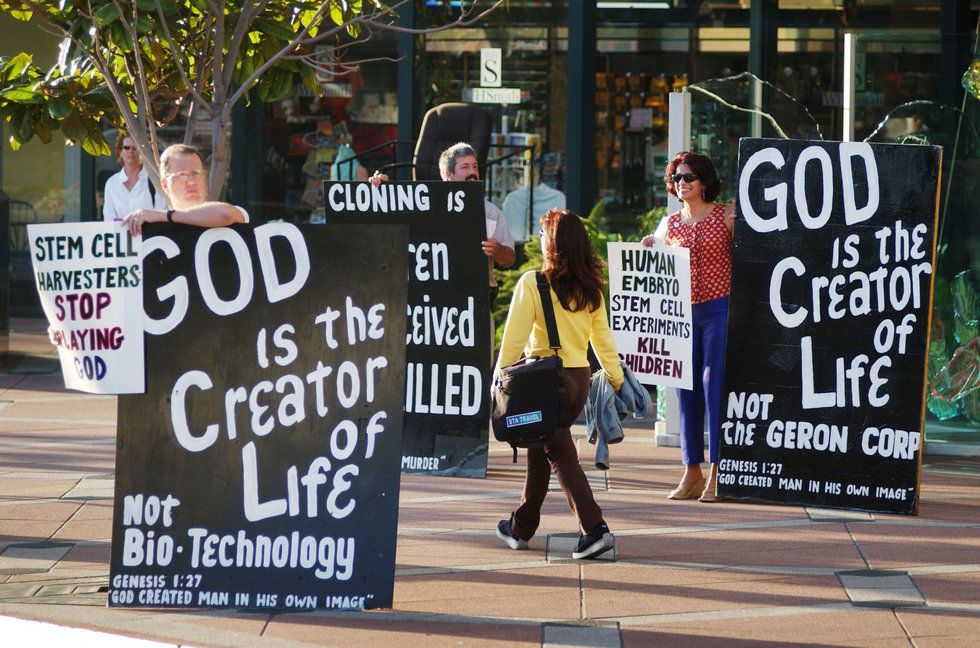 This research could create a backlash. Committee members point out the need for a societal consensus on the gene editing of embryos, before it becomes commonplace. 
Should we continue to embrace individuality, or are we destined to edit out everything that makes us unique, creating a race of beautiful, bland, healthy geniuses, and in the end, losing heterogeneity? With it could go innovation, novelty, uniqueness, disruption, and creativity. After all, it is usually the mavericks, the marginalized, and the outliers that revolutionize society. Or would a startling divide be born, between those who could afford gene editing and those who couldn't?
The philosopher Alan Watts once said that if we reached the point where we could design people, we should make as diverse a group of possible, so to have enormous flexibility. For who knows what kinds of people will best populate the late 21st century and beyond.
These guidelines posit a tight way of allowing the exploration of CRISPR for use in the human genome. Currently, the FDA bars the germline engineering, or gene editing, of human offspring. But the guidelines are meant as a crack of light, showing the way, but also a way of beginning the conversation of how we should proceed.
To learn more about the issues surrounding gene editing, click here: 
Big Think
Sponsored by Lumina Foundation
Upvote/downvote each of the videos below!

As you vote, keep in mind that we are looking for a winner with the most engaging social venture pitch - an idea you would want to invest in.
Lumina Foundation and Big Think have partnered to bring this entrepreneurial competition to life, and we hope you'll participate! We have narrowed down the competition to four finalists and will be announcing an audience's choice award and a judges' choice award in May.
The creator of the winning video — chosen by Big Think's audience, the Lumina Foundation, and an independent panel of experts (bios below) — will be flown to New York for a taping in the Big Think studio as a way to further promote their vision for a new, disruptive idea in post-secondary education.
Thank you to all of the contestants who spent time submitting applications, and best of luck to our final four competitors.
Finalist: Greater Commons - Todd McLeod
Greater Commons, founded by Todd McLeod and Andrew Cull, is an organization that helps people live happier, more successful and fulfilling lives through agile learning. The current education system is inefficient and exclusionary, in which many students who end up earning a degree, if at all, enter a career not related to their field of study. Greater Commons solves this problem and gap in post-high school secondary education in a variety of ways. Passionately and diligently, Great Commons helps others obtain skills, knowledge, wisdom, motivation, and inspiration so that they may live better lives.
Finalist: PeerFoward - Keith Frome
PeerForward is an organization dedicated to increasing the education and career success rates of students in low-income schools and communities by mobilizing the power of positive peer influence. PeerForward works with partner schools to select influential students as a part of a team, systemizing the "peer effect." Research in the fields of sociology of schools, social-emotional learning, adult-youth partnerships, and civic education demonstrates that students can have a positive effect on the academic outcomes of their peers. PeerForward is unique through its systemic solutions to post-secondary education.
Finalist: Cogniss - Leon Young
Cogniss combines technology and best practice knowledge to enable anyone to innovate and share solutions that advance lifelong learning. Cogniss is the only platform to integrate neuroscience, through which it solves the problem of access by providing a low-code platform that enables both developers and non-developers to build sophisticated education apps fast, and at a much lower cost. It addresses the uneven quality of edtech solutions by embedding research-based learning design into its software. App creators can choose from a rich set of artificial intelligence, game, social and data analytics, and gamification to build their perfect customized solution.
Finalist: Practera - Nikki James
Practera's mission is to create a world where everyone can learn through experience. Today's workplaces are increasingly dynamic and diverse, however, costly and time-consuming experiential learning is not always able to offer the right opportunities at scale. Many students graduate without developing the essential skills for their chosen career. Practera's team of educators and technologists see this problem as an opportunity to transform the educational experience landscape, through a CPL pedagogical framework and opportunities to apply students' strengths through active feedback.
Thank you to our judges!
Our expert judges are Lorna Davis, Dan Rosensweig, and Stuart Yasgur.
Lorna Davis is the Senior Advisor to Danone CEO and is a Global Ambassador for the B Corp movement. Lorna has now joined B-Lab, the non-for-profit that supports the B Corporation movement on an assignment to support the journey of large multi nationals on the path to using business as a force of good.
Dan Rosensweig joined Chegg in 2010 with a vision for transforming the popular textbook rental service into a leading provider of digital learning services for high school and college students. As Chairman and CEO of Chegg, Dan commits the company to fulfilling its mission of putting students first and helping them save time, save money and get smarter.

Stuart Yasgur leads Ashoka's Social Financial Services globally. At Ashoka, Stuart works with others to initiate efforts that have mobilized more than $500 million in funding for social entrepreneurs, engaged the G20 through the Toronto, Seoul and Los Cabos summits and helped form partnerships with leading financial institutions and corporations.
Again, thank you to our incredible expert judges.
Upstreamism advocate Rishi Manchanda calls us to understand health not as a "personal responsibility" but a "common good."
Sponsored by Northwell Health
Upstreamism tasks health care professionals to combat unhealthy social and cultural influences that exist outside — or upstream — of medical facilities.
Patients from low-income neighborhoods are most at risk of negative health impacts.
Thankfully, health care professionals are not alone. Upstreamism is increasingly part of our cultural consciousness.
The Bajau people's nomadic lifestyle has given them remarkable adaptions, enabling them to stay underwater for unbelievable periods of time. Their lifestyle, however, is quickly disappearing.
Wikimedia Commons
Culture & Religion
The Bajau people travel in small flotillas throughout the Phillipines, Malaysia, and Indonesia, hunting fish underwater for food.
Over the years, practicing this lifestyle has given the Bajau unique adaptations to swimming underwater. Many find it straightforward to dive up to 13 minutes 200 feet below the surface of the ocean.
Unfortunately, many disparate factors are erasing the traditional Bajau way of life.
Big think's weekly newsletter.
Get smarter faster from the comfort of your inbox.
See our newsletter privacy policy
here
Most Popular
Most Recent
Big think's weekly newsletter.
Get smarter faster from the comfort of your inbox.
See our newsletter privacy policy
here
© Copyright 2007-2019 & BIG THINK, BIG THINK EDGE,
SMARTER FASTER trademarks owned by The Big Think, Inc. All rights reserved.