Big ideas.
Once a week.
Subscribe to our weekly newsletter.
What is an equinox? 10 need-to-know facts
El Castillo, a pyramid in Mexico, was built in such a way that the "snake of sunlight" would slither down its steps at the dawning of each equinox, as the sun rose into the sky.
18 March, 2018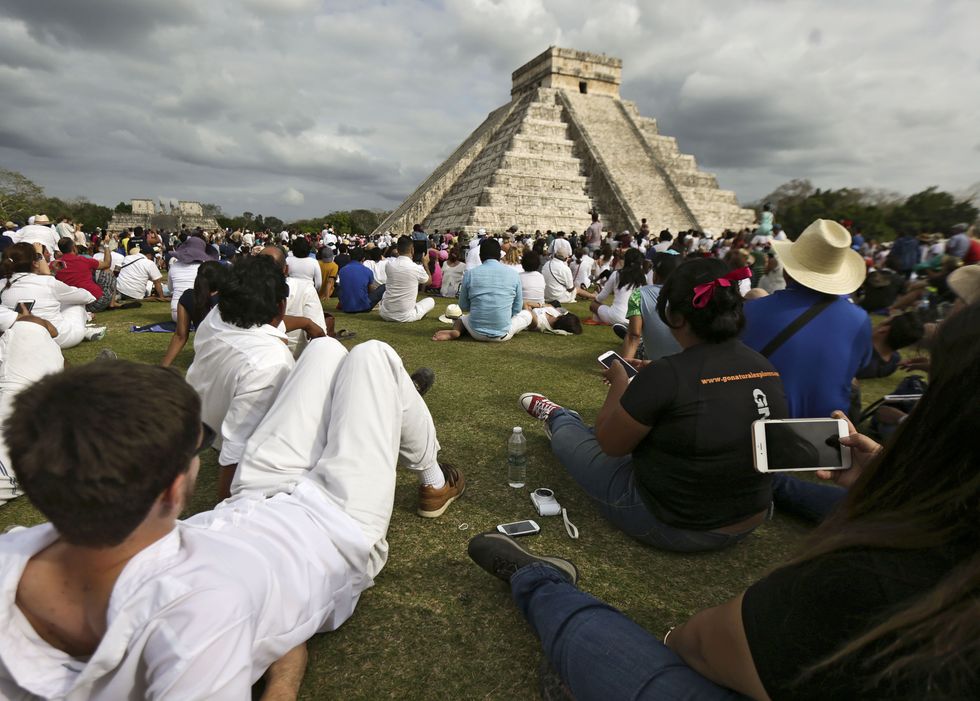 The pyramid at Chichen Itza, Mexico on the day of the vernal or spring equinox. Credit: Getty Images
How we think about the Earth and how it actually is aren't necessarily the same. In a way, we're victims of our own education. For instance, while any globe or on any map it's round and spherical, scientists tell us the shape of the Earth is actually and oblate spheroid—a sphere that's bulging out at the center (equator) and squished down at the poles. Sir Isaac Newton was the first discovered this. And our planet isn't exactly straight up and down, either. It's tilted by approximately 23.44°, which accounts for seasonal changes.
---
When the Earth is leaning toward the sun, its summer in the northern hemisphere and winter in the southern one. While when tilted away, the situation is reversed. The summer solstice is when the northern hemisphere is at its most extreme angle toward the sun, while with the winter solstice, it's at its farthest away. What's left are the spring (vernal) and fall (autumnal) equinoxes.
At these two times a year, always around March 21 or September 21, the amount of sunlight and darkness in a day is about equal, no matter your latitude. That's because the tilt is neither toward nor away from the sun. Rather, the equator gets the lion's share of its rays. This year, the vernal equinox occurs on March 20. While its arrival heralds spring north of the equator, it starts off fall south of it.
Here are 10 need-to-know facts about equinoxes: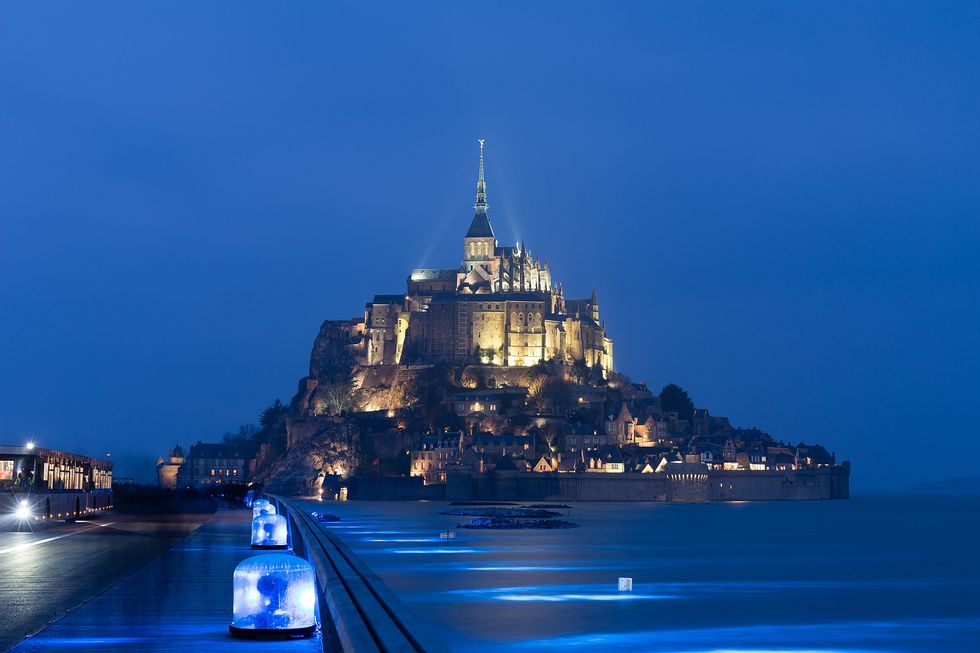 Equinox spring tide at Mont Saint-Michel, France. Wikipedia.
1. The word equinox comes from two Latin words, aequus—meaning equal and nox—meaning night.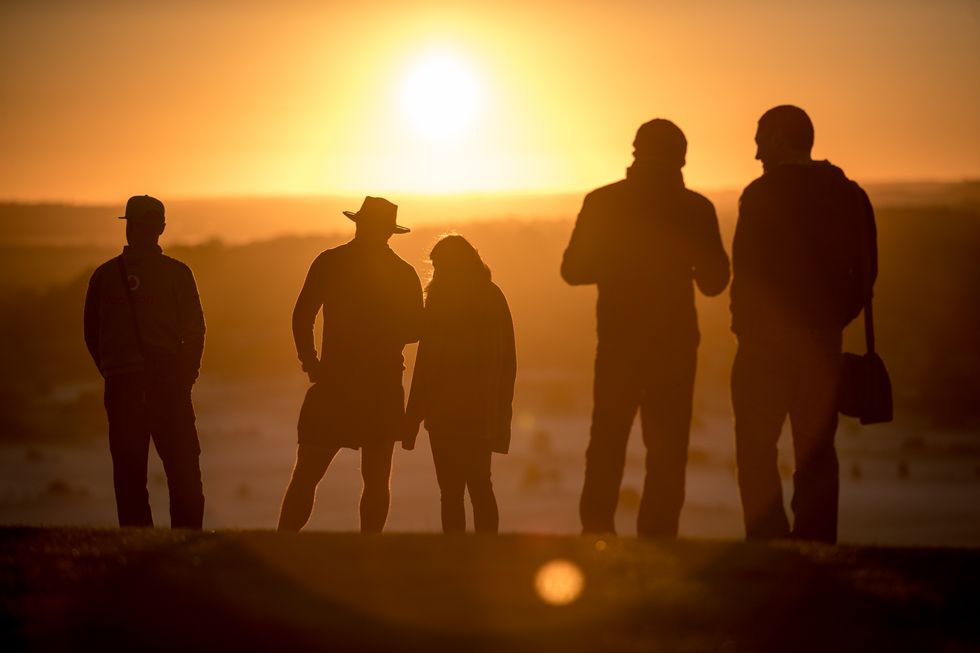 The sun rising at the spring equinox at the equator. Credit: Getty Images.
2. If you went to the equator on either of these days, you'd see the sun straight overhead at noon. This isn't its actual position, however. It's below that point. This optical illusion is due to the refraction or bending of the sun's rays as they travel through the atmosphere.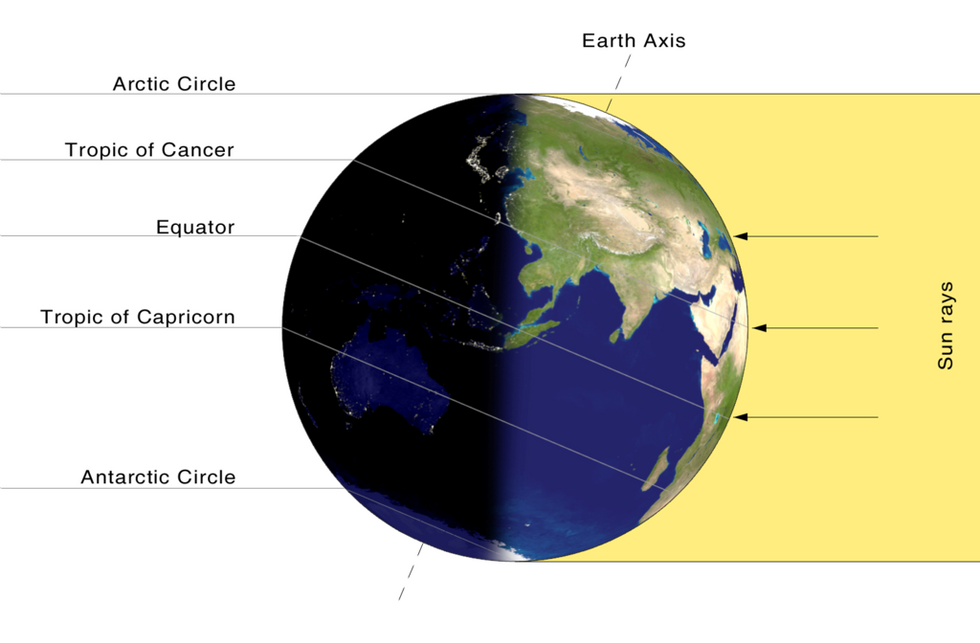 The Earth's axis. Credit: Wikipedia.
3. An image illustrating the Earth's axis can be different, depending on the illustrator. While some prefer a left-to-right tilt, others portray it right-to-left. Both are accurate, depending on the positions of the Earth and the sun.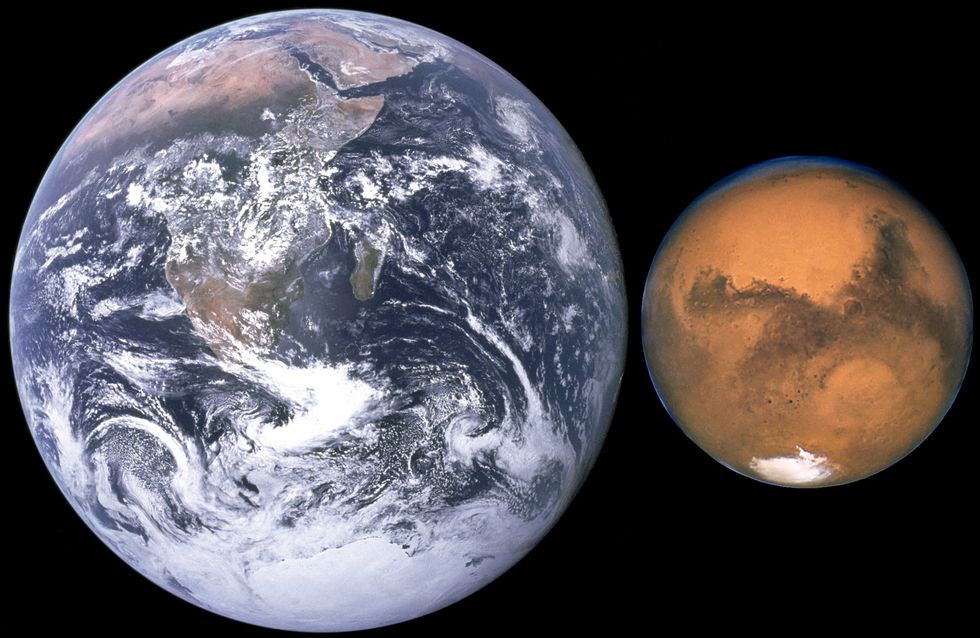 Comparison between the size of Mars and the Earth. Credit: NASA.
4.  How did the Earth get tilted in the first place? It's thought that an object the size of Mars crashed into it some 4.5 billion years ago, while our planet was still young.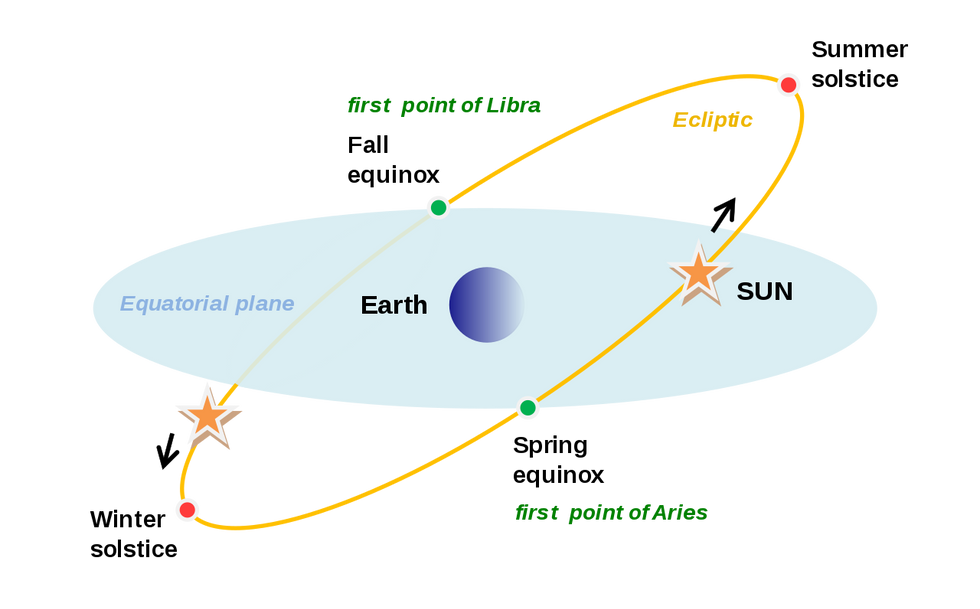 Credit: Wikipedia.
5. The Earth's axial tilt, also called its obliquity, isn't a static number. The Earth wobbles on its axis, as the result of earthquakes, but also different gravitational forces acted upon it by the moon, the sun, and the other planets in our solar system. Therefore, Earth's obliquity varies at times between 22.1° and 24.5°.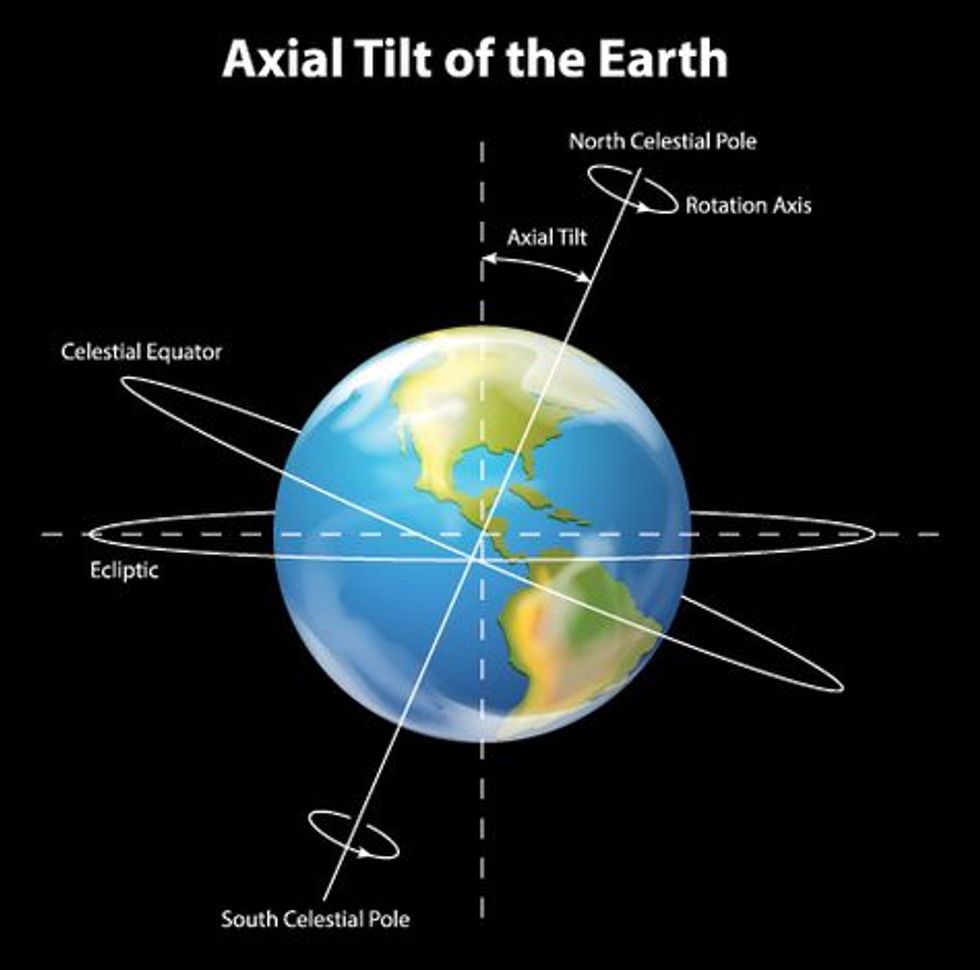 Credit: Pintrest.
6. Other names for Earth's wobble include the precession of the equinoxes and the axial precession.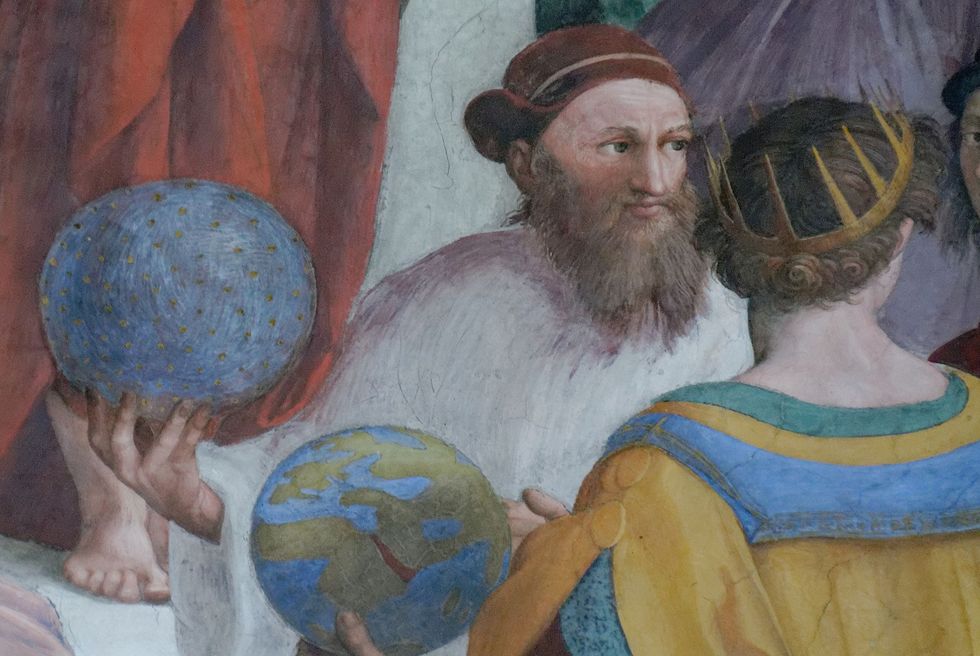 Hipparchus of Nicea (left) and Ptolemy. The School of Athens by: Rafael, 1509. Credit: Wikipedia Commons.
7.  In 130 BCE, Hipparchus of Nicea discovered the Earth's axis shifted slowly over time. He came across this by comparing astronomical observations separated by 100 years.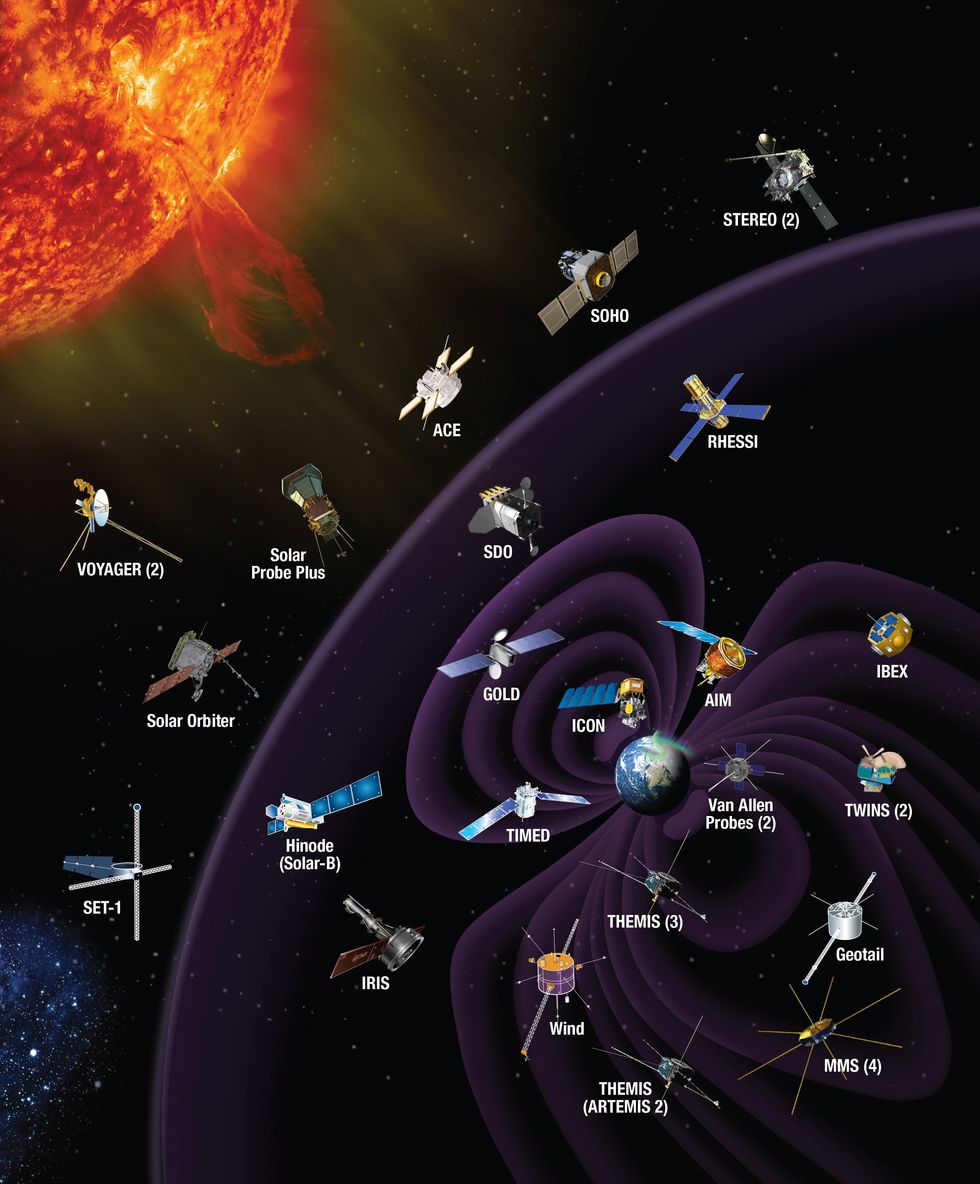 The Heliophysics System Observatory (HSO). Even though it has many parts, it's considered one observatory. Credit: NASA.
8. Although we've looked into this for a long time, we didn't really get highly detailed data until we went into space. And we're still learning. Consider NASA's Heliophysics System Observatory (HSO), which started in 2013 and is wrapping up in 2022. The HSO includes 20 missions and 23 spacecraft. It'll investigate "space weather," how our star interacts with the Earth and other planets as well.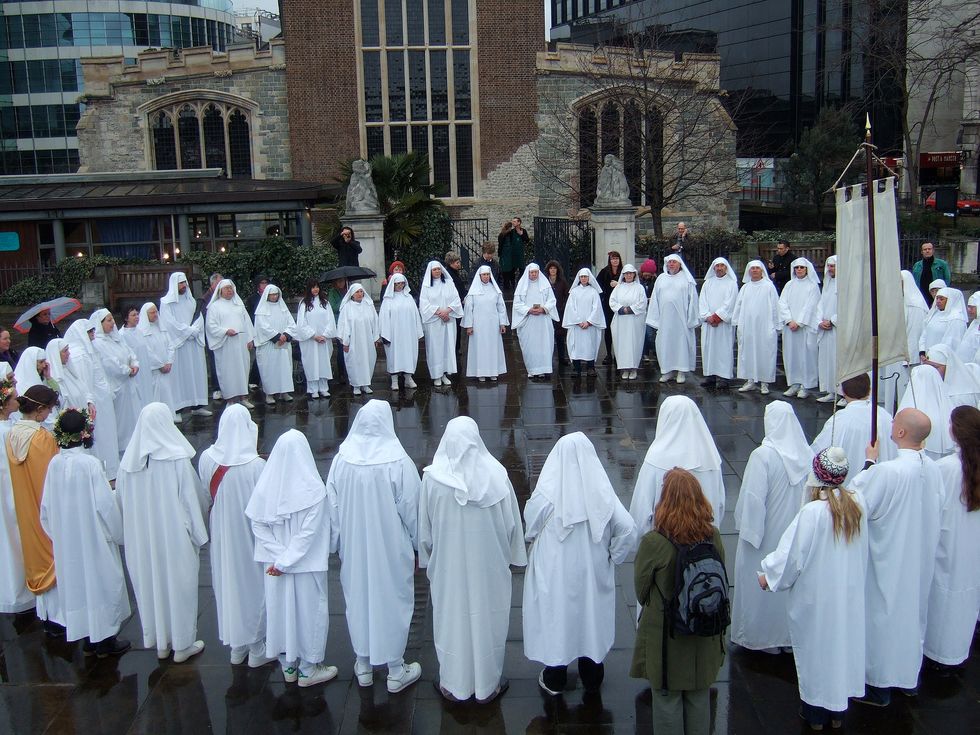 A modern-day druid ceremony near Stonehenge during the vernal equinox. Credit: Wikipedia Commons.
9. Cultures all over the world celebrate holidays and festivals on the equinoxes. One of the most notable is the Japanese celebration of Higan, which takes places on both equinoxes. During each Buddhist holiday, it's said that the spirits of the dead pass into Nirvana. It lasts for six days. During that time, the observant visit the graves of loved ones, clean and decorate them and reflect on and share memories of them.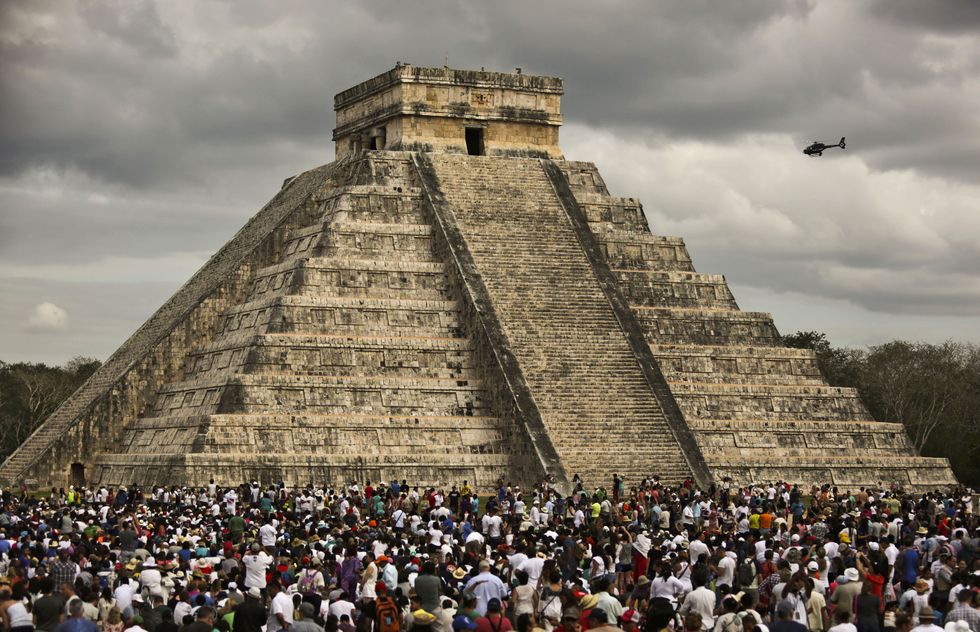 El Castillo pyramid in Chichen Itza, Mexico. Revelers come even today to see the "snake of sunlight" making its way down the steps. Credit: Getty Images.
10. In the ancient Mayan culture, a ritual including human sacrifice took place at the spring equinox. It happened at El Castillo, a pyramid located in Chichen Itza, Mexico. The pyramid has four staircases. The angle of each was carefully calculated so that the "snake of sunlight" would slither down the stairs at the dawning of each equinox, as the sun rose into the sky.
Physicist Frank Wilczek proposes new methods of searching for extraterrestrial life.
Adobe stock
Surprising Science
Nobel Prize-winning physicist Frank Wilczek thinks we are not searching for aliens correctly.
Instead of sending out and listening for signals, he proposes two new methods of looking for extraterrestrials.
Spotting anomalies in planet temperature and atmosphere could yield clues of alien life, says the physicist.
For noted theoretical physicist Frank Wilczek, finding aliens is a matter of figuring out what exactly we are looking for. To detect other space civilizations, we need to search for the specific effects they might be having on their worlds, argues the Nobel laureate in a new proposal.
Writing in the Wall Street Journal, Wilczek says that it's a real challenge to figure out which among the over 4,000 exoplanets that we found so far outside of our solar system might host extraterrestrial life. The classic way of listening for space signals is insufficient and inefficient, says the scientist. What might really help are new developments in exoplanetary astronomy that can allow us to get much more precise information about faraway space objects.
In particular, there are two ways we should focus our attention to turn the odds of finding alien life in our favor, argues the physicist.
1. Atmosphere chemistry
Like we found out with our own effect on the Earth's atmosphere, making a hole in the ozone layer, the gases around a planet can be impacted by its inhabitants. "Atmospheres are especially significant in the search for alien life," writes Wilczek "because they might be affected by biological processes, the way that photosynthesis on Earth produces nearly all of our planet's atmospheric oxygen."
But while astrobiology can provide invaluable clues, so can looking for the signs of alien technology, which can also be manifested in the atmosphere. An advanced alien civilization might be colonizing other planets, turning their atmospheres to resemble the home planets. This makes sense considering our own plans to terraform other planets like Mars to allow us to breathe there. Elon Musk even wants to nuke the red planet.
The Most Beautiful Equation: How Wilczek Got His Nobel
2. Planet temperatures
Wilczek also floats another idea - what if an alien civilization created a greenhouse effect to raise the temperature of a planet? For example, if extraterrestrials were currently researching Earth, they would likely notice the increased levels of carbon dioxide that are heating up our atmosphere. Similarly, we can looks for such signs around the exoplanets.
An advanced civilization might also be heating up planets to raise their temperatures to uncover resources and make them more habitable. Unfreezing water might be one great reason to turn up the thermostat.
Unusually high temperatures can also be caused by alien manufacturing and the use of artificial energy sources like nuclear fission or fusion, suggests the scientist. Structures like the hypothetical Dyson spheres, which could be used to harvest energy from stars, can be particularly noticeable.
Similarly, there might be instances when our faraway space counterparts would want to cool planets down. Examining temperature anomalies of space bodies might allow us to pinpoint such clues.
Focusing on the temperatures and atmospheres of other planets might be not only a winning strategy but something specifically encouraged by other civilizations who want us to find them. "An alien species that wants to communicate could draw the gaze of exoplanetary astronomers to anomalies in its solar system, effectively using its parent star to focus attention," expounds the physicist.
Wilczek, who currently teaches at MIT, was awarded the Nobel Prize in Physics in 2004 for discovering asymptotic freedom.
You can check out Wilczek's full article here.
Wilczek: Why 'Change without Change' Is One of the Fundamental Principles of the ...
In ancient Greece, the Olympics were never solely about the athletes themselves.
Coronavirus
Because of a dramatic rise in COVID-19 cases, the opening and closing ceremonies of the 2021 Olympics will unfold in a stadium absent the eyes, ears and voices of a once-anticipated 68,000 ticket holders from around the world.
Events during the intervening days will likewise occur in silent arenas missing the hundreds of thousands of spectators who paid US$815 million for their now-useless tickets.
After 48 years teaching classics, I can't help but wonder what the Greeks – who invented the Games nearly 3,000 years ago, in 776 B.C. – would make of such a ghostly version of their Olympic festival.
In many ways, they'd view the prospect as absurd.
In ancient Greece, the Olympics were never solely about the athletes themselves; instead, the heart and soul of the festival was the experience shared by all who attended. Every four years, athletes and spectators traveled from far-flung corners of the Greek-speaking world to Olympia, lured by a longing for contact with their compatriots and their gods.
In the shadow of dreams
For the Greeks, during five days in the late-summer heat, two worlds miraculously merged at Olympia: the domain of everyday life, with its human limits, and a supernatural sphere from the days superior beings, gods and heroes populated Earth.
Greek athletics, like today's, plunged participants into performances that pushed the envelope of human ability to its breaking point. But to the Greeks, the cauldron of competition could trigger revelations in which ordinary mortals might briefly intermingle with the extraordinary immortals.
The poet Pindar, famous for the victory songs he composed for winners at Olympia, captured this sort of transcendent moment when he wrote, "Humans are creatures of a day. But what is humankind? What is it not? A human is just the shadow of a dream – but when a flash of light from Zeus comes down, a shining light falls on humans and their lifetime can be sweet as honey."
However, these epiphanies could occur only if witnesses were physically present to immerse themselves – and share in – the spine-tingling flirtation with the divine.
Simply put, Greek athletics and religious experience were inseparable.
At Olympia, both athletes and spectators were making a pilgrimage to a sacred place. A modern Olympics can legitimately take place in any city selected by the International Olympic Committee. But the ancient games could occur in only one location in western Greece. The most profoundly moving events didn't even occur in the stadium that accommodated 40,000 or in the wrestling and boxing arenas.
Instead, they took place in a grove called the Althis, where Hercules is said to have first erected an altar, sacrificed oxen to Zeus and planted a wild olive tree. Easily half the events during the festival engrossed spectators not in feats like discus, javelin, long jump, foot race and wrestling, but in feasts where animals were sacrificed to gods in heaven and long-dead heroes whose spirits still lingered.
On the evening of the second day, thousands gathered in the Althis to reenact the funeral rites of Pelops, a human hero who once raced a chariot to win a local chief's daughter. But the climactic sacrifice was on the morning of the third day at the Great Altar of Zeus, a mound of plastered ashes from previous sacrifices that stood 22 feet tall and 125 feet around. In a ritual called the hecatomb, 100 bulls were slaughtered and their thigh bones, wrapped in fat, burned atop the altar so that the rising smoke and aroma would reach the sky where Zeus could savor it.
No doubt many a spectator shivered at the thought of Zeus hovering above them, smiling and remembering Hercules' first sacrifice.
Just a few yards from the Great Altar another, more visual encounter with the god awaited. In the Temple of Zeus, which was erected around 468 to 456 B.C., stood a colossal image, 40 feet high, of the god on a throne, his skin carved from ivory and his clothing made of gold. In one hand he held the elusive goddess of victory, Nike, and in the other a staff on which his sacred bird, the eagle, perched. The towering statue was reflected in a shimmering pool of olive oil surrounding it.
During events, the athletes performed in the nude, imitating heroic figures like Hercules, Theseus or Achilles, who all crossed the dividing line between human and superhuman and were usually represented nude in painting and sculpture.
The athletes' nudity declared to spectators that in this holy place, contestants hoped to reenact, in the ritual of sport, the shudder of contact with divinity. In the Althis stood a forest of hundreds of nude statues of men and boys, all previous victors whose images set the bar for aspiring newcomers.
"There are a lot of truly marvelous things one can see and hear about in Greece," the Greek travel writer Pausanias noted in the second century B.C., "but there is something unique about how the divine is encountered at … the games at Olympia."
Communion and community
The Greeks lived in roughly 1,500 to 2,000 small-scale states scattered across the Mediterranean and Black Sea regions.
Since sea travel in summertime was the only viable way to cross this fragile geographical web, the Olympics might entice a Greek living in Southern Europe and another residing in modern-day Ukraine to interact briefly in a festival celebrating not only Zeus and Heracles but also the Hellenic language and culture that produced them.
Besides athletes, poets, philosophers and orators came to perform before crowds that included politicians and businessmen, with everyone communing in an "oceanic feeling" of what it meant to be momentarily united as Greeks.
Egisto Sani/flickr, CC BY-NC
Now, there's no way we could explain the miracle of TV to the Greeks and how its electronic eye recruits millions of spectators to the modern games by proxy. But visitors to Olympia engaged in a distinct type of spectating.

The ordinary Greek word for someone who observes – "theatês" – connects not only to "theater" but also to "theôria," a special kind of seeing that requires a journey from home to a place where something wondrous unfolds. Theôria opens a door into the sacred, whether it's visiting an oracle or participating in a religious cult.
Attending an athletic-religious festival like the Olympics transformed an ordinary spectator, a theatês, into a theôros – a witness observing the sacred, an ambassador reporting home the wonders observed abroad.
It's hard to imagine TV images from Tokyo achieving similar ends.
No matter how many world records are broken and unprecedented feats accomplished at the 2020 games, the empty arenas will attract no gods or genuine heroes: The Tokyo games are even less enchanted than previous modern games.
But while medal counts will confer fleeting glory on some nations and disappointing shame on others, perhaps a dramatic moment or two might unite athletes and TV viewers in an oceanic feeling of what it means to be "kosmopolitai," citizens of the world, celebrants of the wonder of what it means to be human – and perhaps, briefly, superhuman as well.
The ancient Greeks wouldn't recognize some aspects of the modern Olympics.
Vincent Farenga, Professor of Classics and Comparative Literature, USC Dornsife College of Letters, Arts and Sciences
This article is republished from The Conversation under a Creative Commons license. Read the original article.

A new brain imaging study explored how different levels of the brain's excitatory and inhibitory neurotransmitters are linked to math abilities.
Mind & Brain
Glutamate and GABA are neurotransmitters that help regulate brain activity.
Scientists have long known that both are important to learning and neuroplasticity, but their relationship to acquiring complex cognitive skills like math has remained unclear.
The new study shows that having certain levels of these neurotransmitters predict math performance, but that these levels switch with age.
Why do roughly one in five people find math especially difficult?
You might blame teaching methods, which some argue explains why the U.S. lags behind other countries in standardized math test scores. You could point to math anxiety, which affects about 20 percent of students and 25 percent of teachers, according to surveys. And there are also medical conditions that make math difficult, such as dyscalculia, a learning disability that disrupts the normal development of arithmetic skills.
But another explanation centers on neurotransmitters. In a new study published in PLOS Biology, researchers explored how the brain's levels of GABA and glutamate relate to math abilities over time in students of varying ages. The results showed that levels of these neurotransmitters can predict students' performance on math tests. However, this relationship seems to flip as people get older.
GABA and glutamate are responsible for regulating brain activity. In the mature brain, GABA is the brain's main inhibitory neurotransmitter, helping to block impulses between nerve cells in the brain, which can calm feelings of stress, anxiety, or fear. GABA is made from glutamate, the brain's major excitatory neurotransmitter that helps send signals throughout the central nervous system.
Researchers have long known that these neurotransmitters play crucial roles in learning, development, and neuroplasticity. That is partly because they are thought to help trigger developmental windows (or "sensitive periods") during which neural systems become more plastic and better able to acquire certain cognitive skills.
"Importantly, sensitive periods vary for different functions, with relatively simple abilities (e.g., sensorimotor integration) occurring earlier in development, while the sensitive period for acquiring more complex cognitive functions extends into the third decade of life," the researchers wrote.
GABA, glutamate, and math
Still, the exact relationship between GABA, glutamate, and complex cognitive functions has remained unclear. The new study explored that relationship by focusing on associations between the neurotransmitters and math abilities, which "provides a unique cognitive model to examine these questions due to its protracted skill acquisition period that starts already from early childhood and can continue for nearly two decades," the researchers wrote.
For the study, the researchers measured levels of GABA and glutamate in the left intraparietal sulcus (IPS) of 255 students, ranging from primary school to college. The participants completed a math test as their brains were imaged. About a year and a half later, the participants repeated the same process.
"The longitudinal design allowed us to further examine whether neurotransmitter concentration is linked to MA [mathematical abilities] as well as predict MA in the future," the researchers wrote. "Crucially, adopting this design allowed us to discern the selective effect of glutamate and GABA in response to natural (i.e., learning in school) rather than artificial environmental stimulation, thus allowing us to test the knowledge gained from lab-based experiments in high ecological settings."
The results suggest that GABA and glutamate play an important role in math abilities, but that the dynamic switches with age. For the young participants, higher GABA levels in the IPS were associated with higher scores on math tests. The opposite was observed among older students: higher glutamate levels correlated with higher scores. Both results held true on subsequent math tests.
Although the study sheds light on how neurotransmitter levels at different stages of development contribute to learning some cognitive skills, like math, the researchers noted that acquiring other skills may involve different processes.
"Our findings may also highlight a general principle that the developmental dynamics of regional excitation and inhibition levels in regulating the sensitive period and plasticity of a given high-level cognitive function (i.e., MA) may be different compared to another high-level cognitive function (i.e., general intelligence) that draws on similar, albeit not identical, cognitive and neural mechanisms," they wrote.
Scroll down to load more…