MIT Scientists Got Spinach to Send them an Email
You wouldn't know it, but plants are constantly taking in information.
13 November, 2016
Leafy greens are not everyone's favorite. Take spinach for example. Lots of kids and even some adults turn up their noses, as soon as they see it on their plate. It's best to trust in spinach, however. Not only is it a superfood, as Popeye cartoons have clearly demonstrated, but it can be a superhero, when imbued with sensors to detect explosives.
---
MIT engineers recently accomplished this, allowing a spinach plant to send an email to a smartphone when it encountered nitroaromatics—chemical compounds found in many types of explosives. The plants roots picked up this compound, which was sent to the leaves, where nanotube sensors triggered a signal.
Two sets of nanocarbon tubes were used. MIT scientists employed a technique known as vascular infusion to place them into the underbelly of the plant's leaves, within a layer known as the mesophyll—where photosynthesis takes place. One set of nanotubes sent out a constant fluorescent signal. This gave the computer monitoring it a baseline. The other sent a signal when it encountered the target molecule. This makes it easier for the computer to differentiate between the plants normal state and chemical detection.
After encountering the explosive compound at its roots, it took approximately 10 minutes to reach the leaves. Once detection took place, nanotubes send out a wireless fluorescent signal, picked up by an infrared camera. That camera relayed the message to an attached computer, about the size of a smartphone that sent an email alert. The monitoring system works for up to a meter away. Now researchers are working out increasing its range.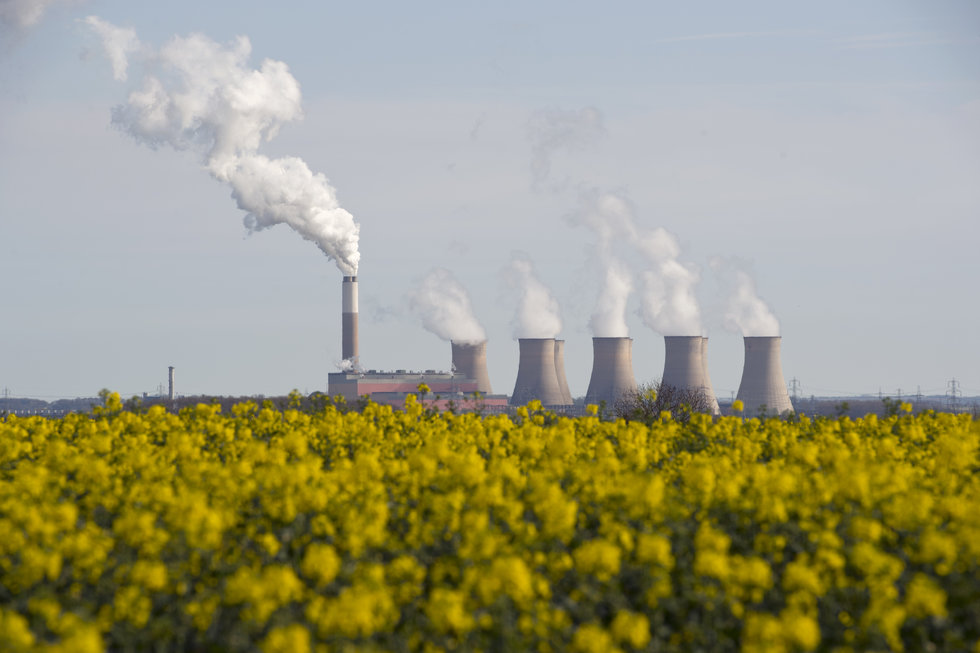 Plants could be used as sensors to monitor for pollution, a sudden ecological disaster, or drought.
Michael Strano led the research team who birthed the world's first cybernetic spinach plant. He is a professor of Chemical Engineering at MIT. "This is a novel demonstration of how we have overcome the plant-human communication barrier," Strano said. Graduate student Min Hao Wong was the lead author. He said in a press release, "These sensors give real-time information from the plant. It is almost like having the plant talk to us about the environment they are in." Researchers say that any kind of living plant could be used to detect any chemical. This was a proof-of-concept study. Now, Wong has launched a startup called Plantea, to further develop the technique.  
Strano first attempted such an experiment two years ago. At that time, he and his team imbued plants with nanobionics in order to improve photosynthesis. In other previous studies, Strano worked on nanotube sensors which could pick up TNT, sarin nerve gas, and even hydrogen peroxide—a pollutant. "Plants are very good analytical chemists," he said.
Nanobionics researcher Raffaele Di Giacomo of ETH Zurich, who was not a part of this study, told Live Science that someday the method could be used for urban farming. Wong said, "In the case of precision agriculture, having such information can directly affect yield and margins." On another front, Di Giancomo speculated that house plants could be used to detect oxygen levels, temperature, humidity, and pollutants inside the home, all in real time, and send that information directly to your smartphone. According to Prof. Strano, "The plants could be used for defense applications, but also to monitor public spaces for terrorism-related activities, since we show both water and airborne detection."
In terms of research, botanists could get an inside look at the biological processes of plants. In medicine, hard to acquire compounds such as a derivative from the Madagascar periwinkle—used to make a cancer drug, could be produced in far larger quantities. So to those who grimace at the sight of spinach, if it isn't safeguarding your health from eating it, at least take comfort in the fact that it may soon be protecting you and contributing to the human endeavor in other, more unconventional ways.
To see this experiment for yourself, click here: 
Lumina Foundation is partnering with Big Think to unearth the next large-scale, rapid innovation in post-high school education. Enter the competition here!
Good science is sometimes trumped by the craving for a "big splash."
Videos
Scientists strive to earn credit from their peers, for grants from federal agencies, and so a lot of the decisions that they make are strategic in nature. They're encouraged to publish exciting new findings that demonstrate some new phenomenon that we have never seen before.
This professional pressure can affect their decision-making — to get acclaim they may actually make science worse. That is, a scientist might commit fraud if he thinks he can get away with it or a scientist might rush a result out of the door even though it hasn't been completely verified in order to beat the competition.
On top of the acclaim of their peers, scientists — with the increasing popularity of science journalism — are starting to be rewarded for doing things that the public is interested in. The good side of this is that the research is more likely to have a public impact, rather than be esoteric. The bad side? To make a "big splash" a scientist may push a study or article that doesn't exemplify good science.
Moans, groans, and gripes release stress hormones in the brain.
popular
Could you give up complaining for a whole month? That's the crux of this interesting piece by Jessica Hullinger over at Fast Company. Hullinger explores the reasons why humans are so predisposed to griping and why, despite these predispositions, we should all try to complain less. As for no complaining for a month, that was the goal for people enrolled in the Complaint Restraint project.
Participants sought to go the entirety of February without so much as a moan, groan, or bellyache.
Two space agencies plan missions to deflect an asteroid.
ESA's Hera mission above asteroid 65803 Didymos. Credit: ESA/ScienceOffice.org
Surprising Science
NASA and the European Space Agency (ESA) are working together on missions to a binary asteroid system.
The DART and Hera missions will attempt to deflect and study the asteroid Didymoon.
A planetary defense system is important in preventing large-scale catastrophes.
Big think's weekly newsletter.
Get smarter faster from the comfort of your inbox.
See our newsletter privacy policy
here
Most Popular
Most Recent
Big think's weekly newsletter.
Get smarter faster from the comfort of your inbox.
See our newsletter privacy policy
here
© Copyright 2007-2018 & BIG THINK, BIG THINK EDGE,
SMARTER FASTER trademarks owned by The Big Think, Inc. All rights reserved.