MIT Scientists Got Spinach to Send them an Email
You wouldn't know it, but plants are constantly taking in information.
13 November, 2016
Leafy greens are not everyone's favorite. Take spinach for example. Lots of kids and even some adults turn up their noses, as soon as they see it on their plate. It's best to trust in spinach, however. Not only is it a superfood, as Popeye cartoons have clearly demonstrated, but it can be a superhero, when imbued with sensors to detect explosives.
---
MIT engineers recently accomplished this, allowing a spinach plant to send an email to a smartphone when it encountered nitroaromatics—chemical compounds found in many types of explosives. The plants roots picked up this compound, which was sent to the leaves, where nanotube sensors triggered a signal.
Two sets of nanocarbon tubes were used. MIT scientists employed a technique known as vascular infusion to place them into the underbelly of the plant's leaves, within a layer known as the mesophyll—where photosynthesis takes place. One set of nanotubes sent out a constant fluorescent signal. This gave the computer monitoring it a baseline. The other sent a signal when it encountered the target molecule. This makes it easier for the computer to differentiate between the plants normal state and chemical detection.
After encountering the explosive compound at its roots, it took approximately 10 minutes to reach the leaves. Once detection took place, nanotubes send out a wireless fluorescent signal, picked up by an infrared camera. That camera relayed the message to an attached computer, about the size of a smartphone that sent an email alert. The monitoring system works for up to a meter away. Now researchers are working out increasing its range.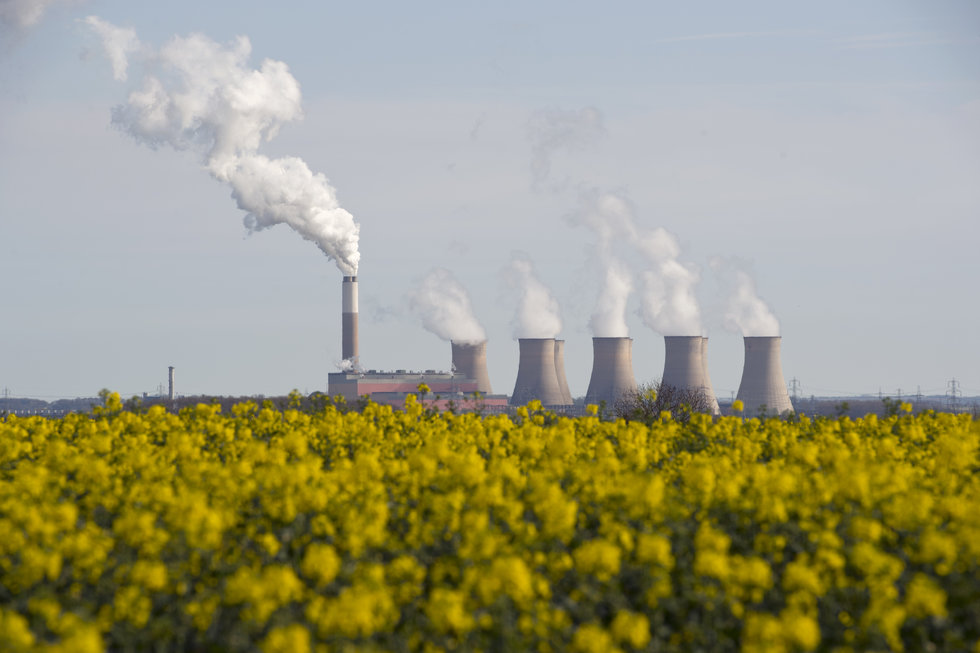 Plants could be used as sensors to monitor for pollution, a sudden ecological disaster, or drought.
Michael Strano led the research team who birthed the world's first cybernetic spinach plant. He is a professor of Chemical Engineering at MIT. "This is a novel demonstration of how we have overcome the plant-human communication barrier," Strano said. Graduate student Min Hao Wong was the lead author. He said in a press release, "These sensors give real-time information from the plant. It is almost like having the plant talk to us about the environment they are in." Researchers say that any kind of living plant could be used to detect any chemical. This was a proof-of-concept study. Now, Wong has launched a startup called Plantea, to further develop the technique.  
Strano first attempted such an experiment two years ago. At that time, he and his team imbued plants with nanobionics in order to improve photosynthesis. In other previous studies, Strano worked on nanotube sensors which could pick up TNT, sarin nerve gas, and even hydrogen peroxide—a pollutant. "Plants are very good analytical chemists," he said.
Nanobionics researcher Raffaele Di Giacomo of ETH Zurich, who was not a part of this study, told Live Science that someday the method could be used for urban farming. Wong said, "In the case of precision agriculture, having such information can directly affect yield and margins." On another front, Di Giancomo speculated that house plants could be used to detect oxygen levels, temperature, humidity, and pollutants inside the home, all in real time, and send that information directly to your smartphone. According to Prof. Strano, "The plants could be used for defense applications, but also to monitor public spaces for terrorism-related activities, since we show both water and airborne detection."
In terms of research, botanists could get an inside look at the biological processes of plants. In medicine, hard to acquire compounds such as a derivative from the Madagascar periwinkle—used to make a cancer drug, could be produced in far larger quantities. So to those who grimace at the sight of spinach, if it isn't safeguarding your health from eating it, at least take comfort in the fact that it may soon be protecting you and contributing to the human endeavor in other, more unconventional ways.
To see this experiment for yourself, click here: 
The photos were taken the same day as Russian cosmonauts investigated a mysterious hole discovered in one of the craft.
Alexander Gerst
Surprising Science
The spacecraft belong to Russia and two private American aerospace companies.
Six astronauts are currently aboard the International Space Station to conduct a variety of experiments.
On Monday, Russian cosmonauts conducted a spacewalk to investigate the nature and cause of a mysterious 2-millimeter-wide hole in a Russian spacecraft.
On Friday, NASA's InSight Mars lander captured and transmitted historic audio from the red planet.
NASA
Surprising Science
The audio captured by the lander is of Martian winds blowing at an estimated 10 to 15 mph.
It was taken by the InSight Mars lander, which is designed to help scientists learn more about the formation of rocky planets, and possibly discover liquid water on Mars.
Microphones are essentially an "extra sense" that scientists can use during experiments on other planets.
"Didn't you see me Googling 'baby not moving?'" Gillian Brockell wrote a heartbreaking open letter to big tech companies imploring them to change the ways they target ads to users.
Gillian Brockell's letter posted on Twitter (Twitter)
Politics & Current Affairs
Advertisers are increasingly using hyper-specific information on users, collected by big tech companies, to sell products.
An open letter published Tuesday outlines how this kind of ad targeting can be not only creepy, but also inadvertently cruel and distressing.
Also on Tuesday, the House questioned Google's CEO, partly on issues related to data privacy.
Big think's weekly newsletter.
Get smarter faster from the comfort of your inbox.
See our newsletter privacy policy
here
Most Popular
Most Recent
Big think's weekly newsletter.
Get smarter faster from the comfort of your inbox.
See our newsletter privacy policy
here
© Copyright 2007-2018 & BIG THINK, BIG THINK EDGE,
SMARTER FASTER trademarks owned by The Big Think, Inc. All rights reserved.