Smartphone Addiction Causes Changes in the Teen Brain
Limiting smartphone exposure in teens is probably a good idea. It's also easier said than done.
09 December, 2017
We all seem addicted to our smartphones and its little wonder. They were developed with certain aspects of the slot machine in mind. The average person checks their phone 150 times per day. A recent Deloitte survey finds that 82% of Americans own a smartphone. Of them, 92% use it while out shopping, 78% while eating at home (when they should be talking to their loved ones), and 44% while crossing the street.
---
Teens may be the most susceptible to smartphone addiction. 73% of US adolescents have a smartphone or can gain access to one. Of them, 96% go on the internet daily, a Pew Research Center poll found. Should parents limit exposure? Probably. One of the concerns is socialization. Being used to doing most of their social interactions online may cause teens to find it difficult to address issues and interact with others face-to-face.
On another and perhaps more concerning front, neuroscientists have wondered what all this exposure to smartphones is doing to our neurological health, especially in children and teens whose brains are still developing. Hyung Suk Seo, M.D., professor of neuroradiology at Korea University in Seoul, South Korea and colleagues, used a novel approach to find out.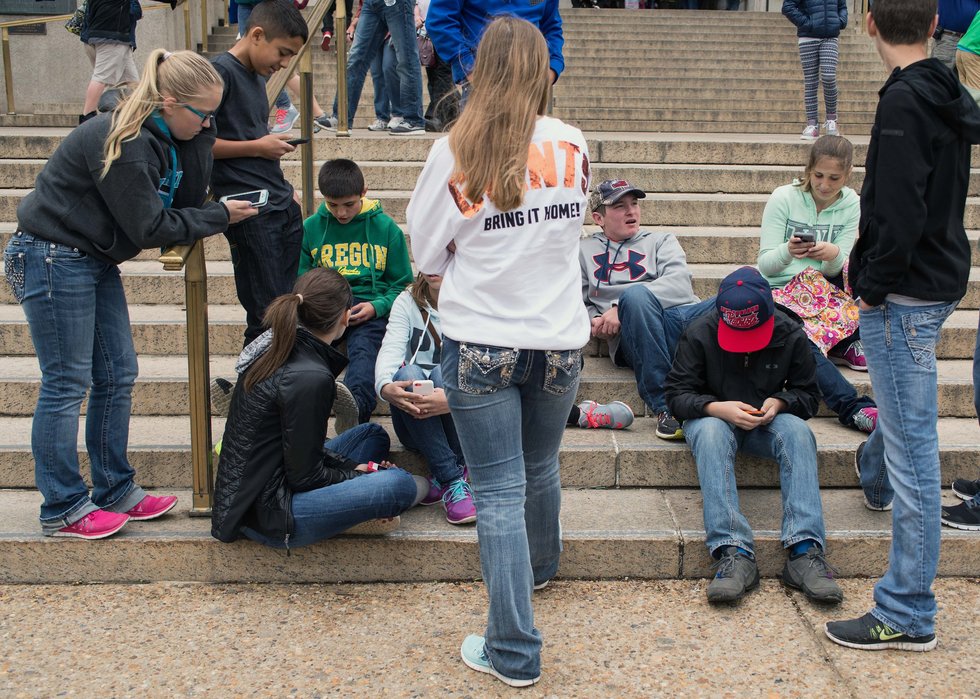 73% of US adolescents have a smartphone or can gain access to one. Of them, 96% go on the internet daily. Credit: Getty Images.
First, they recruited 19 young people being treated for smartphone or internet addiction. 9 were boys and 10 girls. They're average age was 15.5. Next, the severity of their addiction was evaluated using standardized addiction tests. These included assessments of their productivity, feelings, social life, and daily routines.
Turns out, smartphone addicted teens had higher rates of anxiety, depression, impulse control problems, and sleep disorders. Then these participants were compared to 19 other teens who matched their group in age and gender makeup. These stood as healthy controls.
Dr. Seo and his team evaluated the teens using a technique called magnetic resonance spectroscopy (MRS). This identifies and tracks the movement of biochemicals within the brain. MRS is usually employed to evaluate biochemical concentrations in patients with Alzheimer's, brain tumors, or certain mood disorders. In this study, researchers found that teens who were being treated for smartphone or internet addiction were much more likely to suffer from anxiety or depression. Chemical imbalances in the brain are responsible.
12 of the addicted participants received cognitive behavioral therapy (CBT) over the course of the study. The type used was adapted from a program catering to gaming addicts. Such participants had MRS exams before and after CBT took place. What researchers found is in smartphone and internet addicts, a certain neurotransmitter in a part of the brain called the anterior cingulate cortex, had a higher level of activity than normal.
This area is known to be linked with addiction. It's associated with the reward center of the brain. So, this research clearly shows that the brain has been altered as a result of internet or smartphone addiction.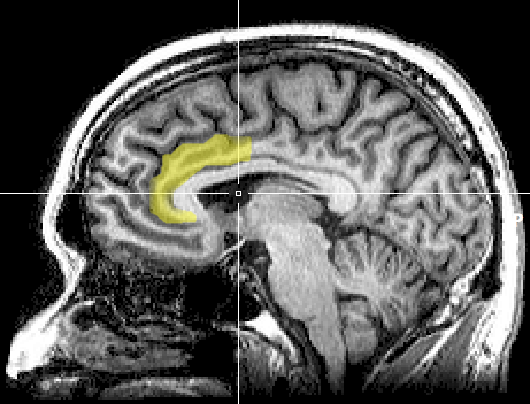 The anterior cingulate cortex, which plays a role in addiction. Credit: By Geoff B Hall, Wikimedia Commons.
The identified neurotransmitter is called gamma aminobutyric acid (GABA). In greater concentrations, it's known to slow brain signals. Previous studies have found GABA is involved in motor control, the regulation of certain brain functions, and vision. An overabundance of GABA may lead to anxiety.
Another neurotransmitter in abundance among those with such addiction is glutamate-glutamine (Glx). Ratios of GABA to Gix or GABA to creatine in this area of the brain help regulate the emotions and cognitive ability. Addiction, anxiety, and depression can occur when they're out of balance.
Higher GABA activity may be related to the breakdown of certain integration and regulation processes within the cognitive and emotional networks of the brain. Luckily, the ratios of both neurotransmitters returned to normal after smartphone and internet addicts underwent CBT. These findings were recently reported at the annual meeting of the Radiological Society of North America, this year held in Chicago. Dr. Seo and colleagues say these changes in the brain may mimic those seen in other addictive disorders.
One limitation was the size of the sample used. A much larger follow-up study should be conducted. Some experts suggest including fMRI scans as well, so that blood flow can also be tracked. These results "may contribute to our understanding the pathophysiology of and treatment for addictions," Dr. Seo said. Though the findings are compelling, they remain preliminary until they're published in a peer-reviewed journal.
To learn further how constant smartphone use is affecting us, click here:
Malcolm Gladwell teaches "Get over yourself and get to work" for Big Think Edge.
Big Think Edge
Learn to recognize failure and know the big difference between panicking and choking.

At Big Think Edge, Malcolm Gladwell teaches how to check your inner critic and get clear on what failure is.

Subscribe to Big Think Edge before we launch on March 30 to get 20% off monthly and annual memberships.
You can say 'no' to things, and you should. Do it like this.
Videos
Give yourself permission to say "no" to things. Saying yes to everything is a fast way to burn out.
Learn to say no in a way that keeps the door of opportunity open: No should never be a one-word answer. Say "No, but I could do this instead," or, "No, but let me connect you to someone who can help."
If you really want to say yes but can't manage another commitment, try qualifiers like "yes, if," or "yes, after."
"I was so moved when I saw the cells stir," said 90-year-old study co-author Akira Iritani. "I'd been hoping for this for 20 years."
Yamagata et al.
Surprising Science
The team managed to stimulate nucleus-like structures to perform some biological processes, but not cell division.
Unless better technology and DNA samples emerge in the future, it's unlikely that scientists will be able to clone a woolly mammoth.
Still, studying the DNA of woolly mammoths provides valuable insights into the genetic adaptations that allowed them to survive in unique environments.
Neuroscience research suggests it might be time to rethink our ideas about when exactly a child becomes an adult.
Mind & Brain
Research suggests that most human brains take about 25 years to develop, though these rates can vary among men and women, and among individuals.
Although the human brain matures in size during adolescence, important developments within the prefrontal cortex and other regions still take pace well into one's 20s.
The findings raise complex ethical questions about the way our criminal justice systems punishes criminals in their late teens and early 20s.
Big think's weekly newsletter.
Get smarter faster from the comfort of your inbox.
See our newsletter privacy policy
here
Most Popular
Most Recent
Big think's weekly newsletter.
Get smarter faster from the comfort of your inbox.
See our newsletter privacy policy
here
© Copyright 2007-2018 & BIG THINK, BIG THINK EDGE,
SMARTER FASTER trademarks owned by The Big Think, Inc. All rights reserved.