Scientists finally figure out why the water bear is nearly indestructible
Freeze it, boil it, or expose it to radiation. The water bear shrugs it off. Now we know why. 
17 March, 2017
The tardigrade, also known as the moss piglet or water bear, is a bizarre, microscopic creature that looks like something out of a Disney nightmare scene: strange but not particularly threatening. The pudgy, eight-legged, water-borne creature appears to be perpetually puckering. It's the farthest thing from what you'd expect an unstoppable organism to look like.
---
Yet, water bears can withstand even the vacuum of space, as one experiment showed. A sort of microscopic Rasputin, tardigrades have be frozen, boiled, exposed to extreme doses of radiation, and remarkably still survive. How they do this has been a mystery to science, until now.
Being a water-borne creature, scientists in this experiment examined how it survived desiccation, or being completely dried out. When it senses an oncoming dry period, the critter brings its head and limbs into its exoskeleton, making itself into a tiny ball. It'll stay that way, unmoving, until it's reintroduced into water.
It's this amazing ability that piqued Thomas Boothby's interest. He's a researcher at the University of North Carolina, Chapel Hill. Boothby told The New York Times, "They can remain like that in a dry state for years, even decades, and when you put them back in water, they revive within hours." After that, "They are running around again, they are eating, they are reproducing like nothing happened."
Originally, it was thought that the water bear employed a sugar called trehalose to shield its cells from damage. Brine shrimp (sea monkeys) and nematode worms use this sugar to protect against desiccation, through a process called anhydrobiosis. Those organisms produce enough of the sugar to make it 20% of their body weight.
Not the water bear. Trehalose only takes up about 2% of its entire system, when it's in stasis. Though employing a sugar to preserve one's body sounds strange, the newly discovered process that the water bear goes through is even more bizarre. It turns itself into glass.
In this study, tardigrades were placed into a drying-out chamber, which mimicked conditions the organisms would encounter in a disappearing pond. As the water bears underwent anhydrobiosis, scientists examined what genes were activated. These genes produced a certain protein, which they named tardigrade-specific intrinsically disordered proteins (TDPs).
When the genes which produce TDPs were blocked, the water bears died. "If you take those genes and put them into organisms like bacteria and yeast, which normally do not have these proteins, they actually become much more desiccation-tolerant," Boothby said.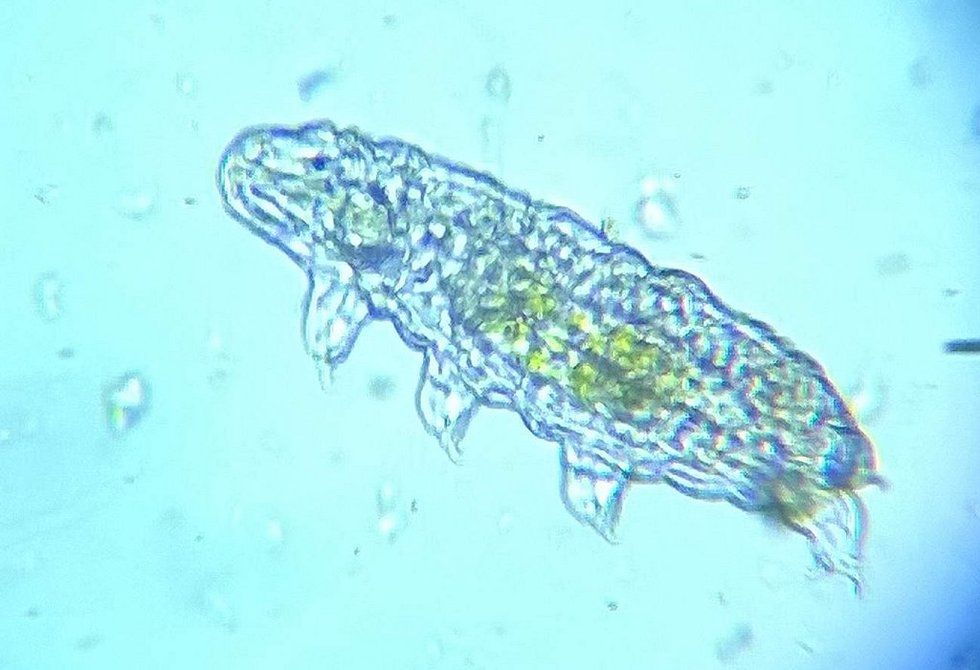 Water bear under a microscope. Flickr.
It's when the drying out process begins that such genes are activated, flooding the water bear's system with the protective protein. The process occurs in much the same way as trehalose preserves sea monkeys, according to Boothby. This is an example of convergent evolution, when two unrelated organisms develop the same trait for survival.
Usually, proteins are formed in orderly, 3D chains of amino acids. But TDPs operate differently, in a kind of random, somewhat disorganized manner. Dr. Boothby said, "It's a really interesting question about how a protein without a defined three-dimensional structure can actually carry out its function in a cell." Another question, is this protein used by any other organisms?
When desiccation begins and TDP is activated, it engages a process known as vitrification. Boothby said, "The glass is coating the molecules inside of the tardigrade cells, keeping them intact." From there, it goes into a form of stasis until it detects water. When that occurs, the protein is dissolved into the liquid and the tardigrade is revived.
There could be some practical uses to this discovery. For instance in medicine, vaccines often require refrigeration. But in the developing world, it isn't always available, which makes delivering vaccines to vulnerable, rural communities difficult.
Dr. Boothby believes that we may be able to use TDP to sort of freeze-dry vaccines or medications, for easy storage and transport. What about putting humans in stasis for space travel or when they have terminal diseases, to await a cure? No word on that, yet. Scientists have years of research ahead of them already, just to understand the inner-workings of TDP.
Some believe tardigrades may have "alien" DNA. To find out more, click here:
What can 3D printing do for medicine? The "sky is the limit," says Northwell Health researcher Dr. Todd Goldstein.
Northwell Health
Sponsored by Northwell Health
Medical professionals are currently using 3D printers to create prosthetics and patient-specific organ models that doctors can use to prepare for surgery.
Eventually, scientists hope to print patient-specific organs that can be transplanted safely into the human body.
Northwell Health, New York State's largest health care provider, is pioneering 3D printing in medicine in three key ways.
Technology may soon grant us immortality, in a sense. Here's how.
Videos
Through the Connectome Project we may soon be able to map the pathways of the entire human brain, including memories, and create computer programs that evoke the person the digitization is stemmed from.
We age because errors build up in our cells — mitochondria to be exact.
With CRISPR technology we may soon be able to edit out errors that build up as we age, and extend the human lifespan.
The controversial herbicide is everywhere, apparently.
Surprising Science
U.S. PIRG tested 20 beers and wines, including organics, and found Roundup's active ingredient in almost all of them.
A jury on August 2018 awarded a non-Hodgkin's lymphoma victim $289 million in Roundup damages.
Bayer/Monsanto says Roundup is totally safe. Others disagree.
The pizza giant Domino's partners with a Silicon Valley startup to start delivering pizza by robots.
Nuro
Technology & Innovation
Domino's partnered with the Silicon Valley startup Nuro to have robot cars deliver pizza.
The trial run will begin in Houston later this year.
The robots will be half a regular car and will need to be unlocked by a PIN code.
Would you have to tip robots? You might be answering that question sooner than you think as Domino's is about to start using robots for delivering pizza. Later this year a fleet of self-driving robotic vehicles will be spreading the joy of pizza throughout the Houston area for the famous pizza manufacturer, using delivery cars made by the Silicon Valley startup Nuro.
The startup, founded by Google veterans, raised $940 million in February and has already been delivering groceries for Kroger around Houston. Partnering with the pizza juggernaut Domino's, which delivers close to 3 million pizzas a day, is another logical step for the expanding drone car business.
Kevin Vasconi of Domino's explained in a press release that they see these specially-designed robots as "a valuable partner in our autonomous vehicle journey," adding "The opportunity to bring our customers the choice of an unmanned delivery experience, and our operators an additional delivery solution during a busy store rush, is an important part of our autonomous vehicle testing."
How will they work exactly? Nuro explained in its own press release that this "opportunity to use Nuro's autonomous delivery" will be available for some of the customers who order online. Once they opt in, they'll be able to track the car via an app. When the vehicle gets to them, the customers will use a special PIN code to unlock the pizza compartment.
Nuro and its competitors Udelv and Robomart have been focusing specifically on developing such "last-mile product delivery" machines, reports Arstechnica. Their specially-made R1 vehicle is about half the size of a regular passenger car and doesn't offer any room for a driver. This makes it safer and lighter too, with less potential to cause harm in case of an accident. It also sticks to a fairly low speed of under 25 miles an hour and slams on the breaks at the first sign of trouble.
What also helps such robot cars is "geofencing" technology which confines them to a limited area surrounding the store.
For now, the cars are still tracked around the neighborhoods by human-driven vehicles, with monitors to make sure nothing goes haywire. But these "chase cars" should be phased out eventually, an important milestone in the evolution of your robot pizza drivers.
Check out how Nuro's vehicles work:
Big think's weekly newsletter.
Get smarter faster from the comfort of your inbox.
See our newsletter privacy policy
here
Most Popular
Most Recent
Big think's weekly newsletter.
Get smarter faster from the comfort of your inbox.
See our newsletter privacy policy
here
© Copyright 2007-2019 & BIG THINK, BIG THINK EDGE,
SMARTER FASTER trademarks owned by The Big Think, Inc. All rights reserved.