Researchers reveal an evolutionary basis for the female orgasm
Following hormonal biomarkers across a wide variety of species helped scientists piece it together.
01 February, 2017
Few things are as magical as the female orgasm, whether you are experiencing it, inducing it, or just a casual observer. It is essentially pure art in motion. Yet, there are many things we don't know about the phenomenon, scientifically speaking, such as, why it exists. Scientists have been pondering this for centuries.
---
Apart from vestigial organs, there are few structures in the body we don't know the function of. It seems that the clitoris is there merely for pleasure. But would evolution invest so much in such a fanciful aim? Over the years, dozens of theories have been posited and hotly debated.
One prevailing theory is the "byproduct hypothesis." The penis gives pleasure in order to drive males toward intercourse and ensure the perpetuation of the species. The sex organs are one of the last things developed in utero. Due to this, and the fact that women develop their pleasure organ from the same physical structure the penis is formed from, the clitoris is therefore a "byproduct" of the penis. You could imagine how some women feel about this theory.
Another is the mate-choice hypothesis. Here, it is thought that since a woman take longer to "get there," it would pay for her to find a mate invested in her pleasure. A considerate lover would make a good father, the theory posits. Yet, the female orgasm happens rarely during penetrative intercourse, undercutting this theory.
It's been thought that the act plays a role in conception. Several studies have shown that the woman having an orgasm during intercourse increases the likelihood of impregnation. But how and why is not well understood. Now, a team of scientists suggest that the female climax once played a role in reproduction, by triggering ovulation.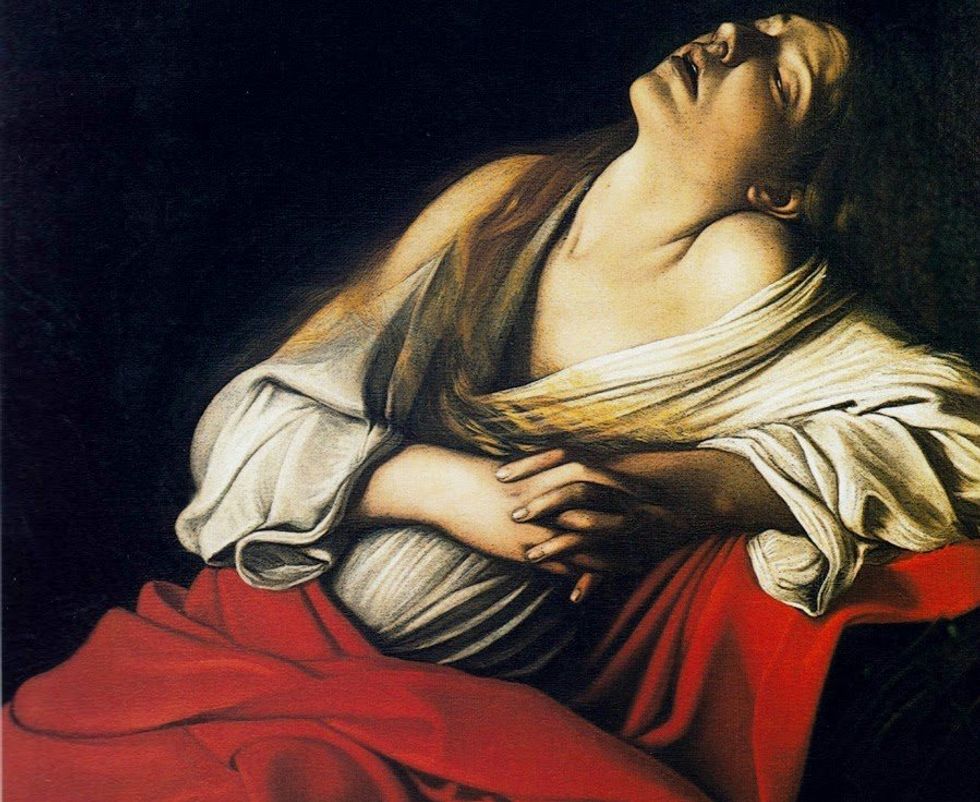 Mary Magdalen in Ecstasy. By: Michelangelo Merisi da Caravaggio. 1606.
Researchers at Yale University posed this theory, in a study published in the Journal of Experimental Zoology Part B Molecular and Developmental Evolution. Gunter Wagner was its co-author. He is a professor of ecology and evolutionary biology at the university. According to him, previous research has been looking in the wrong place. It focused on how human biology itself changed over time.
Instead, these Yale researchers began by analyzing a large swath of species and the mechanisms present in females associated with reproduction. Wagner and colleagues also looked at the genitalia of placental mammals. They focused on two hormones released during penetrative intercourse across species, prolactin and oxytocin.
Prolactin is responsible for the processes surrounding breast-milk and breast feeding, while oxytocin is the "calm and cuddle" hormone. It helps us to bond and feel closer to others. Placental mammals in the wild need these two hormones to trigger ovulation. Without them, the process cannot occur.
One major insight researchers found is that in other species, mammalian ovulation is induced by contact with males, whereas in humans and other primates, it is an automatic process operating outside of sexual activity, called spontaneous ovulation. From here, they looked at those female mammals who induce ovulation through sexual contact with males. In those species, the clitoris is located inside the vagina.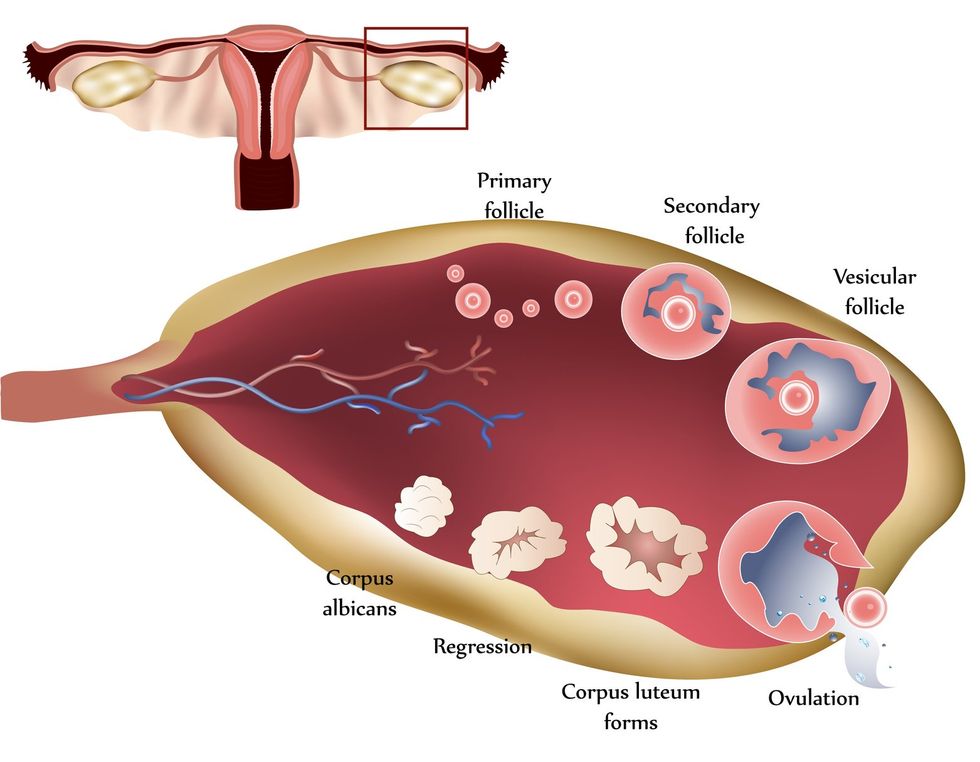 The process of human ovulation. By MartaFF [CC BY-SA 4.0], via Wikimedia Commons.
Evolutionary biologists believe that spontaneous ovulation first occurred, in the common ancestor of primates and rodents, around 75 million years ago. From here, Wagner and colleagues deduced that the female orgasm must have been an important part of reproduction in early humans. Before spontaneous ovulation, the human clitoris may have been placed inside the vagina. Stimulation of the clitoris during intercourse would trigger the release of prolactin and oxytocin, which would in turn, induce ovulation. This process became obsolete once spontaneous ovulation made it onto the scene.
"It is important to stress that it didn't look like the human female orgasm looks like now," said Mihaela Pavličev, Wagner's co-author of this study. "Homologous traits in different species are often difficult to identify, as they can change substantially in the course of evolution." She added, "We think the hormonal surge characterizes a trait that we know as female orgasm in humans. This insight enabled us to trace the evolution of the trait across species."
While the hypothesis is compelling, it has drawbacks. The biggest is that it's difficult, if not impossible, at least currently, to investigate what, if any, sexual pleasure other female animals derive during copulation. Other experts say, more data is needed from other organisms to shore up this theory. Still, it seems the most persuasive argument to date.
To learn more about the biological basis of the female orgasm, click here:
To create wiser adults, add empathy to the school curriculum.
Sponsored by Charles Koch Foundation
Stories are at the heart of learning, writes Cleary Vaughan-Lee, Executive Director for the Global Oneness Project. They have always challenged us to think beyond ourselves, expanding our experience and revealing deep truths.
Vaughan-Lee explains 6 ways that storytelling can foster empathy and deliver powerful learning experiences.
Global Oneness Project is a free library of stories—containing short documentaries, photo essays, and essays—that each contain a companion lesson plan and learning activities for students so they can expand their experience of the world.
This is what the world will look like, 250 million years from now
On Pangaea Proxima, Lagos will be north of New York, and Cape Town close to Mexico City
Surprising Science
To us humans, the shape and location of oceans and continents seems fixed. But that's only because our lives are so short.
As a doctor, I am reminded every day of the fragility of the human body, how closely mortality lurks just around the corner.
Photo by Alex Boyd on Unsplash
Personal Growth
'Despite all our medical advances,' my friend Jason used to quip, 'the mortality rate has remained constant – one per person.'
Tyson dives into the search for alien life, dark matter, and the physics of football.
Videos
Astrophysicist Neil deGrasse Tyson joins us to talk about one of our favorite subjects: space.
In the three-chaptered video, Tyson speaks about the search for alien life inside and outside of the Goldilocks Zone, why the term "dark matter" should really be called "dark gravity," and how the rotation of the Earth may have been the deciding factor in a football game.
These fascinating space facts, as well as others shared in Tyson's books, make it easier for everyone to grasp complex ideas that are literally out of this world.
Politics & Current Affairs
SpaceX's momentous Crew Dragon launch is a sign of things to come for the space industry, and humanity's future.
Scroll down to load more…