Scientists Design First-Ever Microchip That Stores Light as Sound
Imagine data delivered by light. This is an important benchmark toward the development of a whole new computer.
18 September, 2017
Imagine taking lightning and turning it into thunder. That's how University of Sydney researchers explain their latest breakthrough. They've converted light into sound energy, a world first—and it all took place inside a special microchip they've designed. Computing power is going to run out; if we're going to keep doubling computing power every 18 months, as Moore's Law suggests, we're going to have to outgrow the silicon microchip.
---
Electromagnetic systems generate a lot of heat. Besides an aspect to deal with when designing communication systems, it also means they lose a lot of energy. A silicon microchip can only become so efficient—and it can only get so thin until the power needed to run it fries it completely. What's more, the electromagnetic system is easily disrupted through interference. A light-based system wouldn't get hot. It would be super-efficient and transmit information at light speed. This step is a benchmark toward such a computer, one that would be 20 times faster than current computers.
Dr. Birgit Stiller is a research fellow at the University of Sydney. She along with doctoral candidate Moritz Merklein were the lead authors, and both hail from ARC Centre of Excellence for Ultrahigh bandwidth Devices for Optical Systems (CUDOS). Part of CUDOS, the Australian National University's Laser Physics Centre, created the chip.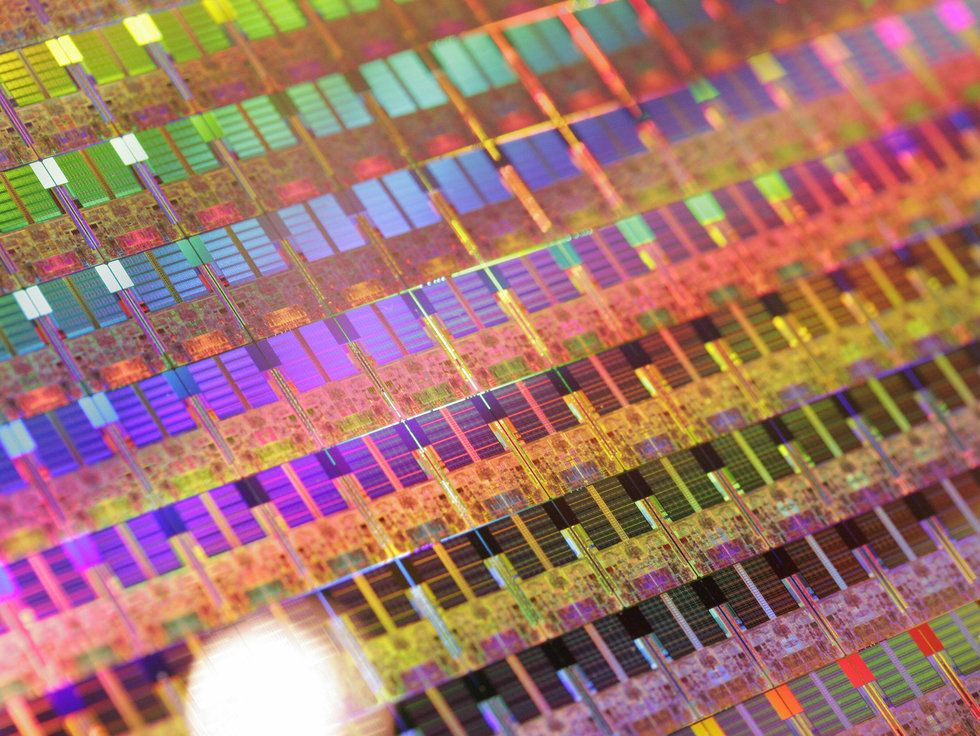 A light-based system would be five orders more efficient. Getty Images.
According to Dr. Stiller, "The information in our chip in acoustic form travels at a velocity five orders of magnitude slower than in the optical domain." She was the one who compared this feat to changing lightning into thunder. Stiller and Merklein's results were published in the journal Nature Communications. IBM, Intel, and other tech giants are already working on photon-based computing systems, so this study may help them broach certain shortcomings.
Fiber-optic wires and some aspects of cloud computing already use photon-based systems. The trouble is photons move fast (duh!), too fast for a computer to read. So the advantage that they bring in one area bogs things down in another. According to Dr. Stiller, "Unlike previous systems this allows us to store and retrieve information at multiple wavelengths simultaneously, vastly increasing the efficiency of the device."
The hope is that the energy could be received as light then converted into acoustics, slowing it down long enough for the computer to read, process, and manage it, and then converted back into light, in order to enable quick retrieval and transmission.
Professor Benjamin Eggleton is another co-author and the CUDOS director. He said: "This is an important step forward in the field of optical information processing as this concept fulfils all requirements for current and future generation optical communication systems."
See a model of how the microchip works here: 
Upstreamism advocate Rishi Manchanda calls us to understand health not as a "personal responsibility" but a "common good."
Sponsored by Northwell Health
Upstreamism tasks health care professionals to combat unhealthy social and cultural influences that exist outside — or upstream — of medical facilities.
Patients from low-income neighborhoods are most at risk of negative health impacts.
Thankfully, health care professionals are not alone. Upstreamism is increasingly part of our cultural consciousness.
The Bajau people's nomadic lifestyle has given them remarkable adaptions, enabling them to stay underwater for unbelievable periods of time. Their lifestyle, however, is quickly disappearing.
Wikimedia Commons
Culture & Religion
The Bajau people travel in small flotillas throughout the Phillipines, Malaysia, and Indonesia, hunting fish underwater for food.
Over the years, practicing this lifestyle has given the Bajau unique adaptations to swimming underwater. Many find it straightforward to dive up to 13 minutes 200 feet below the surface of the ocean.
Unfortunately, many disparate factors are erasing the traditional Bajau way of life.
We explore the history of blood types and how they are classified to find out what makes the Rh-null type important to science and dangerous for those who live with it.
Abid Katib/Getty Images
Surprising Science
Fewer than 50 people worldwide have 'golden blood' — or Rh-null.
Blood is considered Rh-null if it lacks all of the 61 possible antigens in the Rh system.
It's also very dangerous to live with this blood type, as so few people have it.
An innovation may lead to lifelike evolving machines.
Shogo Hamada/Cornell University
Surprising Science
Scientists at Cornell University devise a material with 3 key traits of life.
The goal for the researchers is not to create life but lifelike machines.
The researchers were able to program metabolism into the material's DNA.
Big think's weekly newsletter.
Get smarter faster from the comfort of your inbox.
See our newsletter privacy policy
here
Most Popular
Most Recent
Big think's weekly newsletter.
Get smarter faster from the comfort of your inbox.
See our newsletter privacy policy
here
© Copyright 2007-2019 & BIG THINK, BIG THINK EDGE,
SMARTER FASTER trademarks owned by The Big Think, Inc. All rights reserved.