NASA's Titan Sub Mission May Shed Light on How Life Developed on Earth
The mission might set a precedent for exploring bodies of water on other moons and worlds as well.
18 September, 2016
Of all the bodies in our solar system, Saturn's moon Titan is one of the likeliest to harbor life. That's because it has an atmosphere and its surface is covered by lakes and seas of hydrocarbon. Due to this, NASA has proposed a concept for a mission—plunging a robot-driven, nuclear submarine into Titan's largest, northerly sea, called Kraken Mare. This body of "water" is 1,000 kilometers (600 miles) wide and 300 meters (1,000 feet) deep. It's as large as Lake Superior. The concept was announced by cryogenics engineer Jason Hartwig, at NASA's Innovative Advanced Concepts (NIAC) Symposium, last August. 
---
Donned the Titan sub, the autonomous vehicle would be six meters (20 ft.) long, with that typical submarine shape and have two ballast tanks, one on each side, for diving and resurfacing. Other features include a conning tower with cameras and sensors, and a long fin across its back, serving as an antenna, which would relay data back to earth. Four propellers in the rear would propel it. The sub would be replete with cameras and a vast array of scientific instruments. Barring anything unforeseen (like being eaten by an extraterrestrial sea monster), it could have a long life. At its heart, two advanced Stirling Radioisotope Generators, fed on a slug of plutonium 238.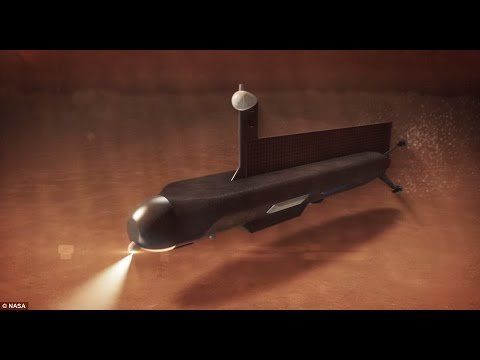 Proposed model of the Titan sub.
In a mission concept explanation, scientists explain that the sub would "…investigate a full spectrum of oceanographic phenomena: chemical composition of the liquid, surface and subsurface currents, mixing and layering in the 'water' column, tides, wind and waves, bathymetry (study of the sea bed), and bottom features and composition." It would even sample the silt at the bottom, to learn about the environment and search for organic compounds. If successful, the mission could set a precedent, giving NASA a new method for exploring bodies of water on moons and planets, such as the frozen oceans of Europa, one of Jupiter's moons. This is the second most likely candidate for life in our solar system, after Titan.  
The sub would travel a total of 1,000 kilometers (621 miles) and plunge depths estimated at 300 meters (approx. 984 ft.). Landing might be tricky. The Mars rovers Opportunity and Curiosity landed through a parachute and pod system. This is unlikely to work on a liquid surface.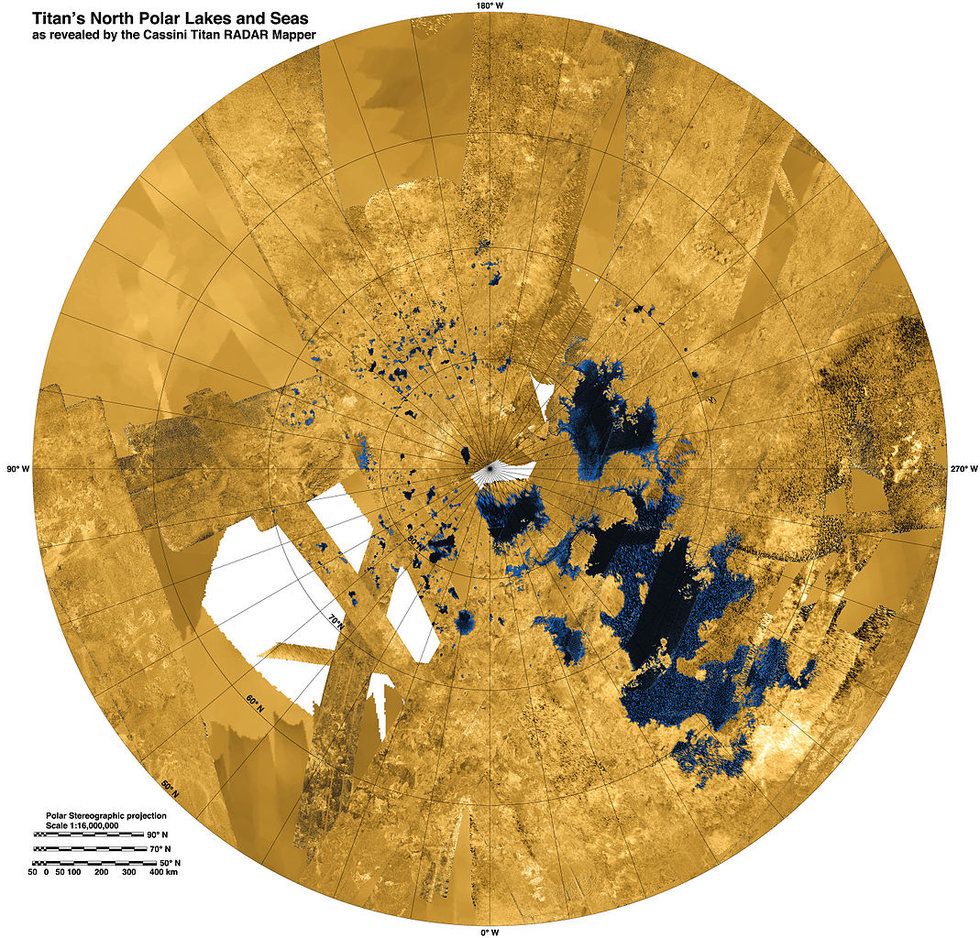 Titan's northern lakes and seas. NASA/JPL-Caltech/ASI/USGS
Ralph Lorenz is the lead designer of the Titan sub. He comes from Johns Hopkins University's Applied Physics Laboratory (APL). Lorenz proposes placing the sub within a space plane. The Air Force has such a plane, designed by DARPA, which few outside of the top brass know the details of. We do know that the unmanned X-37B has been tested several times, successfully, in space, orbiting earth for months at a time. 
Lorenz believes the sub could fit inside the cargo bay of such a plane. The plane could land on the so-called water and deliver the sub smoothly into Titan's sea. How the space plane would arrive there however is still unclear. Another issue might be signaling back to earth. A relay satellite may be required to make sure the data was received by NASA.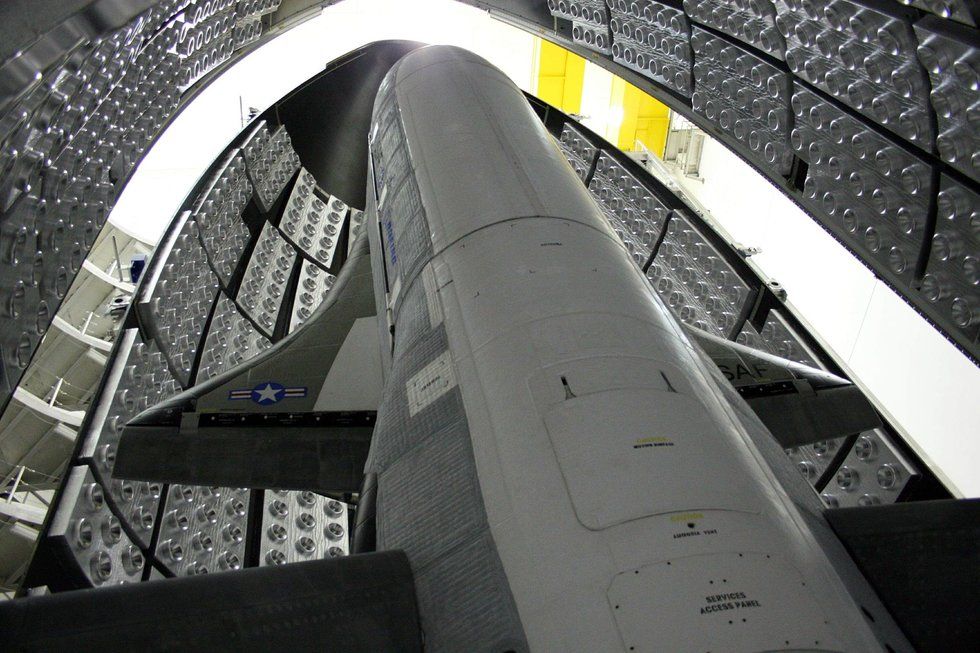 Boeing X-37B. Image by United States Air Force [Public domain], via Wikimedia Commons
So why Titan? This is one of the only bodies with complex meteorology, complete with clouds and an atmosphere. Another reason is the tremendous, though freezing cold seas. According to Lorenz, "Only Titan and Earth have open bodies of liquid like this." Scientists believe Titan may be something like how earth was in its early days. The difference is that Earth, being closer to the sun, is far warmer. Any life found on Titan would be far different from that on our own planet. Its seas are mostly liquid methane and ethane.
(Green) Near-infrared photo of Titan with sun glinting off its north polar seas. By NASA / JPL-Caltech / University of Arizona / University of Idaho [Public domain or Public domain], via Wikimedia Commons
With cyanide clouds and methane rain, and with very little oxygen, humans would not last long on its surface, unprotected. Still, the moon is believed to be rich in organic compounds. Besides these lakes and seas, its landscape is composed of ice, dunes, and rocks, so it may remind us of home, somewhat. This is the most earth-like body in space discovered thus far, with similar atmospheric and water cycles as our own planet. In this way, Titan hints at the possibility of big scientific discoveries.
Lorenz said of the moon, "Titan can inform us on the chemical processes that lead to life (as we know it, based on liquid water)." He went on "There is also the possibility, albeit a remote one, of alternate chemical systems executing the functions of life—metabolism, information storage and replication, etc.—in a completely different solvent: liquid methane."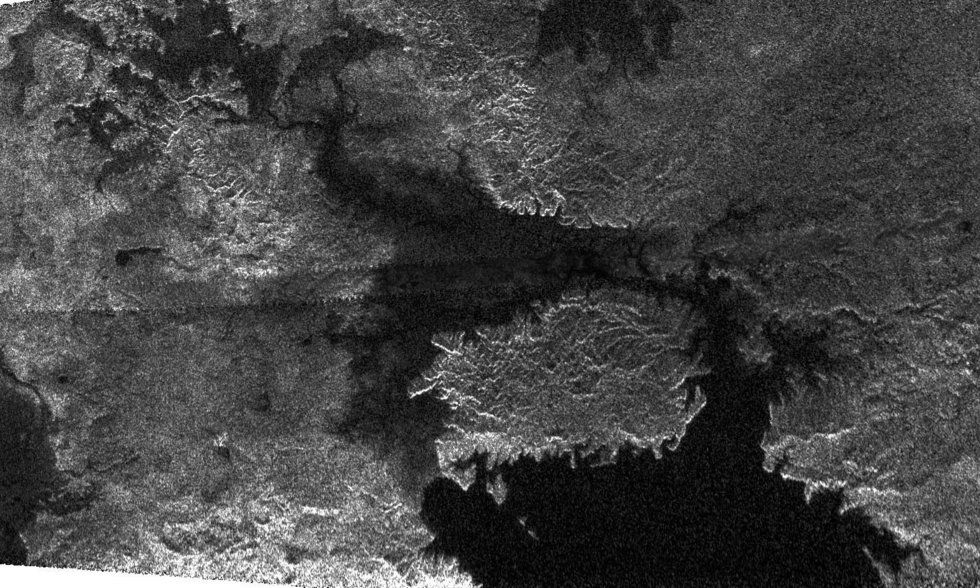 Kraken Mare. By NASA/JPL, Public Domain
After making it to Kraken Mare, the sub would deploy its periscope camera, to observe the shorelines of the sea and map it. It would also use sonar to map its bottom. The sub would then employ sensors to check out the sediments on the seafloor—which will show the moon's climate history, the liquid composition of the sea, and the presence of any organic components.
This mission wouldn't occur until around 2040. Scientists call the idea of photos from Titan "game changing." And few space enthusiasts can help but be gitty at the idea of landing a robot sub on another planet's moon. What's more, finding organic compounds there could potentially give us insights into how life might develop elsewhere in the galaxy.
To see NASA's concept video for the mission click here: 
What can 3D printing do for medicine? The "sky is the limit," says Northwell Health researcher Dr. Todd Goldstein.
Northwell Health
Sponsored by Northwell Health
Medical professionals are currently using 3D printers to create prosthetics and patient-specific organ models that doctors can use to prepare for surgery.
Eventually, scientists hope to print patient-specific organs that can be transplanted safely into the human body.
Northwell Health, New York State's largest health care provider, is pioneering 3D printing in medicine in three key ways.
Torn between absolutism on the left and the right, classical liberalism—with its core values of compassion and incremental progress whereby the once-radical becomes the mainstream—is in need of a good defense. And Adam Gopnik is its lawyer.
Think Again Podcasts
Liberalism as "radical pragmatism"
Intersectionality and civic discourse
How "a thousand small sanities" tackled drunk driving, normalized gay marriage, and could control gun violence
As Game of Thrones ends, a revealing resolution to its perplexing geography.
Strange Maps
The fantasy world of Game of Thrones was inspired by real places and events.
But the map of Westeros is a good example of the perplexing relation between fantasy and reality.
Like Britain, it has a Wall in the North, but the map only really clicks into place if you add Ireland.
The lost practice of face-to-face communication has made the world a more extreme place.
Videos
The world was saner when we spoke face-to-face, argues John Cameron Mitchell. Not looking someone in the eye when you talk to them raises the potential for miscommunication and conflict.
Social media has been an incredible force for activism and human rights, but it's also negatively affected our relationship with the media. We are now bombarded 24/7 with news that either drives us to anger or apathy.
Sitting behind a screen makes polarization worse, and polarization is fertile ground for conspiracy theories and fascism, which Cameron describes as irrationally blaming someone else for your problems.
Big think's weekly newsletter.
Get smarter faster from the comfort of your inbox.
See our newsletter privacy policy
here
Most Popular
Most Recent
Big think's weekly newsletter.
Get smarter faster from the comfort of your inbox.
See our newsletter privacy policy
here
© Copyright 2007-2019 & BIG THINK, BIG THINK EDGE,
SMARTER FASTER trademarks owned by The Big Think, Inc. All rights reserved.