Low gravity may hold the key to a healthy heart
The impact of this research could help save millions of lives each year. Only thing is, it has to be done from space.
15 April, 2018
Most of us who are interested in how living in space affects the human body, are familiar with the downsides. For instance, you can lose up to 20% of your bone mass by spending six months or more in a microgravity environment, not to mention a substantial loss of muscle mass. This is why astronauts on the international space station are constantly working out, to try and preserve those tissues. A far more worrisome aspect is that without the benefit of the Earth's magnetic field, one is constantly exposed to cosmic radiation, which can increase the risk of cancer and Alzheimer's. There are other problems too like difficulty sleeping, blood rushing to the face and away from the limbs, immune system deficiencies, and much more.
---
One of the biggest impacts might be to cardiovascular health. In space, veins and arteries grow thicker and become less elastic, which could increase the risk of heart disease. What's really fascinating is that this environment, inherently dangerous to the cardiovascular system, could hold the secret to healing it after a cardiac event. Researchers from Loma Linda University in California just published a fascinating paper on this, which was published in the journal Stem Cells and Development.
The study reveals that a microgravity environment helps speed up the production of progenitor heart cells—the precursor to stem cells. On Earth, these are slow growing, which makes stem cell therapy difficult to achieve on a large scale. Scientists are looking into how to boost production of progenitor cells to have them at the ready, in order to repair patients' hearts after a heart attack.
The scientists in this study wanted to know how a low gravity environment impacts these cells' development. They focused particularly on whether progenitor cells or the stem cells they turn into, can be grown in a microgravity environment.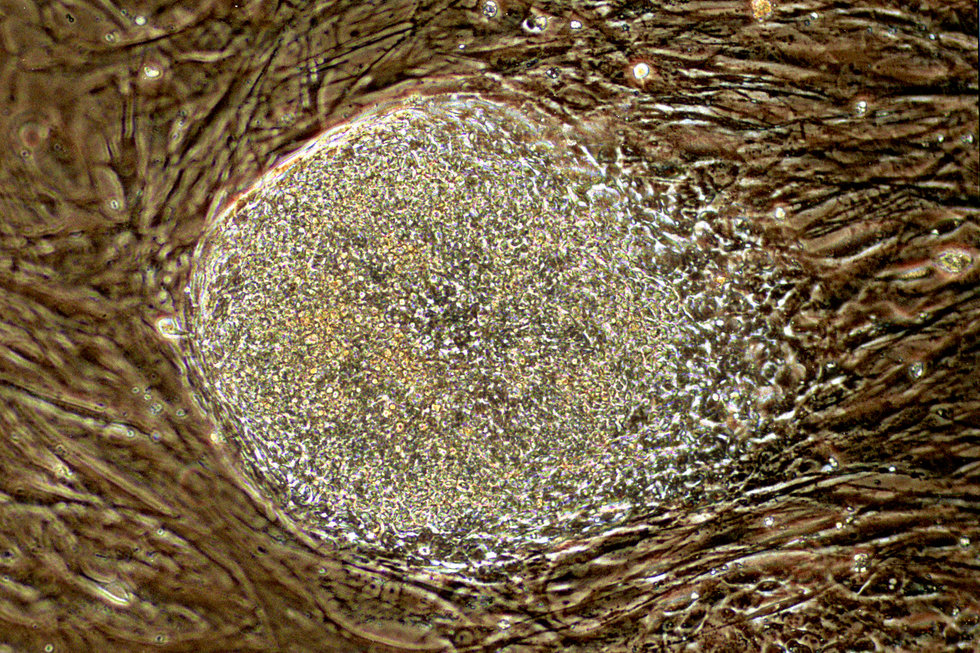 A congregation of human stem cells less than 1 mm wide. Credit: Getty Images.
Remember that stem cells can become any type of cell in the body. Previous research on embryonic mouse stem cells found that they were able to form cardiac muscle cells more quickly after being exposed to a microgravity environment. Would human neonatal cardiovascular progenitor cells (CPC) operate the same way?
To find out, researchers cultured CPCs in microgravity aboard the International Space Station. The cells spent 6-7 days in simulated low gravity and another 12 days in microgravity. What scientists found was that the cells expressed genes differently, as if they were actually in an earlier stage of development. The CPCs also expressed changes in calcium signaling pathways. The scientists took these cells back to their lab on Earth and further manipulated this signaling.
What they found was that this change in calcium signaling could be manipulated in a way that would speed up cardiac therapies. After a heart attack, doctors can place CPCs in key areas in the heart to initiate repairs. But grafts don't always take. So researchers want to find ways to make transplantation more successful more often. One way to do so is to have more of them on-hand, in case the initial graft doesn't take.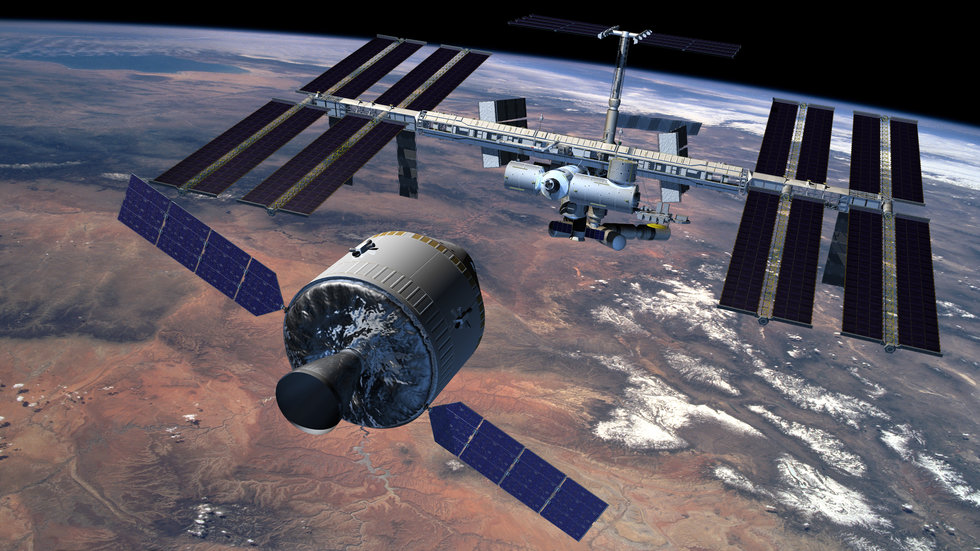 The International Space Station. Could this and other installations like it become harvesting facilities for cardiovascular progenitor cells? Credit: Getty Images.
Based on these experiments, cultivating cardiac progenitor cells in microgravity may be a worthwhile endeavor in the near future, especially since the second "space race" is heating up. For now, this study highlights underlying mechanisms which scientists may use to better understand these cells and how to use them for clinical purposes.
Graham C. Parker, Ph.D. —the Editor-in-Chief of Stem Cell and Development, commented on the findings. He wrote, "This paper provides an important proof of concept for combining space-based and ground-based experimental design and informs cardiac therapeutic development both for spaceflight and here on Earth."
To learn more about cultivating stem cells in space, watch this:
The way that you think about stress can actually transform the effect that it has on you – and others.
Big Think Edge
Stress is contagious, and the higher up in an organization you are the more your stress will be noticed and felt by others.
Kelly McGonigal teaches "Reset your mindset to reduce stress" for Big Think Edge.

Subscribe to Big Think Edge before we launch on March 30 to get 20% off monthly and annual memberships.
These quick bursts of inspiration will brighten your day in 10 minutes or less.

Explore a legendary philosopher's take on how society fails to prepare us for education and progress.
Alan Watts.
Personal Growth
Alan Watts was an instrumental figure in the 1960s counterculture revolution.
He believed that we put too much of a focus on intangible goals for our educational and professional careers.
Watts believed that the whole educational enterprise is a farce compared to how we should be truly living our lives.
How can we use the resources that are already on the Moon to make human exploration of the satellite as economical as possible?
The All-Terrain Hex-Limbed Extra-Terrestrial Explorer (ATHLETE), a prototype heavy-lift utility vehicle to support future human exploration of extraterrestrial surfaces, at right, is parked beside the Habitat Demonstration Unit - Pressurized Excursion Module (HDU-PEM), at left, a concept off-Earth living and work quarters for astronauts stationed on asteroids, the moon or Mars, 15 September 2010. Photo by: ROBYN BECK/AFP/Getty Images
Technology & Innovation
If you were transported to the Moon this very instant, you would surely and rapidly die. That's because there's no atmosphere, the surface temperature varies from a roasting 130 degrees Celsius (266 F) to a bone-chilling minus 170 C (minus 274 F). If the lack of air or horrific heat or cold don't kill you then micrometeorite bombardment or solar radiation will. By all accounts, the Moon is not a hospitable place to be.

Big think's weekly newsletter.
Get smarter faster from the comfort of your inbox.
See our newsletter privacy policy
here
Most Popular
Most Recent
Big think's weekly newsletter.
Get smarter faster from the comfort of your inbox.
See our newsletter privacy policy
here
© Copyright 2007-2018 & BIG THINK, BIG THINK EDGE,
SMARTER FASTER trademarks owned by The Big Think, Inc. All rights reserved.