Men who have tattoos think it impresses women. Study finds it doesn't.
One reason: women perceive men with tattoos as more likely to cheat. 
23 December, 2016
Most of us are aware that women, at least on some level, are attracted to the "bad boy." Evolutionary anthropologists tell us this is because a woman in the Stone Age competed for the attention of a male who could protect her and their young, and provide for them. Today however, society has changed. And in fact, many times it is the sociable and intellectual male who turns out to be the best provider, while those who are aggressive, rebellious, and uncompromising, often have a tougher time. Many women date the rebellious archetype in their teen or young adult years, usually thinking they can change him, only to end up with a broken heart. According to this new study, that experience might be a steep learning curve.
---
A cohort of men out there with tattoos think women are attracted to them partly because of their ink, as it projects a masculine air. Think about that tattooed guy you know who can't wait to take his shirt off in the summertime when women are around. A tattoo is the calling card of a bad boy, regardless of the fact that today, fathers, mothers, and businessmen have them. Though some men may believe the myth, and think it helps make them more competitive in the dating market, women aren't actually more attracted to men with tattoos. At least, that's the results of a new Polish study, published in the journal Personality and Individual Differences.
Researchers Andrzej Galbarczyk and Anna Ziomkiewicz began by recruiting 2,584 straight Polish men and women. Each participant was made to view images of men shirtless. Sometimes the photos were modified by adding a small tattoo on the arm. Male participants ranked each photo with a tattoo as more attractive to women. Women meanwhile, were more likely to label non-tattooed men as attractive.
One interesting find is that women rated men emblazoned with tattoos as healthier. This is actually a common trend in such research. It is considered a symbol of strength. Generally speaking, our species looks for signs of attractiveness not as an end onto itself, but as a biological trait, as it telegraphs healthfulness and good genes. Mother Nature programmed us to look for partners who would provide healthy offspring. Since tattoos are considered a sign of toughness and masculinity, it is thought that those who have them have higher testosterone levels, and therefore are more fertile.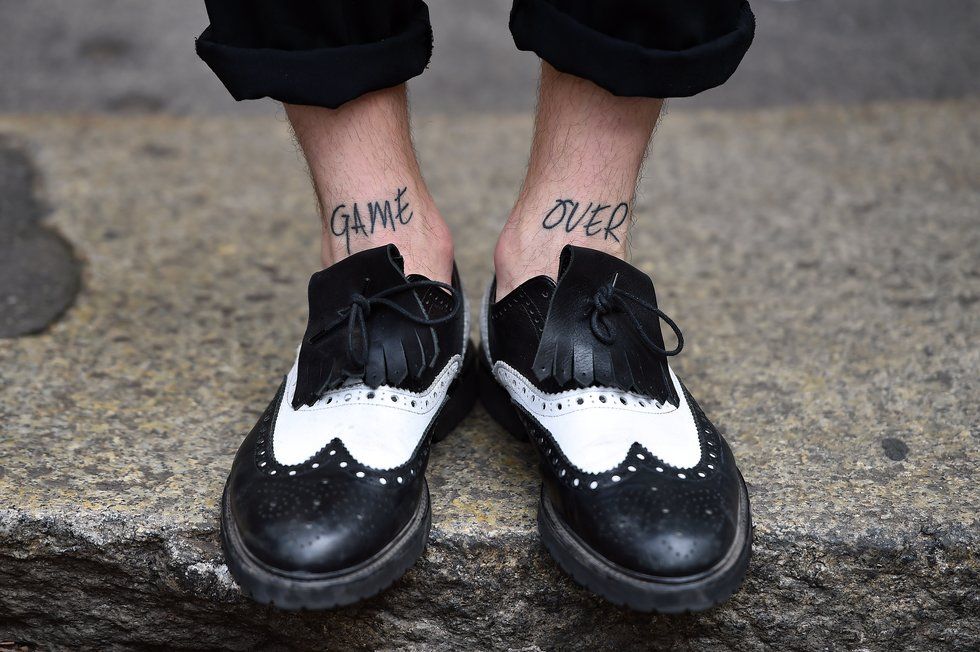 Men whose testosterone levels are too high may carry traits that make them less than desirable mates.
That's one reason why we see so many Hollywood heartthrobs donning a five o'clock shadow. They are telegraphing testosterone. Beards however are considered by many women as unattractive. It may be the same reason why tattoos don't flip their switch.
Too high a testosterone level is considered a turnoff. It equates, at least on a biological-evolutionary level, to a higher likelihood of him having an affair. Ten years ago, a breakthrough study at the University of New Mexico discovered that men with low testosterone levels tended to remain in committed relationships. While other research has found that those who received more testosterone in the womb are more likely to lead promiscuous, polyamorous, or serial monogamous lives.
Men with elevated testosterone could also be more prone to dominance and even domestic violence, although upbringing and other factors are also at play. "The dark side of testosterone-related features perfectly explains why women assessed tattooed men as worse potential partners and parents," researchers wrote. The male hormone is also responsible for motivation, the sex drive, and a positive attitude. It's thought that those with a higher testosterone level are also more confident. And as everyone knows, confidence is sexy. Perhaps this also plays a part in the affair risk factor.
A woman's opinion of a man was more influenced by tattoos than a man's was, researchers found. So this means that tattoos are equated in both sexes with a higher testosterone level. Now, listen up fellas. If you want a tattoo, get it for the right reason; though it may make you the envy of men, it won't garner you any extra dates.
To hear what real women have to say about men with tattoos, click here:
Former president of the ACLU Nadine Strossen discusses whether our society should always defend free speech rights, even for groups who would oppose such rights.
Sponsored by Charles Koch Foundation
Former ACLU president Nadine Strossen understands that protecting free speech rights isn't always a straightforward proposition.
In this video, Strossen describes the reasoning behind why the ACLU defended the free speech rights of neo-Nazis in Skokie, Illinois, 1977.
The opinions expressed in this video do not necessarily reflect the views of the Charles Koch Foundation, which encourages the expression of diverse viewpoints within a culture of civil discourse and mutual respect.
Tap into the "Rest and Digest" System to Achieve Your Goals
Big Think Edge
In the fast-paced workplaces and productivity-focused societies many of us inhabit today, it is easy to burnout.
Emma Seppälä, a Stanford researcher on human happiness, recommends tapping into the parasympathetic nervous system instead—"rest and digest"rather than "fight or flight."
Aiming for energy management rather than time management will give you the resilience you need to excel at the things that really matter in your life and career, rather than living "mostly off" by attempting to seem "always on."
Steve Wozniak doesn't know if his phone is listening, but he's minimizing risks.
Photo by Bryan Steffy/Getty Images
Technology & Innovation
Steve Wozniak didn't hold back his feelings about the social media giant when stopped at an airport.
The Apple co-founder admitted that devices spying on his conversations is worrisome.
Wozniak deleted his Facebook account last year, recommending that "most people" should do the same.
When it comes to sniffing out whether a source is credible or not, even journalists can sometimes take the wrong approach.
Sponsored by Charles Koch Foundation
We all think that we're competent consumers of news media, but the research shows that even journalists struggle with identifying fact from fiction.
When judging whether a piece of media is true or not, most of us focus too much on the source itself. Knowledge has a context, and it's important to look at that context when trying to validate a source.
The opinions expressed in this video do not necessarily reflect the views of the Charles Koch Foundation, which encourages the expression of diverse viewpoints within a culture of civil discourse and mutual respect.