Leonardo DiCaprio Commits $20 Million To Fight Climate Change
"These facts have been presented time and again, year after year, for decades," DiCaprio says. "Quite simply, we are knowingly doing this to ourselves."
20 September, 2017
Leonardo DiCaprio is more than just a leading man in some of Hollywood's biggest blockbusters. Along with being a writer and producer, he's also an outspoken activist ringing the alarm bells of the catastrophe to befall us, should we ignore our role in global warming. DiCaprio himself has been a long-time advocate for the environment, and sits on the board of many prominent organizations including the World Wildlife Fund (WWF), the Natural Resources Defense Council (NRDC), and the International Fund for Animal Welfare.
---
He's also traveled the world speaking on climate change and is currently a UN messenger of peace. He even brought up climate change in his acceptance speech, when he finally won an Oscar last year for his role in The Revenant. In addition, he's made two speeches to the UN, one in 2014 and another earlier this year.
At a two-day conference that just wrapped up on Tuesday at Yale University, he announced The Leonardo DiCaprio foundation was committing $20 million dollars in grants to 100 nonprofits working to fight climate change. The foundation has six programs. They are: Wildlife and Landscape Conservation, Climate Change, Indigenous Rights, Innovative Solutions, Marine and Ocean Conservation, and Transforming California. Up until now, the foundation has had a direct financial impact of $80 million, which DiCaprio himself raised.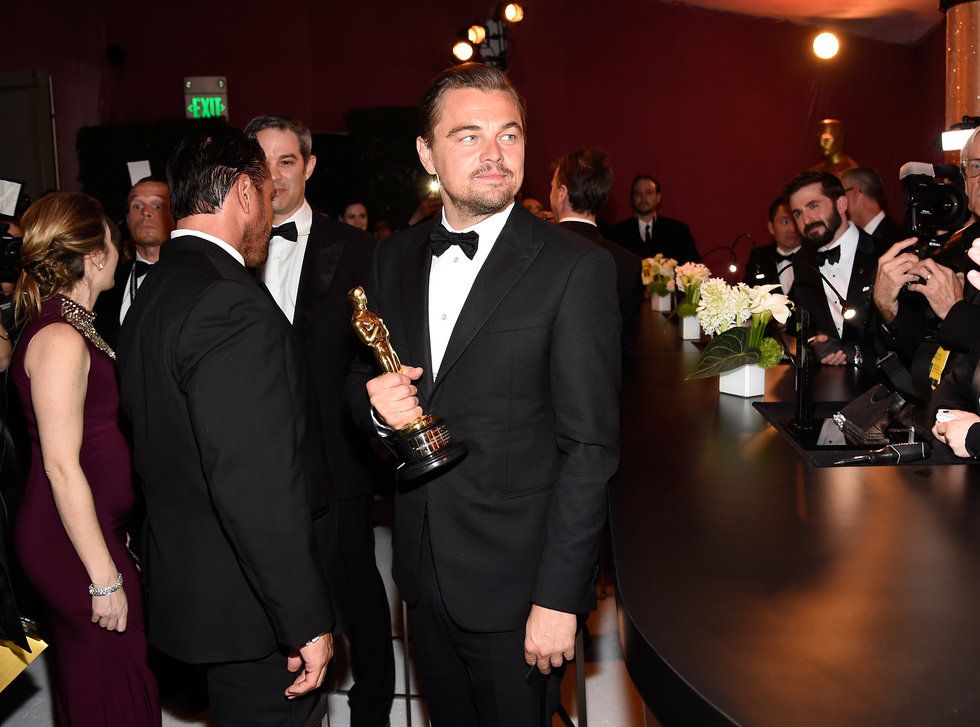 DiCaprio talked about global warming during his Oscar speech. Getty Images.
The event at Yale was hosted by the Kerry Initiative. This is a program created by John Kerry, the former Secretary of State, presidential candidate, Massachusetts senator, and Yale graduate. According to the Hartford Currant, other speakers included, "California Gov. Jerry Brown, Paris Mayor Anne Hidalgo, former Secretary of State James Baker, and General Electric chairman Jeffrey Immelt."
Secretary Kerry and DiCaprio closed the conference entitled, "Closing Plenary: Citizen Engagement & Activism." The two men entered to thunderous cheers and applause. The overwhelming outpouring caused both DiCaprio and Kerry to smirk knowingly. The former secretary stepped over to the podium and introduced DiCaprio by referencing Titanic. "Who better to talk about climate change than a man who has witnessed an iceberg breaking apart in the middle of the ocean?" he said.
You could feel the electricity in the room as the audience, mostly Yale students, anxiously awaited to hear DiCaprio speak. Kerry called on the students to become the agents of change, and said we need a new accountability to contain the climate's growing temperature. "We are way behind as to what has to happen," Kerry said. Instead, we had to start to learn to "save ourselves, from ourselves."
DiCaprio spoke at the podium after a clip of his interview-style climate change documentary, Before the Flood which came out last year. Since then, the actor pointed out that more species have gone extinct and wildfires and ferocious storms have become more commonplace. Scientists have been ringing the alarm bells since the '90s, he said. Yet, surprisingly little has been done. The economic turmoil he said, will come at us in unison with ecological disaster. According to his foundation, the environment offers us $100 trillion in free services, which are now all in peril.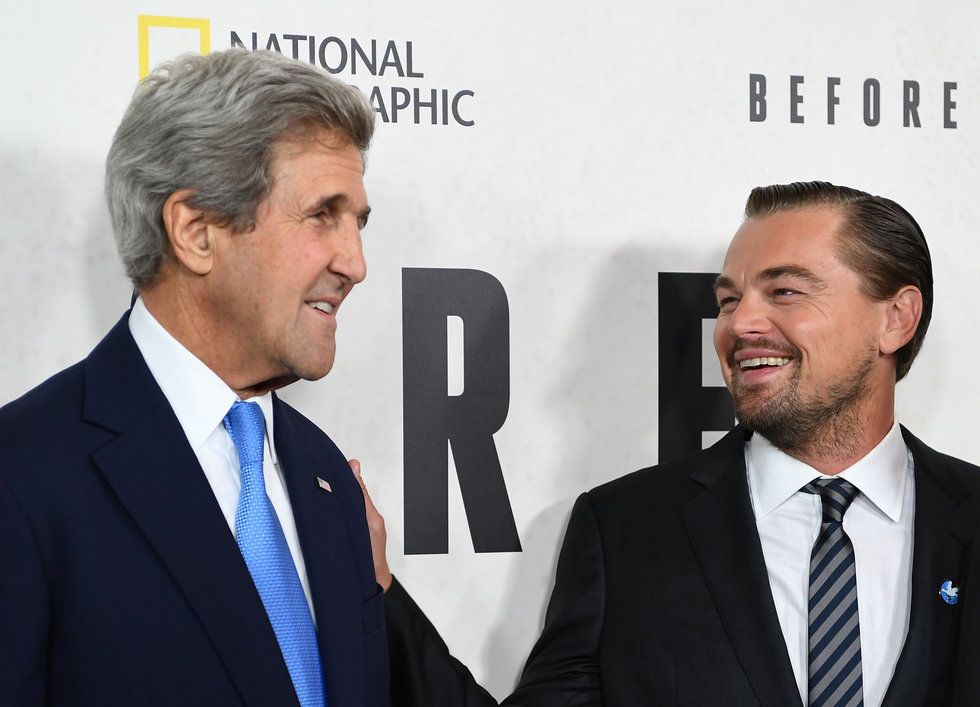 DiCaprio and Kerry attend Before the Flood screening in New York City, October, 2016. Getty Images.
"These facts have been presented time and again, year after year, for decades," DiCaprio said. "Quite simply, we are knowingly doing this to ourselves, to our entire planet, and we're risking our very future." He mentioned that the intense storms hitting the Caribbean and Gulf Coast, along with the horrendous flooding in Southern Asia, make the "results of our inaction even clearer."   
And yet, "There is still an astounding level of willful ignorance and inaction from the people who should be doing the most to protect us and every other living thing on this planet." Apparently, DiCaprio and his foundation head met with then President-elect Trump in December and offered a commonsense plan to address climate change, as well as to boost the economy through supporting green jobs. "We talked about how the United States has the potential to lead the world in clean energy manufacturing and research and development," he said.
DiCaprio called R&D, green jobs, and green engineering "the largest domestic opportunity in all of American history." Meanwhile, the Trump administration has backed away from the Paris Climate Agreement, which Kerry as Secretary of State helped broker in 2015. According to DiCaprio, the only thing we lack is the political will to tackle this ever-increasing problem.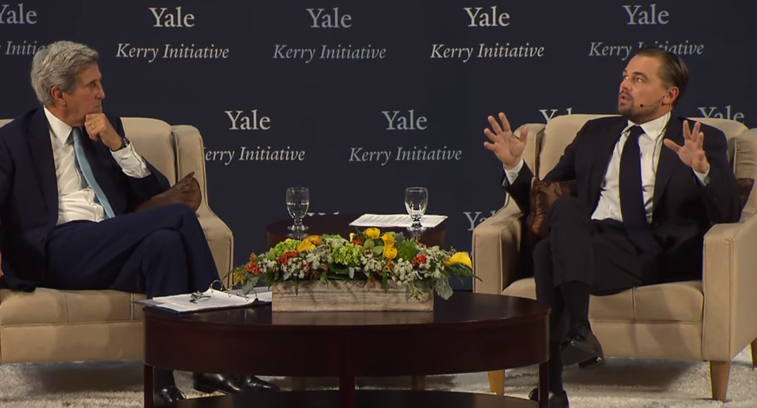 Kerry and DiCaprio at the Yale event. 
"What is missing in some countries is government policies that set bold goals and more leadership from the private sector, to reach out and grab hold of this tremendous opportunity, to be the drivers of innovation, to invest in these clean jobs and understand the economic potential for the future," DiCaprio said.
When announcing the grants, he said, "We are proud to support the work of over 100 organizations at home and abroad. These grantees are active on the ground, protecting our oceans, forests, and endangered species for future generations, and tackling the urgent, existential challenges of climate change." See those organizations and the breakdown here.  
Perhaps DiCaprio's most powerful statement,
"There exist today many proven technologies in renewable energy, clean transportation, and sustainable agriculture that we can begin to build a brighter future for all of us. Our challenge is to find new ways to power our lives, employ millions of people and turn every individual into an advocate for clean air and drinkable water. We must demand that politicians accept climate science and make bold commitments before it is too late."
To see DiCaprio's documentary, click here: 
Big Think
Sponsored by Lumina Foundation
Upvote/downvote each of the videos below!

As you vote, keep in mind that we are looking for a winner with the most engaging social venture pitch - an idea you would want to invest in.
Here are 7 often-overlooked World Heritage Sites, each with its own history.
Culture & Religion
UNESCO World Heritage Sites are locations of high value to humanity, either for their cultural, historical, or natural significance.
Some are even designated as World Heritage Sites because humans don't go there at all, while others have felt the effects of too much human influence.
These 7 UNESCO World Heritage Sites each represent an overlooked or at-risk facet of humanity's collective cultural heritage.
Researchers hope the technology will further our understanding of the brain, but lawmakers may not be ready for the ethical challenges.
Still from John Stephenson's 1999 rendition of Animal Farm.
Surprising Science
Researchers at the Yale School of Medicine successfully restored some functions to pig brains that had been dead for hours.
They hope the technology will advance our understanding of the brain, potentially developing new treatments for debilitating diseases and disorders.
The research raises many ethical questions and puts to the test our current understanding of death.
The image of an undead brain coming back to live again is the stuff of science fiction. Not just any science fiction, specifically B-grade sci fi. What instantly springs to mind is the black-and-white horrors of films like Fiend Without a Face. Bad acting. Plastic monstrosities. Visible strings. And a spinal cord that, for some reason, is also a tentacle?
But like any good science fiction, it's only a matter of time before some manner of it seeps into our reality. This week's Nature published the findings of researchers who managed to restore function to pigs' brains that were clinically dead. At least, what we once thought of as dead.
What's dead may never die, it seems
The researchers did not hail from House Greyjoy — "What is dead may never die" — but came largely from the Yale School of Medicine. They connected 32 pig brains to a system called BrainEx. BrainEx is an artificial perfusion system — that is, a system that takes over the functions normally regulated by the organ. The pigs had been killed four hours earlier at a U.S. Department of Agriculture slaughterhouse; their brains completely removed from the skulls.
BrainEx pumped an experiment solution into the brain that essentially mimic blood flow. It brought oxygen and nutrients to the tissues, giving brain cells the resources to begin many normal functions. The cells began consuming and metabolizing sugars. The brains' immune systems kicked in. Neuron samples could carry an electrical signal. Some brain cells even responded to drugs.
The researchers have managed to keep some brains alive for up to 36 hours, and currently do not know if BrainEx can have sustained the brains longer. "It is conceivable we are just preventing the inevitable, and the brain won't be able to recover," said Nenad Sestan, Yale neuroscientist and the lead researcher.
As a control, other brains received either a fake solution or no solution at all. None revived brain activity and deteriorated as normal.
The researchers hope the technology can enhance our ability to study the brain and its cellular functions. One of the main avenues of such studies would be brain disorders and diseases. This could point the way to developing new of treatments for the likes of brain injuries, Alzheimer's, Huntington's, and neurodegenerative conditions.
"This is an extraordinary and very promising breakthrough for neuroscience. It immediately offers a much better model for studying the human brain, which is extraordinarily important, given the vast amount of human suffering from diseases of the mind [and] brain," Nita Farahany, the bioethicists at the Duke University School of Law who wrote the study's commentary, told National Geographic.
An ethical gray matter
Before anyone gets an Island of Dr. Moreau vibe, it's worth noting that the brains did not approach neural activity anywhere near consciousness.
The BrainEx solution contained chemicals that prevented neurons from firing. To be extra cautious, the researchers also monitored the brains for any such activity and were prepared to administer an anesthetic should they have seen signs of consciousness.
Even so, the research signals a massive debate to come regarding medical ethics and our definition of death.
Most countries define death, clinically speaking, as the irreversible loss of brain or circulatory function. This definition was already at odds with some folk- and value-centric understandings, but where do we go if it becomes possible to reverse clinical death with artificial perfusion?
"This is wild," Jonathan Moreno, a bioethicist at the University of Pennsylvania, told the New York Times. "If ever there was an issue that merited big public deliberation on the ethics of science and medicine, this is one."
One possible consequence involves organ donations. Some European countries require emergency responders to use a process that preserves organs when they cannot resuscitate a person. They continue to pump blood throughout the body, but use a "thoracic aortic occlusion balloon" to prevent that blood from reaching the brain.
The system is already controversial because it raises concerns about what caused the patient's death. But what happens when brain death becomes readily reversible? Stuart Younger, a bioethicist at Case Western Reserve University, told Nature that if BrainEx were to become widely available, it could shrink the pool of eligible donors.
"There's a potential conflict here between the interests of potential donors — who might not even be donors — and people who are waiting for organs," he said.
It will be a while before such experiments go anywhere near human subjects. A more immediate ethical question relates to how such experiments harm animal subjects.
Ethical review boards evaluate research protocols and can reject any that causes undue pain, suffering, or distress. Since dead animals feel no pain, suffer no trauma, they are typically approved as subjects. But how do such boards make a judgement regarding the suffering of a "cellularly active" brain? The distress of a partially alive brain?
The dilemma is unprecedented.
Setting new boundaries
Another science fiction story that comes to mind when discussing this story is, of course, Frankenstein. As Farahany told National Geographic: "It is definitely has [sic] a good science-fiction element to it, and it is restoring cellular function where we previously thought impossible. But to have Frankenstein, you need some degree of consciousness, some 'there' there. [The researchers] did not recover any form of consciousness in this study, and it is still unclear if we ever could. But we are one step closer to that possibility."
She's right. The researchers undertook their research for the betterment of humanity, and we may one day reap some unimaginable medical benefits from it. The ethical questions, however, remain as unsettling as the stories they remind us of.
A new method promises to capture an elusive dark world particle.
Surprising Science
Scientists working on the Large Hadron Collider (LHC) devised a method for trapping dark matter particles.
Dark matter is estimated to take up 26.8% of all matter in the Universe.
The researchers will be able to try their approach in 2021, when the LHC goes back online.
Big think's weekly newsletter.
Get smarter faster from the comfort of your inbox.
See our newsletter privacy policy
here
Most Popular
Most Recent
Big think's weekly newsletter.
Get smarter faster from the comfort of your inbox.
See our newsletter privacy policy
here
© Copyright 2007-2019 & BIG THINK, BIG THINK EDGE,
SMARTER FASTER trademarks owned by The Big Think, Inc. All rights reserved.