Knowing the stages of neurological development can make you a better parent
There are four main stages. Each has its own particular set of advancements and challenges. 
08 September, 2017
Don't you wish you could predict your child's behavior with 100 percent accuracy? Any realistic parent knows it's an impossible daydream, but an appealing one nonetheless. Kids will always surprise you. There are so many factors that go into behavior, not to mention the fact that internal and external forces can sometimes make kids act out of character.
---
What you can do is come to understand the stages of their neurological development and what it means for their learning and behavior. Turns out, those parents who get a good grip on how we develop neurologically, are better able to guide their children toward positive outcomes. Here's a rundown of the stages of neurological development and what they mean for parenting.
The first is the sensorimotor stage. This takes places between birth and two-years. A child at this stage is getting used to experiencing the environment through their senses. Through trial and error and from experiences with objects and sensations, they begin to master the world around them. Around age one, the child learns object permanence, the concept that an object continues to exist, even when it's left the field of vision.
According to Sarah Lytle, PhD., from the Institute for Learning & Brain Sciences at the University of Washington in Seattle, what many parents don't fully realize is that babies are also developing socially and emotionally. As such, they usually look to their parent for support. If you've ever engaged with a baby you didn't know, you'll notice the child usually turns to their parent to gauge how to respond. This act is called social referencing or social cognition. Be sure to be supportive when the child does this. This allows for more confidence and independence.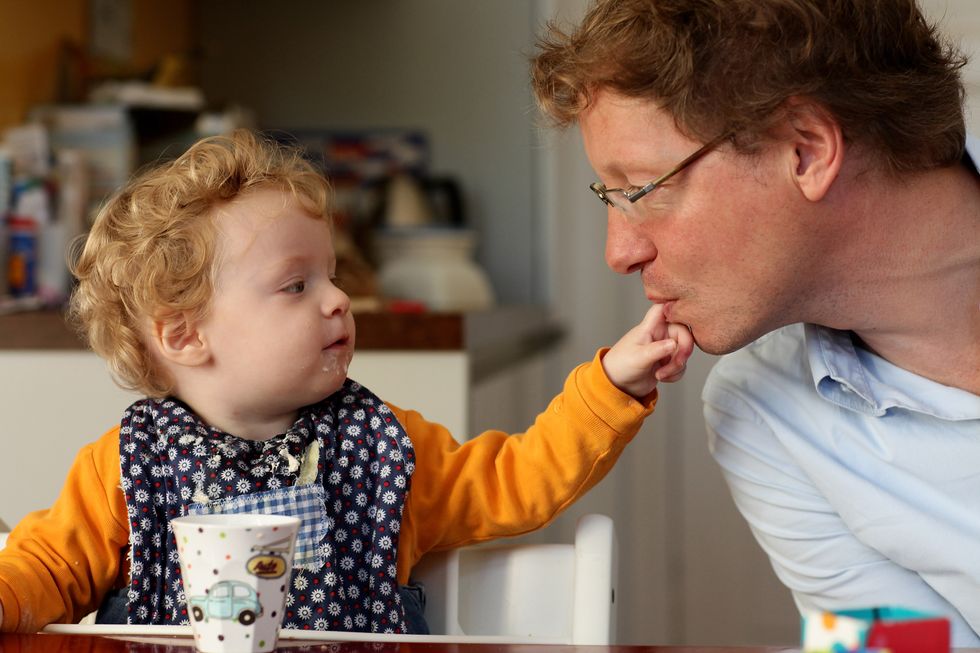 Young children understand the world through interaction with their senses. Getty Images.
A child's first word is uttered around six months of age. To help a baby develop language skills further, remember that they follow your gaze. Emphasize with your eyes by moving them slowly when introducing a new word. According to Dr. Lytle, it's okay to use a baby-talk tone. We're actually genetically programmed to talk that way. But make sure you use words correctly, in full, and in complete, grammatically correct sentences.
From age two to six or seven, a child enters the preoperational stage. Here, language skills ramp up. The child can start to think in terms of symbols, develop a numerical understanding, and begin to grasp the distinction between past and future. Children at this age do well with concrete situations. Abstract concepts, however, are difficult to grasp.
It's at age two that humans become amazed by the idea that others don't see the world quite like they do. As the parents of two-year olds are all too well aware of, this self-centered viewpoint makes it difficult for the child to share and care about others. Although a 2016 poll showed that most parents think two-year olds can control their emotions, psychologists say quite the contrary. Having a toy that they love on hand to distract them when they pull a temper tantrum is probably the best strategy.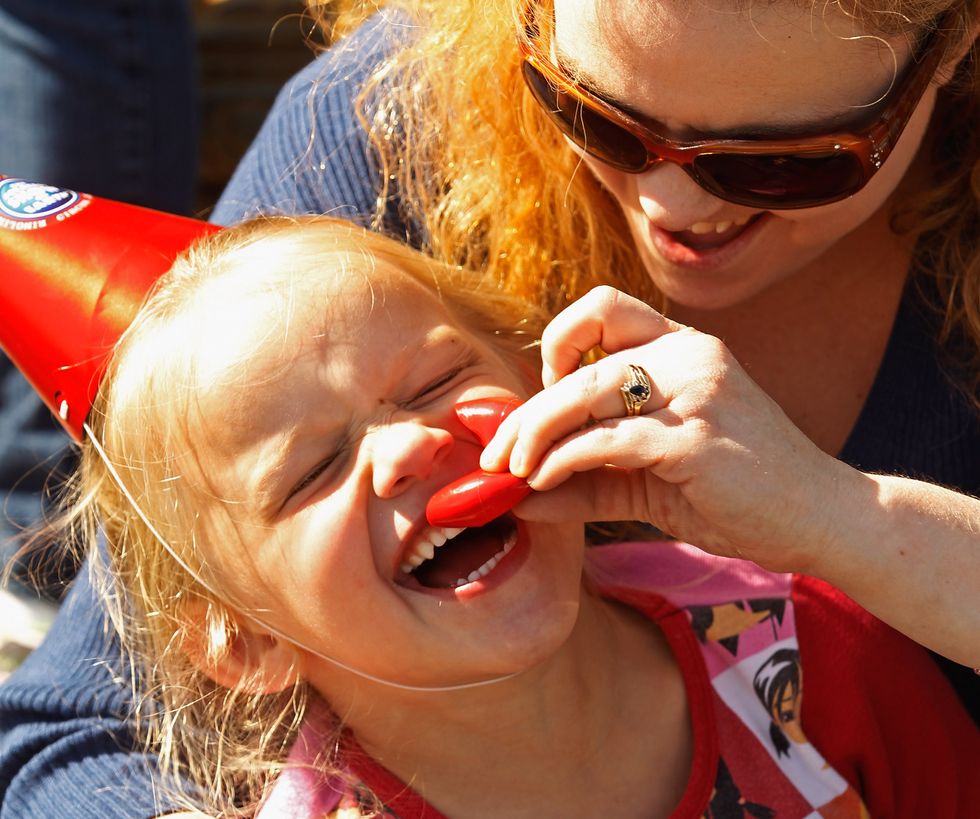 Two year-olds can't control their emotions very well. Luckily, they're distracted easily. Getty Images.
To help build empathy, parents can work at developing a child's theory of mind. This is coming to understand the perspective of others. Note this doesn't develop until the child is three or four. One famous example is the "Sally-Anne test."
Here, a child is told that Sally has a basket and Anne a box. Sally puts an object in her basket, then goes for a walk. Anne takes the object and puts it in her box. The child is asked, "Once Sally returns, where will she look for the object?" If the child understands Sally's point of view, they will say, "In the basket." Another tactic it to read them stories where they have to put themselves in a character's shoes.
From age six or seven to 11 or 12, a child enters the concrete operations stage. Seven is supposed to be the age of reason. Here, he or she can grasp abstract concepts, understand sequences of events, and empathize with others whose experiences are different from their own. Children at this stage can learn abstract mathematical concepts, but they aren't good at breaking down complex problems which require systematic reasoning. Lytle suggests keeping in mind a child's emotional development at this stage. Parents often don't realize how affected their children are by marital spats or a parent suffering something like a bout of depression.
From age 12 throughout the teen years, the child enters the formal operations stage, where he or she develops greater capacities for hypothetical thinking, abstract reasoning, and deductive reasoning. Generally, people have a good grasp of these by age 15. Moral issues like social justice and abstract ideas, such as probabilities, can be understood. Although for parents, few stages can be quite as challenging.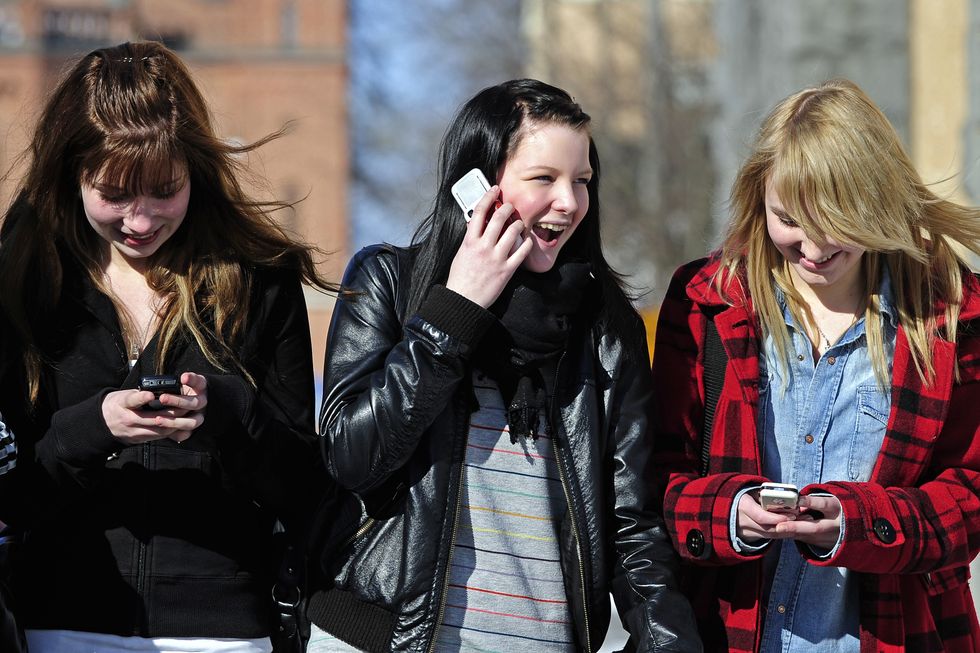 Dealing with teens is challenging because of how their brains work. Getty Images.
Teens are often moody and hypersensitive. This is usually chalked up to hormones, but it's also because their midbrain is highly active in this stage. The brain develops from back to front.
The midbrain is responsible for memory, emotion, and sexuality. It may surprise you to know that the rational part of the brain, the prefrontal cortex, isn't fully developed until around age 25. This is responsible for things like decision-making, planning, impulse control, and risk avoidance.
Teens are more likely to evaluate situations with their amygdala or emotional center. This is why they tend to get overwhelmed by their emotions, but might have a hard time expressing them. It also explains their intermittent bend toward risky behavior. Make sure to talk to them often about drugs and alcohol, the risks of unprotected sex, and so on, and give them vocabulary they can use to avoid social pressures. When a teen does make a mistake, instead of scolding or lecturing, use it as a teachable moment. Walk them through it logically. Find out in their own words what they should have done differently. This can help them develop decision-making skills.
Also, work on giving them frontal lobe tasks or doing it with them. Give them opportunities to practice problem-solving, make judgment calls, or to plan things out. Do it together or debrief once they've completed the task. Sure, raising kids is far from easy, but knowing a little neuroscience can make a real difference.
Do children develop a moral compass earlier than we think? See what one expert thinks here:
From Your Site Articles
Related Articles Around the Web
To create wiser adults, add empathy to the school curriculum.
Sponsored by Charles Koch Foundation
Stories are at the heart of learning, writes Cleary Vaughan-Lee, Executive Director for the Global Oneness Project. They have always challenged us to think beyond ourselves, expanding our experience and revealing deep truths.
Vaughan-Lee explains 6 ways that storytelling can foster empathy and deliver powerful learning experiences.
Global Oneness Project is a free library of stories—containing short documentaries, photo essays, and essays—that each contain a companion lesson plan and learning activities for students so they can expand their experience of the world.
Philosophers like to present their works as if everything before it was wrong. Sometimes, they even say they have ended the need for more philosophy. So, what happens when somebody realizes they were mistaken?
Numerous U.S. Presidents invoked the Insurrection Act to to quell race and labor riots.
Photo by Michael Ochs Archives/Getty Images
Politics & Current Affairs
U.S. Presidents have invoked the Insurrection Act on numerous occasions.
The controversial law gives the President some power to bring in troops to police the American people.
The Act has been used mainly to restore order following race and labor riots.
It looks like a busy hurricane season ahead. Probably.
Surprising Science
Before the hurricane season even started in 2020, Arthur and Bertha had already blown through, and Cristobal may be brewing right now.
Weather forecasters see signs of a rough season ahead, with just a couple of reasons why maybe not.
Where's an El Niño when you need one?
Welcome to Hurricane Season 2020. 2020, of course, scoffs at this calendric event much as it has everything else that's normal — meteorologists have already used up the year's A and B storm names before we even got here. And while early storms don't necessarily mean a bruising season ahead, forecasters expect an active season this year. Maybe storms will blow away the murder hornets and 13-year locusts we had planned.
NOAA expects a busy season
According to NOAA's Climate Prediction Center, an agency of the National Weather Service, there's a 60 percent chance that we're embarking upon a season with more storms than normal. There does, however, remain a 30 percent it'll be normal. Better than usual? Unlikely: Just a 10 percent chance.
Where a normal hurricane season has an average of 12 named storms, 6 of which become hurricanes and 3 of which are major hurricanes, the Climate Prediction Center reckons we're on track for 13 to 29 storms, 6 to 10 of which will become hurricanes, and 3 to 6 of these will be category 3, 4, or 5, packing winds of 111 mph or higher.
What has forecasters concerned are two factors in particular.
This year's El Niño ("Little Boy") looks to be more of a La Niña ("Little Girl"). The two conditions are part of what's called the El Niño-Southern Oscillation (ENSO) cycle, which describes temperature fluctuations between the ocean and atmosphere in the east-central Equatorial Pacific. With an El Niño, waters in the Pacific are unusually warm, whereas a La Niña means unusually cool waters. NOAA says that an El Niño can suppress hurricane formation in the Atlantic, and this year that mitigating effect is unlikely to be present.
Second, current conditions in the Atlantic and Caribbean suggest a fertile hurricane environment:
The ocean there is warmer than usual.
There's reduced vertical wind shear.
Atlantic tropical trade winds are weak.
There have been strong West African monsoons this year.
Here's NOAA's video laying out their forecast:
But wait.
ArsTechnica spoke to hurricane scientist Phil Klotzbach, who agrees generally with NOAA, saying, "All in all, signs are certainly pointing towards an active season." Still, he notes a couple of signals that contradict that worrying outlook.
First off, Klotzbach notes that the surest sign of a rough hurricane season is when its earliest storms form in the deep tropics south of 25°N and east of the Lesser Antilles. "When you get storm formations here prior to June 1, it's typically a harbinger of an extremely active season." Fortunately, this year's hurricanes Arthur and Bertha, as well as the maybe-imminent Cristobal, formed outside this region. So there's that.
Second, Klotzbach notes that the correlation between early storm activity and a season's number of storms and intensities, is actually slightly negative. So while statistical connections aren't strongly predictive, there's at least some reason to think these early storms may augur an easy season ahead.
Image source: NOAA
Batten down the hatches early
If 2020's taught us anything, it's how to juggle multiple crises at once, and layering an active hurricane season on top of SARS-CoV-2 — not to mention everything else — poses a special challenge. Warns Treasury Secretary Wilbur Ross, "As Americans focus their attention on a safe and healthy reopening of our country, it remains critically important that we also remember to make the necessary preparations for the upcoming hurricane season." If, as many medical experts expect, we're forced back into quarantine by additional coronavirus waves, the oceanic waves slamming against our shores will best be met by storm preparations put in place in a less last-minute fashion than usual.
Ross adds, "Just as in years past, NOAA experts will stay ahead of developing hurricanes and tropical storms and provide the forecasts and warnings we depend on to stay safe."
Let's hope this, at least, can be counted on in this crazy year.
Technology & Innovation
Got any embarrassing old posts collecting dust on your profile? Facebook wants to help you delete them.
Scroll down to load more…