Big ideas.
Once a week.
Subscribe to our weekly newsletter.
How internet porn is changing the way men and women are having sex
It's had an impact on both women and men.
21 October, 2017
Photo credit: David McNew / Getty Images
Sexual satisfaction is important for pair bonding in a relationship, as well as for one's own psychological health. What's more, we're living in an age where personal fulfillment seems to be the ultimate goal. Despite this, men and women today may be having less fulfilling sex lives than in the past. One reason, the internet has altered human sexuality in a myriad of ways.
---
There have of course been positive impacts. The internet has helped normalize BDSM and kink, and revealed to the world different relationship configurations, which of course impact sex. These can include what New York Times sex columnist Dan Savage calls, "monogamish," swinging, and polyamory (or ethical non-monogamy). Rather than be trapped in the dichotomy of monogamy or dating, we now have other options. It's also allowed those with certain kinks and fetishes to feel acceptance and find fulfillment, as well as become a part of their own community.
Now for the bad news. There's been some talk that the internet may be causing a minority of men to experience porn-induced erectile dysfunction. Internet porn obsession coupled with chronic masturbation saps interest or capability, when it comes time to be with a partner. The urological community has gone back and forth on whether this is a legitimate condition. One particular research paper contends that instead of a physical problem, such men may be conditioning themselves to orgasm only with a certain kind of stimuli, be it tactile or visual, which may confound sex with a partner.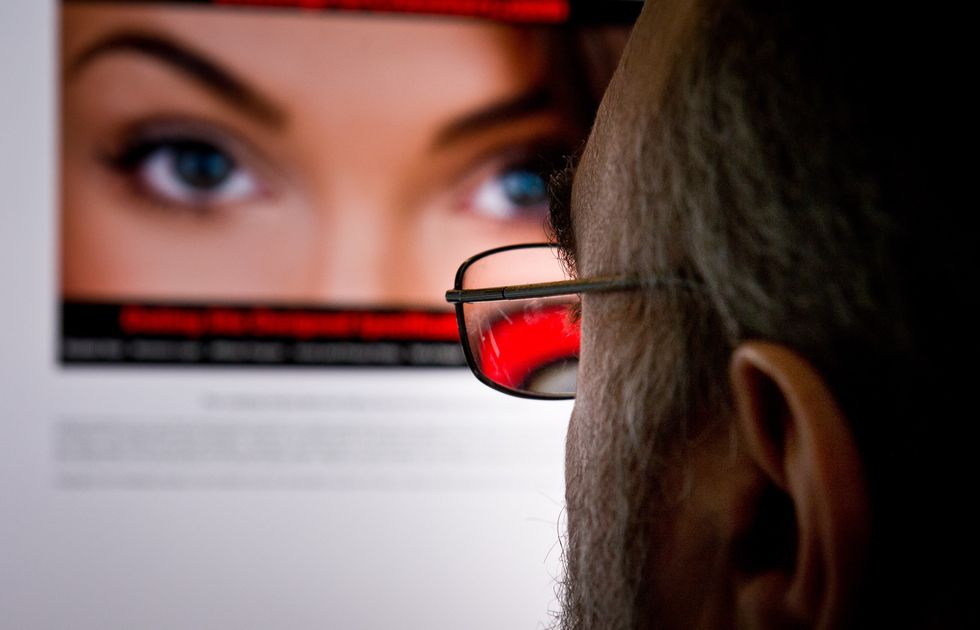 Men who are obsessed with online sexual stimuli may condition themselves out of a fulfilling encounter with a partner. Credit: Getty Images.
Now for the first time, a study published in the Journal of Sex Research, looks at how internet porn may have impacted female sexual functioning. These findings also tease out larger questions about how much sexuality is biological behavior, how much is psychological, and how much social. The female orgasm has been seen as the pinnacle of the sexual encounter. So has internet porn enhanced or inhibited the female climax?
Léa J. Séguin at the University of Quebec in Montreal, led the study. What Séguin and colleagues found was, it wasn't the age when masturbation started or a woman's dexterity in the pursuit. It wasn't the number of sex partners she had either. What determined whether or not she could orgasm during sex, was whether she was mindful during the experience and how connected she felt with her partner.
"Social representations, which appear in a variety of media, can influence the way sexual experiences are perceived and understood," researchers wrote. "While pornography is not the only medium in which orgasm is portrayed, it is the most explicit, and it is widespread and easily accessible." What they looked at was how male and female orgasm was portrayed in 50 of Pornhub's most viewed videos. Each was analyzed and coded for the "frequency of male and female orgasm." Researchers coded content by the orgasm-inducing sex act the onscreen couple engaged in. This included auditory and visual indicators.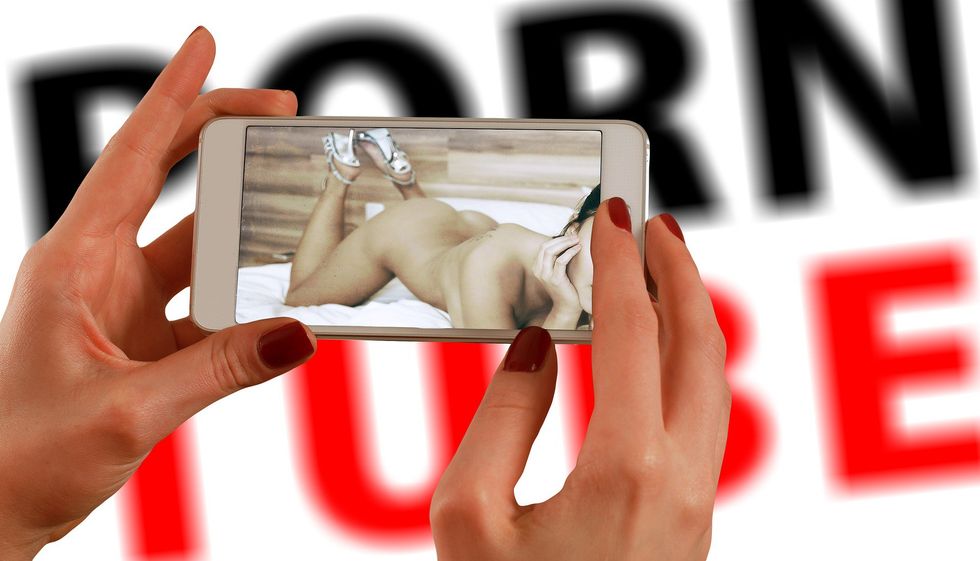 Porn may send the signal that the female orgasm is less important. Credit: geralt, Pixababy.
This study found that while men orgasmed 78% of the time in these videos, women climaxed only 18.3% of the time. Among these, clitoral stimulation—how most women orgasm, only occurred 25% of the time. The message this sends, researchers say, is that the male orgasm is an imperative, while the female one—not so much. They also wrote that "mainstream pornography promotes and perpetuates many unrealistic expectations regarding women's orgasm."
Research shows there's a wide variety in when and how women climax. Though many start masturbation early, the average American woman loses her virginity at age 17, and most don't orgasm then. In fact, most women don't begin having regular orgasms until they're in their 20s or 30s. Greater comfort with sex and their bodies may be the reason.
Another issue is that some women just naturally have a hard time orgasming. They may not climax regularly as a result. Studies have shown that the ability to climax through intercourse and to a lesser extent masturbation, is at least partially genetic in nature. The rest is "physical processes or subjective responses to those processes."The results of this study fit into what is known as sexual script theory, which states that humans fall into certain sexual scripts which society deems acceptable.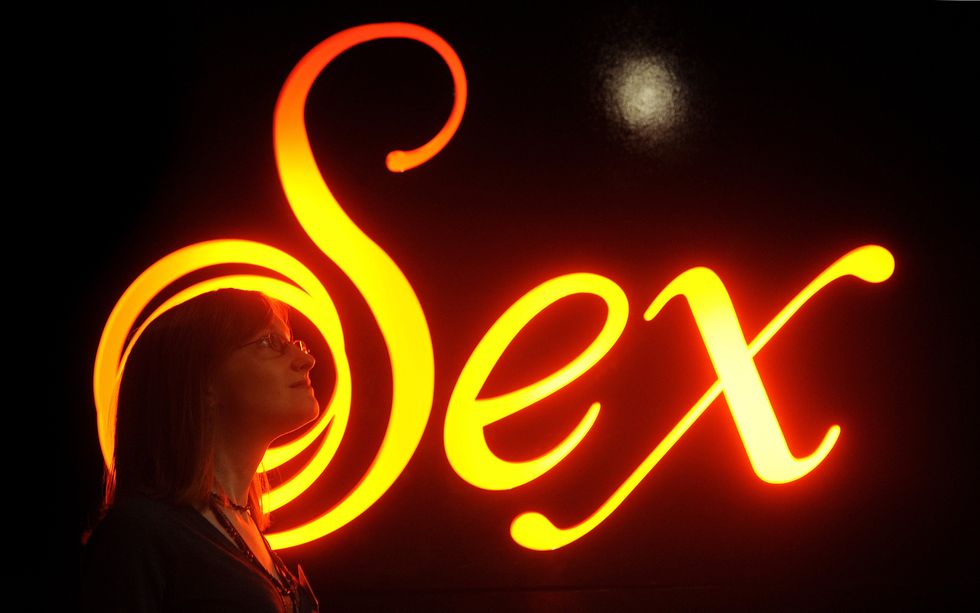 A woman's outlook on sex, how comfortable she with it, and her connection to her partner, all play a critical role in her ability to derive sexual satisfaction. Credit: Getty Images.
So what about the female orgasm overall? A study published last year in the journal Socioaffective Neuroscience & Psychology, had some interesting findings. Using statistics from nationwide surveys, they looked at the sexual experiences of over 8,000 Finnish women. The number who said they orgasm from sex always or nearly so, fell 10% between 1999 and 2015. Internet porn and unrealistic expectations may have played a role. But researchers identified other reasons as well.
Why Finnish women? "Finland is one of few countries with nationally representative surveys of sexual activities and values among the adult population." Such a survey was conducted in the years 1971, 1992, 1999, 2007, and 2015. People's sexuality liberalized over time, the data shows, following a similar trend in the rest of Western Europe.
According to this study, whether or not a woman orgasmed during sex depended on her sexual self-esteem, how good she and her partner are at sexual communication, how skillful she feels in the bedroom, and her own sexual limitations. Other factors included the ability to concentrate during sex and her partner's technique. The things that prevented women from climaxing most were fatigue, difficulty concentrating, and stress. While 50% of women in a relationship said they orgasmed during sex most of the time, only 40% of single women did.
So the takeaway is that couples who communicate well, especially about desires and fantasies, are mindful during sex, and do things to increase their connection, have the best sex lives, complete with oodles of orgasms for both partners. That's as long as they don't become obsessed with internet porn, take cues from reliable sources, and are mindful of how they conduct their sex lives. Should you have a female partner, the best way to make her climax when sex is on the menu is to relax her, relieve her stress, and connect with her on a deeper level.
To find out more about how internet porn obsession can affect your sex life, click here:
Even before publication, health agencies were asking the journal not to publish the research.
Surprising Science
A new study in the Annals of Internal Medicine found little correlation between red meat consumption and health problems.
A number of organizations immediately contested the evidence, claiming it to be based on an irrelevant system of analysis.
Beef and dairy production is one of the leading drivers of climate change, forcing humans to weigh personal health against the environment.
It is perhaps fitting that just as McDonald's introduces meatless burgers, a new study, published in the journal, Annals of Internal Medicine, is overturning years' worth of dietary recommendations that we eat less red meat. Not that everyone is taking the study as the final word, however.
A panel of fourteen researchers and three community members from seven countries (reporting no conflicts of interest), directed by Dalhousie University epidemiologist, Bradley Johnson, studied 61 articles on all-cause mortality that included a total of four million participants. The team also reviewed dozens of trials linking red meat to cancer, heart disease, and mortality. The team concluded that the evidence between red meat, both unprocessed and processed, and health problems is "low to very low."
The study took three years to complete. Researchers from a range of cultures were included to ensure diversity of thought, while each professional was vetted for perceived conflicts of interest. When considering both processed and unprocessed red meat, 11 researchers voted for adults (age 18 and over) to continue eating recommended allowances and not cut down. In each study, three researchers offered a "weak recommendation" for reducing intake.
For the record, the average American adult consumes an average of 4.5 servings of red meat per week.
Organizations such as The American Heart Association and the American Cancer Society immediately came out against the study, with some groups suggesting that the journal withhold publication. They believed that not only would this information contradict years of findings, but it would "erode public trust in scientific research."
To be fair, that's the nature of science: If evidence overturns pre-existing norms, that evidence should be considered. However, we need to take a more holistic look at this picture.
Gut Bacteria and Red Meat: Highlight from Cancer and Diet
Nutrition science is tricky. Not only do self-endowed "life coaches" and fitness trainers not certified in nutrition offer unsolicited advice, actual scientific bodies find it hard to come to conclusions. One of the biggest issues: It's nearly impossible to isolate macronutrients or entire classes of food given their interactions with all the other food you consume. A burger doesn't have the same effect on your body as a burger with mayonnaise on a bun; whether you drink water or soda to accompany that meal matters too.

The main contention comes from the type of analysis the researchers used. As Harvard nutrition scientist, Frank Hu, says, the GRADE systematic approach was introduced for evaluating drug trials, not nutrition science. Alongside his colleagues, Hu published an article countering the results of the meta-analyses, coming to four conclusions:
The new guidelines are not justified as they contradict the evidence generated from their own meta-analyses
The publication of these studies and the meat guidelines in a major medical journal is unfortunate because following the new guidelines may potentially harm individuals' health, public health, and planetary health
This is a prime example where one must look beyond the headlines and abstract conclusions
These studies should not change current recommendations on healthy and balanced eating patterns for the prevention of chronic diseases
Close-up of Impossible Whopper, a meat-free item using engineered, plant-protein based burger patty from food technology company Impossible, during a limited market test at a Burger King restaurant in the San Francisco Bay Area, Danville, California, June 26, 2019.
Photo by Smith Collection/Gado/Getty Images
As with many topics in American discourse, our diet has become polarized. Those that claim that humans were not designed to eat meat are ignorant of how our biology (and cultures) evolved. As primatologist Richard Wrangham writes, the greatest culinary advancement in history was fire. Cooking made nutrients available much more quickly—a burger on a grill is more nutritious than chewing on raw meat. And meat is something our ancestors definitively ate whenever they could.

What also doesn't help is a sentiment that has been batted around the holistic blogosphere: that meat is toxic. To be fair, growth hormones and factory farming have increased the potential for toxicity in our food supply. But meat itself is not inherently toxic to our digestive system. As Harvard paleoanthropologist, Daniel Lieberman, writes, given our ancestors' adaptation to diverse climates, there is no "optimal diet." We ate what we could source. That said, meat consumption offered a particularly important boon to our biology.
"By incorporating meat in the diet and relying more on food processing, early Homo was able to spend much less energy digesting its food and could thus devote more energy toward growing and paying for a larger brain."
Yet that doesn't mean we need to eat meat, at least not as much of it was we do. Beyond sating our biological impulse, industrial agriculture—specifically, beef and dairy production—is one of the biggest drivers of climate change. Beef is extremely taxing on the environment, much more so than chicken or pork agriculture.
From a climate perspective, plant-based diets are less taxing, though you often run into the problem of nutrient loss due to monocropping. Plant-based burgers might be all the rage, but that also doesn't mean they're healthy, which brings into question whether or not it makes sense to sacrifice personal health for a perceived environmental gain.
An easy answer? Not here.
One thing is clear: The current rate of beef production is unsustainable. Whether or not 4.5 servings of red meat will increase your risk of cancer or heart disease might remain a source of contention. But a more important question remains: If reducing your meat intake is better for the environment (and therefore everyone's health), isn't that a wiser decision to make?
--
It marks a breakthrough in using gene editing to treat diseases.
Credit
: National Cancer Institute via Unsplash
Technology & Innovation
This article was originally published by our sister site, Freethink.
For the first time, researchers appear to have effectively treated a genetic disorder by directly injecting a CRISPR therapy into patients' bloodstreams — overcoming one of the biggest hurdles to curing diseases with the gene editing technology.
The therapy appears to be astonishingly effective, editing nearly every cell in the liver to stop a disease-causing mutation.
The challenge: CRISPR gives us the ability to correct genetic mutations, and given that such mutations are responsible for more than 6,000 human diseases, the tech has the potential to dramatically improve human health.
One way to use CRISPR to treat diseases is to remove affected cells from a patient, edit out the mutation in the lab, and place the cells back in the body to replicate — that's how one team functionally cured people with the blood disorder sickle cell anemia, editing and then infusing bone marrow cells.
Bone marrow is a special case, though, and many mutations cause disease in organs that are harder to fix.
Another option is to insert the CRISPR system itself into the body so that it can make edits directly in the affected organs (that's only been attempted once, in an ongoing study in which people had a CRISPR therapy injected into their eyes to treat a rare vision disorder).
Injecting a CRISPR therapy right into the bloodstream has been a problem, though, because the therapy has to find the right cells to edit. An inherited mutation will be in the DNA of every cell of your body, but if it only causes disease in the liver, you don't want your therapy being used up in the pancreas or kidneys.
A new CRISPR therapy: Now, researchers from Intellia Therapeutics and Regeneron Pharmaceuticals have demonstrated for the first time that a CRISPR therapy delivered into the bloodstream can travel to desired tissues to make edits.
We can overcome one of the biggest challenges with applying CRISPR clinically.

—JENNIFER DOUDNA

"This is a major milestone for patients," Jennifer Doudna, co-developer of CRISPR, who wasn't involved in the trial, told NPR.
"While these are early data, they show us that we can overcome one of the biggest challenges with applying CRISPR clinically so far, which is being able to deliver it systemically and get it to the right place," she continued.
What they did: During a phase 1 clinical trial, Intellia researchers injected a CRISPR therapy dubbed NTLA-2001 into the bloodstreams of six people with a rare, potentially fatal genetic disorder called transthyretin amyloidosis.
The livers of people with transthyretin amyloidosis produce a destructive protein, and the CRISPR therapy was designed to target the gene that makes the protein and halt its production. After just one injection of NTLA-2001, the three patients given a higher dose saw their levels of the protein drop by 80% to 96%.
A better option: The CRISPR therapy produced only mild adverse effects and did lower the protein levels, but we don't know yet if the effect will be permanent. It'll also be a few months before we know if the therapy can alleviate the symptoms of transthyretin amyloidosis.
This is a wonderful day for the future of gene-editing as a medicine.

—FYODOR URNOV

If everything goes as hoped, though, NTLA-2001 could one day offer a better treatment option for transthyretin amyloidosis than a currently approved medication, patisiran, which only reduces toxic protein levels by 81% and must be injected regularly.
Looking ahead: Even more exciting than NTLA-2001's potential impact on transthyretin amyloidosis, though, is the knowledge that we may be able to use CRISPR injections to treat other genetic disorders that are difficult to target directly, such as heart or brain diseases.
"This is a wonderful day for the future of gene-editing as a medicine," Fyodor Urnov, a UC Berkeley professor of genetics, who wasn't involved in the trial, told NPR. "We as a species are watching this remarkable new show called: our gene-edited future."
A new government report describes 144 sightings of unidentified aerial phenomena.
Surprising Science
The military has rebranded unidentified flying objects as unidentified aerial phenomena – UAPs – in part to avoid the stigma that has been attached to claims of aliens visiting the Earth since the Roswell incident in 1947. The report presents no convincing evidence that alien spacecraft have been spotted, but some of the data defy easy interpretation.
I'm a professor of astronomy who has written extensively on the search for life in the universe. I also teach a free online class on astrobiology. I do not believe that the new government report or any other sightings of UFOs in the past are proof of aliens visiting Earth. But the report is important because it opens the door for a serious look at UFOs. Specifically, it encourages the U.S. government to collect better data on UFOs, and I think the release of the report increases the chances that scientists will try to interpret that data. Historically, UFOs have felt off limits to mainstream science, but perhaps no more.
Three videos from the U.S. military sparked a recent surge in interest in UFOs.
What's in the UFO report?
The No. 1 thing the report focuses on is the lack of high-quality data. Here are the highlights from the slender nine-page report, covering a total of 144 UAP sightings from U.S. government sources between 2004 and 2021:
"Limited data and inconsistent reporting are key challenges to evaluating UAP."
Some observations "could be the result of sensor errors, spoofing, or observer misperception."
"UAP clearly pose a safety of flight issue and may pose a challenge to U.S. national security."
Of the 144 sightings, the task force was "able to identify one reported UAP with high confidence. In that case, we identified the object as a large, deflating balloon. The others remain unexplained."
"Some UAP many be technologies deployed by China, Russia, another nation, or non-governmental entity."
UFOs are taboo among scientists
UFO means unidentified flying object. Nothing more, nothing less. You'd think scientists would enjoy the challenge of solving this puzzle. Instead, UFOs have been taboo for academic scientists to investigate, and so unexplained reports have not received the scrutiny they deserve.
One reason is that most scientists think there is less to most reports than meets the eye, and the few who have dug deeply have mostly debunked the phenomenon. Over half of sightings can be attributed to meteors, fireballs and the planet Venus.
Another reason for the scientific hesitance is that UFOs have been co-opted by popular culture. They are part of a landscape of conspiracy theories that includes accounts of abduction by aliens and crop circles. Scientists worry about their professional reputations, and the association of UFOs with these supernatural stories causes most researchers to avoid the topic.
But some scientists have looked. In 1968, Edward U. Condon at the University of Colorado published the first major academic study of UFO sightings. The Condon Report put a damper on further research when it found that "nothing has come from the study of UFOs in the past 21 years that has added to scientific knowledge."
However, a review in 1998 by a panel led by Peter Sturrock, a professor of applied physics at Stanford University, concluded that some sightings are accompanied by physical evidence that deserves scientific study. Sturrock also surveyed professional astronomers and found that nearly half thought UFOs were worthy of scientific study, with higher interest among younger and more well-informed astronomers.
If astronomers are intrigued by UFOs – and believe some cases deserve study with academic rigor – what's holding them back? A history of mistrust between ufologists and scientists hasn't helped. And while UFO research has employed some of the tools of the scientific method, it has not had the core of skeptical, evidence-based reasoning that demarcates science from pseudoscience.
A search of 90,000 recent and current grants awarded by the National Science Foundation finds none addressing UFOs or related phenomena. I've served on review panels for 35 years, and can imagine the reaction if such a proposal came up for peer review: raised eyebrows and a quick vote not to fund.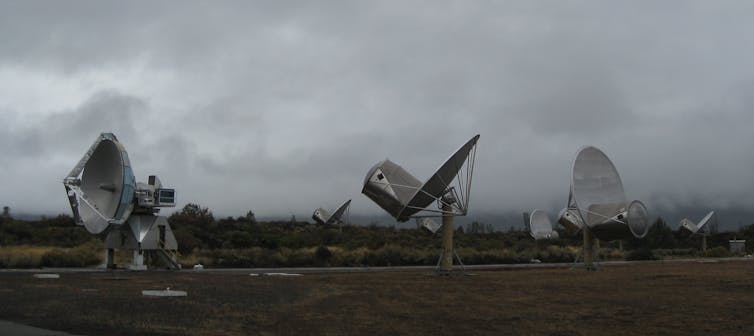 Radio telescopes like the Allen Telescope Array seen here scan the sky looking for signs of intelligent life in the universe. (Brewbooks/Wikimedia Commons, CC BY-SA)
A decadeslong search for aliens
While the scientific community has almost entirely avoided engaging with UFOs, a much more mainstream search for intelligent aliens and their technology has been going on for decades.
The search is motivated by the fact that astronomers have, to date, discovered over 4,400 planets orbiting other stars. Called exoplanets, some are close to the Earth's mass and at just the right distance from their stars to potentially have water on their surfaces – meaning they might be habitable.
Astronomers estimate that there are 300 million habitable worlds in the Milky Way galaxy alone, and each one is a potential opportunity for life to develop and for intelligence and technology to emerge. Indeed, most astronomers think it very unlikely that humans are the only or the first advanced civilization.
This confidence has fueled an active search for extraterrestrial intelligence, known as SETI. It has been unsuccessful so far. As a result, researchers have recast the question "Are we alone?" to "Where are the aliens?" The absence of evidence for intelligent aliens is called the Fermi paradox. First articulated by the physicist Enrico Fermi, it's a paradox because advanced civilizations should be spread throughout the galaxy, yet we see no sign of their existence.
The SETI activity has not been immune from scientists' criticism. It was starved of federal funding for decades and recently has gotten most of its support from private sources. However, in 2020, NASA resumed funding for SETI, and the new NASA administrator wants researchers to pursue the topic of UFOs.
In this context, the intelligence report is welcome. The report draws few concrete conclusions about UFOs and avoids any reference to aliens or extraterrestrial spacecraft. However, it notes the importance of destigmatizing UFOs so that more pilots report what they see. It also sets a goal of moving from anecdotal observations to standardized and scientific data collection. Time will tell if this is enough to draw scientists into the effort, but the transparency to publish the report at all reverses a long history of secrecy surrounding U.S. government reports on UFOs.
I don't see any convincing evidence of alien spacecraft, but as a curious scientist, I hope the subset of UFO sightings that are truly unexplained gets closer study. Scientists are unlikely to weigh in if their skepticism generates attacks from "true believers" or they get ostracized by their colleagues. Meanwhile, the truth is still out there.
This article has been updated to clarify that the report was produced by the Office of the Director of National Intelligence.
Chris Impey, University Distinguished Professor of Astronomy, University of Arizona
This article is republished from The Conversation under a Creative Commons license. Read the original article.
Coronavirus
Gain-of-function mutation research may help predict the next pandemic — or, critics argue, cause one.
Scroll down to load more…