Big ideas.
Once a week.
Subscribe to our weekly newsletter.
Does the Story of Adam & Eve work scientifically?
How much genetic diversity is actually needed to keep a population healthy?
14 January, 2018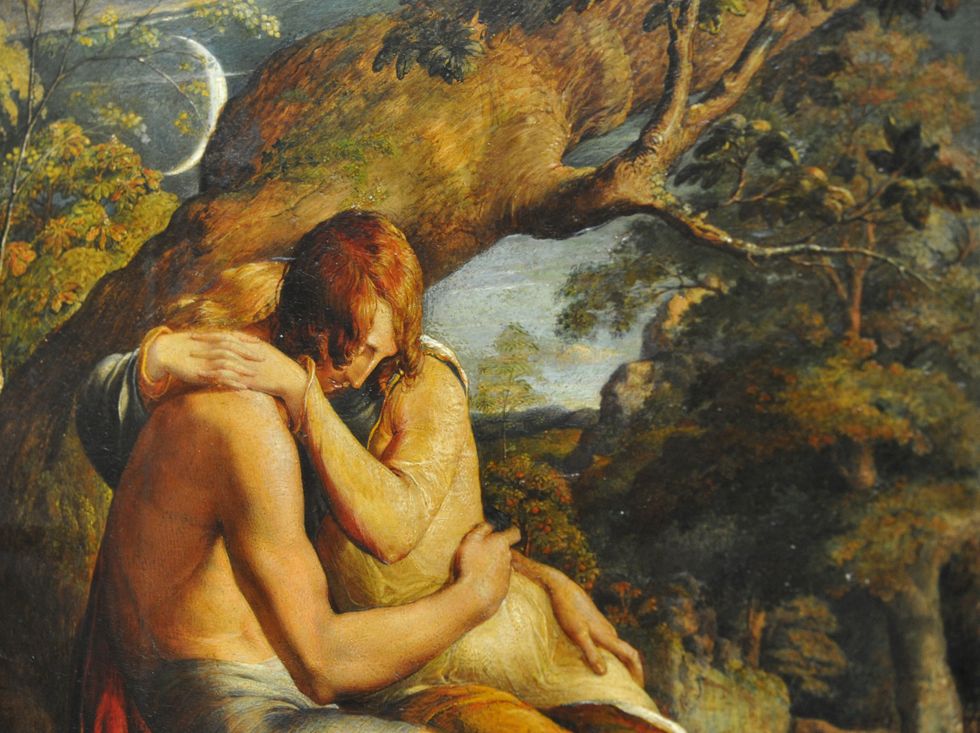 Credit: Neil Alexander McKee. Flikr. https://www.flickr.com/photos/lex-photographic/5097999122
The Bible's creation myth is famous the world over. It's also helped shape Western civilization. According to Stephen Greenblatt's book, The Rise and Fall of Adam and Eve, "Over many centuries, the story has shaped the way we think about crime and punishment, moral responsibility, death, pain, work, leisure, companionship, marriage, gender, curiosity, sexuality, and our shared humanness." What's called into question is not its influence or importance, but the literal idea encapsulated within one of humanity's most famous origin stories.
---
Could two people literally populate the Earth? It's highly unlikely. Why? One reason, such a scenario would've made it difficult for humans to become the dominant species on Earth. In 2013, a team of researchers determined the minimum size population required 60,000 years ago for humans leaving Africa to eventually become the top species. For worldwide expansion to be successful, 2,250 individuals would be needed to make the journey northward, into Europe, Asia, and the Middle East, while 10,000 were thought to remain back in Africa.
This is a conservative estimate. Population geneticists came upon it by looking at population sizes and calculating back reasonable estimates on mutations rates and other genetic factors, to see how small a population could exist and still allow for the high level of genetic variation that we see today within the human species.
Another reason, to survive and thrive, a species needs a diversity of genes. The children of two people are obviously siblings and the product of those unions would be cousins. Children born to parents who are closely related genetically, are more likely to suffer from physical, mental, or developmental disabilities.
An incest taboo is universal the world over and for good reason. One study looking at Czechoslovakian children born between 1933 and 1970, found that almost 40% of those who had parents who were first-degree relatives carried some type of severe handicap. Such inherited diseases are rare and usually occur when two copies of the same gene are passed on by a person's parents.
Carrying recessive variants isn't a problem, if we get it from only one parent. In fact, almost everyone alive today carries one or two genetic variants that could be deadly. But they aren't realized, because we've inherited only one copy. It's when a person has two devastating recessive gene variants that a problem occurs, and that's far more likely in the case of inbreeding.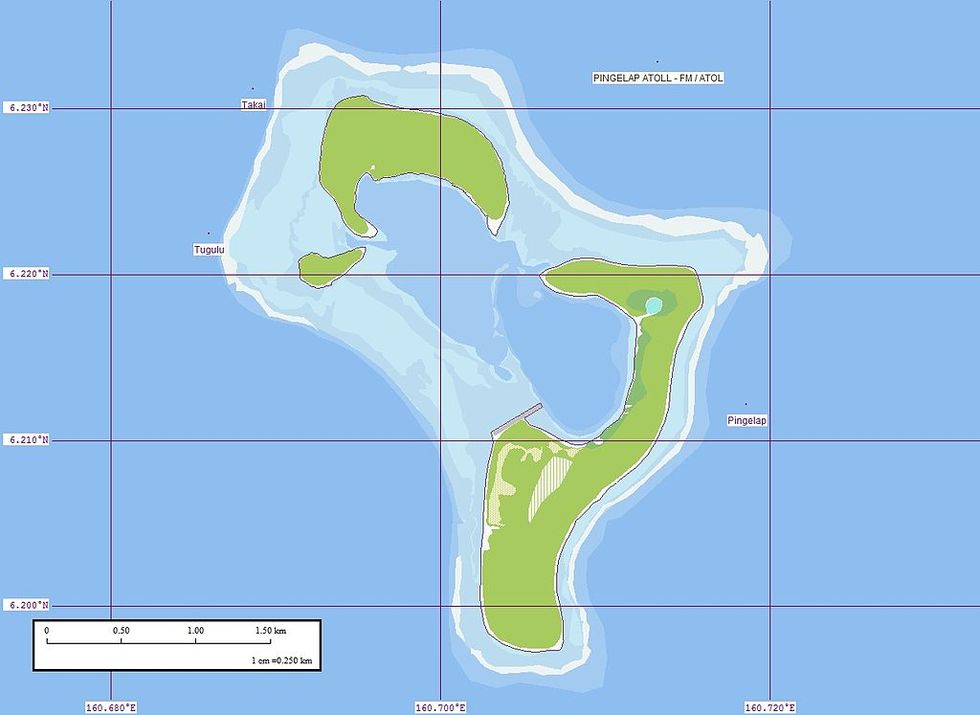 The population of the Pingelap atoll shows a perfect example of the founder effect. Credit: Wikipedia Commons.
Consider the island of Pingelap in the Western Pacific. After a typhoon nearly wiped out the population in the 18th century, just 20 survivors got to work repopulating the island. Among them, there were carriers of achromatopsia, a rare recessive disorder which causes complete and total colorblindness. Today, it effects 10% of the atoll's population. They became victims of the founder effect, which is when a lack of genetic diversity effects a population.
Another example, consider the royal families of Europe who intermarried to keep power within their ranks for centuries. Charles II is one of the most extreme examples. He had a number of mental and physical disabilities, was infertile, and didn't learn to walk until the age of 8. An extremely high "inbreeding coefficient" was the reason. He had less diversity in his genes than if his parents had been siblings.
Humans actually select a mate partly based on how dissimilar the other person's genes are. We are naturally attracted to those who have different immune genes than we ourselves carry. The idea is that having a variety of immune system genes will give offspring a much better chance of survival.
Say a cataclysmic event happened, wiping out almost all the people on Earth, or that we wanted to colonize another planet. How many individuals would you need to create a healthy human society? Dr. Philip Stephens from Durham University in Australia told the BBC that 50 individuals could keep the human race going, without falling into the founder effect.
500 would offer a diverse enough gene pool to allow offspring to adapt to new situations or a novel environment. And 500-5,000 would be needed to cover for random losses when genes are passed down from one generation to the next.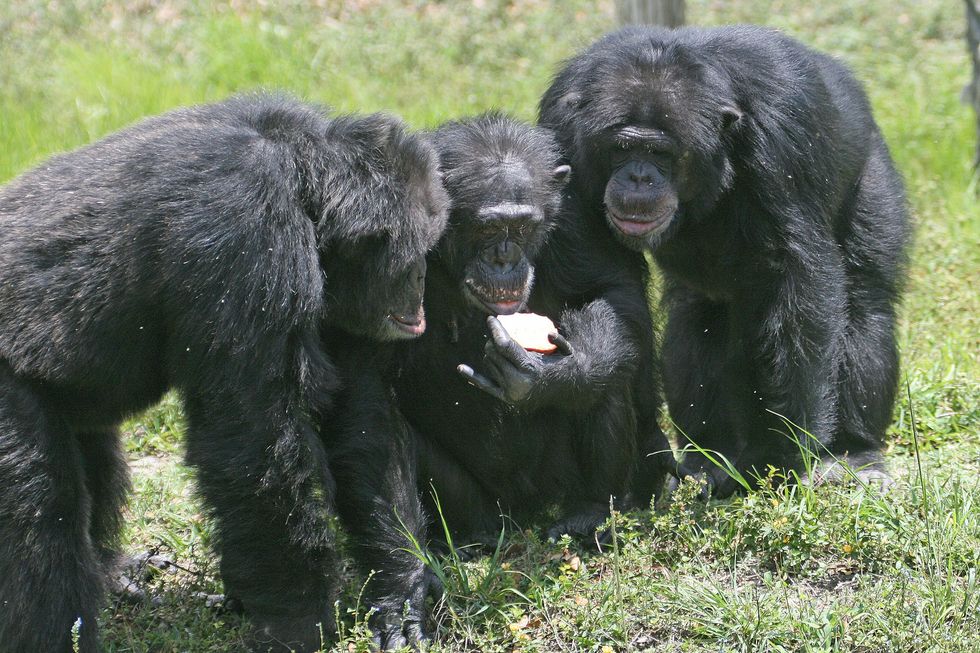 Chimpanzee populations show greater diversity than humans, for a very specific reason. Credit: Matthew Hoelscher, Wikipedia Commons.
Today, chimpanzee populations have more genetic diversity than all the humans on Earth, all 7 billion of us (and counting). The reason is the human population hit a bottle neck between 50,000 and 100,000 years ago. Back then, there were only 1,000 humans on Earth at any one time, over the course of about a million years.
So these numbers aren't absolute. "The evidence for the short-term effects of low genetic diversity is very strong," Dr. Stephens said, "but all these things are probabilistic. There are stories of incredible journeys back from the brink – anything is possible."
Although there may not have been a literal Adam and Eve, our species has a "genetic Adam" and a "mitochondrial Eve." Our genetic Adam was a man who's Y-chromosome has been passed down in an unbroken chain starting in Africa, approx. 125,000 to 156,000 years ago. Although some other studies offer different time frames, the results are the same.
He wasn't the first man on Earth, but the one who was lucky enough to have his genetic information passed on up until the present today. Rather than being the first female of a species, our "mitochondrial Eve" is the first female to pass on her mitochondrial DNA across generations of females, leading up to today.
Researchers believe it's unlikely that our genetic Adam and Eve knew each other, and certainly they weren't the first people on the planet. They were just lucky enough to pass on their genes and see them passed down again and again in unbroken lineages throughout human history, continuing up to the present and beyond.
To learn more about our genetic Adam and Eve, click here:
Certain water beetles can escape from frogs after being consumed.
Surprising Science
A Japanese scientist shows that some beetles can wiggle out of frog's butts after being eaten whole.
The research suggests the beetle can get out in as little as 7 minutes.
Most of the beetles swallowed in the experiment survived with no complications after being excreted.
In what is perhaps one of the weirdest experiments ever that comes from the category of "why did anyone need to know this?" scientists have proven that the Regimbartia attenuata beetle can climb out of a frog's butt after being eaten.
The research was carried out by Kobe University ecologist Shinji Sugiura. His team found that the majority of beetles swallowed by black-spotted pond frogs (Pelophylax nigromaculatus) used in their experiment managed to escape about 6 hours after and were perfectly fine.
"Here, I report active escape of the aquatic beetle R. attenuata from the vents of five frog species via the digestive tract," writes Sugiura in a new paper, adding "although adult beetles were easily eaten by frogs, 90 percent of swallowed beetles were excreted within six hours after being eaten and, surprisingly, were still alive."
One bug even got out in as little as 7 minutes.

Sugiura also tried putting wax on the legs of some of the beetles, preventing them from moving. These ones were not able to make it out alive, taking from 38 to 150 hours to be digested.
Naturally, as anyone would upon encountering such a story, you're wondering where's the video. Thankfully, the scientists recorded the proceedings:
The Regimbartia attenuata beetle can be found in the tropics, especially as pests in fish hatcheries. It's not the only kind of creature that can survive being swallowed. A recent study showed that snake eels are able to burrow out of the stomachs of fish using their sharp tails, only to become stuck, die, and be mummified in the gut cavity. Scientists are calling the beetle's ability the first documented "active prey escape." Usually, such travelers through the digestive tract have particular adaptations that make it possible for them to withstand extreme pH and lack of oxygen. The researchers think the beetle's trick is in inducing the frog to open a so-called "vent" controlled by the sphincter muscle.
"Individuals were always excreted head first from the frog vent, suggesting that R. attenuata stimulates the hind gut, urging the frog to defecate," explains Sugiura.
For more information, check out the study published in Current Biology.
The world's 10 most affected countries are spending up to 59% of their GDP on the effects of violence.
Mario Tama/Getty Images
Politics & Current Affairs
Conflict and violence cost the world more than $14 trillion a year.
That's the equivalent of $5 a day for every person on the planet.
Research shows that peace brings prosperity, lower inflation and more jobs.
Just a 2% reduction in conflict would free up as much money as the global aid budget.
Report urges governments to improve peacefulness, especially amid COVID-19.
What is the price of peace?
Or put another way, how much better off would we all be in a world where armed conflict was avoided?
Around $14.4 trillion in 2019, according to the Institute for Economics and Peace (IEP) which crunched the numbers. That's about $5 a day for every person on the planet.
To give some context, 689 million people - more than 9% of the world's population - live on less than $1.90 a day, according to World Bank figures, underscoring the potential impact peace-building activities could have.
Just over 10% of global GDP is being spent on containing, preventing and dealing with the consequences of violence. As well as the 1.4 million violent deaths each year, conflict holds back economic development, causes instability, widens inequality and erodes human capital.
Putting a price tag on peace and violence helps us see the disproportionately high amounts spent on creating and containing violent acts compared to what is spent on building resilient, productive, and peaceful societies.
—Steve Killelea, founder and executive chairman, Institute for Economics & Peace (IEP)
The cost of violence
In a report titled "The Economic Value of Peace 2021", the IEP says that for every death from violent conflict, 40 times as many people are injured. The world's 10 most affected countries are spending up to 59% of their GDP on the effects of violence.
Grounds for hope
But the picture is not all bleak. The economic impact of violence fell for the second year in a row in 2019, as parts of the world became more peaceful.
The global cost dropped by $64 billion between 2018 and 2019, even though it was still $1.2 trillion higher than in 2012.
In five regions of the world the costs increased in 2019. The biggest jump was in Central America and the Caribbean, where a rising homicide rate pushed the cost up 8.3%.
Syria, with its ongoing civil war, suffered the greatest economic impact with almost 60% of its GDP lost to conflict in 2019. That was followed by Afghanistan (50%) and South Sudan (46%).
The report makes a direct link between peace and prosperity. It says that, since 2000, countries that have become more peaceful have averaged higher GDP growth than those which have become more violent.
"This differential is significant and represents a GDP per capita that is 30% larger when compounded over a 20-year period," the report says adding that peaceful countries also have substantially lower inflation and unemployment.
"Small improvements in peace can have substantial economic benefits," it adds. "For example, a 2% reduction in the global impact of violence is roughly equivalent to all overseas development aid in 2019."
Equally, the total value of foreign direct investment globally only offsets 10% of the economic impact of violence. Authoritarian regimes lost on average 11% of GDP to the costs of violence while in democracies the cost was just 4% of GDP.
And the gap has widened over time, with democracies reducing the cost of violence by almost 16% since 2007 while in authoritarian countries it has risen by 27% over the same period.
The report uses 18 economic indicators to evaluate the cost of violence. The top three are military spending (which was $5.9 trillion globally in 2019), the cost of internal security which makes up over a third of the total at $4.9 trillion and homicide.
Peace brings prosperity
The formula also contains a multiplier effect because as peace increases, money spent containing violence can instead be used on more productive activities which drive growth and generate higher monetary and social returns.
"Substantial economic improvements are linked to improvements in peace," says the report. "Therefore, government policies should be directed to improving peacefulness, especially in a COVID-19 environment where economic activity has been subdued."
The IEP says what it terms "positive peace" is even more beneficial than "negative peace" which is simply the absence of violence or the fear of violence. Positive peace involves fostering the attitudes, institutions & structures that create and sustain peaceful societies.
The foundations of a positively peaceful society, it says, are: a well functioning government, sound business environment, acceptance of the rights of others, good relations with neighbours, free flow of information, high levels of human capital, low levels of corruption and equitable distribution of resources.
The World Economic Forum's report Mobilizing the Private Sector in Peace and Reconciliation urged companies large and small to recognise their potential to work for peace quoting the former Goldman Sachs chair, the late Peter Sutherland, who said: "Business thrives where society thrives."
Reprinted with permission of the World Economic Forum. Read the original article.
The lush biodiversity of South America's rainforests is rooted in one of the most cataclysmic events that ever struck Earth.
Surprising Science
One especially mysterious thing about the asteroid impact, which killed the dinosaurs, is how it transformed Earth's tropical rainforests.
A recent study analyzed ancient fossils collected in modern-day Colombia to determine how tropical rainforests changed after the bolide impact.
The results highlight how nature is able to recover from cataclysmic events, though it may take millions of years.
About 66 million years ago, a massive asteroid slammed into present-day Chicxulub, Mexico, triggering the extinction of dinosaurs. Scientists estimate the impact killed 75 percent of life on Earth. But what's remained more mysterious is how the event shaped the future of plant life, specifically tropical rainforests.
A new study published in Science explores how the so-called bolide impact at the end of the Cretaceous period paved the way for the evolution of our modern rainforests, the most diverse terrestrial ecosystems on Earth.
For the study, researchers analyzed thousands of samples of fossil pollen, leaves, and spores collected from various sites across Colombia. The researchers analyzed the samples to determine which types of plants were dominant, the diversity of plant life, and how insects interacted with plants.
All samples dated back to the Cretaceous-Paleogene boundary, some 70 million to 56 million years ago. Back then, the region's climate was mostly humid and hot, as it is today. However, the composition and structure of forests were quite different before the impact, according to the study results.
Tropical jungle with river and sun beam and foggy in the gardenSASITHORN via Adobe Stock
For one, the region's rainforests used to have a roughly equal mix of angiosperms (shrubs and flowering trees) and plants like conifers and ferns. The rainforests also had a more open canopy structure, which allowed more light to reach the forest floor and meant that plants faced less competition for light.

What changed after the asteroid hit? The results suggest the impact and its aftermath led to a 45 percent decrease in plant diversity, a loss from which the region took about 6 million years to recover. But different plants came to replace the old ones, with an increasing proportion of flowering plants sprouting up over the millennia.
"A single historical accident changed the ecological and evolutionary trajectory of tropical rainforests," Carlos Jaramillo, study author and paleopalynologist at the Smithsonian Tropical Research Institute in Panama City, told Science News. "The forests that we have today are really the by-product of what happened 66 million years ago."
Today's rainforests are significantly more biodiverse than they were 66 million years ago. One potential reason is that the more densely packed canopy structure of the post-impact era increased competition among plants, "leading to the vertical complexity seen in modern rainforests," the researchers wrote.
The extinction of long-necked, leaf-eating dinosaurs probably helped maintain this closed-canopy structure. Also boosting biodiversity was ash from the impact, which effectively fertilized the soil by adding more phosphorus. This likely benefited flowering plants over the conifers and ferns of the pre-impact era.
In addition to unraveling some of the mysteries about the origins of South America's lush biodiversity, the findings highlight how, even though life finds a way to recover from catastrophe, it can take a long time.
Scroll down to load more…