Big ideas.
Once a week.
Subscribe to our weekly newsletter.
Caribbean Nations Seek Reparations for Slavery and Native Genocide
One-fifth to one-sixth of British Victorian fortunes were derived from slavery, historians say.
30 December, 2016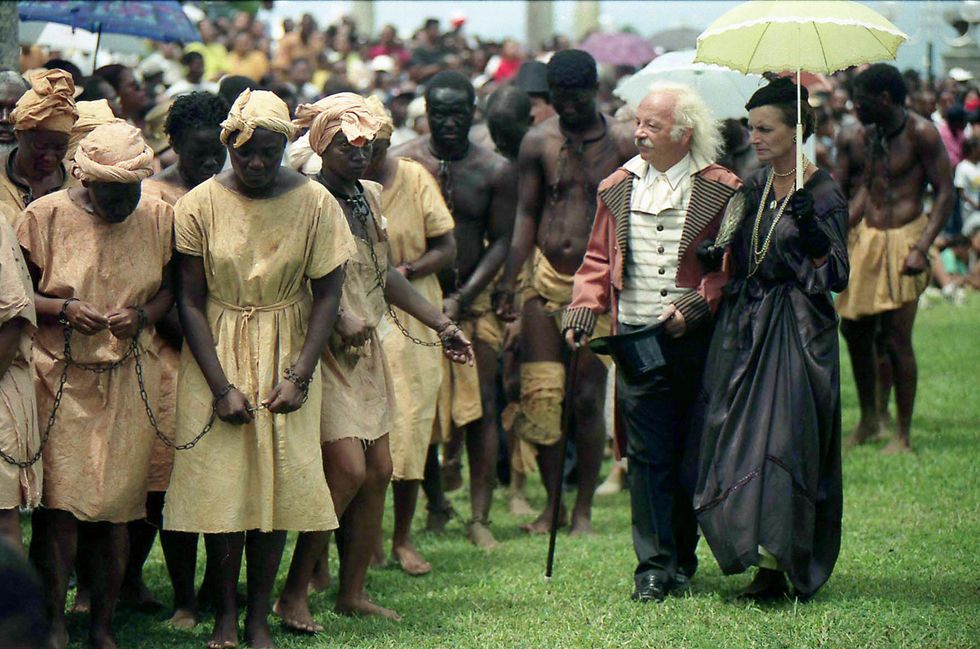 Slaves at the market.
"History, Stephen said, is a nightmare from which I am trying to awake." – James Joyce, Ulysses
---
We are familiar with slavery and the genocide of the indigenous peoples of the Americas, two of the greatest horrors of world history. What we often don't consider is what residue of that time is with us today. Recent studies show that trauma inside the brain can be passed down from one person to the next. This was observed in the offspring of those who suffered through the holocaust. But for how many generations is such trauma carried forth? And what effect does it have on the individual, their community, country, or corner of the world?
After the horrors of colonization, most nations were left to fend for themselves and plodded ahead as best they could, enduring widespread trauma and with little resources to modernize. Now, 22 Island nations that make up The Caribbean Community (CARICOM), are calling for reparations for slavery and the genocide the indigenous peoples.
The trade and political organization has assembled the Caribbean Reparation Commission. They in turn framed the Reparatory Justice Program—a 10-point plan which is being aimed at their former colonizers. The plan includes: an apology, reparations to help the descendants of slaves, aid for the remaining indigenous peoples, psychological rehabilitation, a plan to eradicate widespread illiteracy, technology transfer, robust health programs to help combat the "public health crisis" in the region, aid for building cultural institutions to frame what has happened, and a cancellation of debts.
Prime minister of Antigua and Barbuda, Baldwin Spencer has said that the Caribbean's inability to acquire wealth and develop their societies is directly associated with these historical legacies. CARICOM has enlisted the help of UK-based lawyer Martyn Day. Day is famous for winning compensation for Kenyans tortured under British rule during the Mau-Mau uprising of the 1950's. Although these European states admit to their slave-owning past, representatives say they do so in a general way. None have officially apologized, for fear of being dragged into court.
Reparations is a touchy subject in the Caribbean. Some see it as a matter of justice, while others say that it is a fruitless effort, consuming resources which could best be placed elsewhere. After all, Europe itself is going through rough financial and political times at the moment. Besides an economic slowdown and rampant unemployment in so many areas, there is a resurgence of conservative populism, an immigration crisis, and fear of a more aggressive Russia to their backs. More concerning still, few legal cases set precedent.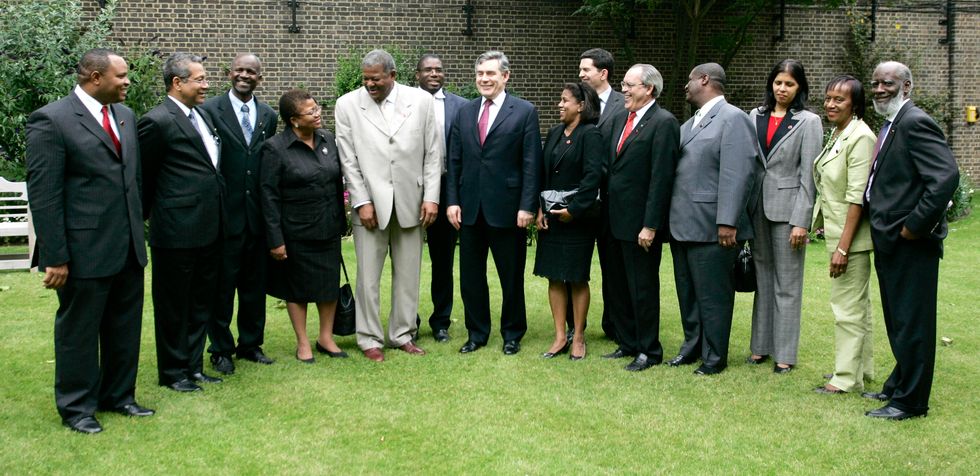 Meeting of CARICOM leaders in the UK.
3.1 million Africans were bought and sold by the British between 1662 and 1807, as part of the Transatlantic Slave Trade. That's to say nothing of the multitudes taken by France, Spain, and Portugal into their colonies. In British ones as elsewhere, most of the slaves were sold to work on plantations. UK historians say that in Victorian times, somewhere around one-fifth to one-sixth of all British fortunes were in some way built upon slavery.
Revolts occurred periodically. These decimated the island nations' economies. Though the slave trade was ended in Britain in 1807, slavery itself still existed until legislation ending the practice passed in 1834. Former slave holders were compensated to go along with emancipation. Yet, former slaves never saw reparations. Britain cut its Caribbean colonies loose in 1838, after a few short years of apprenticeship.
Even then, they hadn't been completely liberated. An apartheid existed, instead. Those of African descent saw little representation in government, and indentured workers from India and China were introduced, limiting labor opportunities for the local populations. It wasn't until early the 20th century when such abuses ended. The reparations CARICOM seeks today aren't only for those who whose ancestors were enslaved, but the remaining native peoples as well. According to Barbadian historian Hilary Beckles, native Caribbean's went from a population of around three million before Columbus to less than 30,000 today.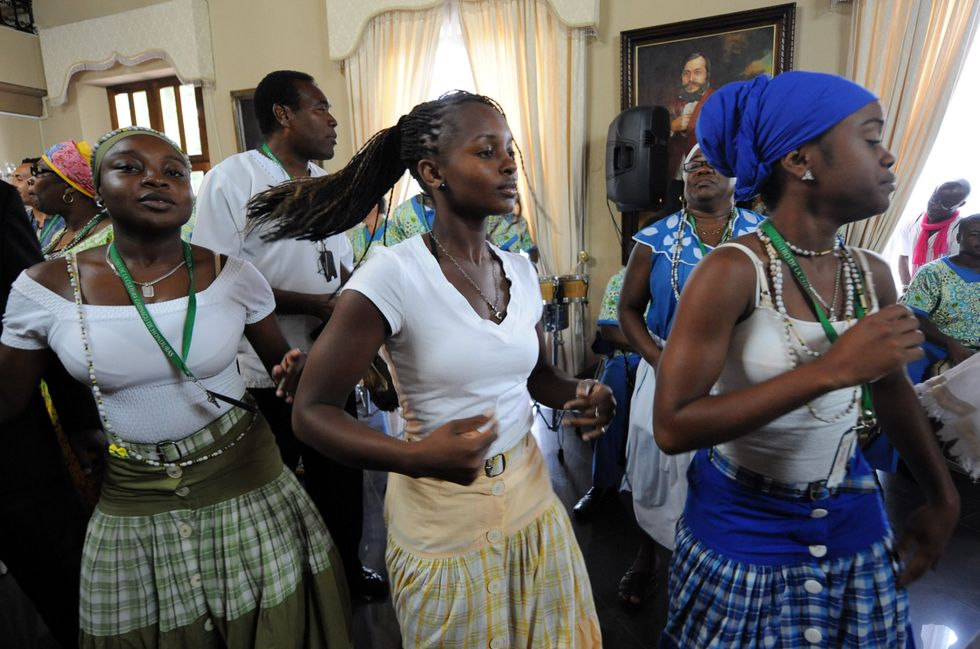 Garifuna dancers, some of the remaining descendants of the native Carib peoples.
Due to these considerations, many believe the countries who benefitted have a responsibility to set things right. The UK, France, and the Netherlands have been named in the reparations program thus far. Norway, Sweden, and Denmark may be added. 14 Caribbean nations so far today had formed separate national reparations commissions. CARICOM seems to be organizing them into one powerful voice. An International Reparations Summit was held in New York City for the first time in April of 2015. 205 advocates from 22 nations attended. Another summit was held in St. Lucia in 2016 and a further one is planned for Europe in 2017.
Though it hasn't been formally charged, the UK's Foreign Office is aware of the initiative. A representative told Reuters that, "Slavery was and is abhorrent. The United Kingdom unreservedly condemns slavery and is committed to eliminating it." Even so, that representative denied the call for reparations saying, "Instead, we should concentrate on identifying ways forward with a focus on the shared global challenges that face our countries in the 21st century." Some wealthy nations say they've already sent compensation through development aid.
The US and other countries have recently set up a reparations committee which CARICOM says is partly due to their efforts. What's more, their model is being closely watched and is setting an example for other countries who were badly damaged by the slave trade, genocide, slavery itself, racial apartheid, and colonization. Recognizing this and their responsibility to their constituents, CARICOM representatives have vowed that if their pleas are ignored, they will take each individual case to the International Court of Justice in The Hague.
To learn more about Caribbean reparations click here: 
A man's skeleton, found facedown with his hands bound, was unearthed near an ancient ceremonial circle during a high speed rail excavation project.
Culture & Religion
A skeleton representing a man who was tossed face down into a ditch nearly 2,500 years ago with his hands bound in front of his hips was dug up during an excavation outside of London.
The discovery was made during a high speed rail project that has been a bonanza for archaeology, as the area is home to more than 60 ancient sites along the planned route.
An ornate grave of a high status individual from the Roman period and an ancient ceremonial circle were also discovered during the excavations.
This spring, a U.S. and Chinese team announced that it had successfully grown, for the first time, embryos that included both human and monkey cells.
Getty Images
Surprising Science
In Aldous Huxley's 1932 novel "
Brave New World
," people aren't born from a mother's womb. Instead, embryos are grown in artificial wombs until they are brought into the world, a process called ectogenesis.
In the novel, technicians in charge of the hatcheries manipulate the nutrients they give the fetuses to make the newborns fit the desires of society. Two recent scientific developments suggest that Huxley's imagined world of functionally manufactured people is no longer far-fetched.
On March 17, 2021, an Israeli team announced that it had grown mouse embryos for 11 days – about half of the gestation period – in artificial wombs that were essentially bottles. Until this experiment, no one had grown a mammal embryo outside a womb this far into pregnancy. Then, on April 15, 2021, a U.S. and Chinese team announced that it had successfully grown, for the first time, embryos that included both human and monkey cells in plates to a stage where organs began to form.
As both a philosopher and a biologist I cannot help but ask how far researchers should take this work. While creating chimeras – the name for creatures that are a mix of organisms – might seem like the more ethically fraught of these two advances, ethicists think the medical benefits far outweigh the ethical risks. However, ectogenesis could have far-reaching impacts on individuals and society, and the prospect of babies grown in a lab has not been put under nearly the same scrutiny as chimeras.
Mouse embryos were grown in an artificial womb for 11 days, and organs had begun to develop.
Growing in an artificial womb
When in vitro fertilization first emerged in the late 1970s, the press called IVF embryos "test-tube babies," though they are nothing of the sort. These embryos are implanted into the uterus within a day or two after doctors fertilize an egg in a petri dish.
Before the Israeli experiment, researchers had not been able to grow mouse embryos outside the womb for more than four days – providing the embryos with enough oxygen had been too hard. The team spent seven years creating a system of slowly spinning glass bottles and controlled atmospheric pressure that simulates the placenta and provides oxygen.
This development is a major step toward ectogenesis, and scientists expect that it will be possible to extend mouse development further, possibly to full term outside the womb. This will likely require new techniques, but at this point it is a problem of scale – being able to accommodate a larger fetus. This appears to be a simpler challenge to overcome than figuring out something totally new like supporting organ formation.
The Israeli team plans to deploy its techniques on human embryos. Since mice and humans have similar developmental processes, it is likely that the team will succeed in growing human embryos in artificial wombs.
To do so, though, members of the team need permission from their ethics board.
CRISPR – a technology that can cut and paste genes – already allows scientists to manipulate an embryo's genes after fertilization. Once fetuses can be grown outside the womb, as in Huxley's world, researchers will also be able to modify their growing environments to further influence what physical and behavioral qualities these parentless babies exhibit. Science still has a way to go before fetus development and births outside of a uterus become a reality, but researchers are getting closer. The question now is how far humanity should go down this path.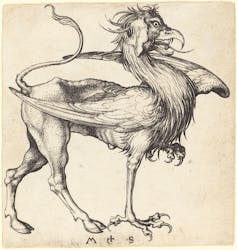 Chimeras evoke images of mythological creatures of multiple species – like this 15th-century drawing of a griffin – but the medical reality is much more sober. (Martin Schongauer/WikimediaCommons)
Human-monkey hybrids
Human–monkey hybrids might seem to be a much scarier prospect than babies born from artificial wombs. But in fact, the recent research is more a step toward an important medical development than an ethical minefield.
If scientists can grow human cells in monkeys or other animals, it should be possible to grow human organs too. This would solve the problem of organ shortages around the world for people needing transplants.
But keeping human cells alive in the embryos of other animals for any length of time has proved to be extremely difficult. In the human-monkey chimera experiment, a team of researchers implanted 25 human stem cells into embryos of crab-eating macaques – a type of monkey. The researchers then grew these embryos for 20 days in petri dishes.
After 15 days, the human stem cells had disappeared from most of the embryos. But at the end of the 20-day experiment, three embryos still contained human cells that had grown as part of the region of the embryo where they were embedded. For scientists, the challenge now is to figure out how to maintain human cells in chimeric embryos for longer.
Regulating these technologies
Some ethicists have begun to worry that researchers are rushing into a future of chimeras without adequate preparation. Their main concern is the ethical status of chimeras that contain human and nonhuman cells – especially if the human cells integrate into sensitive regions such as a monkey's brain. What rights would such creatures have?
However, there seems to be an emerging consensus that the potential medical benefits justify a step-by-step extension of this research. Many ethicists are urging public discussion of appropriate regulation to determine how close to viability these embryos should be grown. One proposed solution is to limit growth of these embryos to the first trimester of pregnancy. Given that researchers don't plan to grow these embryos beyond the stage when they can harvest rudimentary organs, I don't believe chimeras are ethically problematic compared with the true test–tube babies of Huxley's world.
Few ethicists have broached the problems posed by the ability to use ectogenesis to engineer human beings to fit societal desires. Researchers have yet to conduct experiments on human ectogenesis, and for now, scientists lack the techniques to bring the embryos to full term. However, without regulation, I believe researchers are likely to try these techniques on human embryos – just as the now-infamous He Jiankui used CRISPR to edit human babies without properly assessing safety and desirability. Technologically, it is a matter of time before mammal embryos can be brought to term outside the body.
While people may be uncomfortable with ectogenesis today, this discomfort could pass into familiarity as happened with IVF. But scientists and regulators would do well to reflect on the wisdom of permitting a process that could allow someone to engineer human beings without parents. As critics have warned in the context of CRISPR-based genetic enhancement, pressure to change future generations to meet societal desires will be unavoidable and dangerous, regardless of whether that pressure comes from an authoritative state or cultural expectations. In Huxley's imagination, hatcheries run by the state grew a large numbers of identical individuals as needed. That would be a very different world from today.

Sahotra Sarkar, Professor of Philosophy and Integrative Biology, The University of Texas at Austin College of Liberal Arts
This article is republished from The Conversation under a Creative Commons license. Read the original article.
Scientists should be cautious when expressing an opinion based on little more than speculation.
Credit: European Southern Observatory/M. Kornmesser
13-8
In October 2017, a strange celestial object was detected, soon to be declared our first recognized interstellar visitor.
The press exploded when a leading Harvard astronomer suggested the object to have been engineered by an alien civilization.
This is an extraordinary conclusion that was based on a faulty line of scientific reasoning. Ruling out competing hypotheses doesn't make your hypothesis right.
Sometimes, when you are looking for something ordinary, you find the unexpected. This is definitely the case with the strange 'Oumuamua, which made international headlines as a potential interstellar visitor. Its true identity remained obscure for a while, as scientists proposed different explanations for its puzzling behavior. This is the usual scientific approach of testing hypotheses to make sense of a new discovery.
What captured the popular imagination was the claim that the object was no piece of rock or comet, but an alien artifact, designed by a superior intelligence.
Do you remember the black monolith tumbling through space in the classic Stanley Kubrick movie 2001: A Space Odyssey? The one that "inspired" our ape-like ancestors to develop technology and followed humanity and its development since then? What made this claim amazing is that it wasn't coming from the usual UFO enthusiasts but from a respected astrophysicist from Harvard University, Avi Loeb, and his collaborator Shmuel Bialy. Does their claim really hold water? Were we really visited by an alien artifact? How would we know?
A mystery at 200,000 miles per hour
Before we dive into the controversy, let's examine some history. 'Oumuamua was discovered accidentally by Canadian astronomer Robert Weryk while he was routinely reviewing images captured by the telescope Pan-STARRS1 (Panoramic Survey and Rapid Response System 1), situated atop the ten-thousand-foot Haleakala volcanic peak on the Hawaiian island of Maui. The telescope scans the skies in search of near-Earth objects, mostly asteroids and possibly comets that come close to Earth. The idea is to monitor the solar system to learn more about such objects and their orbits and, of course, to sound the alarm in case of a potential collision course with Earth. Contrary to the objects Weryk was used to seeing, mostly moving at about 40,000 miles per hour, this one was moving almost five times as fast — nearly 200,000 miles per hour, definitely an anomaly.
Hyperbolic trajectory of ʻOumuamua through the inner Solar System.Credit: nagualdesign / Tomruen / JPL Horizons via Wikipedia and licensed under CC BY-SA 4.0
Intrigued, astronomers tracked the visitor while it was visible, concluding that it indeed must have come from outside our solar system, the first recognized interstellar visitor. Contrary to most known asteroids that move in elliptical orbits around the sun, 'Oumuamua had a bizarre path, mostly straight. Also, its brightness varied by a factor of ten as it tumbled across space, a very unusual property that could be caused either by an elongated cigar shape or by it being flat, like a CD, one side with a different reflectivity than the other. The object, 1I/2017 U1, became popularly known as 'Oumuamua, from the Hawaiian for "scout."

In their paper, Loeb and Bialy argue that the only way the object could be accelerated to the speeds observed was if it were extremely thin and very large, like a sail. They estimated that its thickness had to be between 0.3 to 0.9 millimeters, which is extremely thin. After confirming that such an object is robust enough to withstand the hardships of interstellar travel (e.g., collision with gas particles and dust grains, tensile stresses, rotation, and tidal forces), Loeb and Bialy conclude that it couldn't possibly be a solar system object like an asteroid or comet. Being thus of interstellar origin, the question is whether it is a natural or artificial object. This is where the paper ventures into interesting but far-fetched speculation.

I'm not saying it was aliens, but it was aliens
First, the authors consider that it might be garbage "floating in interstellar space as debris from advanced technological equipment," ejected from its own stellar system due to its non-functionality; essentially, alien space junk. Then, they suggest that a "more exotic scenario is that 'Oumuamua may be a fully operational probe sent intentionally to Earth vicinity by an alien civilization," [italicized as in the original] concluding that a "survey for lightsails as technosignatures in the solar system is warranted, irrespective of whether 'Oumuamua is one of them."
You can shoot down as many hypotheses as you want to vindicate yours, but this doesn't prove yours is the right one.
I have known Avi Loeb for decades and consider him a serious and extremely talented astrophysicist. His 2018 paper includes a suggestive interpretation of strange data that obviously sparks the popular imagination. Theoretical physicists routinely suggest the existence of traversable wormholes, multiverses, and parallel quantum universes. Not surprisingly, Loeb was highly in demand by the press to fill in the details of his idea. A book followed, Extraterrestrial: The First Sign of Intelligent Life Beyond Earth, and its description tells all: "There was only one conceivable explanation: the object was a piece of advanced technology created by a distant alien civilization."
It came from outer space.Credit: Scott Barbour via Getty Images
This is where most of the scientific establishment began to cringe. One thing is to discuss the properties of a strange natural phenomenon and rule out more prosaic hypotheses while suggesting a daring one. Another is to declare to the public that the only conceivable explanation is one that is also speculative. An outsider will conclude that a reliable scientist has confirmed not only the existence of extraterrestrial life but of intelligent and technologically sophisticated extraterrestrial life with an interest in our solar system. I wonder if Loeb considered the impact of his words and how they reflect on the scientific community as a whole.

This is why aliens won't talk to us
Earlier this year, in a live public lecture hosted by the Catholic University of Chile, Avi Loeb locked horns with Jill Tarter, the scientist that is perhaps most identifiable as someone who spent her career looking for signs of extraterrestrial intelligence. (Coincidentally, I was the speaker that followed Loeb the next week in the same seminar series and was cautioned — along with the other panelists — to behave myself to avoid another showdown. I smiled, knowing that my topic was pretty tame in comparison. I mean, how can the limits of human knowledge compare with alien surveillance?)
The Loeb-Tarter exchange was awful and, it being a public debate, was picked up by the press. Academics can be rough like anyone else. But the issue goes deeper.
What scientists say matters. When should a scientist make public declarations about a cutting-edge topic with absolute certainty? I'd say never. There is no clear-cut certainty in cutting-edge science. There are hypotheses that should be tested more until there is community consensus. Even then, consensus is not guaranteed proof. The history of science is full of examples where leading scientists were convinced of something, only to be proven wrong later.
The epistemological mistake Loeb committed was to make an assertion that publicly amounted to certainty by using a process of elimination of other competing hypotheses. You can shoot down as many hypotheses as you want to vindicate yours, but this doesn't prove yours is the right one. It only means that the other hypotheses are wrong. I do, however, agree with Loeb when he says that 'Oumuamua should be the trigger for an increase in funding for the search for technosignatures, a way of detecting intelligent extraterrestrial life.
Scroll down to load more…