Big ideas.
Once a week.
Subscribe to our weekly newsletter.
Are Sexual Fetishes Psychologically Healthy?
So far, 549 separate paraphilias have been officially identified.
19 February, 2017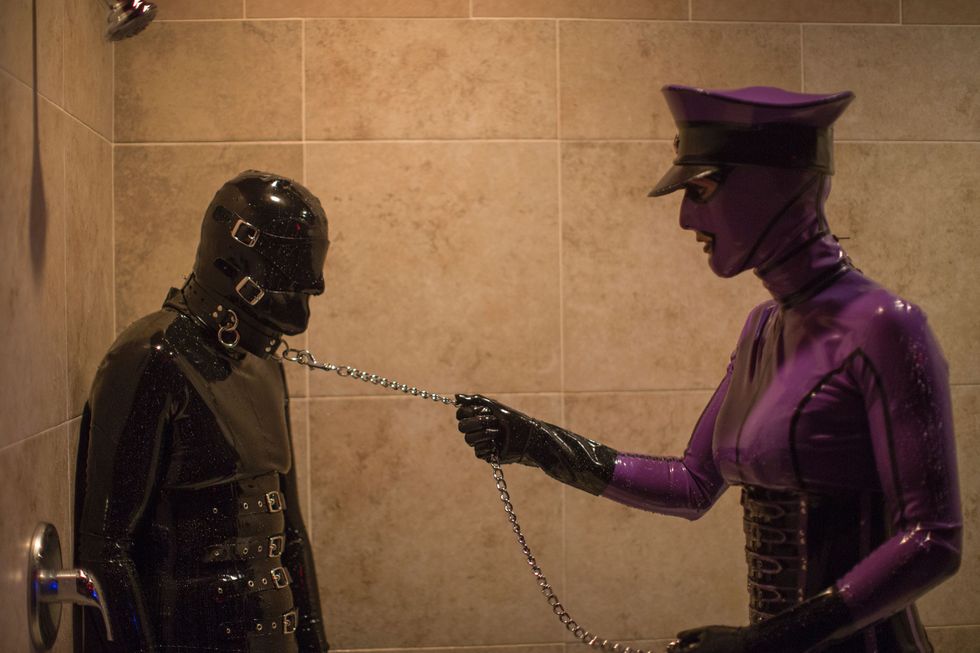 Fetish events like the one this couple attended are cropping up all over the US.
50 Shades of Grey has changed the calculus on how our society views fetishes and BDSM. Though once considered deviant and shameful, today most psychologists lend us an entirely different view. Sexual fetishes are far more common than we think. A recent study published in the Journal of Sex Research, finds that one in three people in the US have taken part in one, at least once in their lives. 
---
Sex researchers are just starting to delve into the fetish world to see what can be gleaned from it. Some studies have reaped interesting results. Though there may be fetishists who have experienced a past trauma, it's not a reliable predictor. And there might be some benefits to engaging in a fetish or BDSM.
How do we define a fetish? It comes from feitico, a Portuguese word meaning "obsessive fascination." The technical term in psychology is paraphilia, which is an atypical sexual interest in an object, act, body part, or sensation. So far, 549 separate paraphilias have been identified, and there may be many more.
According to a study out of the University of Bologna in Italy, the most common fetishes deal with non-sexual parts of the body. A foot fetish is the most common. Nearly half of all fetishes are foot fetishes. Usually, its men focused on women's feet. The second most common is for accessories such as stockings, boots, or gloves.
Though some of us have a predilection for something, the fetishist cannot technically climax without his or her fetish present. For instance, a couple might enjoy incorporating bondage, food, or role play occasionally into their sex life, in order to "spice things up." That doesn't mean their fetishists. They just enjoy a little kink. Desiring to wear a diaper, to be spanked, to kiss a woman's foot, be peed on, don a collar and leash, be tied down, or feel leather against one's skin can all be considered fetishes. Even such things as voyeurism, cross dressing, or exhibitionism are parahilias.
There are some really strange ones, like getting caught in quicksand. There's sploshing or WHAM which is covering your partner in whip cream, baby oil, body paint, or other substances. You might even fantasize about getting swallowed by a large, imaginary predator (vorarephilia), digested by it, and expelled, while parts of you remain and become part of that creature. Harvard research psychologist Justin Lehmiller, Ph.D. says, "Pretty much anything you can think of, someone out there probably has sexual associations attached to it."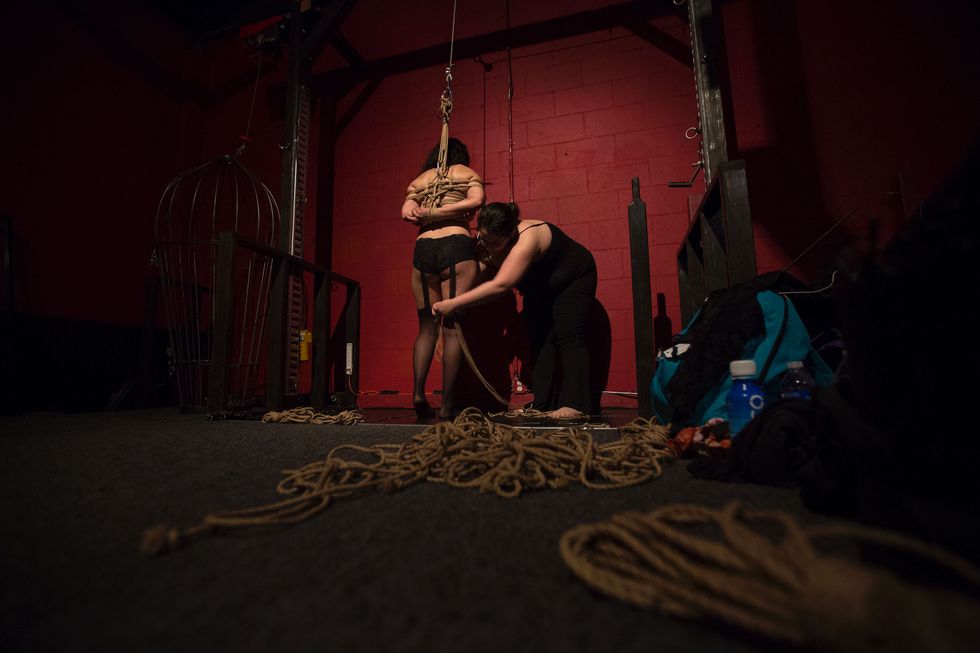 One-third of Americans have taken part in some sort of fetish or kink play, and elements of BDSM such as bondage are becoming more mainstream.
Once thought of as depraved or deviant, today, paraphilias are only thought to be negative, if engaging in it causes harm or distress to the person or another. Paraphilia was removed from the DSM V, when the so-called bible of mental disorders was updated in 2012. Though the field of sexology is new, most therapists today believe that having a fetish is perfectly healthy, as long as it is expressed with a consenting, adult partner.
Study after study finds no correlation between a fetish and any sort of pathology. But suppressing one or trying to condition it out could cause psychological damage. Dr. Richard Krueger is an associate professor of psychiatry at Columbia University Medical Center. He told Healthline, "The literature is limited, but it would suggest that they're (fetishists) healthy or healthier" than those who don't have one.
Sex counselor Jessica O'Reilly, Ph.D. said that just as people have different tastes for food, they have diverse sexual fantasies. So a fetish may be "one element of our diversity in terms of sexual interest and arousal." O'Reilly believes that usually, it's something that's imprinted in the mind when a person is first becoming aware of their own sexuality. Most people remember when they first acquired their fetish, though not always.
Say a boy loses his virginity to a woman wearing thigh-highs. From that day forward, he may associate the stockings with sexuality, and so become aroused when he sees them. Other fetishes may be imprinted in the same fashion. One study in the 1960s showed men naked photos of women, alongside pictures of boots. After a protracted period, participants began to associate boots with arousal.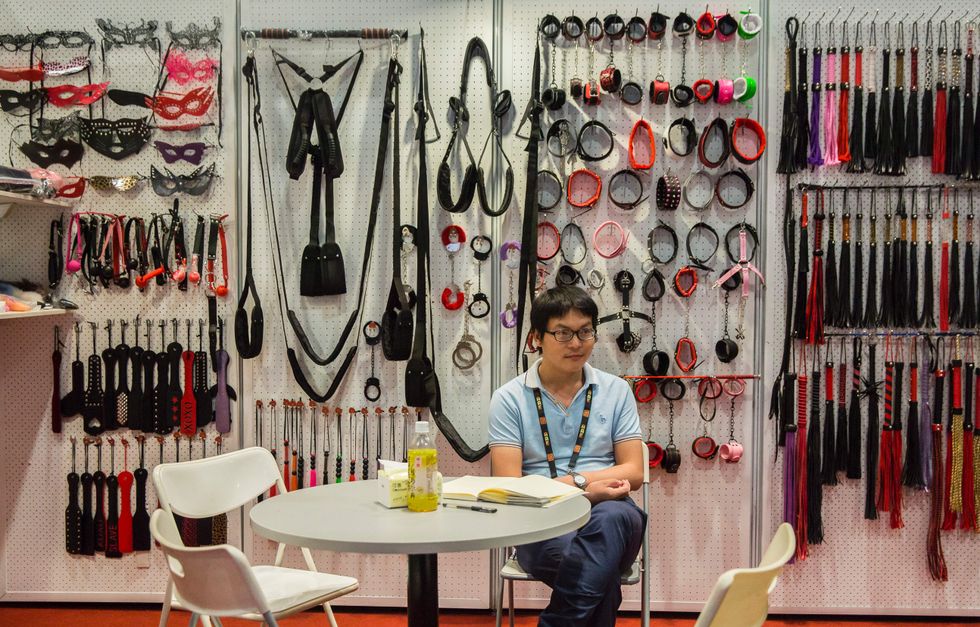 With wider acceptance, kink, fetishism, and BDSM have become big business. The industry brings in $9 billion per year in the US, according to IBISWorld.
This suggests that developing a fetish is Pavlovian in nature. Further research supports the claim that paraphilias are non-sexual elements which though a certain experience, somehow get associated with sex. As a result, the more such impressions we encounter, the more fetishes we might acquire over time.
Paraphilias are often considered the realm of men. But women are the largest consumers of erotica. 50 Shades of Grey sold 10 million copies, and was read almost exclusively by women. This book includes bondage, dominance, submission, and sadomasochism (BDSM). These are not only separate fetishes, but have become an acronym for what some consider a lifestyle, while for others it's a hobby or interest. BDSM on the surface appears to deviate from the norm. But the practice is actually more common than we think.
Consider how popular spanking is, which could be considered a part of BDSM. Somewhere between five and 10% of Americans have either spanked or been spanked by a partner, according to the National Coalition for Sexual Freedom. This involves no real damage. Yet, some of the same biochemicals released during sex, such as endorphins and serotonin, flood the system during instances of pain. So a little pain might even heighten the experience.
Rather than depraved, one study published in the Journal of Sexual Medicine, suggests that those couples who take part in BDSM might actually be emotionally healthier than those who only partake in "vanilla" sex." 902 BDSM practitioners and 434 controls participated. Researchers found that BDSM practicing couples had better communication, less neurosis, were more open with one another, better able to communicate their needs, and were more sensitive to the needs of their partner.
Though the sexual revolution had a lot to do with it, the internet has acted as a catalyst for increasing our comfort level surrounding BDSM and fetishism. Even those thought to have an "extreme" fetish can find legions of others with the same interest on websites and chatrooms, and through certain venues, even meet in person.
Moreover, some mainstream dating sites like OKCupid are now allowing users to communicate their fetish to would-be mates. Before the internet, those with interests outside the sexual norm felt isolated or even "sick." Today, we realize how common atypical sexual interests are. And it's likely that as more knowledge about paraphilias settles into the general population, harmless fetishes are bound to become more widely accepted.
To learn more, click here: 
The idea of 'absolute time' is an illusion. Physics and subjective experience reveal why.
ESA
Surprising Science
Since Einstein posited his theory of general relativity, we've understood that gravity has the power to warp space and time.
This "time dilation" effect occurs even at small levels.
Outside of physics, we experience distortions in how we perceive time — sometimes to a startling extent.
Place one clock at the top of a mountain. Place another on the beach. Eventually, you'll see that each clock tells a different time. Why? Time moves slower as you get closer to Earth, because, as Einstein posited in his theory of general relativity, the gravity of a large mass, like Earth, warps the space and time around it.
Scientists first observed this "time dilation" effect on the cosmic scale, such as when a star passes near a black hole. Then, in 2010, researchers observed the same effect on a much smaller scale, using two extremely precise atomic clocks, one placed 33 centimeters higher than the other. Again, time moved slower for the clock closer to Earth.
The differences were tiny, but the implications were massive: absolute time does not exist. For each clock in the world, and for each of us, time passes slightly differently. But even if time is passing at ever-fluctuating speeds throughout the universe, time is still passing in some kind of objective sense, right? Maybe not.
Physics without time
In his book "The Order of Time," Italian theoretical physicist Carlo Rovelli suggests that our perception of time — our sense that time is forever flowing forward — could be a highly subjective projection. After all, when you look at reality on the smallest scale (using equations of quantum gravity, at least), time vanishes.
"If I observe the microscopic state of things," writes Rovelli, "then the difference between past and future vanishes … in the elementary grammar of things, there is no distinction between 'cause' and 'effect.'"
So, why do we perceive time as flowing forward? Rovelli notes that, although time disappears on extremely small scales, we still obviously perceive events occur sequentially in reality. In other words, we observe entropy: Order changing into disorder; an egg cracking and getting scrambled.
Rovelli says key aspects of time are described by the second law of thermodynamics, which states that heat always passes from hot to cold. This is a one-way street. For example, an ice cube melts into a hot cup of tea, never the reverse. Rovelli suggests a similar phenomenon might explain why we're only able to perceive the past and not the future.
"Any time the future is definitely distinguishable from the past, there is something like heat involved," Rovelli wrote for the Financial Times. "Thermodynamics traces the direction of time to something called the 'low entropy of the past', a still mysterious phenomenon on which discussions rage."
He continues:
"Entropy growth orients time and permits the existence of traces of the past, and these permit the possibility of memories, which hold together our sense of identity. I suspect that what we call the "flowing" of time has to be understood by studying the structure of our brain rather than by studying physics: evolution has shaped our brain into a machine that feeds off memory in order to anticipate the future. This is what we are listening to when we listen to the passing of time. Understanding the "flowing" of time is therefore something that may pertain to neuroscience more than to fundamental physics. Searching for the explanation of the feeling of flow in physics might be a mistake."
Scientists still have much to learn about how we perceive time, and why time operates differently depending on the scale. But what's certain is that, outside of the realm of physics, our individual perception of time is also surprisingly elastic.
​The strange subjectivity of time
Time moves differently atop a mountain than it does on a beach. But you don't need to travel any distance at all to experience strange distortions in your perception of time. In moments of life-or-death fear, for example, your brain would release large amounts of adrenaline, which would speed up your internal clock, causing you to perceive the outside world as moving slowly.

Another common distortion occurs when we focus our attention in particular ways.
"If you're thinking about how time is currently passing by, the biggest factor influencing your time perception is attention," Aaron Sackett, associate professor of marketing at the University of St. Thomas, told Gizmodo. "The more attention you give to the passage of time, the slower it tends to go. As you become distracted from time's passing—perhaps by something interesting happening nearby, or a good daydreaming session—you're more likely to lose track of time, giving you the feeling that it's slipping by more quickly than before. "Time flies when you're having fun," they say, but really, it's more like "time flies when you're thinking about other things." That's why time will also often fly by when you're definitely not having fun—like when you're having a heated argument or are terrified about an upcoming presentation."
One of the most mysterious ways people experience time-perception distortions is through psychedelic drugs. In an interview with The Guardian, Rovelli described a time he experimented with LSD.
"It was an extraordinarily strong experience that touched me also intellectually," he said. "Among the strange phenomena was the sense of time stopping. Things were happening in my mind but the clock was not going ahead; the flow of time was not passing any more. It was a total subversion of the structure of reality."

It seems few scientists or philosophers believe time is completely an illusion.
"What we call time is a rich, stratified concept; it has many layers," Rovelli told Physics Today. "Some of time's layers apply only at limited scales within limited domains. This does not make them illusions."
What
is
an illusion is the idea that time flows at an absolute rate. The river of time might be flowing forever forward, but it moves at different speeds, between people, and even within your own mind.
Buildings don't have to be permanent — modular construction can make them modifiable and relocatable.
Freethink
Technology & Innovation
Modular construction involves building the components of a habitable structure in a factory, and then assembling those components on-site.
The history of modular construction stretches back centuries, and it became briefly popular in the U.S. after World War II, but it's never quite caught on.
Construction firms like iMod Structures, which constructs buildings that can be modified and relocated, may soon change that.
Modular construction is on the rise. Once a marginal sector focused on building affordable homes, modular construction is now building an increasing share of structures used for commerce, healthcare, and education. By 2028, the modular construction market is projected to be worth $114 billion.
What is modular construction? It's like building with Legos but on an industrial scale: standardized block-shaped modules are constructed in a factory, transported to a building site, and assembled together to form a habitable structure.
What's most striking about modular buildings isn't appearance but the speed of construction. In 2015, for example, a Chinese construction company built a 57-story glass-and-concrete skyscraper made of 2,736 rectangular modules in a record-breaking 19 days. That's three stories per day.
In addition to speed, modular construction promises to be more modifiable, more transportable, and less wasteful than traditional construction methods. The method could transform construction, which, despite being one of the world's biggest sectors, is one of the slowest growing in terms of labor productivity and digitization.
One modular construction firm aiming to bring the sector into the 21st century is iMod Structures, which builds shipping container-sized modules that can be assembled into buildings. The modules can then be disassembled to modify the existing structure or transported to a different site to build a new one.
Freethink recently visited iMod Structures to get an up-close look at its unique spin on modular construction.
Do buildings have to be permanent? | Hard Reset by Freethink www.youtube.com
Techniques like this could help bring construction into the 21st century. But despite its futuristic and transformative appeal, modular construction is far from a new idea. In fact, the history of prefabrication — the broader category of construction to which modular belongs — goes back centuries.

Prefabrication: From 17th-century cottages to diners to skyscrapers
One of the earliest examples of prefabrication came in 1624, when a colonial American fisherman commissioned an English construction company to fabricate components of a building and ship them overseas to the fishing village of Cap Anne.
In the 17th and 18th centuries, English firms also shipped prefabricated structures — storehouses, cottages, and hospitals — to Australia, South Africa, and New Zealand. In the U.S., prefabricated homes became popular during the Gold Rush when California towns had too many people but too few houses.
In the early 20th century, mass-production made modular construction more practical and, sometimes, more popular. From 1908 to 1940, Sears sold about 70,000 kit homes across the country; some of the cheapest models started around $160. (Kit homes were like IKEA products: the manufacturer builds and precuts the parts, and the buyer assembles them.)
Still, prefabricated homes weren't particularly popular in the first half of the 20th century; homebuyers generally viewed the structures — especially the metal and experimental ones — as strange and undesirable.
Pre fabricated house shipped via boxcarThe Aladdin Company via Wikipedia
But appearance wasn't a major concern during World War II. Facing huge demand for cheap and simple housing for soldiers in the early 1940s, the U.S. produced hundreds of thousands of Quonset huts — prefabricated, semi-cylindrical structures made of corrugated galvanized steel — which about six unskilled laborers could construct in a day.
A Quonset hut being put in place at the 598th Engineer Base Depot in Japan, post-World War IIUS Army Corps of Engineers via Wikipedia
After the war, millions of U.S. soldiers returned home, and the nation faced a housing shortage crisis. Hundreds of companies entered the prefabricated housing market, with several receiving support from the federal government. One of the most iconic models was the enameled-steel Lustron house, which cost $7,000 to $10,000, took two weeks to assemble, and promised to "defy weather, wear, and time."
Lustron HouseAdirondack Architectural Heritage
By 1958, roughly 10 percent of all homes in the U.S. were prefabricated. In addition to homes, the prefabrication industry also built thousands of diners throughout the 20th century, especially after World War II when owning a prefabricated diner was a decent small-business opportunity. Popular in New Jersey, the narrow diners could easily be shipped to buyers by rail.
Interior of a 1938 Sterling manufactured diner, with curved ceiling, in Wellsboro, PennsylvaniaI, Ruhrfisch via Wikipedia
Despite the post-war boom, modular construction never really caught on in most parts of the world, though many architects and builders have long been attracted to the method. Some of the reasons include consumer perception that modular homes are unattractive, technological constraints, and the high costs of researching and developing new building techniques.

These challenges can be prohibitive, especially for large-scale projects.
"Building anything over 10 stories in modular is something no one has wanted to do because you have to invest in research and development," Susi Yu, executive vice president of residential development for the Forest City Ratner Corporation, told Fast Company. "There's science behind it that you need to figure out."
But attitudes on modular buildings may be shifting.
"Today, modular construction is experiencing a new wave of attention and investment, and several factors suggest it may have renewed staying power," noted a 2019 report from the consulting firm McKinsey & Company. "The maturing of digital tools has radically changed the modular-construction proposition — for instance, by facilitating the design of modules and optimizing delivery logistics. Consumer perceptions of prefab housing are beginning to change, particularly as new, more varied material choices improve the visual appeal of prefab buildings."
The report goes on: "Perhaps most important, we see a change in mind-set among construction-sector CEOs, as many leaders see technology-based disruptors entering the scene — and realizing it may be time to reposition themselves."
In recent decades, construction firms around the world have built all kinds of modular buildings, including modular skyscrapers in the U.K., U.S., and China; containerized homes in Mexico; and classrooms in rural South Africa.
"In many countries, modular construction is still very much an outlier," McKinsey noted. "But there are strong signs of what could be a genuine broad-scale disruption in the making. It is already drawing in new competitors — and it will most likely create new winners and losers across the entire construction ecosystem."
The benefits of modular construction
Modular construction has the potential to deliver $22 billion in annual savings to U.S. and European markets, mainly because of the inherent benefits of building components in a controlled factory setting. The Modular Building Institute lists a few examples:
Shorter construction schedule. Because construction of modular buildings can occur simultaneously with the site and foundation work, projects can be completed 30 percent to 50 percent sooner than traditional construction.
Elimination of weather delays. 60 to 90 percent of the construction is completed inside a factory, which mitigates the risk of weather delays. Buildings are occupied sooner, creating a faster return on investment.
Improved air quality. Because the modular structure is substantially completed in a factory controlled setting using dry materials, there's virtually no potential for high levels of moisture (which can cause mold growth) to get trapped in the new construction.
Less material waste. When building in a factory, waste is eliminated by recycling materials, controlling inventory, and protecting building materials.
Safer construction. The indoor construction environment reduces the risks of accidents and related liabilities for workers.
But perhaps the biggest benefit of modular construction is relocatability and modifiability.
Future-proofing buildings and cities
Buildings are hard to modify and practically impossible to move. That's a problem for many organizations, including the Los Angeles Unified School District. The district currently maintains thousands of decades-old trailers it built to accommodate a fast-growing student population.
Seeking to replace those trailers with structures, the district partnered with iMod Structures to build "future proof" modular classrooms that can be reconfigured and relocated, depending on fluctuating enrollment levels.
"If you have one of our classrooms in a particular location and 5, 10, or 20 years later, you need them across town at another campus within the school district, you simply disassemble, relocate, and reassemble them where they are needed," Craig Severance, Principal with iMod Structures, said in a statement. "And it can be done within a few days, minimizing school [downtime] and disruption of our children's education."
iMod Structures classroomiMod Structures
Founded in 2009 by former real estate investors John Diserens and Craig Severance, iMod Structures takes a hyper-efficient approach to modular construction. Instead of making many types of prefabricated components, the firm makes only one standardized block-shaped frame, each roughly the size of a shipping container. The firm builds the frames in factories and then outfits them with walls, windows, and other custom features the client wants.

Because the frames have the dimensions of a standard shipping container, they can be easily transported to the building site by truck or rail. On site, the frames are connected together or stacked on top of each other. Once the structure is intact, workers finish the job by adding plumbing, electricity, and other final touches.
The process saves a lot of time.
"Typically, it would take nine to 15 months to manufacture a classroom out in the field," said Mike McKibbin, the head of operations for iMod. "We're doing that in twelve days."
Movable neighborhoods
Today, iMod Structures is focusing on future-proofing classrooms in California. But it's not hard to imagine how this kind of modular construction could transform not only the ways we build buildings but also organize cities. For example, if a company wants to set up offices in a new part of town, it could build an office park out of iMod Structures frames.
But what if the company needs to expand? It could attach more modules to its existing structure. If it needs to shut down? Instead of demolishing the office park, the structure could be modified and converted into, say, a hospital or apartment building. Alternatively, the modules could be removed from the site, and reused elsewhere, so the city could construct a park.
Under this kind of framework, cities could become far more flexible and dynamic, able to quickly adapt to changing needs. And with no need to demolish buildings, modular construction could prove far more sustainable than any method the industry uses today.
"We don't want our buildings to ever end up in a landfill. Ever," said Reed Walker, head of production and design at iMod Structures. "We want to take that system and use it again and again and again."
An early feasibility study finds a potential new treatment for Alzheimer's disease.
Mind & Brain
For the past few years, Annabelle Singer and her collaborators have been using flickering lights and sound to treat mouse models of Alzheimer's disease, and they've seen some dramatic results.
Now they have results from the first human feasibility study of the flicker treatment, and they're promising.
"We looked at safety, tolerance, and adherence, and several different biological outcomes, and the results were excellent—better than we expected," says Singer, assistant professor in the biomedical engineering department at Georgia Institute of Technology and Emory University.
Singer shared preliminary results of the feasibility study in October at the American Neurological Association annual meeting. Now she is a corresponding author with Emory neurology researcher James Lah of a paper outlining their findings in the journal Alzheimer's & Dementia: Translational Research & Clinical Interventions.
The flicker treatment stimulates gamma waves, manipulating neural activity, recruiting the brain's immune system, and clearing pathogens—in short, waging a successful fight against a progressive disease that still has no cure.
Previous research already had shown that sensory areas in the human brain will entrain to flickering stimuli for seconds to hours. But this was the first time Singer and her team were able to test gamma sensory stimulation over an extended period of time.
The study included 10 patients with Alzheimer's-associated mild cognitive impairment, which required them to wear an experimental visor and headphones that exposed one group to light and sound at 40 hertz for an hour a day over eight weeks, and another group for four weeks after a delayed start.
"We were able to tune the devices to a level of light and sound that was not only tolerable, but it also successfully provoked an underlying brain response," Lah says.
As they hoped and expected, Singer says, "there was widespread entrainment." That is, brain activity—in this case, gamma waves—synchronized to the external stimulation.
Gamma waves are associated with high-level cognitive functions, like perception and memory. Disruptions to these waves have been found in various neurological disorders, not just Alzheimer's.
The human feasibility study showed that the gamma flicker treatment was safe and tolerable. And perhaps most surprising, patients followed the full treatment schedule.
"Adherence was one of our major concerns," Singer says. "When we sent the device home with the participants, would they use it? Would they use it for a couple of days, and that would be it? We were pleasantly surprised that this wasn't the case."
Adherence rates hovered around 90%, with no severe adverse effects reported during the study or the 10-month open label extension (some patients even volunteered to continue being monitored and assessed after the study, though this data wasn't part of the published research).
Some participants reported mild discomfort that could have been flicker related—dizziness, ringing in the ears, and headaches. But overall, Singer says, the device's safety profile was excellent. She also reported some positive biological outcomes.
"We looked at default mode network connectivity, which is basically how different brain regions that are particularly active during wakeful rest and memory, interact with each other," Singer says.
"There are deficits in this network in Alzheimer's, but after eight weeks [of treatment], we found strengthening in that connectivity." This may indicate stronger interactions and therefore better communication between these regions.
In previous animal studies, the 40Hz of flicker stimulated mouse gamma waves, significantly reducing some Alzheimer's pathogenic hallmarks and recruited microglia to the cause—these are the primary immune cells in the brain. But in the human study, there were no clear changes in the presence of pathogens amyloid beta or p-Tau.
However, as with the mouse studies, "we are getting immune engagement in humans," Singer says. The flicker treatment sparked the activity of cytokines, proteins used in cell signaling—a sign that flicker had engaged the brain's immune system.
"That is something we want to see, because microglia do things like clear out pathogens. Some people think that part of what's going wrong in Alzheimer's is a failure of this clearance mechanism," Singer says.
She and Lah have wondered if a longer human trial would make a difference—would there be reduced amyloid activity, for example.
"So far, this is very preliminary, and we're nowhere close to drawing conclusions about the clinical benefit of this treatment," Lah says. "But we now have some very good arguments for a larger, longer study with more people."
Funding for the study came from the National Institute of Neurological Disorders and Stroke at the National Institutes of Health, the Packard Foundation, the Friends and Alumni of Georgia Tech, the Lane Family, the Wright Family, and Cognito Therapeutics. Any findings, conclusions, and recommendations are those of the researchers and not necessarily of the sponsors.
Annabelle Singer owns shares in Cognito Therapeutics, which funded the human study at Emory Brain Health Center. Cognito aims to develop gamma stimulation-related products. These conflicts are managed by Georgia Tech's Office of Research Integrity Assurance.
Source: Georgia Tech
Original Study DOI: 10.1002/trc2.12178
Reprinted with permission of Futurity. Read the original article.
Scroll down to load more…