A second Big Bang will likely destroy the universe, Harvard researchers say
Or maybe it's already begun.
06 April, 2018
There are a number of possible cataclysms that could wipe out the human race. Take the expansion of the sun into a red giant. That'll will eventually absorb the Earth. This event is set to occur in about 7-8 billion years. The only way to escape it, as Elon Musk and others argue, is to become an interplanetary species—if not an intergalactic one. Would such a move forever safeguard the human race?
---
When the universe will end has been a topic of discussion among theoretical physicists for some time. What they can agree on is, it's likely to occur somewhere between 2.5-22 billion years from now. We'll have to find another universe to inhabit before that, if such a thing exists and if it's habitable to our species.
There are three prevailing theories on how the universe will end. One is the Big Crunch. This theory states that at some point, the universe will stop moving in one direction and start shrinking back in on itself, perhaps condensing into the singularity once more.
Another is the Big Rip, where the universe continues to spread out and accelerate at an ever-increasing velocity, until it tears an enormous rend into its own fabric, spreading catastrophe everywhere. This would destroy not only stars but black holes, planets, and even whole galaxies. The universe would literally rip itself to pieces.
The last is called the Big Freeze. This is the "heat death" thermodynamics postulates. Until now, it was considered the most likely scenario. It originates with the second law of thermodynamics, which states that the entropy or chaos in a system will increase, until it overtakes the entire system.
The engine will someday seize up for good, the human body will age and die, and the universe will spread out to such an extent that gases no longer congregate, meaning stars will no longer form. Without birthing new stars and when all the old ones die out, the universe will become a cold, empty, lifeless void.
Recently, a team of Harvard physicists stated that this is no longer the likeliest scenario. Instead, according to them, the cosmos is likely to end in another Big Bang. But this event will be much different than the one that birthed the cosmos. The team's findings were published in the journal Physical Review D.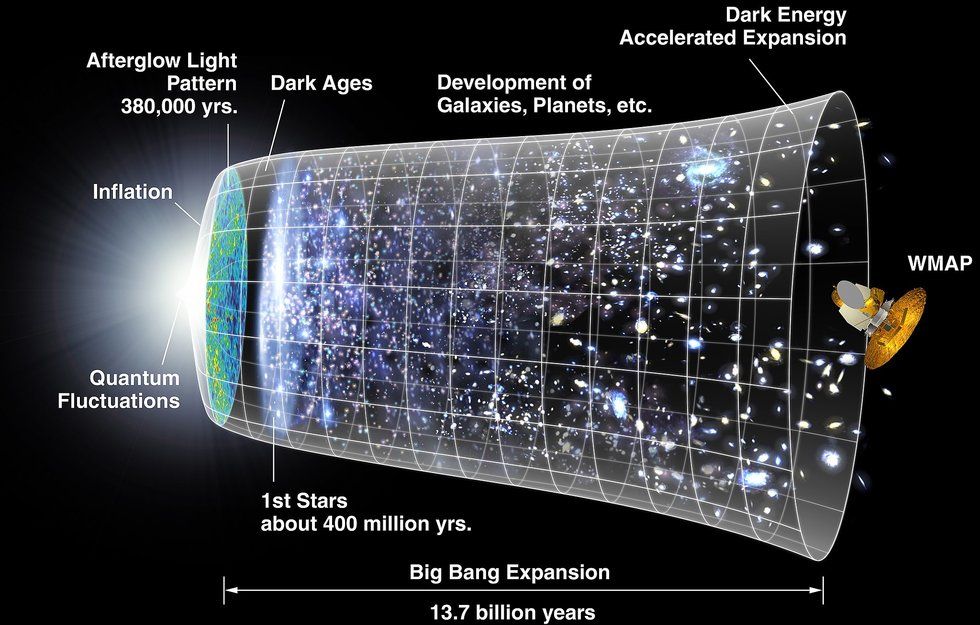 Model of the Big Bang. Credit: NASA/WMAP Science Team.
Turns out, the universe could fall to pieces internally, depending on what occurs with the Higgs boson. Known as the "God particle," the Higgs is a miniscule quantum particle that lends other, larger particles their mass. Should the Higgs boson become destabilized, the entire universe would erupt in a massive explosion, incinerating all and everything from one end of the cosmos to the other. So does that mean we should all get our affairs in order?
Actually, this isn't supposed to happen for another 10 million trillion trillion trillion trillion trillion trillion trillion trillion trillion trillion trillion years. This is of course, only accurate if the subatomic particle's collapse hasn't already begun. If it did, we wouldn't know it. Since the Higgs field is evenly distributed throughout the universe, we would be instantly vaporized, before the event had a chance to register in our brains. Harvard scientists aren't guaranteeing it, but they're 95% certain the cosmos will end this way.
The illusive Higgs boson was only discovered in 2012, although it has been theorized to exist as far back as the 1920s. Using a Large Hadron Collider and smashing subatomic protons together, scientists were able to catch a glimpse of it. So what might cause the Higgs boson to become unstable?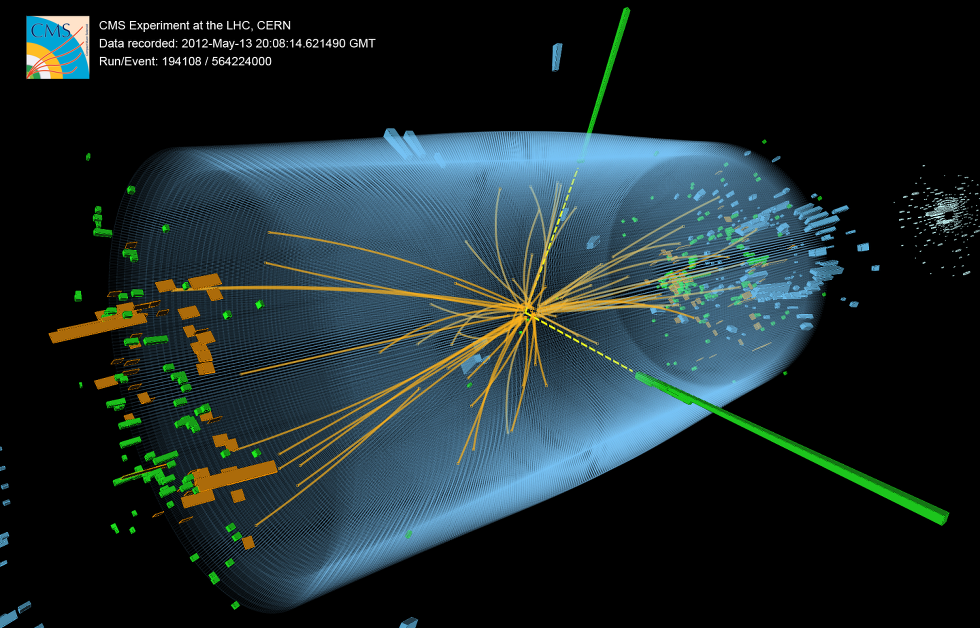 A 3D model of the detection of the Higgs boson, which occurred during a proton-proton collision in the Large Hadron Collider. Credit: CERN.
Harvard researchers conceive of a space-time curvature around a black hole, somewhere deep within the universe. Recent astronomical observations lead us to believe that a supermassive black hole sits at the center of almost every galaxy, including our own. It's thought that clusters of other black holes reside near them and are eventually absorbed by them. In fact, a baker's dozen was just discovered hanging around a supermassive black hole, near Sagittarius A, a densely-packed region close to the center of our galaxy.
Since these giant anomalies don't operate according to the laws of standard physics, ablack hole could theoretically change the Higgs boson's mass, destabilizing the field. Physicist Joseph Lykken and the late Stephen Hawking were the first to propose the collapse of the Higgs boson field as a potential doomsday scenario. "It turns out we're right on the edge between a stable universe and an unstable universe," Lykken told the New York Post. "We're sort of right on the edge where the universe can last for a long time, but eventually, it should go 'boom.'"
To learn more about the Higgs boson, click here.
Step inside the unlikely friendship of a former ACLU president and an ultra-conservative Supreme Court Justice.

Sponsored by Charles Koch Foundation
Former president of the ACLU Nadine Strossen and Supreme Court Justice Antonin Scalia were unlikely friends. They debated each other at events all over the world, and because of that developed a deep and rewarding friendship – despite their immense differences.
Scalia, a famous conservative, was invited to circles that were not his "home territory", such as the ACLU, to debate his views. Here, Strossen expresses her gratitude and respect for his commitment to the exchange of ideas.
"It's really sad that people seem to think that if you disagree with somebody on some issues you can't be mutually respectful, you can't enjoy each other's company, you can't learn from each other and grow in yourself," says Strossen.
The opinions expressed in this video do not necessarily reflect the views of the Charles Koch Foundation, which encourages the expression of diverse viewpoints within a culture of civil discourse and mutual respect.
French newspapers report that the trial hasn't lived up to expectations.
Image source: Charly Triballeau / AFP / Getty Images
Technology & Innovation
The French government initially invested in a rural solar roadway in 2016.
French newspapers report that the trial hasn't lived up to expectations.
Solar panel "paved" roadways are proving to be inefficient and too expensive.
Erik Verlinde has been compared to Einstein for completely rethinking the nature of gravity.
Photo by Willeke Duijvekam
Surprising Science
The Dutch physicist Erik Verlinde's hypothesis describes gravity as an "emergent" force not fundamental.
The scientist thinks his ideas describe the universe better than existing models, without resorting to "dark matter".
While some question his previous papers, Verlinde is reworking his ideas as a full-fledged theory.
Scientists make an important discovery for the future of computing.
Pixabay
Surprising Science
Researchers find a new state of matter called "topological superconductivity".
The state can lead to important advancements in quantum computing.
Utilizing special particles that emerge during this state can lead to error-free data storage and blazing calculation speed.