3 Americans Awarded Nobel Prize for Unlocking the Body Clock
They proved how the biological mechanism works inside our cells.
03 October, 2017
The Nobel Prize for Physiology (or Medicine) was announced on Oct. 2 in Sweden. Three American scientists jointly took home this prestigious award for their work on circadian rhythms. This is the biological clock all organisms have which controls our sleep-wake cycle, the release of hormones at important intervals, body temperature, blood pressure, and other critical mechanisms, in order to maintain homeostasis or balance.
---
All life seemingly has an internal clock, set to fall in line with the rotation of the Earth. This internal mechanism helps life adapt as well to changing aspects of the day and environment. Jeffrey C. Hall, Michael Rosbash, and Michael W. Young are the three newly dubbed Nobel laureates. Hall and Rosbash are from Brandeis University in Boston, while Young hails from Rockefeller University in New York City.
Hall is 72 years old, Rosbash 73, and Young 68. The three will split the $1.1 million prize money this December. Officials at the Swedish Royal Academy of Sciences made the announcement at The Nobel Assembly at Karolinska Institutet in Solna, Sweden.
We've known of these rhythms for a long time. Astronomer Jean Jacques d'Ortous de Mairan in the 18th century was the first to show the existence of a biological clock. He proved that mimosa plants, even when plunged into total darkness, still carried on processes in a 24-hour cycle. Soon, similar rhythms were found in other organisms. Basically, Hall, Rosbash, and Young uncovered the biological mechanism required to synchronize each cell.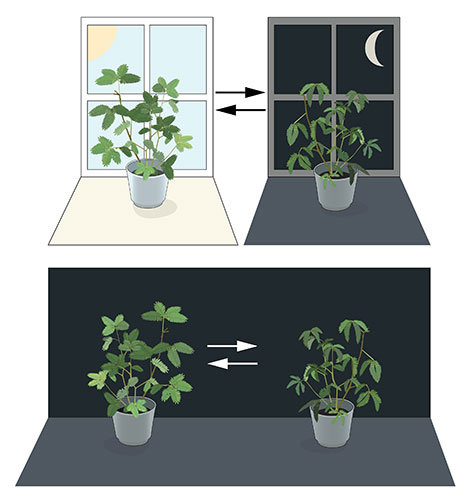 Figure 1. An internal biological clock. The leaves of the mimosa plant open towards the sun during day but close at dusk (upper part). Jean Jacques d'Ortous de Mairan placed the plant in constant darkness (lower part) and found that the leaves continue to follow their normal daily rhythm, even without any fluctuations in daily light. [Image & caption: Nobelprize.org]
 The laureates began work on their discovery in 1984. Hall and Rosbash collaborated at Brandeis while Young did his part at Rockefeller. They were all working with fruit flies. Hall and Rosbash discovered a certain protein known as PER. This would build up in the fly's system overnight and disappear over the course of the day. The protein was found to change significantly over a 24-hour period. So it's essentially the main driver for the insect's internal clock. Hall meanwhile isolated what's known as the period gene which encodes for the PER protein.
Hall found that blocking the period gene disrupts the fly's internal clock. From there, it was discovered that the gene helps control the PER protein by inhibiting its activity. Seymour Benzer and Ronald Konopka in the 1970s were the first to discover a period gene. But these new laureates found out how such a gene works.
In the fruit flies, the period gene prevents PER from synthesizing, regulating it and keeping the fly's biological clock synchronized. In 1994, Young went a step further and proved how the PER protein built up overnight again within a cell's cytoplasm. He found another gene, called timeless, which encodes the TIM protein.
TIM becomes active overnight within the cytoplasm, allowing PER to build up there. Come morning, these two proteins bind together and enter the cell's nucleus, where PER is incrementally worn away by the period gene, through an impressive feedback loop. By identifying these genes and the proteins that they make, researchers were able to reveal a crucial mechanism at work within all life.
Why is this work so important? 2001 Nobel Prize laureate Sir Paul Nurse underscored that in an interview with The Guardian:
It's important for the basic understanding of life. Every living organism on this planet responds to the sun. All plant and also animal behaviour is determined by the light-dark cycle. We on this planet are slaves to the sun. The circadian clock is embedded in our mechanisms of working, our metabolism, it's embedded everywhere, it's a real core feature for understanding life.
There's a second reason. We are increasingly becoming aware that there are implications for human disease. With the modern technological age we get more and more divorced from the circadian rhythm, as we are able to travel across time zones and disturb our circadian rhythm. We can now live in light-dark regimes that are nothing to do with the circadian rhythm. This is leading to conditions like jet lag which are disturbing and may in turn also lead to other consequences that we don't fully understand about the human condition.
There is some evidence that treatment of disease can be influenced by circadian rhythms too. People have reported that when you have surgery or when you have a drug can actually influence things. It's still not clear, but there will almost certainly be some implications for the treatment of disease too.
To hear about this discovery from Young and Rosbash, click here:
Related Articles
It's just the current cycle that involves opiates, but methamphetamine, cocaine, and others have caused the trajectory of overdoses to head the same direction
From the study: http://science.sciencemag.org/content/361/6408/eaau1184
popular
It appears that overdoses are increasing exponentially, no matter the drug itself
If the study bears out, it means that even reducing opiates will not slow the trajectory.
The causes of these trends remain obscure, but near the end of the write-up about the study, a hint might be apparent
Scientists think constructing a miles-long wall along an ice shelf in Antarctica could help protect the world's largest glacier from melting.
Image: NASA
Surprising Science
Rising ocean levels are a serious threat to coastal regions around the globe.
Scientists have proposed large-scale geoengineering projects that would prevent ice shelves from melting.
The most successful solution proposed would be a miles-long, incredibly tall underwater wall at the edge of the ice shelves.
The world's oceans will rise significantly over the next century if the massive ice shelves connected to Antarctica begin to fail as a result of global warming.
To prevent or hold off such a catastrophe, a team of scientists recently proposed a radical plan: build underwater walls that would either support the ice or protect it from warm waters.
In a paper published in The Cryosphere, Michael Wolovick and John Moore from Princeton and the Beijing Normal University, respectively, outlined several "targeted geoengineering" solutions that could help prevent the melting of western Antarctica's Florida-sized Thwaites Glacier, whose melting waters are projected to be the largest source of sea-level rise in the foreseeable future.
An "unthinkable" engineering project
"If [glacial geoengineering] works there then we would expect it to work on less challenging glaciers as well," the authors wrote in the study.

One approach involves using sand or gravel to build artificial mounds on the seafloor that would help support the glacier and hopefully allow it to regrow. In another strategy, an underwater wall would be built to prevent warm waters from eating away at the glacier's base.
The most effective design, according to the team's computer simulations, would be a miles-long and very tall wall, or "artificial sill," that serves as a "continuous barrier" across the length of the glacier, providing it both physical support and protection from warm waters. Although the study authors suggested this option is currently beyond any engineering feat humans have attempted, it was shown to be the most effective solution in preventing the glacier from collapsing.
Source: Wolovick et al.
An example of the proposed geoengineering project. By blocking off the warm water that would otherwise eat away at the glacier's base, further sea level rise might be preventable.
But other, more feasible options could also be effective. For example, building a smaller wall that blocks about 50% of warm water from reaching the glacier would have about a 70% chance of preventing a runaway collapse, while constructing a series of isolated, 1,000-foot-tall columns on the seafloor as supports had about a 30% chance of success.

Still, the authors note that the frigid waters of the Antarctica present unprecedently challenging conditions for such an ambitious geoengineering project. They were also sure to caution that their encouraging results shouldn't be seen as reasons to neglect other measures that would cut global emissions or otherwise combat climate change.
"There are dishonest elements of society that will try to use our research to argue against the necessity of emissions' reductions. Our research does not in any way support that interpretation," they wrote.
"The more carbon we emit, the less likely it becomes that the ice sheets will survive in the long term at anything close to their present volume."
A 2015 report from the National Academies of Sciences, Engineering, and Medicine illustrates the potentially devastating effects of ice-shelf melting in western Antarctica.
"As the oceans and atmosphere warm, melting of ice shelves in key areas around the edges of the Antarctic ice sheet could trigger a runaway collapse process known as Marine Ice Sheet Instability. If this were to occur, the collapse of the West Antarctic Ice Sheet (WAIS) could potentially contribute 2 to 4 meters (6.5 to 13 feet) of global sea level rise within just a few centuries."
The world's getting hotter, and it's getting more volatile. We need to start thinking about how climate change encourages conflict.
Christopher Furlong/Getty Images
Politics & Current Affairs
Climate change is usually discussed in terms of how it impacts the weather, but this fails to emphasize how climate change is a "threat multiplier."
As a threat multiplier, climate change makes already dangerous social and political situations even worse.
Not only do we have to work to minimize the impact of climate change on our environment, but we also have to deal with how it affects human issues today.
Big think's weekly newsletter.
Get smarter faster from the comfort of your inbox.
See our newsletter privacy policy
here
Most Popular
Most Recent
Big think's weekly newsletter.
Get smarter faster from the comfort of your inbox.
See our newsletter privacy policy
here
© Copyright 2007-2018 & BIG THINK, BIG THINK EDGE,
SMARTER FASTER trademarks owned by The Big Think, Inc. All rights reserved.