War of the Billionaires: George Soros Takes on Donald Trump
Billionaire George Soros, the subject of countless conservative conspiracy theories, funds the opposition to President Trump's agenda.
26 March, 2017
---
The fact that billionaires influence politics is hard to dispute. Our current President is a billionaire and Trump's cabinet is stocked with billionaires and millionaires. His candidacy was significantly boosted by the support from the billionaire Mercer family, who's had a close relationship with Trump's chief advisor Steve Bannon. They are also the co-owners of Breitbart News, a leading pro-Trump news organization which was instrumental in his rise and has been staunchly supporting his agenda. Other famous billionaires behind Trump include Silicon Valley's iconic venture capitalist Peter Thiel, the legendary investor Carl Icahn, and Las Vegas magnate Sheldon Adelson.  
Let's not forget, of course, the conservative funders David and Charles Koch, brother billionaires who are often portrayed by liberals as nefarious conspiratorial operators (who, nonetheless, did not back Trump).
The left also has its share of billionaire supporters, like Warren Buffett, Mark Cuban and Walmart heiress Alice Walton. And then there's George Soros. To say that Soros is a controversial figure is an understatement. In fact, there is no billionaire who has been maligned by either side as much as George Soros, seen by the many on the right as nothing less than an embodiment of evil supposedly behind every liberal cause on the planet. 
Soros has become the nexus of countless conservative conspiracy theories. He has been blamed for controlling voting machines the U.S., funding protests like the Women's March, inciting the Ferguson riots, funding Black Lives Matter, meddling in the affairs of European countries, creating the refugee crisis, helping the Muslim takeover of the West and pretty much being both a world-dominating neo-Rothschild and a Nazi at the same time.
George Soros (now 86) is one of the world's most successful investors and richest people, worth $25.2 billion as of early 2017. Outside of the money Soros gives directly to liberal politics, much of the right's hatred of him is aimed at his philanthropic organization, the Open Society Foundations (OSF), which was established to aid countries transitioning from communism. It's main mission now is to support human rights and democracy, something it purports to do in over 100 countries. Among its accomplishments, the Foundations count their work supporting the growth of democratic governments and societies in most countries of the former Soviet Union, a fact that does not sit well with Russia, which sees Soros as interfering in its spheres of influence.
While Foundations, with a budget of nearly a $1 billion, work around the world, their funding of liberal projects and organizations in the U.S. makes them an obvious target for attacks from the right. So does OSF's support for reforming American policy on immigration, criminal justice, drugs and discrimination. 
It's also notable that Soros himself reportedly spent $27 million to oppose George Bush's 2004 re-election and $13 million in support of Hillary Clinton.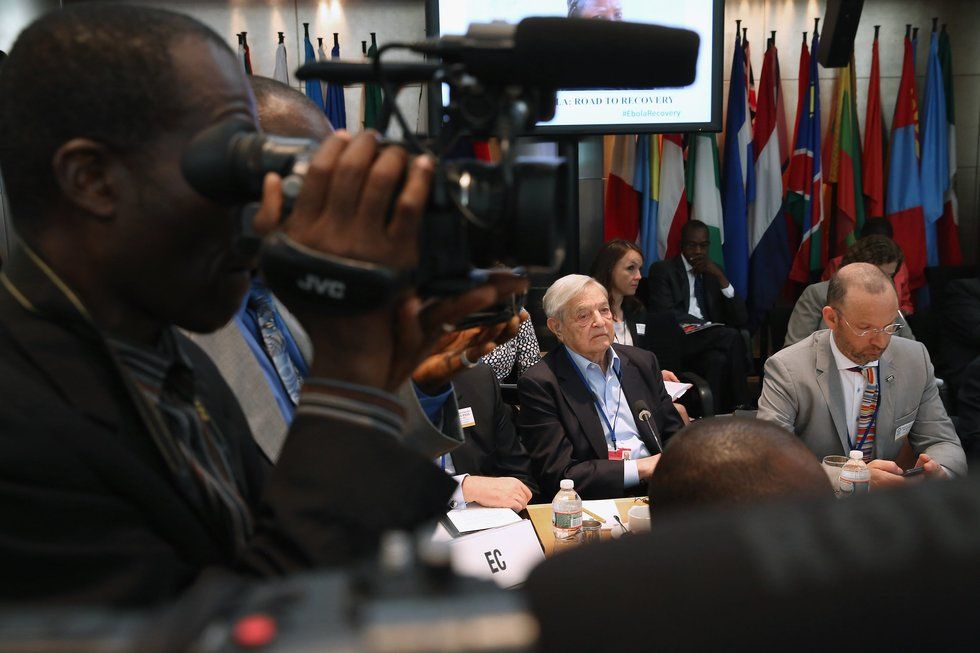 WASHINGTON, DC - APRIL 17: Soros Fund Management Chairman George Soros (C) attends a meeting with finance and development ministers, international partners and the presidents of Liberia, Sierra Leone and Guinea about the ongoing efforts to recover from the Ebola outbreak in West Africa during the World Bank- International Monetary Fund Spring Meetings April 17, 2015 in Washington, DC. The World Bank announced that it would provide an additional US$650 million over the next year to help Guinea, Liberia and Sierra Leone to recover from the social, economic and health impact of the Ebola crisis. (Photo by Chip Somodevilla/Getty Images)
Another source of right-wing controversies and unproven theories lies in Soros's past. One such issue involves Soros, who is Jewish, being accused of being a "Nazi collaborator". 
A naturalized American citizen, Soros was born in 1930 in Hungary, going through the Holocaust as a teenager. To save him from the Nazis, his father decided to conceal his identity, posing George (then 14) as a godchild of a Hungarian government employee, whose job it was to document the confiscation of property from Hungarian Jews. The fact that he was present during such events, even though Soros vehemently denied being actively involved, has been seized upon by such personalities as Ann Coulter and Glenn Beck, and countless online trolls, to accuse Soros of somehow helping the Nazis. There is no evidence that the teenage George did anything more than try to hide his identity in an environment where an estimated 500,000 Hungarian Jews were murdered in 10 months.
What has Soros been involved in lately? If some congressional Republicans are to be believed, he is trying to change (and destroy) Europe. As reported by Politico, representatives Chris Smith (NJ) and Senator Mike Lee (UT) led an effort to send letters to the Secretary of State Rex Tillerson, accusing Soros's Open Society Foundations of pushing a "progressive agenda" for the purpose of invigorating the left. The letters very much parrot the views of nationalist right-wing European politicians, supported by the Kremlin.
In particular, the Republicans accuse Soros of using his organization to meddle in the politics of Macedonia, where a crisis centering on abuse of power, involving illegal wiretapping, forced the prime minister Nikola Gruevski to resign. He promptly blamed Soros-related organizations. 
Gruevski's sentiment was echoed by the far-right (and pro-Russian) Hungarian leader Viktor Orbán who also blamed Soros for "causing trouble" and influencing Hungarian politics with his money. 
In the United States, after Trump's win, the Open Society Foundations announced a $10 million initiative aimed at supporting communities potentially targeted by "hateful acts" related to the Trump agenda - immigrants, the LGBT community, Muslims and others. Soros is also supporting the Democratic Alliance, a significant donor coalition which is looking to fund numerous groups to combat Trump's policies.  
If you're wondering where Soros stands on Trump personally, here's how he described the President at the recent World Economic Forum in Davos:
"I have described him as an impostor and a con man and a would-be dictator," said Soros. "But he's only a would-be dictator because I'm confident that the Constitution and the institutions of the United States are strong enough. ... He would be a dictator if he could get away with it, but he won't be able to."
It's safe to say, the right's lack of love for Soros is likely to continue and intensify.
What can 3D printing do for medicine? The "sky is the limit," says Northwell Health researcher Dr. Todd Goldstein.
Northwell Health
Sponsored by Northwell Health
Medical professionals are currently using 3D printers to create prosthetics and patient-specific organ models that doctors can use to prepare for surgery.
Eventually, scientists hope to print patient-specific organs that can be transplanted safely into the human body.
Northwell Health, New York State's largest health care provider, is pioneering 3D printing in medicine in three key ways.
Mega-rich entrepreneurs are taking us where no human being has gone before.
Videos
During the first golden era of space exploration, we went to the moon. Then we sort of dropped the ball for 50 years.
The problem is space travel is very expensive, especially the way governments do space travel.
Because it costs $10,000 to put a pound of anything into orbit around the planet, we need to have an infusion of public and private funds. That's where billionaires such as Elon Musk and Jeff Bezos come into the picture. With their help, we have new energies, new strategies, and new plans to go back into outer space.
If you don't want to know anything about your death, consider this your spoiler warning.
Culture & Religion
For centuries cultures have personified death to give this terrifying mystery a familiar face.
Modern science has demystified death by divulging its biological processes, yet many questions remain.
Studying death is not meant to be a morbid reminder of a cruel fate, but a way to improve the lives of the living.
Cook's commencement speech at Tulane University urges students to take action.
Getty Images
Technology & Innovation
Apple CEO Tim Cook gave a commencement speech at Tulane University on May 18th.
Cook cautioned the graduates to not get caught up in echo chambers and algorithms.
He acknowledged the failures of his generation.
Big think's weekly newsletter.
Get smarter faster from the comfort of your inbox.
See our newsletter privacy policy
here
Most Popular
Most Recent
Big think's weekly newsletter.
Get smarter faster from the comfort of your inbox.
See our newsletter privacy policy
here
© Copyright 2007-2019 & BIG THINK, BIG THINK EDGE,
SMARTER FASTER trademarks owned by The Big Think, Inc. All rights reserved.