Big ideas.
Once a week.
Subscribe to our weekly newsletter.
War of the Billionaires: George Soros Takes on Donald Trump
Billionaire George Soros, the subject of countless conservative conspiracy theories, funds the opposition to President Trump's agenda.
26 March, 2017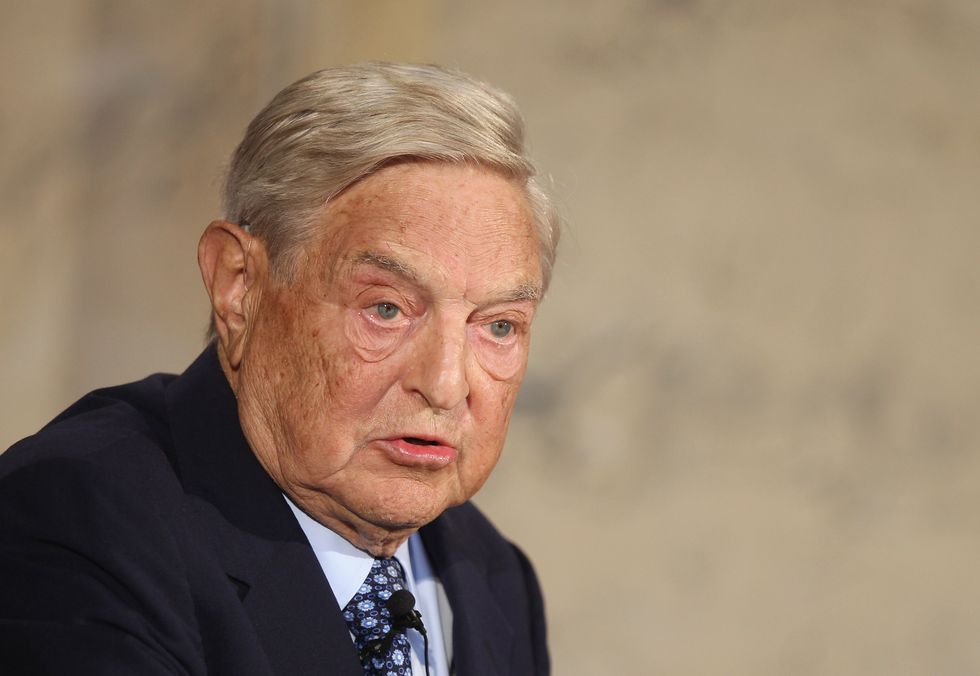 Billionaire investor George Soros speaks on 'The Tragedy of the European Union' as a guest of The Institute for Media and Communications Policy on September 10, 2012 in Berlin, Germany. (Photo by Sean Gallup/Getty Images)
---
The fact that billionaires influence politics is hard to dispute. Our current President is a billionaire and Trump's cabinet is stocked with billionaires and millionaires. His candidacy was significantly boosted by the support from the billionaire Mercer family, who's had a close relationship with Trump's chief advisor Steve Bannon. They are also the co-owners of Breitbart News, a leading pro-Trump news organization which was instrumental in his rise and has been staunchly supporting his agenda. Other famous billionaires behind Trump include Silicon Valley's iconic venture capitalist Peter Thiel, the legendary investor Carl Icahn, and Las Vegas magnate Sheldon Adelson.  
Let's not forget, of course, the conservative funders David and Charles Koch, brother billionaires who are often portrayed by liberals as nefarious conspiratorial operators (who, nonetheless, did not back Trump).
The left also has its share of billionaire supporters, like Warren Buffett, Mark Cuban and Walmart heiress Alice Walton. And then there's George Soros. To say that Soros is a controversial figure is an understatement. In fact, there is no billionaire who has been maligned by either side as much as George Soros, seen by the many on the right as nothing less than an embodiment of evil supposedly behind every liberal cause on the planet. 
Soros has become the nexus of countless conservative conspiracy theories. He has been blamed for controlling voting machines the U.S., funding protests like the Women's March, inciting the Ferguson riots, funding Black Lives Matter, meddling in the affairs of European countries, creating the refugee crisis, helping the Muslim takeover of the West and pretty much being both a world-dominating neo-Rothschild and a Nazi at the same time.
George Soros (now 86) is one of the world's most successful investors and richest people, worth $25.2 billion as of early 2017. Outside of the money Soros gives directly to liberal politics, much of the right's hatred of him is aimed at his philanthropic organization, the Open Society Foundations (OSF), which was established to aid countries transitioning from communism. It's main mission now is to support human rights and democracy, something it purports to do in over 100 countries. Among its accomplishments, the Foundations count their work supporting the growth of democratic governments and societies in most countries of the former Soviet Union, a fact that does not sit well with Russia, which sees Soros as interfering in its spheres of influence.
While Foundations, with a budget of nearly a $1 billion, work around the world, their funding of liberal projects and organizations in the U.S. makes them an obvious target for attacks from the right. So does OSF's support for reforming American policy on immigration, criminal justice, drugs and discrimination. 
It's also notable that Soros himself reportedly spent $27 million to oppose George Bush's 2004 re-election and $13 million in support of Hillary Clinton.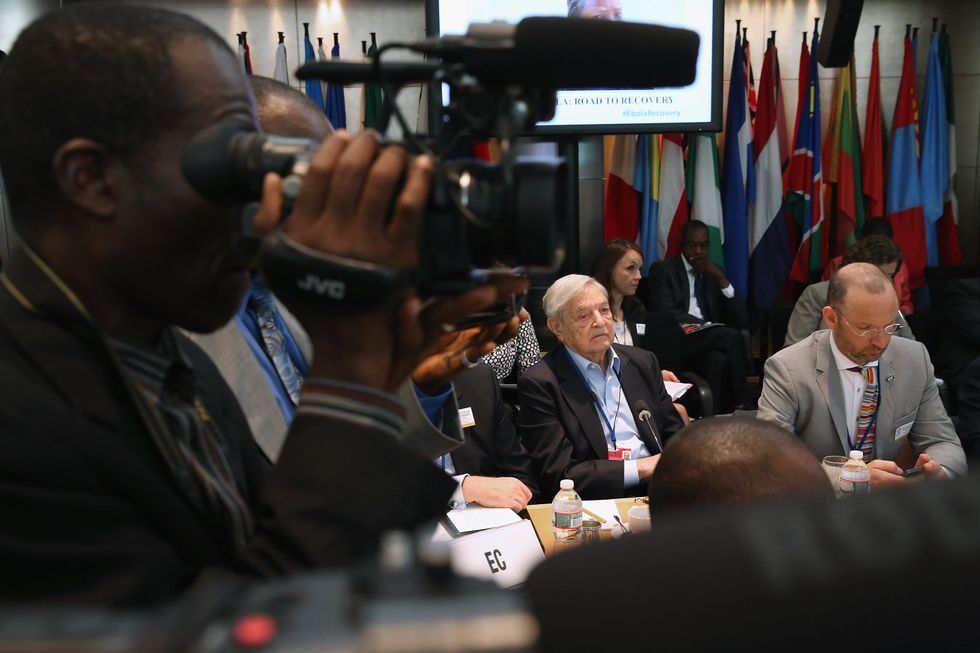 WASHINGTON, DC - APRIL 17: Soros Fund Management Chairman George Soros (C) attends a meeting with finance and development ministers, international partners and the presidents of Liberia, Sierra Leone and Guinea about the ongoing efforts to recover from the Ebola outbreak in West Africa during the World Bank- International Monetary Fund Spring Meetings April 17, 2015 in Washington, DC. The World Bank announced that it would provide an additional US$650 million over the next year to help Guinea, Liberia and Sierra Leone to recover from the social, economic and health impact of the Ebola crisis. (Photo by Chip Somodevilla/Getty Images)
Another source of right-wing controversies and unproven theories lies in Soros's past. One such issue involves Soros, who is Jewish, being accused of being a "Nazi collaborator". 
A naturalized American citizen, Soros was born in 1930 in Hungary, going through the Holocaust as a teenager. To save him from the Nazis, his father decided to conceal his identity, posing George (then 14) as a godchild of a Hungarian government employee, whose job it was to document the confiscation of property from Hungarian Jews. The fact that he was present during such events, even though Soros vehemently denied being actively involved, has been seized upon by such personalities as Ann Coulter and Glenn Beck, and countless online trolls, to accuse Soros of somehow helping the Nazis. There is no evidence that the teenage George did anything more than try to hide his identity in an environment where an estimated 500,000 Hungarian Jews were murdered in 10 months.
What has Soros been involved in lately? If some congressional Republicans are to be believed, he is trying to change (and destroy) Europe. As reported by Politico, representatives Chris Smith (NJ) and Senator Mike Lee (UT) led an effort to send letters to the Secretary of State Rex Tillerson, accusing Soros's Open Society Foundations of pushing a "progressive agenda" for the purpose of invigorating the left. The letters very much parrot the views of nationalist right-wing European politicians, supported by the Kremlin.
In particular, the Republicans accuse Soros of using his organization to meddle in the politics of Macedonia, where a crisis centering on abuse of power, involving illegal wiretapping, forced the prime minister Nikola Gruevski to resign. He promptly blamed Soros-related organizations. 
Gruevski's sentiment was echoed by the far-right (and pro-Russian) Hungarian leader Viktor Orbán who also blamed Soros for "causing trouble" and influencing Hungarian politics with his money. 
In the United States, after Trump's win, the Open Society Foundations announced a $10 million initiative aimed at supporting communities potentially targeted by "hateful acts" related to the Trump agenda - immigrants, the LGBT community, Muslims and others. Soros is also supporting the Democratic Alliance, a significant donor coalition which is looking to fund numerous groups to combat Trump's policies.  
If you're wondering where Soros stands on Trump personally, here's how he described the President at the recent World Economic Forum in Davos:
"I have described him as an impostor and a con man and a would-be dictator," said Soros. "But he's only a would-be dictator because I'm confident that the Constitution and the institutions of the United States are strong enough. ... He would be a dictator if he could get away with it, but he won't be able to."
It's safe to say, the right's lack of love for Soros is likely to continue and intensify.
A man's skeleton, found facedown with his hands bound, was unearthed near an ancient ceremonial circle during a high speed rail excavation project.
Culture & Religion
A skeleton representing a man who was tossed face down into a ditch nearly 2,500 years ago with his hands bound in front of his hips was dug up during an excavation outside of London.
The discovery was made during a high speed rail project that has been a bonanza for archaeology, as the area is home to more than 60 ancient sites along the planned route.
An ornate grave of a high status individual from the Roman period and an ancient ceremonial circle were also discovered during the excavations.
Scientists should be cautious when expressing an opinion based on little more than speculation.
Credit: European Southern Observatory/M. Kornmesser
13-8
In October 2017, a strange celestial object was detected, soon to be declared our first recognized interstellar visitor.
The press exploded when a leading Harvard astronomer suggested the object to have been engineered by an alien civilization.
This is an extraordinary conclusion that was based on a faulty line of scientific reasoning. Ruling out competing hypotheses doesn't make your hypothesis right.
Sometimes, when you are looking for something ordinary, you find the unexpected. This is definitely the case with the strange 'Oumuamua, which made international headlines as a potential interstellar visitor. Its true identity remained obscure for a while, as scientists proposed different explanations for its puzzling behavior. This is the usual scientific approach of testing hypotheses to make sense of a new discovery.
What captured the popular imagination was the claim that the object was no piece of rock or comet, but an alien artifact, designed by a superior intelligence.
Do you remember the black monolith tumbling through space in the classic Stanley Kubrick movie 2001: A Space Odyssey? The one that "inspired" our ape-like ancestors to develop technology and followed humanity and its development since then? What made this claim amazing is that it wasn't coming from the usual UFO enthusiasts but from a respected astrophysicist from Harvard University, Avi Loeb, and his collaborator Shmuel Bialy. Does their claim really hold water? Were we really visited by an alien artifact? How would we know?
A mystery at 200,000 miles per hour
Before we dive into the controversy, let's examine some history. 'Oumuamua was discovered accidentally by Canadian astronomer Robert Weryk while he was routinely reviewing images captured by the telescope Pan-STARRS1 (Panoramic Survey and Rapid Response System 1), situated atop the ten-thousand-foot Haleakala volcanic peak on the Hawaiian island of Maui. The telescope scans the skies in search of near-Earth objects, mostly asteroids and possibly comets that come close to Earth. The idea is to monitor the solar system to learn more about such objects and their orbits and, of course, to sound the alarm in case of a potential collision course with Earth. Contrary to the objects Weryk was used to seeing, mostly moving at about 40,000 miles per hour, this one was moving almost five times as fast — nearly 200,000 miles per hour, definitely an anomaly.
Hyperbolic trajectory of ʻOumuamua through the inner Solar System.Credit: nagualdesign / Tomruen / JPL Horizons via Wikipedia and licensed under CC BY-SA 4.0
Intrigued, astronomers tracked the visitor while it was visible, concluding that it indeed must have come from outside our solar system, the first recognized interstellar visitor. Contrary to most known asteroids that move in elliptical orbits around the sun, 'Oumuamua had a bizarre path, mostly straight. Also, its brightness varied by a factor of ten as it tumbled across space, a very unusual property that could be caused either by an elongated cigar shape or by it being flat, like a CD, one side with a different reflectivity than the other. The object, 1I/2017 U1, became popularly known as 'Oumuamua, from the Hawaiian for "scout."

In their paper, Loeb and Bialy argue that the only way the object could be accelerated to the speeds observed was if it were extremely thin and very large, like a sail. They estimated that its thickness had to be between 0.3 to 0.9 millimeters, which is extremely thin. After confirming that such an object is robust enough to withstand the hardships of interstellar travel (e.g., collision with gas particles and dust grains, tensile stresses, rotation, and tidal forces), Loeb and Bialy conclude that it couldn't possibly be a solar system object like an asteroid or comet. Being thus of interstellar origin, the question is whether it is a natural or artificial object. This is where the paper ventures into interesting but far-fetched speculation.

I'm not saying it was aliens, but it was aliens
First, the authors consider that it might be garbage "floating in interstellar space as debris from advanced technological equipment," ejected from its own stellar system due to its non-functionality; essentially, alien space junk. Then, they suggest that a "more exotic scenario is that 'Oumuamua may be a fully operational probe sent intentionally to Earth vicinity by an alien civilization," [italicized as in the original] concluding that a "survey for lightsails as technosignatures in the solar system is warranted, irrespective of whether 'Oumuamua is one of them."
You can shoot down as many hypotheses as you want to vindicate yours, but this doesn't prove yours is the right one.
I have known Avi Loeb for decades and consider him a serious and extremely talented astrophysicist. His 2018 paper includes a suggestive interpretation of strange data that obviously sparks the popular imagination. Theoretical physicists routinely suggest the existence of traversable wormholes, multiverses, and parallel quantum universes. Not surprisingly, Loeb was highly in demand by the press to fill in the details of his idea. A book followed, Extraterrestrial: The First Sign of Intelligent Life Beyond Earth, and its description tells all: "There was only one conceivable explanation: the object was a piece of advanced technology created by a distant alien civilization."
It came from outer space.Credit: Scott Barbour via Getty Images
This is where most of the scientific establishment began to cringe. One thing is to discuss the properties of a strange natural phenomenon and rule out more prosaic hypotheses while suggesting a daring one. Another is to declare to the public that the only conceivable explanation is one that is also speculative. An outsider will conclude that a reliable scientist has confirmed not only the existence of extraterrestrial life but of intelligent and technologically sophisticated extraterrestrial life with an interest in our solar system. I wonder if Loeb considered the impact of his words and how they reflect on the scientific community as a whole.

This is why aliens won't talk to us
Earlier this year, in a live public lecture hosted by the Catholic University of Chile, Avi Loeb locked horns with Jill Tarter, the scientist that is perhaps most identifiable as someone who spent her career looking for signs of extraterrestrial intelligence. (Coincidentally, I was the speaker that followed Loeb the next week in the same seminar series and was cautioned — along with the other panelists — to behave myself to avoid another showdown. I smiled, knowing that my topic was pretty tame in comparison. I mean, how can the limits of human knowledge compare with alien surveillance?)
The Loeb-Tarter exchange was awful and, it being a public debate, was picked up by the press. Academics can be rough like anyone else. But the issue goes deeper.
What scientists say matters. When should a scientist make public declarations about a cutting-edge topic with absolute certainty? I'd say never. There is no clear-cut certainty in cutting-edge science. There are hypotheses that should be tested more until there is community consensus. Even then, consensus is not guaranteed proof. The history of science is full of examples where leading scientists were convinced of something, only to be proven wrong later.
The epistemological mistake Loeb committed was to make an assertion that publicly amounted to certainty by using a process of elimination of other competing hypotheses. You can shoot down as many hypotheses as you want to vindicate yours, but this doesn't prove yours is the right one. It only means that the other hypotheses are wrong. I do, however, agree with Loeb when he says that 'Oumuamua should be the trigger for an increase in funding for the search for technosignatures, a way of detecting intelligent extraterrestrial life.
Even with six months' notice, we can't stop an incoming asteroid.
Surprising Science
At an international space conference, attendees took part in an exercise that imagined an asteroid crashing into Earth.
With the object first spotted six months before impact, attendees concluded that there was insufficient time for a meaningful response.
There are an estimated 25,000 near-Earth objects potentially threatening our planet.
The asteroid 2021 PDC was first spotted on April 19, 2021 by the Pan-STARRS project at the University of Hawaii. By May 2, astronomers were 100% certain it was going to strike Earth somewhere in Europe or northern Africa. On October 20, 2021, the asteroid plowed into Europe, taking countless lives.
There was absolutely nothing anyone could do to deflect it from its deadly course. Experts could only warn a panicking population to get out of the way as soon as possible, if it was possible.
The above scenario is the result of a recently concluded NASA thought experiment.
The question the agency sought to answer was this: If we discovered a potentially deadly asteroid destined to hit Earth in six months, was there anything we could do to prevent a horrifying catastrophe? The disturbing answer is "no," not with currently available technology.
While Europe can breathe easy for now, the simulation conducted by NASA/JPL's Center for Near Earth Object Studies and presented at the 7th IAA Planetary Defense Conference is troubling. Space agencies spot "near-Earth objects" (NEOs) all the time. Many are larger than 140 meters in size, which means they're potentially deadly.
Sitting Ducks
Credit: ImageBank4U / Adobe Stock
"The level [at] which we're finding the 140-meter and larger asteroids remains pretty stable, at about 500 a year. Our projection of the number of these objects out there is about 25,000, and we've only found a little over one-third of those so far, maybe 38% or so," NASA's Planetary Defense Office Lindley Johnson tells Space.com.

With our current technology, spotting an NEO comes down to whether we just happen to have a telescope pointing in its direction. To remove humanity's blind spot, the Planetary Society — the same organization that deployed Earth's first light sails — is developing the NEO Surveyor spacecraft, which they plan to deploy in 2025. According to the Planetary Society, it will be able to detect 90 percent of NEOs of 140 meters or larger, a vast improvement.
How to move an asteroid
The DART spacecraft will attempt to deflect an asteroid.Credit: NASA
The NASA/JPL exercise made clear that six months is just not enough time with our current technology to prepare and launch a mission in time to nudge an NEO off its course. (Small course adjustments become significant over great distances, which is why "nudging" an asteroid is a potential strategy.)

What would such a mission look like? Hollywood aside — remember Armageddon?— we know of no good way to redirect an NEO headed our way. Experts believe that shooting laser beams at an incoming rock, exciting as it might look, is not a realistic possibility. Targeted nuclear blasts might work, but forget about landing Bruce Willis, Ben Affleck, and Liv Tyler on an asteroid to set off a course-altering bomb, especially just a month after its discovery (as was the case in the movie).
Another thing that might work is crashing a spacecraft into an NEO hard enough to shift its course. That's the idea behind NASA's Double Asteroid Redirection Test (DART). This mission will shoot a spacecraft at the (non-threatening) asteroid Dimorphos in the fall of 2022 in the hope of changing its trajectory.
The deadly asteroid's journey
The asteroid "2021 PDC" hit Europe in NASA's simulation.Credit: NASA/JPL
The harrowing "tabletop exercise," as NASA/JPL called it, took place across four days at the conference:

Day 1, "April 19" — The asteroid named "2021 PDC" is discovered 35 million miles away. Scientists calculate it has a 1-in-20 chance of striking Earth.
Day 2, "May 2" — Now certain that 2021 PDC will hit Earth, space mission designers attempt to dream up a response. They conclude that with less than six months to impact, there's not enough time to realistically mount a mission to disrupt the NEO's course.
Day 3, "June 30" — Images from the world's four largest telescopes reveal the area in Europe that will be hit. Space-based infrared measurements narrow the object's size to between 35 and 700 meters. This would pack a similar punch as a 1.2-megaton nuclear bomb.
Day 4, "October 14" — Six days before impact, the asteroid is just 6.3 million km from Earth. Finally, the Goldstone Solar System Radar has been able to assess the size of 2021 PDC. Scientists calculate the blast from the asteroid will be primarily confined to the border region between Germany, Czechia, Austria, Slovenia, and Croatia. Disaster response experts develop plans for addressing the human toll.
"Each time we participate in an exercise of this nature," says Johnson, "we learn more about who the key players are in a disaster event, and who needs to know what information, and when."
Practically speaking, little can be done to hurry technological development along other than budgeting more money toward that goal. Maybe we should have Bruce Willis on call, just in case.
Mind & Brain
New research suggests that there is no "typical" form of Alzheimer's disease, as the condition can manifest in at least four different ways.
Scroll down to load more…