Science: "Food Coma" Is Not Just Eating Too Much
A recent study sheds light on why we get "food coma" and what foods to avoid.
24 November, 2016
Holidays are often celebrations of gluttony, with 4th of July, Thanksgiving and Christmas feasts leading the way. To help make sense of the daze, apathy, and strange bodily sensations that befall us after such eating marathons, scientists offer an explanation of our collective "food coma". 
---
A popular myth has been that the sleepiness felt after eating turkey is caused by the amino acid tryptophan, but that's not the case as turkey has no more tryptophan than chicken or beef. Nuts have more.
A recent study on fruit flies provided some insight. Researchers focused on the fly Drosophila melanogaster and discovered that, just like us, they slept longer after large meals. And there were some foods much better at putting them to sleep than others.
Why did they use flies? The study's senior author, Professor William Ja from the Department of Metabolism and Aging at Scripps Florida, explained it this way: 
"Studies on the 'food coma' effect in humans have been hit or miss," he said. "Sleep is really hard to study in people since very few can sleep 'normally' when they're being watched."  
While the flies differ in sleeping patterns from humans, observing them provided valuable insight that can be applied to us.  
"In Drosophila, there is a well-documented interaction between sleep and metabolism, whereby flies suppress sleep or increase their activity when starved," said Professor Ja. "However, the acute effects of food consumption on sleep have not yet been tested, largely because there was no system available to do so."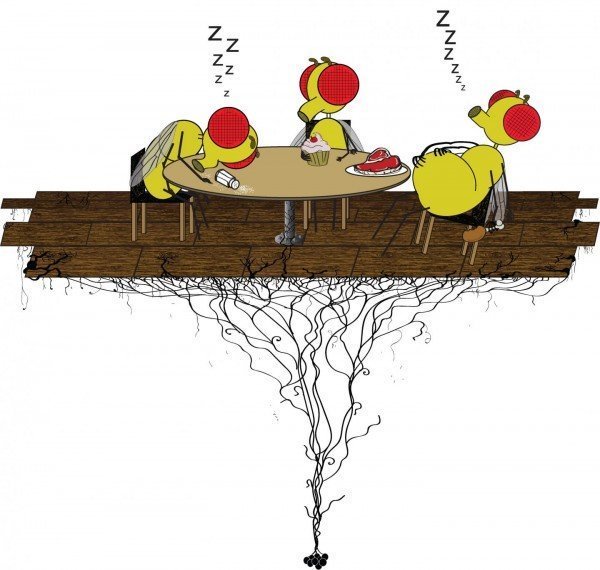 Credit: Keith Murphy
The researchers developed a special system called Activity Recording CAFE (ARC) for visual tracking of the food consumption and motion of the flies. The flies the researchers used slept about 20 to 40 minutes longer after taking in sizable food portions rich in protein or salt. Meals high in sugar did not have this effect.
If you want to avoid the "food coma" that comes with the holidays, you might want to rethink your menu.
"We next sought to identify a neuronal mechanism by which feeding drives post-meal sleep," said the study's first author Keith Murphy. "By using genetic tools to turn neurons on and off in the fly brain, we were surprised to find a number of circuits that play a role in controlling this behavior."
What they found is that there are particular brain circuits that regulate the desire for naps after eating, which varies in intensity throughout the day. The body's internal clock (or circadian rhythm) likes to play a role in when we would be at our sleepiest. The flies, for instance, were less susceptible to food coma in the evening than in the morning.
What's next for the researchers?
"The ARC provides a starting point for future studies aimed at uncovering the exact genes and circuits that enable meal size, protein and salt to drive sleep," explained Ja. "As sleep is a vulnerable state for animals in nature, it will be interesting to discover why post-meal naps are necessary."
Cover photo:
Brian Subich (L) digs into a turkey carcas as he and Eric Lingston (R) compete in the Thanksgiving Invitational Turkey-Eating Championship, 22 November 2006, at Artie's Delicatessen in New York. Pat Bertoletti of Chicago won by eating 4.8 pounds (2.177 kg) of turkey in 12 minutes. AFP PHOTO/Stan HONDA (Photo credit: STAN HONDA/AFP/Getty Images)
Could this be the long-awaited solution to economic inequality?
Apple CEO Tim Cook looks on during an Apple special event at the Steve Jobs Theatre on the Apple Park campus on September 12, 2017 in Cupertino, California. (Photo by Justin Sullivan/Getty Images)
Politics & Current Affairs
Under capitalism, the argument goes, it's every man for himself. Through the relentless pursuit of self-interest, everyone benefits, as if an invisible hand were guiding each of us toward the common good. Everyone should accordingly try to get as much as they can, not only for their goods but also for their labour. Whatever the market price is is, in turn, what the buyer should pay. Just like the idea that there should be a minimum wage, the idea that there should be a maximum wage seems to undermine the very freedom that the free market is supposed to guarantee.
Humans evolved to live in the cold through a number of environmental and genetic factors.
Image source: Wikimedia Commons
Surprising Science
According to some relatively new research, many of our early human cousins preceded Homo sapien migrations north by hundreds of thousands or even millions of years.
Cross-breeding with other ancient hominids gave some subsets of human population the genes to contend and thrive in colder and harsher climates.
Behavioral and dietary changes also helped humans adapt to cold climates.
It's unlikely that there's anything on the planet that is worth the cost of shipping it back
popular
In the second season of National Geographic Channel's MARS (premiering tonight, 11/12/18,) privatized miners on the red planet clash with a colony of international scientists
Privatized mining on both Mars and the Moon is likely to occur in the next century
The cost of returning mined materials from Space to the Earth will probably be too high to create a self-sustaining industry, but the resources may have other uses at their origin points
Big think's weekly newsletter.
Get smarter faster from the comfort of your inbox.
See our newsletter privacy policy
here
Most Popular
Most Recent
Big think's weekly newsletter.
Get smarter faster from the comfort of your inbox.
See our newsletter privacy policy
here
© Copyright 2007-2018 & BIG THINK, BIG THINK EDGE,
SMARTER FASTER trademarks owned by The Big Think, Inc. All rights reserved.