Science: "Food Coma" Is Not Just Eating Too Much
A recent study sheds light on why we get "food coma" and what foods to avoid.
24 November, 2016
Holidays are often celebrations of gluttony, with 4th of July, Thanksgiving and Christmas feasts leading the way. To help make sense of the daze, apathy, and strange bodily sensations that befall us after such eating marathons, scientists offer an explanation of our collective "food coma". 
---
A popular myth has been that the sleepiness felt after eating turkey is caused by the amino acid tryptophan, but that's not the case as turkey has no more tryptophan than chicken or beef. Nuts have more.
A recent study on fruit flies provided some insight. Researchers focused on the fly Drosophila melanogaster and discovered that, just like us, they slept longer after large meals. And there were some foods much better at putting them to sleep than others.
Why did they use flies? The study's senior author, Professor William Ja from the Department of Metabolism and Aging at Scripps Florida, explained it this way: 
"Studies on the 'food coma' effect in humans have been hit or miss," he said. "Sleep is really hard to study in people since very few can sleep 'normally' when they're being watched."  
While the flies differ in sleeping patterns from humans, observing them provided valuable insight that can be applied to us.  
"In Drosophila, there is a well-documented interaction between sleep and metabolism, whereby flies suppress sleep or increase their activity when starved," said Professor Ja. "However, the acute effects of food consumption on sleep have not yet been tested, largely because there was no system available to do so."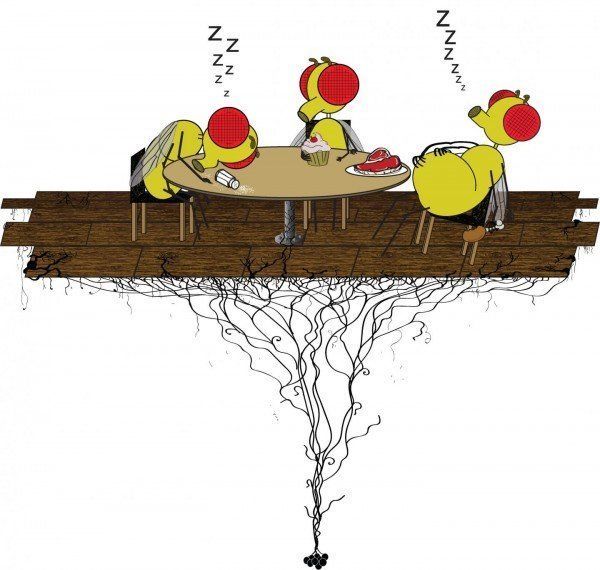 Credit: Keith Murphy
The researchers developed a special system called Activity Recording CAFE (ARC) for visual tracking of the food consumption and motion of the flies. The flies the researchers used slept about 20 to 40 minutes longer after taking in sizable food portions rich in protein or salt. Meals high in sugar did not have this effect.
If you want to avoid the "food coma" that comes with the holidays, you might want to rethink your menu.
"We next sought to identify a neuronal mechanism by which feeding drives post-meal sleep," said the study's first author Keith Murphy. "By using genetic tools to turn neurons on and off in the fly brain, we were surprised to find a number of circuits that play a role in controlling this behavior."
What they found is that there are particular brain circuits that regulate the desire for naps after eating, which varies in intensity throughout the day. The body's internal clock (or circadian rhythm) likes to play a role in when we would be at our sleepiest. The flies, for instance, were less susceptible to food coma in the evening than in the morning.
What's next for the researchers?
"The ARC provides a starting point for future studies aimed at uncovering the exact genes and circuits that enable meal size, protein and salt to drive sleep," explained Ja. "As sleep is a vulnerable state for animals in nature, it will be interesting to discover why post-meal naps are necessary."
Cover photo:
Brian Subich (L) digs into a turkey carcas as he and Eric Lingston (R) compete in the Thanksgiving Invitational Turkey-Eating Championship, 22 November 2006, at Artie's Delicatessen in New York. Pat Bertoletti of Chicago won by eating 4.8 pounds (2.177 kg) of turkey in 12 minutes. AFP PHOTO/Stan HONDA (Photo credit: STAN HONDA/AFP/Getty Images)
As religious diversity increases in the United States, we must learn to channel religious identity into interfaith cooperation.
Sponsored by Charles Koch Foundation
Religious diversity is the norm in American life, and that diversity is only increasing, says Eboo Patel.
Using the most painful moment of his life as a lesson, Eboo Patel explains why it's crucial to be positive and proactive about engaging religious identity towards interfaith cooperation.
The opinions expressed in this video do not necessarily reflect the views of the Charles Koch Foundation, which encourages the expression of diverse viewpoints within a culture of civil discourse and mutual respect.
Two Apollo 11 astronauts question NASA's planetary safety procedures.
Credit: Bettmann, Getty Images.
Surprising Science
Buzz Aldrin and Michael Collins revealed that there were deficiencies in NASA's safety procedures following the Apollo 11 mission.
Moon landing astronauts were quarantined for 21 days.
Earth could be contaminated with lunar bacteria.
Here's why you might eat greenhouse gases in the future.
Technology & Innovation
The company's protein powder, "Solein," is similar in form and taste to wheat flour.
Based on a concept developed by NASA, the product has wide potential as a carbon-neutral source of protein.
The man-made "meat" industry just got even more interesting.
When it comes to sniffing out whether a source is credible or not, even journalists can sometimes take the wrong approach.
Sponsored by Charles Koch Foundation
We all think that we're competent consumers of news media, but the research shows that even journalists struggle with identifying fact from fiction.
When judging whether a piece of media is true or not, most of us focus too much on the source itself. Knowledge has a context, and it's important to look at that context when trying to validate a source.
The opinions expressed in this video do not necessarily reflect the views of the Charles Koch Foundation, which encourages the expression of diverse viewpoints within a culture of civil discourse and mutual respect.