What do we do with all the chemical elements? This ingenious periodic table shows you
An interactive periodic table with pictures makes it easy to see how each element is used.
05 July, 2017
The periodic table is an important but rather dry scientific tool. It lists all the chemical elements, ordered by their atomic numbers. Elements with similar behavior are grouped in the same column (called a group), with metals generally on the left and non-metals (gases) on the right. Rows are called "periods" - hence, periodic table.
---
All in all, it can be hard for someone not well versed in chemistry to know what all these elements are and where they are used. Enter Keith Enevoldsen, a Boeing software engineer with a degree in physics who created a super-helpful version of the periodic table that makes it easy to see what all the elements can do. His table is interactive and features helpful pictures. Impress your friends and yourself by learning the applications of astatine (radioactive medicine), molybdenum (cutting tools like scissors), krypton (flashlights) and other elements.
Check it out yourself here (or click thru for the interactive version):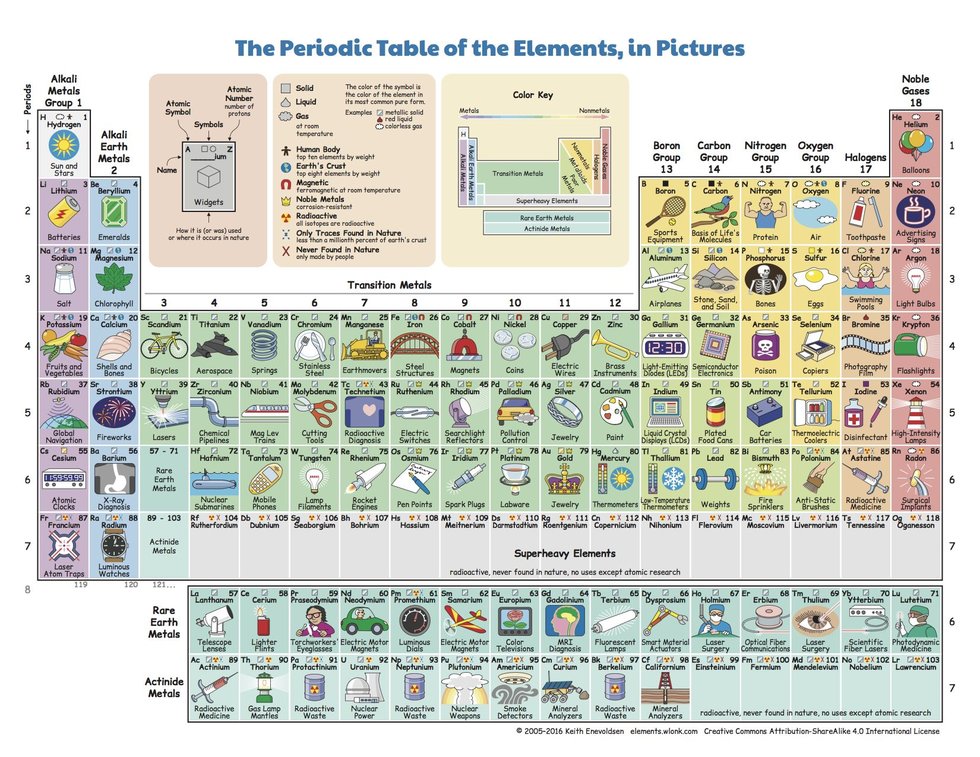 And if pictures aren't your thing, you can see the same table in words, with detailed descriptions: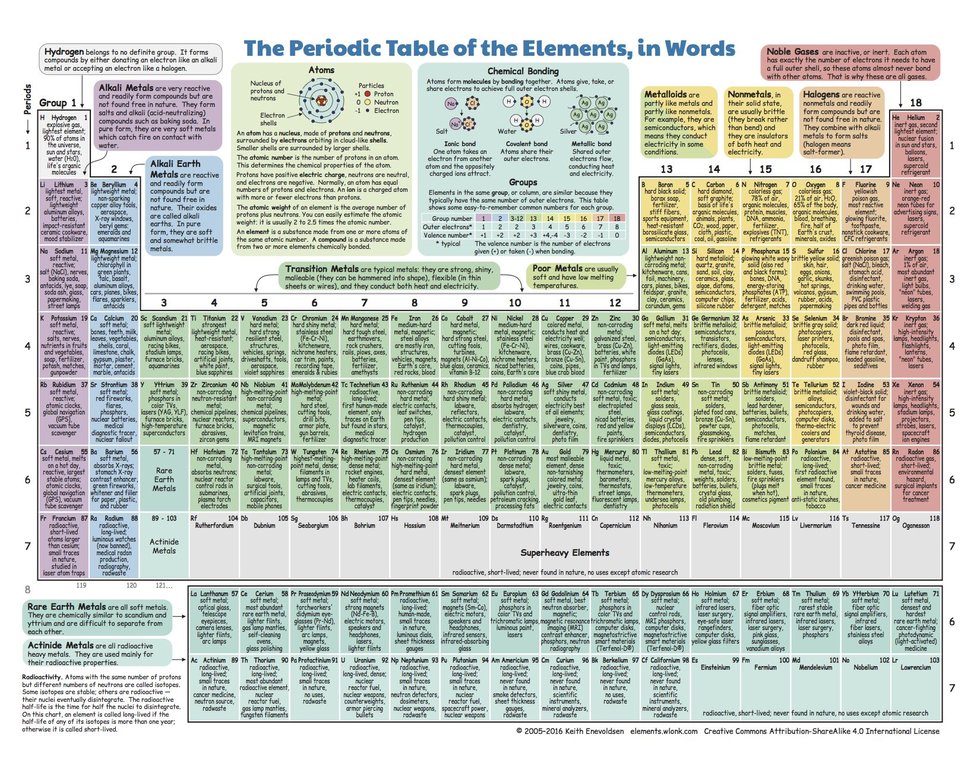 For more features and to see if you perhaps need element trading cards (also available), check out Keith's page here.
The first periodic table was published in 1869 by the Russian chemist Dmitri Mendeleev, who called his work the Periodic System. Mendeleev put all the known elements in the correct order, based on their relative atomic masses, while successfully predicting the properties of the elements still to be discovered. He was not the only one working on this, with people like British John Newlands, French Alexandre Béguyer de Chancourtois and German Julius Lothar Meyer making important contributions. Still, Mendeleev is considered the "father" of the periodic table for his lasting arrangement. 
Be glad your name isn't attached to any of these bad ideas.
Chip Somodevilla/Getty Images
Technology & Innovation
Some inventions can be celebrated during their time, but are proven to be devastating in the long run.
The inventions doesn't have to be physical. Complex mathematical creations that create money for Wall Street can do as much damage, in theory, as a gas that destroys the ozone layer.
Inventors can even see their creations be used for purposes far different than they had intended.

The results come from a 15-year study that used ultrasound scans to track blood vessels in middle-aged adults starting in 2002.
Mind & Brain
The study measured the stiffness of blood vessels in middle-aged patients over time.
Stiff blood vessels can lead to the destruction of delicate blood vessels in the brain, which can contribute to cognitive decline.
The scans could someday become a widely used tool to identify people at high risk of developing dementia and Alzheimer's.
The new offices will be built in New York's Long Island City and Viriginia's Arlington.
(Photo: INA FASSBENDER/AFP/Getty Images)
Politics & Current Affairs
Amazon will receive more than $2 billion in incentives from the two states.
The company plans to create a total of 50,000 jobs at an average wage of $150,000.
The announcement has caused controversy, raising concerns about rising rent prices and potentially lost resources in communities surrounding the upcoming developments.
Big think's weekly newsletter.
Get smarter faster from the comfort of your inbox.
See our newsletter privacy policy
here
Most Popular
Most Recent
Big think's weekly newsletter.
Get smarter faster from the comfort of your inbox.
See our newsletter privacy policy
here
© Copyright 2007-2018 & BIG THINK, BIG THINK EDGE,
SMARTER FASTER trademarks owned by The Big Think, Inc. All rights reserved.