What do we do with all the chemical elements? This ingenious periodic table shows you
An interactive periodic table with pictures makes it easy to see how each element is used.
05 July, 2017
The periodic table is an important but rather dry scientific tool. It lists all the chemical elements, ordered by their atomic numbers. Elements with similar behavior are grouped in the same column (called a group), with metals generally on the left and non-metals (gases) on the right. Rows are called "periods" - hence, periodic table.
---
All in all, it can be hard for someone not well versed in chemistry to know what all these elements are and where they are used. Enter Keith Enevoldsen, a Boeing software engineer with a degree in physics who created a super-helpful version of the periodic table that makes it easy to see what all the elements can do. His table is interactive and features helpful pictures. Impress your friends and yourself by learning the applications of astatine (radioactive medicine), molybdenum (cutting tools like scissors), krypton (flashlights) and other elements.
Check it out yourself here (or click thru for the interactive version):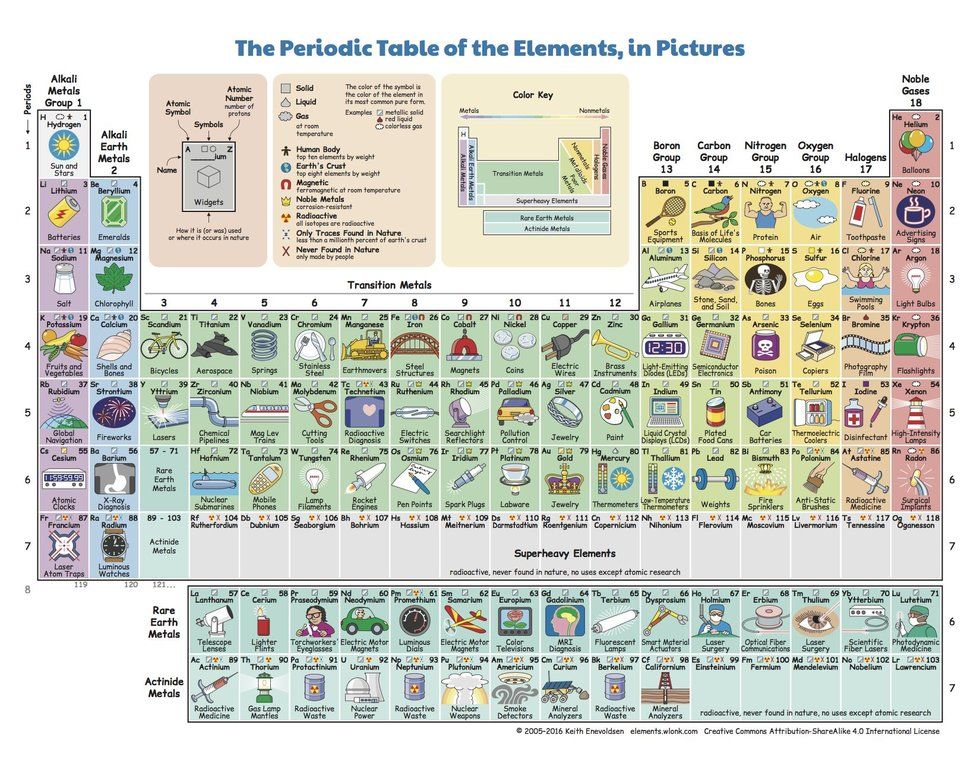 And if pictures aren't your thing, you can see the same table in words, with detailed descriptions: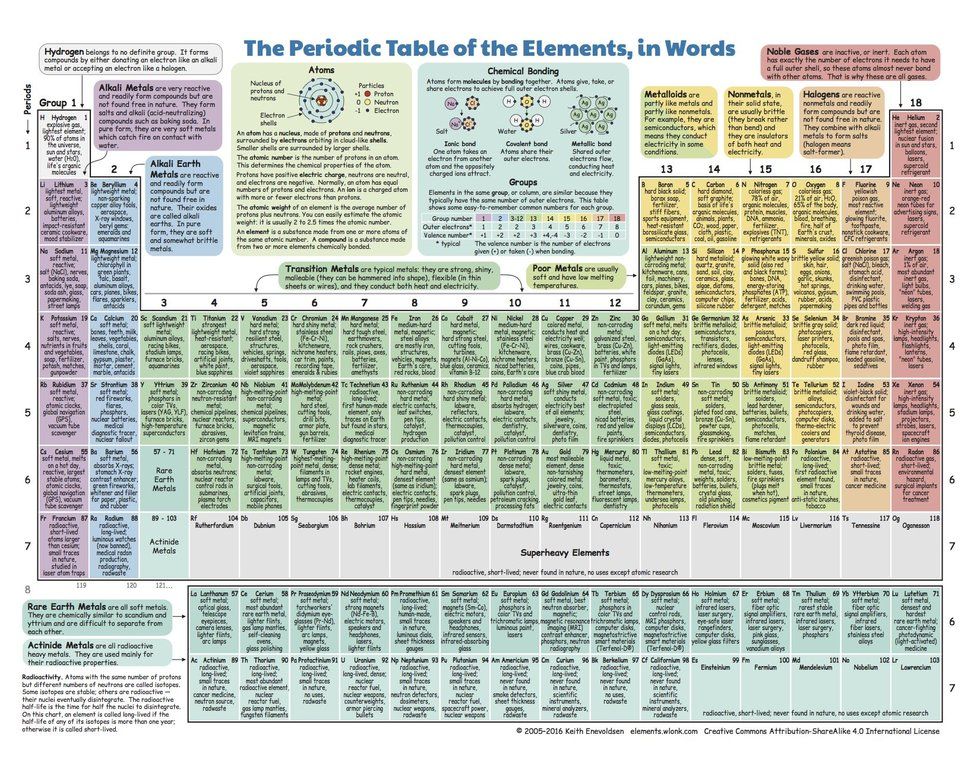 For more features and to see if you perhaps need element trading cards (also available), check out Keith's page here.
The first periodic table was published in 1869 by the Russian chemist Dmitri Mendeleev, who called his work the Periodic System. Mendeleev put all the known elements in the correct order, based on their relative atomic masses, while successfully predicting the properties of the elements still to be discovered. He was not the only one working on this, with people like British John Newlands, French Alexandre Béguyer de Chancourtois and German Julius Lothar Meyer making important contributions. Still, Mendeleev is considered the "father" of the periodic table for his lasting arrangement. 
Don't underestimate the power of play when it comes to problem-solving.
Videos
As we get older, the work we consistently do builds "rivers of thinking." These give us a rich knowledge of a certain kind of area.
The problem with this, however, is that as those patterns get deeper, we get locked into them. When this happens it becomes a challenge to think differently — to break from the past and generate new ideas.
How do we get out of this rut? One way is to bring play and game mechanics into workshops. When we approach problem-solving from a perspective of fun, we lose our fear of failure, allowing us to think boldly and overcome built patterns.
Controversial map names CEOs of 100 companies producing 71 percent of the world's greenhouse gas emissions.
Image: Jordan Engel, reused via Decolonial Media License 0.1
Strange Maps
Just 100 companies produce 71 percent of the world's greenhouse gases.
This map lists their names and locations, and their CEOs.
The climate crisis may be too complex for these 100 people to solve, but naming and shaming them is a good start.
The surprising results come from a new GLAAD survey.
Culture & Religion
The survey found that 18- to 34-year-old non-LGBTQ Americans reported feeling less comfortable around LGBTQ people in a variety of hypothetical situations.
The attitudes of older non-LGBTQ Americans have remained basically constant over the past few years.
Overall, about 80 percent of Americans support equal rights for LGBTQ people.
Big think's weekly newsletter.
Get smarter faster from the comfort of your inbox.
See our newsletter privacy policy
here
Most Popular
Most Recent
Big think's weekly newsletter.
Get smarter faster from the comfort of your inbox.
See our newsletter privacy policy
here
© Copyright 2007-2019 & BIG THINK, BIG THINK EDGE,
SMARTER FASTER trademarks owned by The Big Think, Inc. All rights reserved.