Cockroach milk: The superfood of the future is now
Researchers find an unlikely source for the next superfood.
26 July, 2016
What's four times more nutritious than cow's milk and could be key in feeding our ever-expanding population? Chances are, your guess was not cockroach milk. But that's exactly the food that an international team of scientists is banking on to become the new superfood.
---
A team from the Institute of Stem Cell Biology and Regenerative Medicine in India has sequenced a protein crystal from the gut of Diploptera punctata (Pacific Beetle Cockroach), the only known cockroach to give birth to live young. To feed its offspring, the roach also produces a milk-like substance with protein crystals which have three times the energy of buffalo milk.
Before you start imagining how you can milk a cockroach, the scientists have dismissed such an option and are instead sequencing the genes responsible for the production of milk protein crystals.
"The crystals are like a complete food - they have proteins, fats and sugars. If you look into the protein sequences, they have all the essential amino acids," said one scientist from the team, Sanchari Banerjee, to the Times of India.
What's also fascinating, the milk crystals release proteins not all at once but in accordance with the speed of digestion.
The leader of the project, Subramanian Ramaswamy, confirmed that:
"It's time-released food if you need food that is calorifically high, that is time released and food that is complete. This is it."
This calorie-rich food will be especially helpful to those who struggle to get the necessary amount of calories per day. The roach milk can be a quick source of necessary nutrition, with Ramaswamy calling it "a fantastic protein supplement".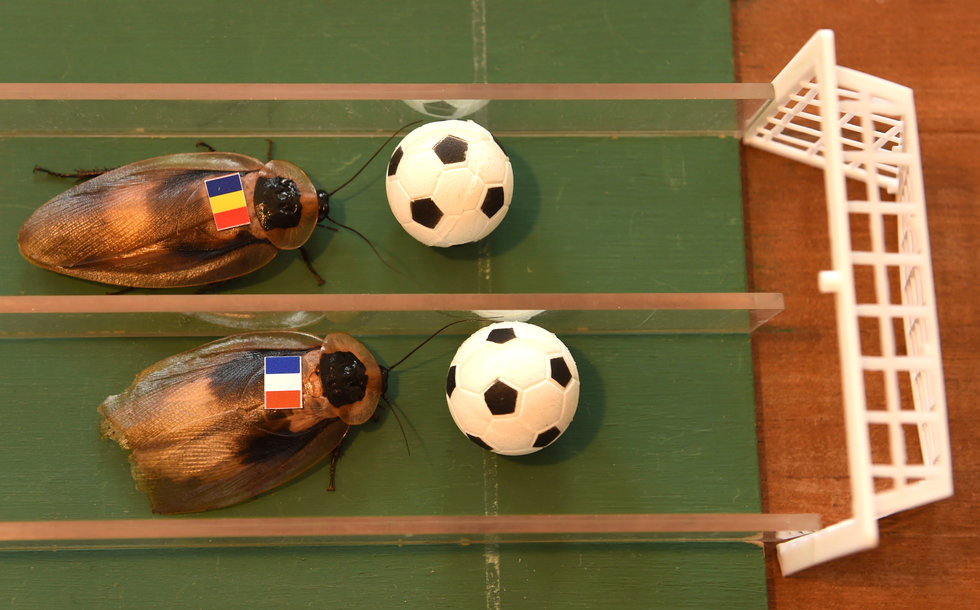 Cockroaches decorated with Romanian (R) and French flags run at the cockroaches racing course built by Berlin-based Russian painter Nikolai Makarov in his studio in Berlin, on June 10, 2016 ahead of the start of the Euro 2016. (Photo by CHRISTOF STACHE/AFP/Getty Images)
Whether enough people around the world can get around the obvious gross-out factor that comes from any combination of cockroaches and food is largely dependent on how this kind of milk will be made.
As the scientists completed the sequencing, they are moving on to producing the crystal in much larger quantities. In particular, they are looking to focus on how create the food without resorting to milking cockroaches or otherwise pulling the crystals from their guts.
Here's where you can read the full paper, with the exciting title: "Structure of a heterogeneous, glycosylated, lipid-bound, in vivo-grown protein crystal at atomic resolution from the viviparous cockroach Diploptera punctata."
Antimicrobial resistance is growing worldwide, rendering many "work horse" medicines ineffective. Without intervention, drug-resistant pathogens could lead to millions of deaths by 2050. Thankfully, companies like Pfizer are taking action.
Image courtesy of Pfizer.
Antimicrobial-resistant pathogens are one of the largest threats to global health today.
As we get older, our immune systems age, increasing our risk of life threatening infections. Without reliable antibiotics, life expectancy could decline for the first time in modern history.
If antibiotics become ineffective, common infections could result in hospitalization or even death. Life-saving interventions like cancer treatments and organ transplantation would become more difficult, more often resulting in death. Routine procedures would become hard to perform.
Without intervention, resistant pathogens could result in 10 million annual deaths by 2050.
By taking a multi-faceted approach—inclusive of adherence to good stewardship, surveillance and responsible manufacturing practices, as well as an emphasis on prevention and treatment—companies like Pfizer are fighting to help curb the spread.
Sponsored
No, the Syrian civil war is not over. But it might be soon. Time for a recap
Strange Maps
The War in Syria has dropped off the radar, but it's not over (yet)
This 1-minute video shows how the fronts have moved – and stabilised – over the past 22 months
Watching this video may leave you both better informed, and slightly queasy: does war need a generic rock soundtrack?
Sarco assisted suicide pods come in three different styles, and allow you to die quickly and painlessly. They're even quite beautiful to look at.
The Sarco assisted suicide pod
Technology & Innovation
Death: it happens to everyone (except, apparently, Keanu Reeves). But while the impoverished and lower-class people of the world die in the same ol' ways—cancer, heart disease, and so forth—the upper classes can choose hip and cool new ways to die. Now, there's an assisted-suicide pod so chic and so stylin' that peeps (young people still say peeps, right?) are calling it the "Tesla" of death... it's called... the Sarco! 
Entrepreneur and author Andrew Horn shares his rules for becoming an assured conversationalist.
content.jwplatform.com
Videos
To avoid basing action on external validation, you need to find your "authentic voice" and use it.
Finding your voice requires asking the right questions of yourself.
There are 3-5 questions that you would generally want to ask people you are talking to.
Big think's weekly newsletter.
Get smarter faster from the comfort of your inbox.
See our newsletter privacy policy
here
Most Popular
Most Recent
Big think's weekly newsletter.
Get smarter faster from the comfort of your inbox.
See our newsletter privacy policy
here
© Copyright 2007-2018 & BIG THINK, BIG THINK EDGE,
SMARTER FASTER trademarks owned by The Big Think, Inc. All rights reserved.