Researchers Re-Classify an Organ In the Human Body
Four-year research concludes there's a new organ inside the body, creating a new field of science.
04 January, 2017
Proving that there's still so much to be understood about the human body, scientists have discovered a new organ - a part of our digestive system called "mesentery". 
---
It was previously regarded as a series of separate structures and was only recently proven to be a whole continuous organ. 
The four-year research that concluded that mesentery was indeed an organ was led by J Calvin Coffey, a professor of surgery at the University of Limerick. The results of the study are published in The Lancet Gastroenterology & Hepatology.
"In the paper, which has been peer reviewed and assessed, we are now saying we have an organ in the body which hasn't been acknowledged as such to date," said Professor Coffey. "The anatomic description that had been laid down over 100 years of anatomy was incorrect. This organ is far from fragmented and complex. It is simply one continuous structure," he further elaborated.
What does it look like? It's a double fold of peritoneum, the lining attaching our intestine to the wall of the abdomen. It was actually described even by Leonardo da Vinci but was generally neglected by doctors as it wasn't regarded an organ.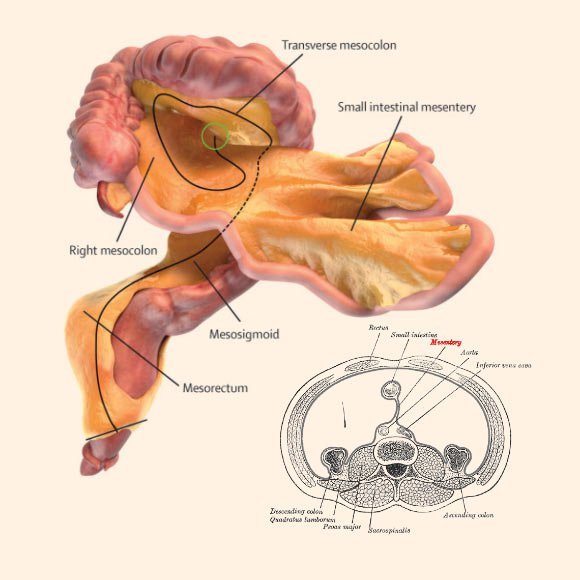 Credit: J Calvin Coffey/D Peter O'Leary/Henry Vandyke Carter.
What the mesentery does is not entirely clear at this point. In fact, scientists aren't even sure which of the body's systems it belongs to, with the paper saying: "Whether the mesentery should be viewed as part of the intestinal, vascular, endocrine, cardiovascular, or immunological systems is so far unclear, as it has important roles in them all."
Studying the mesentery might prove key in treating abdominal and digestive diseases.  
"When we approach it like every other organ…we can categorise abdominal disease in terms of this organ," explained professor Coffey.
In fact, the professor thinks a whole new field of mesentery science is necessary - like gastroenterology and neurology. 
"This is relevant universally as it affects all of us. Up to now there was no such field as mesenteric science. Now we have established anatomy and the structure. The next step is the function. If you understand the function you can identify abnormal function, and then you have disease. Put them all together and you have the field of mesenteric science…the basis for a whole new area of science," he said.
The new organ has already been accepted as such by the medical community with students around the world now learning of the mesentery as a continuous organ. The new research also prompted an update in the famed medical textbook "Gray's Anatomy".
Cover photo: J Calvin Coffey, The Lancet
The way that you think about stress can actually transform the effect that it has on you – and others.
Big Think Edge
Stress is contagious, and the higher up in an organization you are the more your stress will be noticed and felt by others.
Kelly McGonigal teaches "Reset your mindset to reduce stress" for Big Think Edge.

Subscribe to Big Think Edge before we launch on March 30 to get 20% off monthly and annual memberships.
These quick bursts of inspiration will brighten your day in 10 minutes or less.

Explore a legendary philosopher's take on how society fails to prepare us for education and progress.
Alan Watts.
Personal Growth
Alan Watts was an instrumental figure in the 1960s counterculture revolution.
He believed that we put too much of a focus on intangible goals for our educational and professional careers.
Watts believed that the whole educational enterprise is a farce compared to how we should be truly living our lives.
How can we use the resources that are already on the Moon to make human exploration of the satellite as economical as possible?
The All-Terrain Hex-Limbed Extra-Terrestrial Explorer (ATHLETE), a prototype heavy-lift utility vehicle to support future human exploration of extraterrestrial surfaces, at right, is parked beside the Habitat Demonstration Unit - Pressurized Excursion Module (HDU-PEM), at left, a concept off-Earth living and work quarters for astronauts stationed on asteroids, the moon or Mars, 15 September 2010. Photo by: ROBYN BECK/AFP/Getty Images
Technology & Innovation
If you were transported to the Moon this very instant, you would surely and rapidly die. That's because there's no atmosphere, the surface temperature varies from a roasting 130 degrees Celsius (266 F) to a bone-chilling minus 170 C (minus 274 F). If the lack of air or horrific heat or cold don't kill you then micrometeorite bombardment or solar radiation will. By all accounts, the Moon is not a hospitable place to be.

Big think's weekly newsletter.
Get smarter faster from the comfort of your inbox.
See our newsletter privacy policy
here
Most Popular
Most Recent
Big think's weekly newsletter.
Get smarter faster from the comfort of your inbox.
See our newsletter privacy policy
here
© Copyright 2007-2018 & BIG THINK, BIG THINK EDGE,
SMARTER FASTER trademarks owned by The Big Think, Inc. All rights reserved.