Researchers Re-Classify an Organ In the Human Body
Four-year research concludes there's a new organ inside the body, creating a new field of science.
04 January, 2017
Proving that there's still so much to be understood about the human body, scientists have discovered a new organ - a part of our digestive system called "mesentery". 
---
It was previously regarded as a series of separate structures and was only recently proven to be a whole continuous organ. 
The four-year research that concluded that mesentery was indeed an organ was led by J Calvin Coffey, a professor of surgery at the University of Limerick. The results of the study are published in The Lancet Gastroenterology & Hepatology.
"In the paper, which has been peer reviewed and assessed, we are now saying we have an organ in the body which hasn't been acknowledged as such to date," said Professor Coffey. "The anatomic description that had been laid down over 100 years of anatomy was incorrect. This organ is far from fragmented and complex. It is simply one continuous structure," he further elaborated.
What does it look like? It's a double fold of peritoneum, the lining attaching our intestine to the wall of the abdomen. It was actually described even by Leonardo da Vinci but was generally neglected by doctors as it wasn't regarded an organ.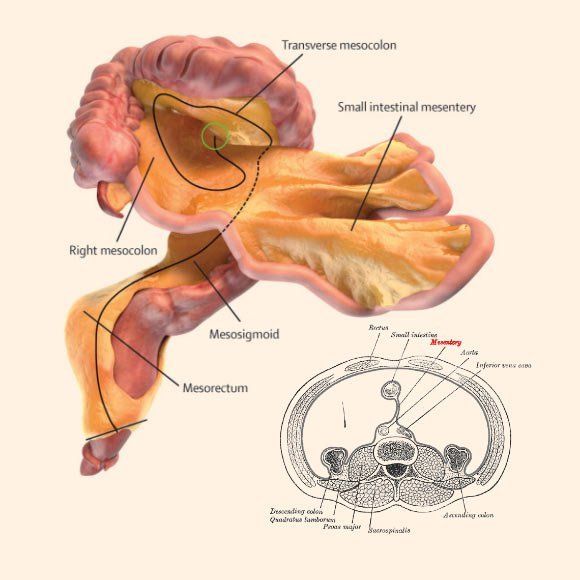 Credit: J Calvin Coffey/D Peter O'Leary/Henry Vandyke Carter.
What the mesentery does is not entirely clear at this point. In fact, scientists aren't even sure which of the body's systems it belongs to, with the paper saying: "Whether the mesentery should be viewed as part of the intestinal, vascular, endocrine, cardiovascular, or immunological systems is so far unclear, as it has important roles in them all."
Studying the mesentery might prove key in treating abdominal and digestive diseases.  
"When we approach it like every other organ…we can categorise abdominal disease in terms of this organ," explained professor Coffey.
In fact, the professor thinks a whole new field of mesentery science is necessary - like gastroenterology and neurology. 
"This is relevant universally as it affects all of us. Up to now there was no such field as mesenteric science. Now we have established anatomy and the structure. The next step is the function. If you understand the function you can identify abnormal function, and then you have disease. Put them all together and you have the field of mesenteric science…the basis for a whole new area of science," he said.
The new organ has already been accepted as such by the medical community with students around the world now learning of the mesentery as a continuous organ. The new research also prompted an update in the famed medical textbook "Gray's Anatomy".
Cover photo: J Calvin Coffey, The Lancet
Former president of the ACLU Nadine Strossen discusses whether our society should always defend free speech rights, even for groups who would oppose such rights.
Sponsored by Charles Koch Foundation
Former ACLU president Nadine Strossen understands that protecting free speech rights isn't always a straightforward proposition.
In this video, Strossen describes the reasoning behind why the ACLU defended the free speech rights of neo-Nazis in Skokie, Illinois, 1977.
The opinions expressed in this video do not necessarily reflect the views of the Charles Koch Foundation, which encourages the expression of diverse viewpoints within a culture of civil discourse and mutual respect.
Want to be smarter than you were yesterday? Learn to have better conversations using these 3 design principles.
Sponsored by the Institute for Humane Studies
What is a great conversation? They are the ones that leave us feeling smarter or more curious, with a sense that we have discovered something, understood something about another person, or have been challenged.
There are 3 design principles that lead to great conversations: humility, critical thinking, and sympathetic listening.
Critical thinking is the celebrated cornerstone of liberalism, but next time you're in a challenging and rewarding conversation, try to engage sympathetic listening too. Understanding why another intelligent person holds ideas that are at odds with your own is often more enlightening than merely hunting for logic errors.
A consortium of scientists and engineers have proposed that the U.S. and Mexico build a series of guarded solar, wind, natural gas and desalination facilities along the entirety of the border.
Credit: Purdue University photo/Jorge Castillo Quiñones
Politics & Current Affairs
The proposal was recently presented to several U.S. members of Congress.
The plan still calls for border security, considering all of the facilities along the border would be guarded and connected by physical barriers.
It's undoubtedly an expensive and complicated proposal, but the team argues that border regions are ideal spots for wind and solar energy, and that they could use the jobs and fresh water the energy park would create.
The reason one diet does not suit all may be found in our guts.