Listen to New Google AI Program Talk Like a Human and Write Music
Google's DeepMind creates AI that blows away existing speech synthesizers.
11 September, 2016
Google-owned artificial intelligence company DeepMind presented a deep neural network that generates amazingly human-like speech. Called WaveNet, this AI makes a significant advancement over existing speech synthesizers. What's more, it can write pretty good classical music. 
---
DeepMind is a British company, previously known for creating machine-learning AI software that beat the world champion of the notoriously-intricate game Go. Machine learning allows computer systems to teach themselves and make predictions based on gathered data.
The company claims that its WaveNet creates speech that can mimic any human voice and closes the gap with human speech performance by more than 50%. Google's 500-person blind test study found people rating WaveNet's English speech at a 4.21 (5 being realistic human speech), while concatenate speech got a 3.86 and parametric an even worse 3.67.
WaveNet also generated speech in Mandarin, which got similar results.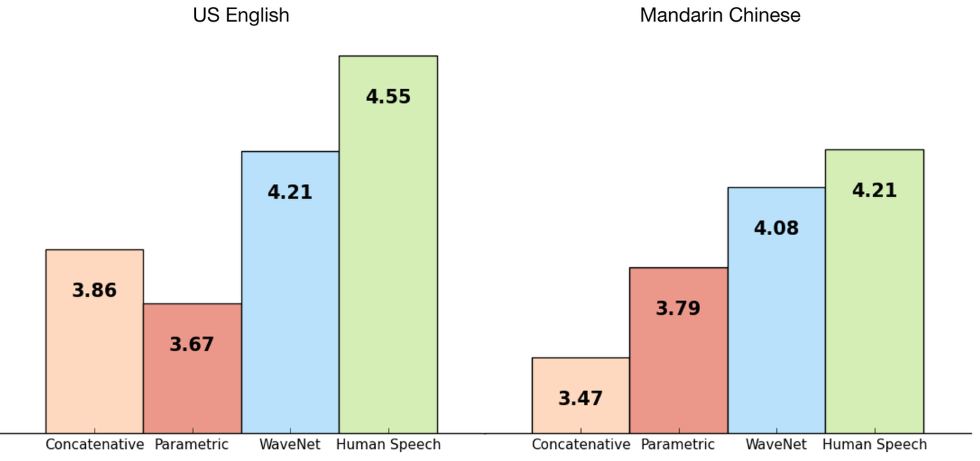 They did this by re-imagining currently used text-to-speech (TTS) processes. The two most common being concatenative TTS, used by Apple's Siri, which involves pre-recorded fragments of speech, and parametric TTS, which sounds even less natural, getting speech generated through computer algorithms.
What's different about WaveNet is that its can directly model the raw waveform of an audio signal, an extremely complicated task that required a novel neural network. WaveNet learns from voice recordings, then on its own creates speech. This independence also allows the program to generate other kinds of audio, like music.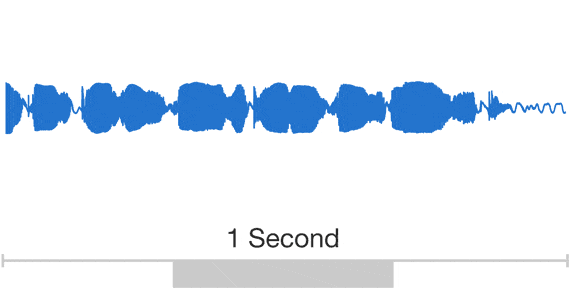 To bolster their claim, DeepMind released some samples, comparing their WaveNets with samples made by concatenate and parametric TTS. You be the judge. 
Parametric:
And now, this is what WaveNet generated:
After it was trained on a dataset of classical piano music, WaveNet produced these intriguing musical creations of its own:
What are the implications of this new tech? While it also means our eventual robotic overlords should being easier to talk to, virtual AI assistants like Siri or Cortana could benefit sooner. Google isn't promising this is headed straight to such applications, however, as WaveNet requires serious computing power.
This achievement shows again the potential of DeepMind's neural networks which can and are being used for fraud and spam detection, handwriting recognition, image search, translation and other tasks.
DeepMind also made a number of Google's data centers use energy more efficiently, slashing its electricity bill. Previously, DeepMind trained its AI to beat dozens of video games.
In a very Google move, the paper on WaveNet is available on Google Drive here.
Want to know more about DeepMind? Check out this video:
Related Articles
Explore how alcohol affects your brain, from the first sip at the bar to life-long drinking habits.
(Photo by Angie Garrett/Wikimedia Commons)
Mind & Brain
Alcohol is the world's most popular drug and has been a part of human culture for at least 9,000 years.
Alcohol's effects on the brain range from temporarily limiting mental activity to sustained brain damage, depending on levels consumed and frequency of use.
Understanding how alcohol affects your brain can help you determine what drinking habits are best for you.
If you want to know what makes a Canadian lynx a Canadian lynx a team of DNA sequencers has figured that out.
Surprising Science
A team at UMass Amherst recently sequenced the genome of the Canadian lynx.
It's part of a project intending to sequence the genome of every vertebrate in the world.
Conservationists interested in the Canadian lynx have a new tool to work with.
Artwork: Guillaume le Clerc / Wikimedia Commons
13th-century fantastical depiction of an elephant.
It is easy to see how one can look at 66,000 genomic sequences stored away as being the analogous equivalent of the Svalbard Global Seed Vault. It is a potential tool for future conservationists.
But what are the practicalities of sequencing the genome of a lynx beyond engaging with broad bioethical questions? As the animal's habitat shrinks and Earth warms, the Canadian lynx is demonstrating less genetic diversity. Cross-breeding with bobcats in some portions of the lynx's habitat also represents a challenge to the lynx's genetic makeup. The two themselves are also linked: warming climates could drive Canadian lynxes to cross-breed with bobcats.
John Organ, chief of the U.S. Geological Survey's Cooperative Fish and Wildlife units, said to MassLive that the results of the sequencing "can help us look at land conservation strategies to help maintain lynx on the landscape."
What does DNA have to do with land conservation strategies? Consider the fact that the food found in a landscape, the toxins found in a landscape, or the exposure to drugs can have an impact on genetic activity. That potential change can be transmitted down the generative line. If you know exactly how a lynx's DNA is impacted by something, then the environment they occupy can be fine-tuned to meet the needs of the lynx and any other creature that happens to inhabit that particular portion of the earth.
Given that the Trump administration is considering withdrawing protection for the Canadian lynx, a move that caught scientists by surprise, it is worth having as much information on hand as possible for those who have an interest in preserving the health of this creature—all the way down to the building blocks of a lynx's life.
The exploding popularity of the keto diet puts a less used veggie into the spotlight.
Purple cauliflower. (Photo: Shutterstock)
Surprising Science
The cauliflower is a vegetable of choice if you're on the keto diet.
The plant is low in carbs and can replace potatoes, rice and pasta.
It can be eaten both raw and cooked for different benefits.
Big think's weekly newsletter.
Get smarter faster from the comfort of your inbox.
See our newsletter privacy policy
here
Most Popular
Most Recent
Big think's weekly newsletter.
Get smarter faster from the comfort of your inbox.
See our newsletter privacy policy
here
© Copyright 2007-2018 & BIG THINK, BIG THINK EDGE,
SMARTER FASTER trademarks owned by The Big Think, Inc. All rights reserved.