Listen to New Google AI Program Talk Like a Human and Write Music
Google's DeepMind creates AI that blows away existing speech synthesizers.
11 September, 2016
Google-owned artificial intelligence company DeepMind presented a deep neural network that generates amazingly human-like speech. Called WaveNet, this AI makes a significant advancement over existing speech synthesizers. What's more, it can write pretty good classical music. 
---
DeepMind is a British company, previously known for creating machine-learning AI software that beat the world champion of the notoriously-intricate game Go. Machine learning allows computer systems to teach themselves and make predictions based on gathered data.
The company claims that its WaveNet creates speech that can mimic any human voice and closes the gap with human speech performance by more than 50%. Google's 500-person blind test study found people rating WaveNet's English speech at a 4.21 (5 being realistic human speech), while concatenate speech got a 3.86 and parametric an even worse 3.67.
WaveNet also generated speech in Mandarin, which got similar results.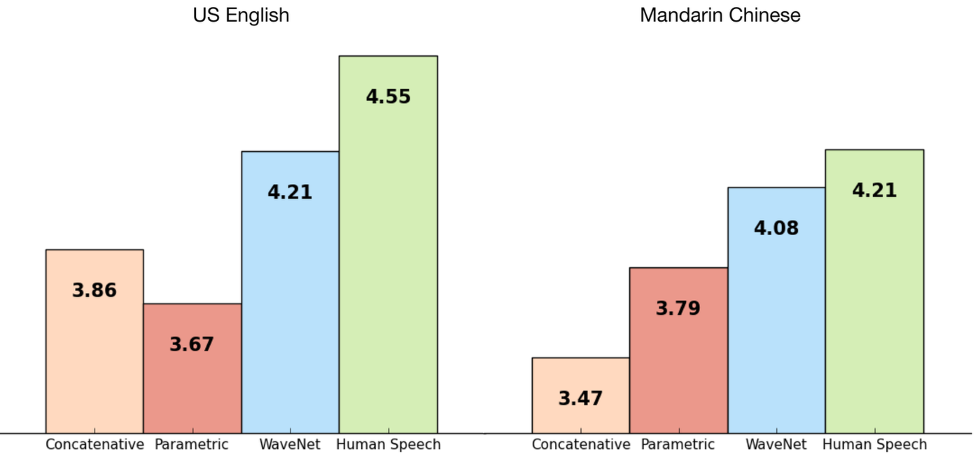 They did this by re-imagining currently used text-to-speech (TTS) processes. The two most common being concatenative TTS, used by Apple's Siri, which involves pre-recorded fragments of speech, and parametric TTS, which sounds even less natural, getting speech generated through computer algorithms.
What's different about WaveNet is that its can directly model the raw waveform of an audio signal, an extremely complicated task that required a novel neural network. WaveNet learns from voice recordings, then on its own creates speech. This independence also allows the program to generate other kinds of audio, like music.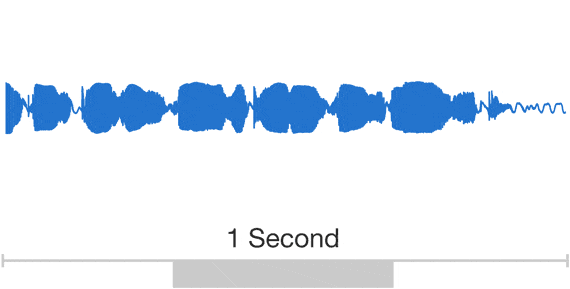 To bolster their claim, DeepMind released some samples, comparing their WaveNets with samples made by concatenate and parametric TTS. You be the judge. 
Parametric:
And now, this is what WaveNet generated:
After it was trained on a dataset of classical piano music, WaveNet produced these intriguing musical creations of its own:
What are the implications of this new tech? While it also means our eventual robotic overlords should being easier to talk to, virtual AI assistants like Siri or Cortana could benefit sooner. Google isn't promising this is headed straight to such applications, however, as WaveNet requires serious computing power.
This achievement shows again the potential of DeepMind's neural networks which can and are being used for fraud and spam detection, handwriting recognition, image search, translation and other tasks.
DeepMind also made a number of Google's data centers use energy more efficiently, slashing its electricity bill. Previously, DeepMind trained its AI to beat dozens of video games.
In a very Google move, the paper on WaveNet is available on Google Drive here.
Want to know more about DeepMind? Check out this video:
Since the idea of locality is dead, space itself may not be an aloof vacuum: Something welds things together, even at great distances.

Videos
Realists believe that there is an exactly understandable way the world is — one that describes processes independent of our intervention. Anti-realists, however, believe realism is too ambitious — too hard. They believe we pragmatically describe our interactions with nature — not truths that are independent of us.
In nature, properties of Particle B may be depend on what we choose to measure or manipulate with Particle A, even at great distances.
In quantum mechanics, there is no explanation for this. "It just comes out that way," says Smolin. Realists struggle with this because it would imply certain things can travel faster than light, which still seems improbable.
E-cigarettes may be safer than traditional cigarettes, but they come with their own risks.
Surprising Science
A new study used an MRI machine to examine how vaping e-cigarettes affects users' cardiovascular systems immediately after inhalation.
The results showed that vaping causes impaired circulation, stiffer arteries and less oxygen in their blood.
The new study adds to a growing body of research showing that e-cigarettes – while likely safer than traditional cigarettes – are far from harmless.
The Russian-built FEDOR was launched on a mission to help ISS astronauts.