The Vatican is hosting a hackathon right now. But why?
When in Rome... do as the Romans do?
09 March, 2018
Cardinals face the altar as Colombian Cardinal Alfonso Lopez Trujillo gives the Mass of The Lords Supper in St Peter's Basilica March 24, 2005 in Vatican City.(Photo by Christopher Furlong/Getty Images)
The Vatican is hosting a 36-hour "hackathon".
---
The event, called 'VHacks' (because, of course!), brings together 120 students, who are right now in the middle of a 36-hour hackathon to solve what the Catholic Church believes are three of its primary concerns that need solving: social inclusion, interfaith dialogue, and assistance for migrants and refugees.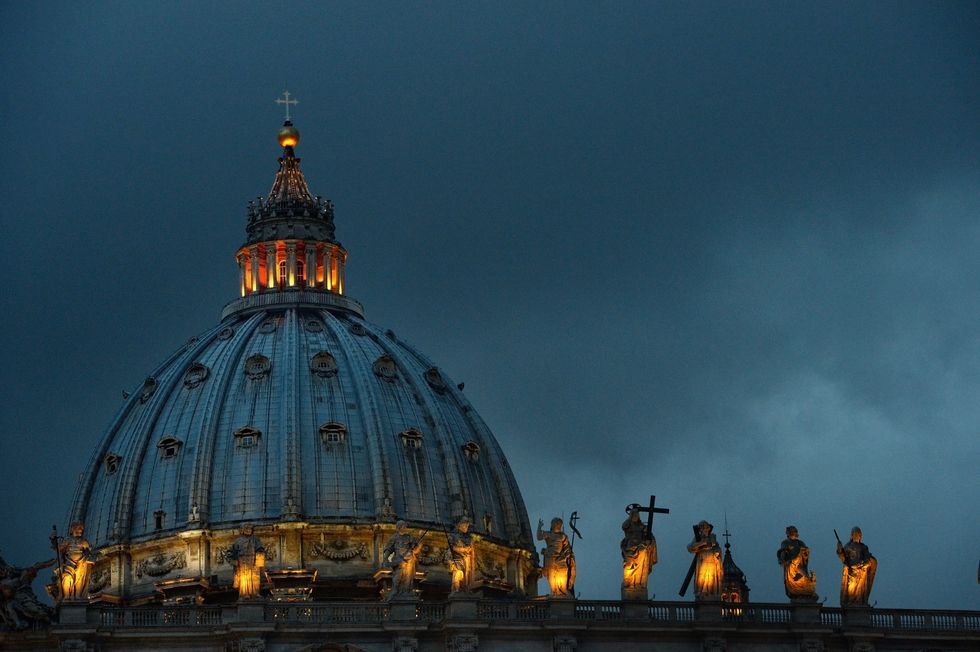 The effort was the brainchild of three people: Jakub Florkiewicz, a student at Harvard Business School, Reverend Eric Salobir, who is the founder of a technology think tank affiliated with the Vatican known as Optic, and Monseigneur Lucio Ruiz from the Vatican's Secretariat for Communication. 
Co-organizers for the event are the Pontifical Council for Culture and the Migrants and Refugee section of the Dicastery for Integral Human Development. Some tech partners, including Google, Microsoft, and Italian telecommunications company TIM have also signed on.
Whatever comes of it might just get traction from Pope Francis himself, who has 17 million Twitter followers and 5 million Instagram fans.  
While it's hosted at the Vatican, the organizers say it's not a religious event. "Even if it's facilitated by the Vatican as a religious institution, it's a completely non-religious event," said Florkiewicz.
Salobir concurs. "The point is not just to use it for the parishioners or the congregations, but to use technology for a broader purpose, to help society."
One of the inspirations for the event was Pope Francis himself, who said in his 2017 TED talk, "How wonderful would it be if the growth of scientific and technological innovation would come along with more equality and social inclusion."
Universities claim to prepare students for the world. How many actually do it?
Sponsored by Charles Koch Foundation
Many university mission statements do not live up to their promise, writes Ben Nelson, founder of Minerva, a university designed to develop intellect over content memorization.
The core competencies that students need for success—critical thinking, communication, problem solving, and cross-cultural understanding, for example—should be intentionally taught, not left to chance.
These competencies can be summed up with one word: wisdom. True wisdom is the ability to apply one's knowledge appropriately when faced with novel situations.
This is what the world will look like, 250 million years from now
On Pangaea Proxima, Lagos will be north of New York, and Cape Town close to Mexico City
Surprising Science
To us humans, the shape and location of oceans and continents seems fixed. But that's only because our lives are so short.
A new study may help us better understand how children build social cognition through caregiver interaction.
Personal Growth
Scientists speculate imitation helps develop social cognition in babies.
A new study out of Lund University shows that six-month-olds look and smile more at imitating adults.
Researchers hope the data will spur future studies to discover what role caregiver imitation plays in social cognition development.
Researchers at UT Southwestern noted a 47 percent increase in blood flow to regions associated with memory.
Photo: Johannes Eisele/AFP via Getty Images
Surprising Science
Researchers at UT Southwestern observed a stark improvement in memory after cardiovascular exercise.
The year-long study included 30 seniors who all had some form of memory impairment.
The group of seniors that only stretched for a year did not fair as well in memory tests.
Videos
According to a man that knows more than 20 languages, the key is to start in the middle.
Scroll down to load more…