This plastic-free water bottle dissolves into nothing in less than 3 weeks
A Scottish inventor has created a water bottle that could save ocean life the world over. But will the plastic industry let it happen?
01 May, 2018
This paper invention could save the oceans. Will the plastic industry let this happen? (Photo: National Park Service/Ch2oose)
James Longcroft, a Scottish inventor, has created a disposable water bottle that disintegrates into nothing in salt water in just three weeks. Essentially a paper bottle with a biodegradable, waterproof liner, it is being considered a major breakthrough in combating the trash problem that is plaguing our oceans. With trash-islands the size of Texas being discovered and monitored in the Pacific, James Longcroft's invention couldn't come at a better time. 
---
Perhaps the oddest thing about the news, though, is the fact that the bottles will face quite a battle before they're widely adopted. Plastic lobbying spending topped $54,000,000 in 2017, and Longcroft has been making the bottles more-or-less by hand in his kitchen in Edinburgh, Scotland. But while Longcroft's bottles only take less than a month to fully disappear (and the caps that top the bottle dissolve in less than a year), a regular plastic water bottle lasts an astounding 450 years before going away. Which is pretty insane for something we use once and hold in our hands for less than two minutes.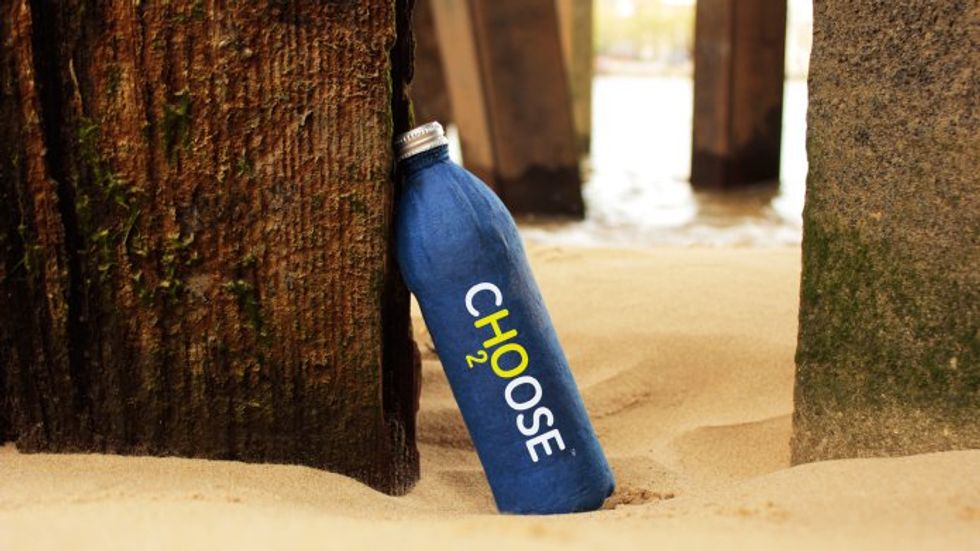 A prototype of the Choose bottle. (Photo: ch2oose.co.uk)
The bottles don't cost much more to make—about 7¢ on average more than a regular plastic bottle—and could cut down on waste dramatically. An estimated 14 billion pounds of trash goes into our oceans each year, the majority of it plastic. 
Longcroft is currently trying to find crowd-funding for his invention so he can make the bottles on a commercial level. He's only asking for $34,000—less than the price of a new car. You can donate to the cause right here. Unless you're a libertarian contrarian who cares more about plastic industry profits than the future of our planet, that's good news for everybody. 
To create wiser adults, add empathy to the school curriculum.
Sponsored by Charles Koch Foundation
Stories are at the heart of learning, writes Cleary Vaughan-Lee, Executive Director for the Global Oneness Project. They have always challenged us to think beyond ourselves, expanding our experience and revealing deep truths.
Vaughan-Lee explains 6 ways that storytelling can foster empathy and deliver powerful learning experiences.
Global Oneness Project is a free library of stories—containing short documentaries, photo essays, and essays—that each contain a companion lesson plan and learning activities for students so they can expand their experience of the world.
Philosophers like to present their works as if everything before it was wrong. Sometimes, they even say they have ended the need for more philosophy. So, what happens when somebody realizes they were mistaken?
Numerous U.S. Presidents invoked the Insurrection Act to to quell race and labor riots.
Photo by Michael Ochs Archives/Getty Images
Politics & Current Affairs
U.S. Presidents have invoked the Insurrection Act on numerous occasions.
The controversial law gives the President some power to bring in troops to police the American people.
The Act has been used mainly to restore order following race and labor riots.
Got any embarrassing old posts collecting dust on your profile? Facebook wants to help you delete them.
Facebook
Technology & Innovation
The feature is called Manage Activity, and it's currently available through mobile and Facebook Lite.
Manage Activity lets users sort old content by filters like date and posts involving specific people.
Some companies now use AI-powered background checking services that scrape social media profiles for problematic content.
Surprising Science
Researchers from Japan add a new wrinkle to a popular theory and set the stage for the formation of monstrous black holes.
Scroll down to load more…