Simon Oxenham
Simon Oxenham covers the best and the worst from the world of psychology and neuroscience. Formerly writing with the pseudonym "Neurobonkers", Simon has a history of debunking dodgy scientific research and tearing apart questionable science journalism in an irreverent style. Simon has written and blogged for publishers including: The Psychologist, Nature, Scientific American and The Guardian. His work has been praised in the New York Times and The Guardian and described in Pearson's Textbook of Psychology as "excoriating reviews of bad science/studies".
Follow Simon on Twitter
Like Simon on Facebook
Follow Simon on Google+
Subscribe via Email
Subscribe via RSS
Contact Simon directly by Email
28 April, 2014
If you're a regular at this blog, you'll have picked up on my favourite theme - bad science (and bad science journalism) in the world of psychology and neuroscience. The anonymous author of the Compound Chem blog has put together a rather splendid bucket list of issues to look out for when reading science news, that fits in so well with the Big Think colour scheme that I couldn't help but repost it. You can download the PDF here which is released under a creative commons licence.
---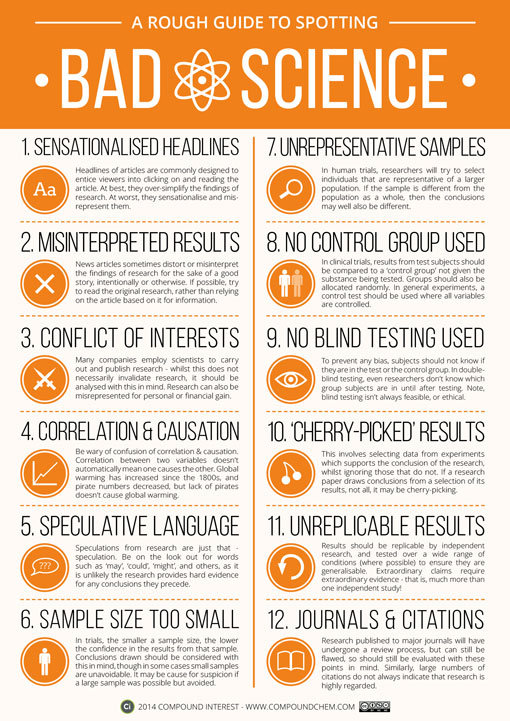 Personally, my only gripe with the poster is point five on speculative language - which as Girl, Interrupting over at Occams Typewriter rightly points out, you can expect to find in good research as much as bad:
Saying 'we see this' and 'we think this means that' is perfectly acceptable in scientific literature. In fact it is the bread and butter of many research publications. I am far more dubious of a study which says 'we see this, therefore it absolutely must mean that'. 
After you've had a good read of the poster, I recommend checking out the ensuing discussion over at Girl, Interrupting's post and on the original post at Compound Chem.
NB: For those who didn't get the reference in the cover image, here's an amusing explainer from the JAYFK blog on why you should be especially careful not to tread in bad science if you ever find yourself on content farms such as Science Daily.
To keep up to date with this blog you can follow Neurobonkers on Twitter, Facebook, RSS or join the mailing list. 
Cover Image by Gil C.
Related Articles
Our experience of time may be blinding us to its true nature, say scientists.
Back to the Future.
Surprising Science
Time may not be passing at all, says the Block Universe Theory.
Time travel may be possible.
Your perception of time is likely relative to you and limited.
From questionable shipwrecks to outright attacks, they clearly don't want to be bothered.
Culture & Religion
Many have tried to contact the Sentinelese, to write about them, or otherwise.
But the inhabitants of the 23 square mile island in the Bay of Bengal don't want anything to do with the outside world.
Their numbers are unknown, but either 40 or 500 remain.
At least he wasn't burned at the stake, right?
The original letter in which Galileo argued against the doctrine of the Roman Catholic Church has been rediscovered in London. Image credit: The Royal Society
Surprising Science
The letter suggests Galileo censored himself a bit in order to fly more under the radar. It didn't work, though.
The Royal Society Journal will publish the variants of the letters shortly, and scholars will begin to analyze the results.
The letter was in obscurity for hundreds of years in Royal Society Library in London.
Big think's weekly newsletter.
Get smarter faster from the comfort of your inbox.
See our newsletter privacy policy
here
Most Popular
Most Recent
Big think's weekly newsletter.
Get smarter faster from the comfort of your inbox.
See our newsletter privacy policy
here
© Copyright 2007-2018 & BIG THINK, BIG THINK EDGE,
SMARTER FASTER trademarks owned by The Big Think, Inc. All rights reserved.