How to Spot Bad Science
28 April, 2014
If you're a regular at this blog, you'll have picked up on my favourite theme - bad science (and bad science journalism) in the world of psychology and neuroscience. The anonymous author of the Compound Chem blog has put together a rather splendid bucket list of issues to look out for when reading science news, that fits in so well with the Big Think colour scheme that I couldn't help but repost it. You can download the PDF here which is released under a creative commons licence.
---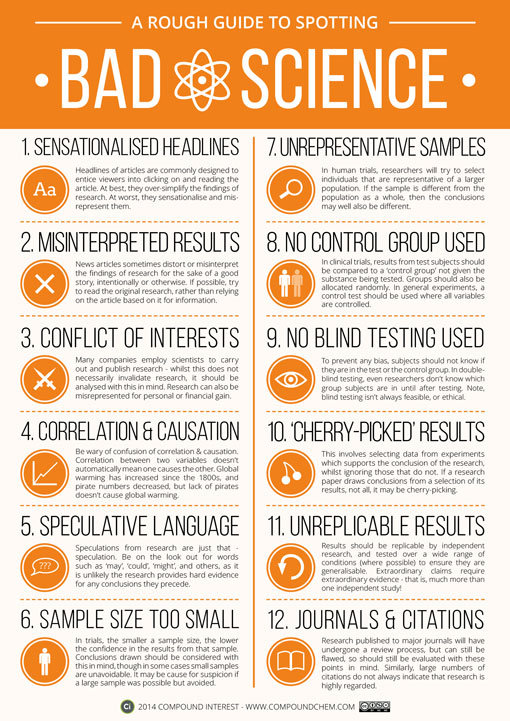 Personally, my only gripe with the poster is point five on speculative language - which as Girl, Interrupting over at Occams Typewriter rightly points out, you can expect to find in good research as much as bad:
Saying 'we see this' and 'we think this means that' is perfectly acceptable in scientific literature. In fact it is the bread and butter of many research publications. I am far more dubious of a study which says 'we see this, therefore it absolutely must mean that'. 
After you've had a good read of the poster, I recommend checking out the ensuing discussion over at Girl, Interrupting's post and on the original post at Compound Chem.
NB: For those who didn't get the reference in the cover image, here's an amusing explainer from the JAYFK blog on why you should be especially careful not to tread in bad science if you ever find yourself on content farms such as Science Daily.
To keep up to date with this blog you can follow Neurobonkers on Twitter, Facebook, RSS or join the mailing list. 
Cover Image by Gil C.
Lumina Foundation is partnering with Big Think to unearth the next large-scale, rapid innovation in post-high school education. Enter the competition here!
Good science is sometimes trumped by the craving for a "big splash."
Videos
Scientists strive to earn credit from their peers, for grants from federal agencies, and so a lot of the decisions that they make are strategic in nature. They're encouraged to publish exciting new findings that demonstrate some new phenomenon that we have never seen before.
This professional pressure can affect their decision-making — to get acclaim they may actually make science worse. That is, a scientist might commit fraud if he thinks he can get away with it or a scientist might rush a result out of the door even though it hasn't been completely verified in order to beat the competition.
On top of the acclaim of their peers, scientists — with the increasing popularity of science journalism — are starting to be rewarded for doing things that the public is interested in. The good side of this is that the research is more likely to have a public impact, rather than be esoteric. The bad side? To make a "big splash" a scientist may push a study or article that doesn't exemplify good science.
Moans, groans, and gripes release stress hormones in the brain.
popular
Could you give up complaining for a whole month? That's the crux of this interesting piece by Jessica Hullinger over at Fast Company. Hullinger explores the reasons why humans are so predisposed to griping and why, despite these predispositions, we should all try to complain less. As for no complaining for a month, that was the goal for people enrolled in the Complaint Restraint project.
Participants sought to go the entirety of February without so much as a moan, groan, or bellyache.
Two space agencies plan missions to deflect an asteroid.
ESA's Hera mission above asteroid 65803 Didymos. Credit: ESA/ScienceOffice.org
Surprising Science
NASA and the European Space Agency (ESA) are working together on missions to a binary asteroid system.
The DART and Hera missions will attempt to deflect and study the asteroid Didymoon.
A planetary defense system is important in preventing large-scale catastrophes.
Big think's weekly newsletter.
Get smarter faster from the comfort of your inbox.
See our newsletter privacy policy
here
Most Popular
Most Recent
Big think's weekly newsletter.
Get smarter faster from the comfort of your inbox.
See our newsletter privacy policy
here
© Copyright 2007-2018 & BIG THINK, BIG THINK EDGE,
SMARTER FASTER trademarks owned by The Big Think, Inc. All rights reserved.