How to Spot Bad Science
28 April, 2014
If you're a regular at this blog, you'll have picked up on my favourite theme - bad science (and bad science journalism) in the world of psychology and neuroscience. The anonymous author of the Compound Chem blog has put together a rather splendid bucket list of issues to look out for when reading science news, that fits in so well with the Big Think colour scheme that I couldn't help but repost it. You can download the PDF here which is released under a creative commons licence.
---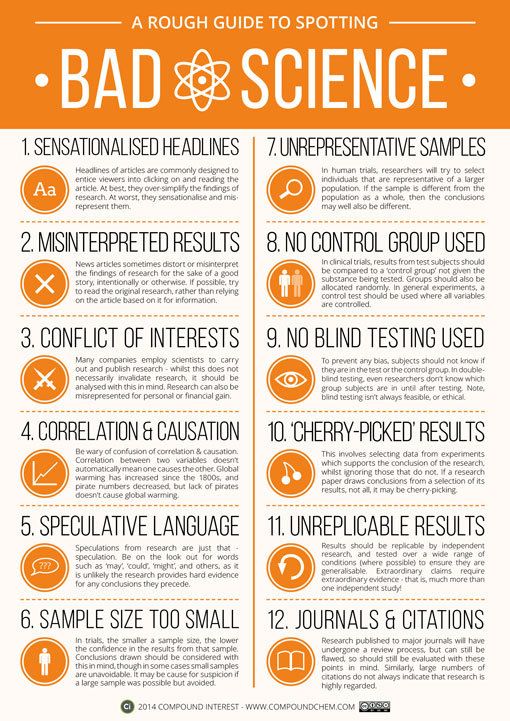 Personally, my only gripe with the poster is point five on speculative language - which as Girl, Interrupting over at Occams Typewriter rightly points out, you can expect to find in good research as much as bad:
Saying 'we see this' and 'we think this means that' is perfectly acceptable in scientific literature. In fact it is the bread and butter of many research publications. I am far more dubious of a study which says 'we see this, therefore it absolutely must mean that'. 
After you've had a good read of the poster, I recommend checking out the ensuing discussion over at Girl, Interrupting's post and on the original post at Compound Chem.
NB: For those who didn't get the reference in the cover image, here's an amusing explainer from the JAYFK blog on why you should be especially careful not to tread in bad science if you ever find yourself on content farms such as Science Daily.
To keep up to date with this blog you can follow Neurobonkers on Twitter, Facebook, RSS or join the mailing list. 
Cover Image by Gil C.
Research in plant neurobiology shows that plants have senses, intelligence and emotions.
Getty Images
Surprising Science
The field of plant neurobiology studies the complex behavior of plants.
Plants were found to have 15-20 senses, including many like humans.
Some argue that plants may have awareness and intelligence, while detractors persist.
E-cigarettes may be safer than traditional cigarettes, but they come with their own risks.
Surprising Science
A new study used an MRI machine to examine how vaping e-cigarettes affects users' cardiovascular systems immediately after inhalation.
The results showed that vaping causes impaired circulation, stiffer arteries and less oxygen in their blood.
The new study adds to a growing body of research showing that e-cigarettes – while likely safer than traditional cigarettes – are far from harmless.
Since the idea of locality is dead, space itself may not be an aloof vacuum: Something welds things together, even at great distances.

Videos
Realists believe that there is an exactly understandable way the world is — one that describes processes independent of our intervention. Anti-realists, however, believe realism is too ambitious — too hard. They believe we pragmatically describe our interactions with nature — not truths that are independent of us.
In nature, properties of Particle B may be depend on what we choose to measure or manipulate with Particle A, even at great distances.
In quantum mechanics, there is no explanation for this. "It just comes out that way," says Smolin. Realists struggle with this because it would imply certain things can travel faster than light, which still seems improbable.