How to Spot Bad Science
28 April, 2014
If you're a regular at this blog, you'll have picked up on my favourite theme - bad science (and bad science journalism) in the world of psychology and neuroscience. The anonymous author of the Compound Chem blog has put together a rather splendid bucket list of issues to look out for when reading science news, that fits in so well with the Big Think colour scheme that I couldn't help but repost it. You can download the PDF here which is released under a creative commons licence.
---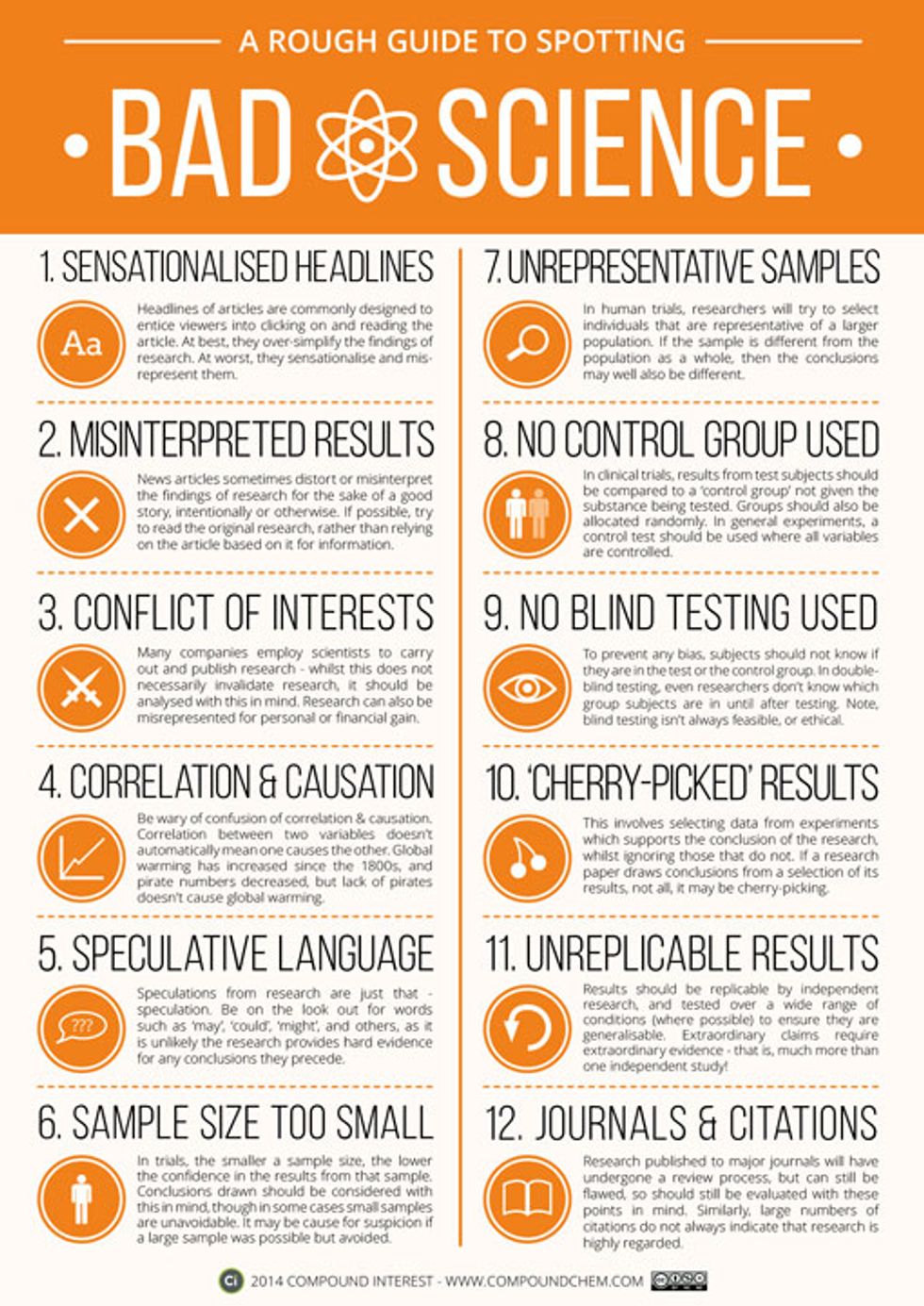 Personally, my only gripe with the poster is point five on speculative language - which as Girl, Interrupting over at Occams Typewriter rightly points out, you can expect to find in good research as much as bad:
Saying 'we see this' and 'we think this means that' is perfectly acceptable in scientific literature. In fact it is the bread and butter of many research publications. I am far more dubious of a study which says 'we see this, therefore it absolutely must mean that'. 
After you've had a good read of the poster, I recommend checking out the ensuing discussion over at Girl, Interrupting's post and on the original post at Compound Chem.
NB: For those who didn't get the reference in the cover image, here's an amusing explainer from the JAYFK blog on why you should be especially careful not to tread in bad science if you ever find yourself on content farms such as Science Daily.
To keep up to date with this blog you can follow Neurobonkers on Twitter, Facebook, RSS or join the mailing list. 
Cover Image by Gil C.
The pandemic reminds us that our higher education system, with all its flaws, remains a key part of our strategic reserve.
Sponsored by Charles Koch Foundation
America's higher education system is under great scrutiny as it adapts to a remote-learning world. These criticisms will only make higher ed more innovative.
While there are flaws in the system and great challenges ahead, higher education has adapted quickly to allow students to continue learning. John Katzman, CEO of online learning organization Noodle Partners, believes this is cause for optimism not negativity.
Universities are pillars of scientific research on the COVID-19 frontlines, they bring facts in times of uncertainty and fake news, and, in a bad economy, education is a personal floatation device.
Researchers present what they've learned now that they can read the tiny text inside the Antikythera mechanism.
Exploded view of Antikythera mechanism (Peulle/Wikimedia)
Surprising Science
Though it it seemed to be just a corroded lump of some sort when it was found in a shipwreck off the coast of Greece near Antikythera in 1900, in 1902 archaeologist Valerios Stais, looking at the gear embedded in it, guessed that what we now call the "Antikythera mechanism" was some kind of astronomy-based clock. He was in the minority—most agreed that something so sophisticated must have entered the wreck long after its other 2,000-year-old artifacts. Nothing like it was believed to have existed until 1,500 years later.
The institutional barriers that have often held creative teaching back are being knocked down by the coronavirus era.
Future of Learning
Long-held structures in the education system, like classroom confines and schedules, have held back innovation for a long time, says education leader Richard Culatta.
In the coronavirus era, we have been able to shake some of those rigid structures loose, making way for creativity and, ultimately, a more open mindset.
When creativity and technology combine, learning can become so much more than delivering content to a student. Culatta gives two stunning examples: one of a biotech class, and another involving a student discovering a star.
We'd like to think that judging people's worth based on the shape of their head is a practice that's behind us.
PATRICK KOVARIK/AFP via Getty Images
Culture & Religion
'Phrenology' has an old-fashioned ring to it. It sounds like it belongs in a history book, filed somewhere between bloodletting and velocipedes.
Surprising Science
Maybe you've been wondering if you're seeing one persistent squirrel or a rotating cast of characters.
Scroll down to load more…