Scott McLeod
Scott McLeod, J.D., Ph.D., is an Associate Professor of Educational Leadership at the University of Kentucky. He also is the Founding Director of the UCEA Center for the Advanced Study of Technology Leadership in Education (CASTLE), the nation's only academic center dedicated to the technology needs of school administrators, and was a co-creator of the wildly popular video series, Did You Know? (Shift Happens). He has received numerous national awards for his technology leadership work, including recognitions from the cable industry, Phi Delta Kappa, and the National School Boards Association. In Spring 2011 he was a Visiting Canterbury Fellow at the University of Canterbury in New Zealand. Dr. McLeod blogs regularly about technology leadership issues at Dangerously Irrelevant and Mind Dump, and occasionally at The Huffington Post. He can be reached at scottmcleod.net.
16 February, 2011

Listen to this post!
---
There are some great conversations going on right now about Marc Prensky's article, Engage Me or Enrage Me. One is at Dennis Fermoyle's blog; the other is at Chris Lehmann's blog. I love these types of conversations because they force us to examine what we really believe about motivation, learning, and good instruction.
I just started reading Everything Bad is Good for You, by Steven Johnson. One of the first points the author makes is that most good video games are HARD. They're frustrating. They cause players to think and stew about them even when they're not playing the game. It's not that the gaming activity is easy. On the contrary, like a good hobby, it's that the activity is challenging AND considered worth the work by the player.
We shouldn't be making our schools fun at the expense of solid intellectual engagement. But making students' classroom time more fun (or engaging, or whatever you want to call it) will help them learn more. Teachers who say it's not their job to keep their kids' attention during class time should, in my opinion, immediately be placed into a remediation program to improve their instruction. It's not the kids' fault if their teachers are boring or haven't put together lessons that interest students (e.g., I just did a study of some high schools in which 68% of over 1,000 students said 'Most of our work is busy work'). Or, as Seth Godin puts it...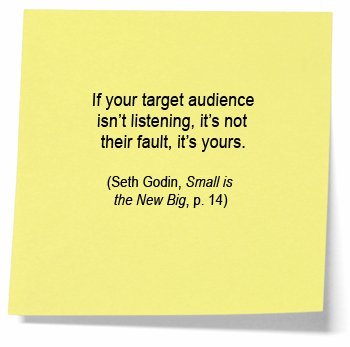 Too often we educators (both K-12 and higher ed) say that 'We've put together a good lesson, now it's the students' responsibility to meet us halfway.' But Godin's quote puts that belief to the test because it doesn't hold up very well in the real world. In our own lives we don't waste our valuable and limited attention span on stuff that doesn't interest or engage us. To say that kids should because it's in their best interests is disingenuous and morally dishonest. We have to make the case. Otherwise we deserve the consequences. Alfie Kohn has a wonderful quote in The Schools Our Children Deserve: "Might we have spent a good chunk of our childhoods doing stuff that was exactly as pointless as we suspected at the time? (p. 1)" [For those of you who might bring up the fact that work isn't always interesting but we have to slog through anyway, I'll point out that 1) no one made you work in that job and/or for that employer, 2) job mobility is way up (people are trading autonomy for job security), and 3) we make students go to school through mandatory attendance laws - they have no choice but to be there.]
Right now I think students go home and are immersed in learning environments (i.e., video games) where the end product is considered to be worth the hard work. Then they go to school and too often don't feel that way about what they do in their school environment, either because of lack of engagement or lack of perceived relevance. That is the challenge, and that is how I read Prensky.
Side note: Chris used the word gumption in his blog post. The third definition for gumption at Dictionary.com is 'common sense.' Using that definition, I'd argue that students that are tuning out of irrelevant or uninteresting lessons are showing a lot of gumption. Unless the teacher or school organization had successfully made the case for why it was worth my time to slog through anyway, I know that's what I'd do and I strongly suspect that most others would too.
New research links urban planning and political polarization.
Pixabay
Politics & Current Affairs
Canadian researchers find that excessive reliance on cars changes political views.
Decades of car-centric urban planning normalized unsustainable lifestyles.
People who prefer personal comfort elect politicians who represent such views.
Progressive America would be half as big, but twice as populated as its conservative twin.
Image: Dicken Schrader
Strange Maps
America's two political tribes have consolidated into 'red' and 'blue' nations, with seemingly irreconcilable differences.
Perhaps the best way to stop the infighting is to go for a divorce and give the two nations a country each
Based on the UN's partition plan for Israel/Palestine, this proposal provides territorial contiguity and sea access to both 'red' and 'blue' America
Science and the squishiness of the human mind. The joys of wearing whatever the hell you want, and so much more.
Flickr / 13winds
Think Again Podcasts
Why can't we have a human-sized cat tree?
What would happen if you got a spoonful of a neutron star?
Why do we insist on dividing our wonderfully complex selves into boring little boxes
Big think's weekly newsletter.
Get smarter faster from the comfort of your inbox.
See our newsletter privacy policy
here
Most Popular
Most Recent
Big think's weekly newsletter.
Get smarter faster from the comfort of your inbox.
See our newsletter privacy policy
here
© Copyright 2007-2018 & BIG THINK, BIG THINK EDGE,
SMARTER FASTER trademarks owned by The Big Think, Inc. All rights reserved.