My take on Prensky
16 February, 2011

Listen to this post!
---
There are some great conversations going on right now about Marc Prensky's article, Engage Me or Enrage Me. One is at Dennis Fermoyle's blog; the other is at Chris Lehmann's blog. I love these types of conversations because they force us to examine what we really believe about motivation, learning, and good instruction.
I just started reading Everything Bad is Good for You, by Steven Johnson. One of the first points the author makes is that most good video games are HARD. They're frustrating. They cause players to think and stew about them even when they're not playing the game. It's not that the gaming activity is easy. On the contrary, like a good hobby, it's that the activity is challenging AND considered worth the work by the player.
We shouldn't be making our schools fun at the expense of solid intellectual engagement. But making students' classroom time more fun (or engaging, or whatever you want to call it) will help them learn more. Teachers who say it's not their job to keep their kids' attention during class time should, in my opinion, immediately be placed into a remediation program to improve their instruction. It's not the kids' fault if their teachers are boring or haven't put together lessons that interest students (e.g., I just did a study of some high schools in which 68% of over 1,000 students said 'Most of our work is busy work'). Or, as Seth Godin puts it...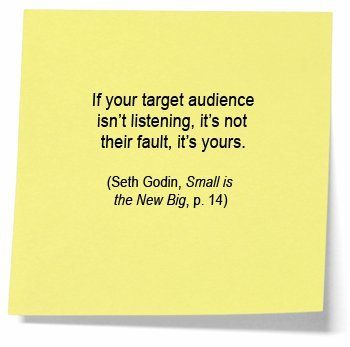 Too often we educators (both K-12 and higher ed) say that 'We've put together a good lesson, now it's the students' responsibility to meet us halfway.' But Godin's quote puts that belief to the test because it doesn't hold up very well in the real world. In our own lives we don't waste our valuable and limited attention span on stuff that doesn't interest or engage us. To say that kids should because it's in their best interests is disingenuous and morally dishonest. We have to make the case. Otherwise we deserve the consequences. Alfie Kohn has a wonderful quote in The Schools Our Children Deserve: "Might we have spent a good chunk of our childhoods doing stuff that was exactly as pointless as we suspected at the time? (p. 1)" [For those of you who might bring up the fact that work isn't always interesting but we have to slog through anyway, I'll point out that 1) no one made you work in that job and/or for that employer, 2) job mobility is way up (people are trading autonomy for job security), and 3) we make students go to school through mandatory attendance laws - they have no choice but to be there.]
Right now I think students go home and are immersed in learning environments (i.e., video games) where the end product is considered to be worth the hard work. Then they go to school and too often don't feel that way about what they do in their school environment, either because of lack of engagement or lack of perceived relevance. That is the challenge, and that is how I read Prensky.
Side note: Chris used the word gumption in his blog post. The third definition for gumption at Dictionary.com is 'common sense.' Using that definition, I'd argue that students that are tuning out of irrelevant or uninteresting lessons are showing a lot of gumption. Unless the teacher or school organization had successfully made the case for why it was worth my time to slog through anyway, I know that's what I'd do and I strongly suspect that most others would too.
Big Think
Sponsored by Lumina Foundation
Upvote/downvote each of the videos below!

As you vote, keep in mind that we are looking for a winner with the most engaging social venture pitch - an idea you would want to invest in.
Tragedy in art, from Ancient Greece to Breaking Bad, resists all our efforts to tie reality up in a neat bow, to draw some edifying lesson from it. Instead it confronts us with our own limitations, leaving us scrabbling in the rubble of certainty to figure out what's next.
Think Again Podcasts
Why democracy has been unpopular with philosophers
Tragedy's reminder that the past isn't finished with us
…and why we need art in the first place
We're talking Ghost in the Shell type of stuff. 
popular
Maybe you watched Ghost in the Shell and maybe afterwards you and your friend had a conversation about whether or not you would opt in for some bionic upgrades if that was possible - like a liver that could let you drink unlimitedly or an eye that could give you superhuman vision. And maybe you had differing opinions but you concluded that it's irrelevant because the time to make such choices is far in the future. Well, it turns out, it's two years away.
"Earth" features about 30 of the biggest names in entertainment.
Culture & Religion
Lil Dicky is a rapper and comedian who released his debut album in 2015.
His new music video, "Earth," features artists such as Justin Bieber, Ariana Grande, Ed Sheehan, Kevin Hart, and Leonardo DiCaprio.
All proceeds of the music video will go to environmental causes, Dicky said.
Big think's weekly newsletter.
Get smarter faster from the comfort of your inbox.
See our newsletter privacy policy
here
Most Popular
Most Recent
Big think's weekly newsletter.
Get smarter faster from the comfort of your inbox.
See our newsletter privacy policy
here
© Copyright 2007-2019 & BIG THINK, BIG THINK EDGE,
SMARTER FASTER trademarks owned by The Big Think, Inc. All rights reserved.