Scott McLeod
Scott McLeod, J.D., Ph.D., is an Associate Professor of Educational Leadership at the University of Kentucky. He also is the Founding Director of the UCEA Center for the Advanced Study of Technology Leadership in Education (CASTLE), the nation's only academic center dedicated to the technology needs of school administrators, and was a co-creator of the wildly popular video series, Did You Know? (Shift Happens). He has received numerous national awards for his technology leadership work, including recognitions from the cable industry, Phi Delta Kappa, and the National School Boards Association. In Spring 2011 he was a Visiting Canterbury Fellow at the University of Canterbury in New Zealand. Dr. McLeod blogs regularly about technology leadership issues at Dangerously Irrelevant and Mind Dump, and occasionally at The Huffington Post. He can be reached at scottmcleod.net.
16 February, 2011
I don't blog about technology tools too often, but I thought I'd share my computer setup at home (my setup at work is quite similar):
---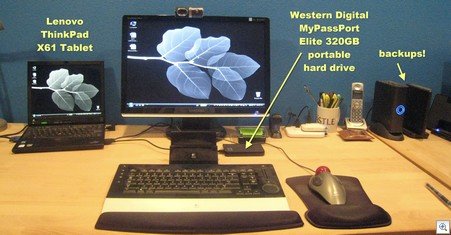 I have no data files on my tablet PC, just software. The key to my system is my portable hard drive, which contains all of my data files. It's just 3.1 in (8 cm) x 5 in (12.6 cm) x 0.6 in (1.5 cm) and weighs 0.4 lbs (180 g). It comes with a USB 2.0 cable and a drawstring bag.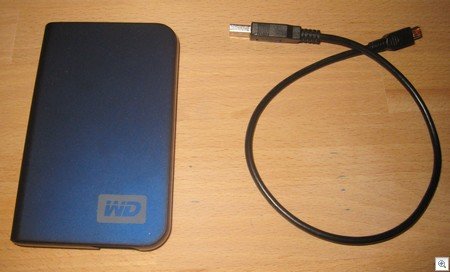 Every time I plug in my portable hard drive, it automatically backs itself up to a larger external hard drive. It also automatically backs up files on the fly as I edit them.
Basically, my computer-driven life fits in my pocket. I can carry around the portable hard drive, plug it into any other computer, and work with my files. It requires no power cord, instead drawing its power from the USB port. This is the same idea as a flash key, only the portable hard drive holds more files.
In addition to my tablet PC, I also have a second desktop computer (Dell Dimension 9200) that I use for digital audio and video.
What's your setup?
[I use Launchy for everything. What are the four icons on my desktop? Well, one's my curriculum vitae; it's amazing to me how often I need it. The other three are my department's electronic letterhead file, Computer, and the Recycle Bin.]
Big think's weekly newsletter.
Get smarter faster from the comfort of your inbox.
See our newsletter privacy policy
here