Scott McLeod
Scott McLeod, J.D., Ph.D., is an Associate Professor of Educational Leadership at the University of Kentucky. He also is the Founding Director of the UCEA Center for the Advanced Study of Technology Leadership in Education (CASTLE), the nation's only academic center dedicated to the technology needs of school administrators, and was a co-creator of the wildly popular video series, Did You Know? (Shift Happens). He has received numerous national awards for his technology leadership work, including recognitions from the cable industry, Phi Delta Kappa, and the National School Boards Association. In Spring 2011 he was a Visiting Canterbury Fellow at the University of Canterbury in New Zealand. Dr. McLeod blogs regularly about technology leadership issues at Dangerously Irrelevant and Mind Dump, and occasionally at The Huffington Post. He can be reached at scottmcleod.net.
16 February, 2011
I have three young kids, so macaroni and cheese is a staple in our household. But the box drives me bonkers.
---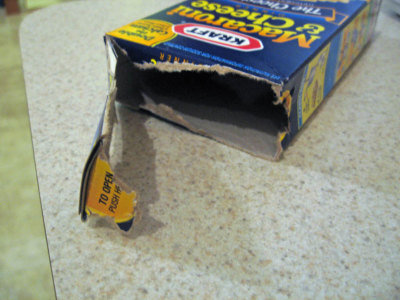 'To open, push here.' Are there any more dreaded words for mac and cheese lovers? You know it isn't going to work. You know you're going to have to rip the entire top off the box, and yet you try it anyway, hoping against hope that this time the little cardboard button will work the way it's supposed to. But of course it doesn't and you have to rip it open with your bare claws, or use kitchen shears, or a chainsaw...
'To open, push here' is a classic example of design getting in the way of purpose. I mean, let's face it, the mac and cheese box only has three purposes:
to entice us to buy it,
to protect its contents while shipping, and
to allow us access to its contents so we can eat them.
The box fulfills the first two functions pretty well, but fails miserably at the third.
Now, let's extend this metaphor to our own technology (and other) initiatives in our schools. Like the mac and cheese box, what elements of our design and delivery get in the way of us achieving our purpose(s)? Lack of adequate training? Insufficient support? Failure to allocate appropriate time? Unreasonable expectations? As school leaders, if we don't want our initiatives to fail ('To open, push here'), we have to attend to these issues if we want to get to the yummy goodness inside.
Is your school organization aligned to get the results it says it wants to achieve? If not, what's getting in the way and what are you going to do about it?
The stories we tell define history. So who gets the mic in America?
Videos
History is written by lions. But it's also recorded by lambs.
In order to understand American history, we need to look at the events of the past as more prismatic than the narrative given to us in high school textbooks.
Including different voices can paint a more full and vibrant portrait of America. Which is why more walks of American life can and should be storytellers.

A glass of juice has as much sugar, ounce for ounce, as a full-calorie soda. And those vitamins do almost nothing.
popular
Quick: think back to childhood (if you've reached the scary clown you've gone too far). What did your parents or guardians give you to keep you quiet? If you're anything like most parents, it was juice. But here's the thing: juice is bad for you. 
The controversy around the Torah codes gets a new life.
Michael Drosnin
Surprising Science
Mathematicians claim to see a predictive pattern in the ancient Torah texts.
The code is revealed by a method found with special computer software.
Some events described by reading the code took place after the code was written.
Big think's weekly newsletter.
Get smarter faster from the comfort of your inbox.
See our newsletter privacy policy
here
Most Popular
Most Recent
Big think's weekly newsletter.
Get smarter faster from the comfort of your inbox.
See our newsletter privacy policy
here
© Copyright 2007-2018 & BIG THINK, BIG THINK EDGE,
SMARTER FASTER trademarks owned by The Big Think, Inc. All rights reserved.