How AR will change how you shop—and how brands sell to you
The way you are advertised and marketed to is about to change, in a very big way.
27 May, 2018
---
Imagine you're browsing online, and you click on a product you're interested in - let's say, for example, a car. The product description opens up, and you have the ability to layer a virtual, augmented reality over your current surroundings. Now, using your phone, you can get a feel for what it would be like to be behind the wheel of that car - you can look around, see out the front window, see the console and the insides. All without leaving your couch.
Augmented or artificial reality (AR) is giving marketers the opportunity to showcase products and services in real time. And now consumers are getting the chance to experience a product first-hand, without the hassle of driving there, or hot fitting rooms, or pushy salespeople.    
Read more: The pleasure and danger of Augmented Reality.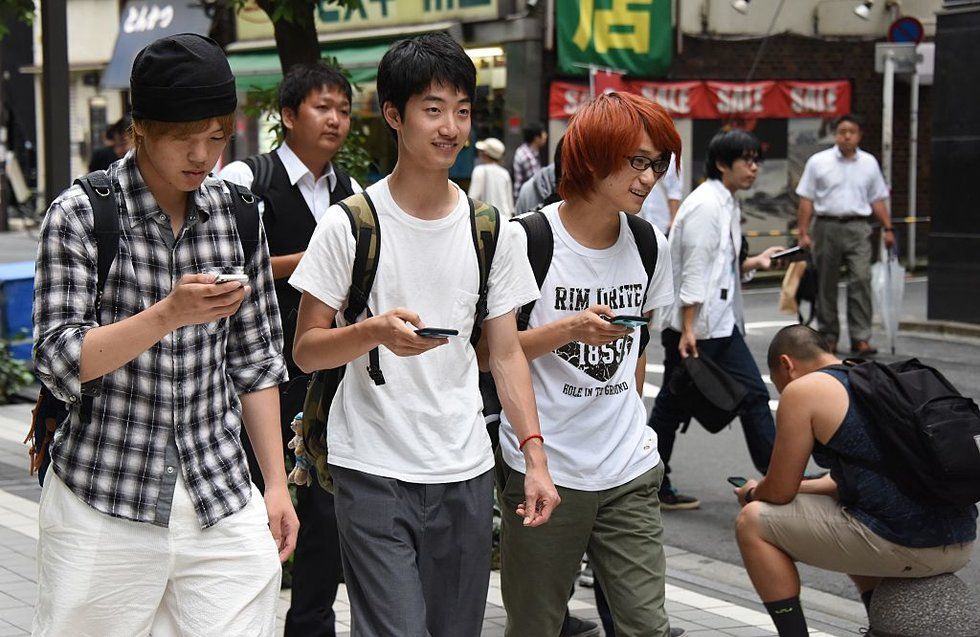 AR in advertising & marketing in 2018
Many of us have seen AR in action without even realizing it. If you've ever watched a professional football or tennis match, you've seen AR at work. That yellow line in football that shows the distance between the first-down mark and the football? AR.
While there are advances happening in AR every day, the first use case of AR can be dated back to 1968 to aid with computer-rendered drawings. While it was initially used for more technology-based products, in 2008 a German advertising agency utilized AR to market the BMW Mini, connecting a virtual model to a physical print ad. By moving the print ad, you could see different angles and views of the digital car.
In a more recent-application of AR in marketing, advertising agency Lemon&Orange recently created AR experiences for the brand Timberland. The agency enabled shoppers to enter virtual fitting rooms to try on Timberland's products and experience what the products would look like on them in real life. You can watch the video here.
Another example of a company using AR to help its bottom line is Home Depot. Home Depot's app lets you see paint colors, and how they'd look in your home in your lighting, through their app. You might not have noticed, but companies have been using AR to market to you this whole time.
And, hey, if you've ever used Snapchat, you've used AR. When you take your picture using the app, you can layer an AR filter over it, transforming yourself into a dog or a bear or adding geotags to your post. Ever heard of Pokemon Go? That's AR in use, as well.
Watch: Pokémon GO: How Augmented Reality improves our experience of "real life"
What is the future of AR in advertising?
Companies who have leaned into the new technology and exposure that AR has offered have seen significant successes in their fields. 
With forecasts coming in with around 200 million AR users worldwide, it's no wonder early adopters have seen so much excitement and success in marketing their products using AR.  
While there are a few reasons AR has been so successful in terms of how companies are marketing to us, the most important reasons are:
It helps us, the consumer, create an emotional connection to the product/brand/service

We are more likely to become immersed in AR, rather than expensive print advertising, which translates to money-saving for the company

Being able to try on products virtually has boosted sales for companies who use AR

AR uses machine learning to improve local marketing tactics
The future of advertising and marketing lies in companies' abilities to seamlessly integrate an AR experience with your real life.
Think of AR like this: when you go to a grocery store, imagine being able to see which products fit your new diet, or are low in sodium, or fit your religious views. You could hold up your phone or use a headset (like Google's goggles) and the items you've specified would be highlighted. You could easily ignore the foods that you're not interested in, and go straight to the products you are searching for. No more wandering down aisles, picking up boxes and flipping them over to make sure they have what you want.
Companies who offer trips, like beach resorts, will soon begin to market to us consumers by offering a try-before-you-buy option. From your smartphone, you can get a 360-view of a hotel and learn what it has to offer, what your room would look like, and what amenities they offer.
Some companies are bringing the future to us now. When shopping online for products through some retailers, like Wayfair, you can use your smart device to see how the furniture you're looking for would look right now, in your home. If you like the product, you can then buy it, straight from their app in an integrated experience.

When walking through an airport, you could scan a QR code and be taken to a website in which you could virtually experience a local beach, a rental car, or even what the food looks like.
Read more: How AI, VR and AR will change how you vacation 
What can 3D printing do for medicine? The "sky is the limit," says Northwell Health researcher Dr. Todd Goldstein.
Northwell Health
Sponsored by Northwell Health
Medical professionals are currently using 3D printers to create prosthetics and patient-specific organ models that doctors can use to prepare for surgery.
Eventually, scientists hope to print patient-specific organs that can be transplanted safely into the human body.
Northwell Health, New York State's largest health care provider, is pioneering 3D printing in medicine in three key ways.
The periodic table was a lot simpler at the beginning of the universe.
The controversial herbicide is everywhere, apparently.
Surprising Science
U.S. PIRG tested 20 beers and wines, including organics, and found Roundup's active ingredient in almost all of them.
A jury on August 2018 awarded a non-Hodgkin's lymphoma victim $289 million in Roundup damages.
Bayer/Monsanto says Roundup is totally safe. Others disagree.
Can dirt help us fight off stress? Groundbreaking new research shows how.
University of Colorado Boulder
Surprising Science
New research identifies a bacterium that helps block anxiety.
Scientists say this can lead to drugs for first responders and soldiers, preventing PTSD and other mental issues.
The finding builds on the hygiene hypothesis, first proposed in 1989.
Are modern societies trying too hard to be clean, at the detriment to public health? Scientists discovered that a microorganism living in dirt can actually be good for us, potentially helping the body to fight off stress. Harnessing its powers can lead to a "stress vaccine".
Researchers at the University of Colorado Boulder found that the fatty 10(Z)-hexadecenoic acid from the soil-residing bacterium Mycobacterium vaccae aids immune cells in blocking pathways that increase inflammation and the ability to combat stress.
The study's senior author and Integrative Physiology Professor Christopher Lowry described this fat as "one of the main ingredients" in the "special sauce" that causes the beneficial effects of the bacterium.
The finding goes hand in hand with the "hygiene hypothesis," initially proposed in 1989 by the British scientist David Strachan. He maintained that our generally sterile modern world prevents children from being exposed to certain microorganisms, resulting in compromised immune systems and greater incidences of asthma and allergies.
Contemporary research fine-tuned the hypothesis, finding that not interacting with so-called "old friends" or helpful microbes in the soil and the environment, rather than the ones that cause illnesses, is what's detrimental. In particular, our mental health could be at stake.
"The idea is that as humans have moved away from farms and an agricultural or hunter-gatherer existence into cities, we have lost contact with organisms that served to regulate our immune system and suppress inappropriate inflammation," explained Lowry. "That has put us at higher risk for inflammatory disease and stress-related psychiatric disorders."
University of Colorado Boulder
Christopher Lowry
This is not the first study on the subject from Lowry, who published previous work showing the connection between being exposed to healthy bacteria and mental health. He found that being raised with animals and dust in a rural environment helps children develop more stress-proof immune systems. Such kids were also likely to be less at risk for mental illnesses than people living in the city without pets.
Lowry's other work also pointed out that the soil-based bacterium Mycobacterium vaccae acts like an antidepressant when injected into rodents. It alters their behavior and has lasting anti-inflammatory effects on the brain, according to the press release from the University of Colorado Boulder. Prolonged inflammation can lead to such stress-related disorders as PTSD.
The new study from Lowry and his team identified why that worked by pinpointing the specific fatty acid responsible. They showed that when the 10(Z)-hexadecenoic acid gets into cells, it works like a lock, attaching itself to the peroxisome proliferator-activated receptor (PPAR). This allows it to block a number of key pathways responsible for inflammation. Pre-treating the cells with the acid (or lipid) made them withstand inflammation better.
Lowry thinks this understanding can lead to creating a "stress vaccine" that can be given to people in high-stress jobs, like first responders or soldiers. The vaccine can prevent the psychological effects of stress.
What's more, this friendly bacterium is not the only potentially helpful organism we can find in soil.
"This is just one strain of one species of one type of bacterium that is found in the soil but there are millions of other strains in soils," said Lowry. "We are just beginning to see the tip of the iceberg in terms of identifying the mechanisms through which they have evolved to keep us healthy. It should inspire awe in all of us."
Check out the study published in the journal Psychopharmacology.
Big think's weekly newsletter.
Get smarter faster from the comfort of your inbox.
See our newsletter privacy policy
here
Most Popular
Most Recent
Big think's weekly newsletter.
Get smarter faster from the comfort of your inbox.
See our newsletter privacy policy
here
© Copyright 2007-2019 & BIG THINK, BIG THINK EDGE,
SMARTER FASTER trademarks owned by The Big Think, Inc. All rights reserved.