I misunderstood the technology, and the consequences are devastating for me personally
16 February, 2011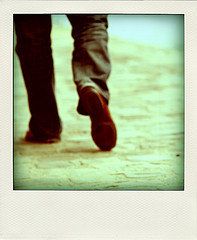 Here's a quote for you:
---
\n
\n

... I've decided to hang up my blogging hat. I was a fool, and I didn't anticipate how this kind of thing could happen. As many of our readers and my students know, I'm opinionated and willing to push boundaries. This is what I think is the role of a professor, and blogging allowed me to do it in an informal and diverse manner. But I misunderstood the technology, and the consequences are devastating for me personally.

\n

– Time to go, Todd Henderson, Professor of Law, University of Chicago

\n
\n
If a distinguished law professor at one of the most prestigious universities in the world doesn't understand "the technology," that's probably indicative that most others don't either.
\n
Yet another reason why we should be educating our students on how to do this social media stuff rather than just blocking it...
\n
Image credit: Walk away from me...
The Russian-built FEDOR was launched on a mission to help ISS astronauts.
Most people think human extinction would be bad. These people aren't philosophers.
Shutterstock
Politics & Current Affairs
A new opinion piece in The New York Times argues that humanity is so horrible to other forms of life that our extinction wouldn't be all that bad, morally speaking.
The author, Dr. Todd May, is a philosopher who is known for advising the writers of The Good Place.
The idea of human extinction is a big one, with lots of disagreement on its moral value.
Picking up where we left off a year ago, a conversation about the homeostatic imperative as it plays out in everything from bacteria to pharmaceutical companies—and how the marvelous apparatus of the human mind also gets us into all kinds of trouble.
Think Again Podcasts
"Prior to nervous systems: no mind, no consciousness, no intention in the full sense of the term. After nervous systems, gradually we ascend to this possibility of having to this possibility of having minds, having consciousness, and having reasoning that allows us to arrive at some of these very interesting decisions."

"We are fragile culturally and socially…but life is fragile to begin with. All that it takes is a little bit of bad luck in the management of those supports, and you're cooked…you can actually be cooked—with global warming!"