Scott McLeod
Scott McLeod, J.D., Ph.D., is an Associate Professor of Educational Leadership at the University of Kentucky. He also is the Founding Director of the UCEA Center for the Advanced Study of Technology Leadership in Education (CASTLE), the nation's only academic center dedicated to the technology needs of school administrators, and was a co-creator of the wildly popular video series, Did You Know? (Shift Happens). He has received numerous national awards for his technology leadership work, including recognitions from the cable industry, Phi Delta Kappa, and the National School Boards Association. In Spring 2011 he was a Visiting Canterbury Fellow at the University of Canterbury in New Zealand. Dr. McLeod blogs regularly about technology leadership issues at Dangerously Irrelevant and Mind Dump, and occasionally at The Huffington Post. He can be reached at scottmcleod.net.
16 February, 2011
[cross-posted at the TechLearning blog]
---
\n\n
Chart 1: A discrepancy of beliefs
\n
Here is a chart of some findings from the recently-released Speak Up 2007 surveys of nearly 368,000 students, parents, teachers, and administrators. The chart shows the agreement of each school stakeholder group with the statement that the local school is preparing students for jobs of the future. It would have been interesting to see the results for students with more basic technology skills...
\n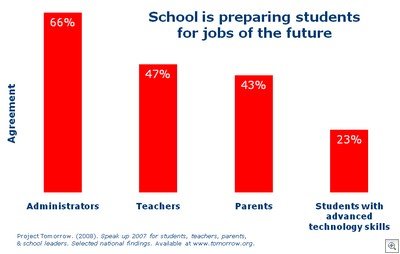 \n
Some questions I have:
\n
\n
Why are administrators so much more positive than the others?
\n
Do students really know what it means to be 'prepared for the future?'
\n
If almost half of the teachers (and 40% of parents) feel that schools are not preparing students for the future, why aren't they making more noise about it (not to mention doing something about it)?
\n
Chart 2: We're losing them
\n
Here is a chart of how I think about students as they progress through the K-12 system. Almost invariably, they start out in kindergarten as insatiable learners. You can't stop them from learning. And then, as the years go by, their intellectual curiosity – their overall engagement with their academic content – dwindles. By the time they leave us in high school, they're often (primarily?) bored and apathetic. It's probably not a linear process (line A). I think most students' engagement levels probably stay fairly high into upper elementary school (line B). And then we start losing them.
\n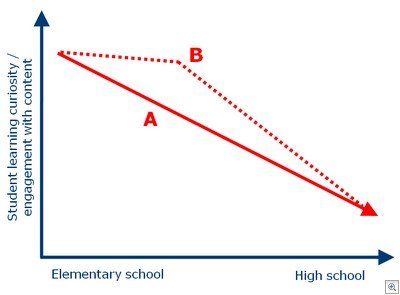 \n
Some questions I have:
\n
\n
Although some might disagree with the severity of the slope, few people I know would disagree with me on the direction. So, again, why aren't we doing more about this?
\n
Some people feel that students are less engaged than they were a few decades ago. Others feel that students always have been bored. Who's right?
\n
Is technology to blame for this? The recent generation of parents? Our media-saturated culture in general?
\n
Charts 3 & 4: Is this all they expect?
\n
Finally, here are two charts from an informal poll done of 76 graduate students in one of the departments here in the Iowa State University College of Human Sciences (okay, it's my department but don't tell anyone!). We asked them if they were satisfied with students' and instructors' classroom technology usage. Overwhelmingly they said yes. But when asked what they liked (or disliked), nearly all of the comments pertained to PowerPoint and/or WebCT, our online course management system. Nary a word of any other technologies, good or bad.
\n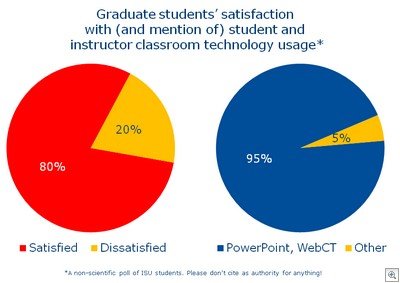 \n
Some questions I have:
\n
\n
The age of the graduate students that we serve ranges from about 25 to over 50. Is good use of PowerPoint and WebCT all it takes to satisfy most of these folks' expectations of classroom technology usage?
\n
If so, how sad is that?
\n
Are these results representative of other Education graduate students' beliefs?
\n
New research links urban planning and political polarization.
Pixabay
Politics & Current Affairs
Canadian researchers find that excessive reliance on cars changes political views.
Decades of car-centric urban planning normalized unsustainable lifestyles.
People who prefer personal comfort elect politicians who represent such views.
Progressive America would be half as big, but twice as populated as its conservative twin.
Image: Dicken Schrader
Strange Maps
America's two political tribes have consolidated into 'red' and 'blue' nations, with seemingly irreconcilable differences.
Perhaps the best way to stop the infighting is to go for a divorce and give the two nations a country each
Based on the UN's partition plan for Israel/Palestine, this proposal provides territorial contiguity and sea access to both 'red' and 'blue' America
Science and the squishiness of the human mind. The joys of wearing whatever the hell you want, and so much more.
Flickr / 13winds
Think Again Podcasts
Why can't we have a human-sized cat tree?
What would happen if you got a spoonful of a neutron star?
Why do we insist on dividing our wonderfully complex selves into boring little boxes
Big think's weekly newsletter.
Get smarter faster from the comfort of your inbox.
See our newsletter privacy policy
here
Most Popular
Most Recent
Big think's weekly newsletter.
Get smarter faster from the comfort of your inbox.
See our newsletter privacy policy
here
© Copyright 2007-2018 & BIG THINK, BIG THINK EDGE,
SMARTER FASTER trademarks owned by The Big Think, Inc. All rights reserved.