Big ideas.
Once a week.
Subscribe to our weekly newsletter.
The Growing Power of Women in Business
23 April, 2013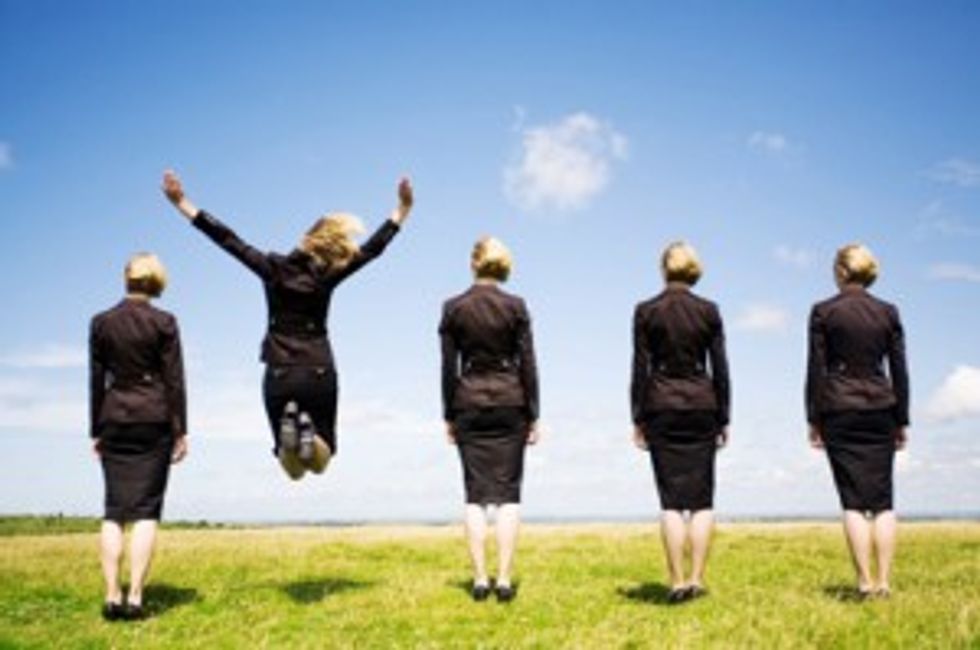 It used to be that the business landscape was a man's world. Times are changing! Today, women are wielding more and more power on both sides of the business transaction. First, let's look at some facts from the consumer side. In family purchases that involve two adults (a woman and a man) women make:
---
• 94% of the purchase decision on home furnishings
• 92% of the purchase decision on family vacations
• 91% of the purchase decision on home purchases
• 80% of the purchase decision on healthcare
• 60% of the purchase decision on family cars
• 51% of the purchase decision on consumer electronics
It's clear that in many cases, women are not just influencing the market; they are the market. And perhaps even more surprising is that these statistics have changed very little over the past ten years. In other words, women have been the market for some time now yet many executives have not taken action on this huge opportunity. And while these figures represent US households, the percentages are being exported due to technology driven globalization. Even in countries where you'd expect women to have no voice at all, thanks to computers and smart phones becoming more prevalent worldwide, people everywhere are getting informed and empowered, which ultimately has an effect on culture.
This brings us to the other side of the equation. Who is running and leading the companies that make the products women are buying for themselves and their families? Increasingly, it's women.
As of January 2013, 21 of the Fortune 500 companies will have women CEOs at the helm. While at first glance 21 may not seem like a lot, it's an all-time high and when you include the rest of the C-suite (CIOs, CFOs, COOs and more) the numbers clearly show a steady pace of women leading the largest companies in the world.
Even more interesting is that we're now seeing women lead companies in industries that have been historically male dominated. For example, for the first time ever, IBM chose a woman CEO, Virginia "Ginni" Rometty. Hewlett-Packard, another technology company, named Meg Whitman as their CEO in September 2011. And Yahoos new CEO Marissa Mayer has been driving positive headlines for the struggling company. These are just three examples of global, male-dominated technology companies now run by women.
And this trend isn't just in the US. Over half the corporate leaders in China are women. India has more women CEOs than the US. And over the past 30 years we've seen the number of women leaders in the Middle East, Africa, China, and Europe increase as well.
Now it's important to note that so far we've just been talking about CEO spots at major corporations. Add in the number of female CEOs at small and mid-sized companies, female upper level managers, and female entrepreneurs, and you can see that we're actually talking about a large number. And these are numbers you wouldn't have seen twenty years ago. So women are definitely making their mark and exerting their business power.
The New Hard Trends
Some people may say the rise of female leaders is surprising. I say it's 100% predictable. In my book, Flash Foresight, I make the point that in an uncertain world, you have to ask yourself, "What am I certain about?" Strategy based on uncertainty has high risk; strategy based on certainty has low risk. There are a number of certainties in today's world that make the rise of women obvious.
• Relationships are number one.
The number one certainty is that the future is all about relationships. Even though we live in a technology-driven world, it's still a human world and relationships still matter. This is where women shine.
Most people and even scientists and researchers agree that women and men think differently in terms of relationships. Women are more adept at relationship building. If we have too many leaders in an organization who are men, we don't have a balance and we don't have the ability to grow relationships with a holistic approach. That's because men tend to be informers while women tend to be real communicators.
This is important and timely, because we're shifting from the information age to the communication age. Social media is all about communicating and engaging, and women have the upper hand here. So the shift in business from informing to communicating provides great opportunity for women leadership.
• The big picture matters.
Women are intuitively great "system-thinkers." In other words, rather than just look at the piece of the puzzle you're responsible for and executing on that, which men tend to be very good at, women are adept at looking more holistically at the entire puzzle or system and seeing how the various pieces go together.
Obviously, it's not that men can't be system-thinkers. But over the years as men were in leadership positions—not just the CEO level, but all lead managers—they focused on "give me the job to do and I'll focus and get it done." That's certainly important, but sometimes that mindset works against you as things become more interconnected.
• Collaboration is key.
Women tend to seek agreement and work at being more collaborative. In fact, women seem to be far better at collaboration than men are. In the past, business was about cooperation, and we cooperated because we had to. Men are great at cooperating. But in this new totally networked and connected world, we need to find and develop new levels of collaboration.
Everyone has heard of "silos" in companies. We have massive silos in all sorts of industries. The key is to break those silos down and get people communicating, collaborating, and working together. No job is just a technical job; every job is also a human job.
• Passion counts.
When women are excited and passionate about a product, a service, a company, or whatever they are doing, they become extremely driven from that emotion. Men, on the other hand, strive to hide their emotions. Having an emotional drive can be very powerful in leading a business, product launches, and any initiative. This is not saying that men can't be passionate. It's just that male-dominated groups are one-sided and tend to downplay the positive benefits of emotion and passion as a force to drive innovation and growth.
• Taking risks (carefully) is essential.  
Women are now starting to do something that's been a male trait for a long time: They're becoming risk takers. Men are hard-wired to be risk takers, and they make decisions fast. Sometimes it's not always the right decision, but it is a decision. Unfortunately, this often becomes a ready-fire-aim approach. Women, on the other hand, tend to analyze, think things through, weigh all the elements, and then make a decision. Today we're seeing more women taking bigger risks in shorter amounts of time. Part of this is due to the increased speed that information is available. This combination of thinking first and acting fast is certainly good news, because the old rule of business was the big eat the small; now the fast eat the slow. 
A Brighter Future
Granted, some people may say all these elements are generalizations, but there is truth in generalization. So while all these traits may not apply to every woman, if you look at the group as a whole, these things tend to be true.
So the bottom line is that diversity has always been an unbelievably powerful force in any company—not just racial diversity, but male-female diversity too. All diversity gives you better solutions to challenges, allows you to solve problems faster, and enables you to see opportunities better. This is crucial, because over the next five years we're going to be transforming how we sell, market, educate, train, communicate, collaborate, innovate, and much more. Thanks to today's rapidly evolving technology, we're witnessing the biggest game-changing transformation that any of us have ever lived through. And we're going to need a variety of thinking, diversity, and people working together in a collaborative, communicative way to make a positive and productive transformation possible.
As we look to the future, we're going to see the number of female business leaders growing even higher because we need the balance. We need the creativity. We need men and women working and leading together in business and in government. So if you're a man reading this, support the women in your organization to reach new heights. And if you're a woman reading this, think about your career. Plot it out. Make it happen. We need you!
# # #
DANIEL BURRUS is considered one of the world's leading technology forecasters and business strategists, and is the founder and CEO of Burrus Research, a research and consulting firm that monitors global advancements in technology driven trends to help clients understand how technological, social and business forces are converging to create enormous untapped opportunities. He is the author of Flash Foresight.
Geologists discover a rhythm to major geologic events.
Surprising Science
It appears that Earth has a geologic "pulse," with clusters of major events occurring every 27.5 million years.
Working with the most accurate dating methods available, the authors of the study constructed a new history of the last 260 million years.
Exactly why these cycles occur remains unknown, but there are some interesting theories.
Our hearts beat at a resting rate of 60 to 100 beats per minute. Lots of other things pulse, too. The colors we see and the pitches we hear, for example, are due to the different wave frequencies ("pulses") of light and sound waves.
Now, a study in the journal Geoscience Frontiers finds that Earth itself has a pulse, with one "beat" every 27.5 million years. That's the rate at which major geological events have been occurring as far back as geologists can tell.
A planetary calendar has 10 dates in red
Credit: Jagoush / Adobe Stock
According to lead author and geologist Michael Rampino of New York University's Department of Biology, "Many geologists believe that geological events are random over time. But our study provides statistical evidence for a common cycle, suggesting that these geologic events are correlated and not random."

The new study is not the first time that there's been a suggestion of a planetary geologic cycle, but it's only with recent refinements in radioisotopic dating techniques that there's evidence supporting the theory. The authors of the study collected the latest, best dating for 89 known geologic events over the last 260 million years:
29 sea level fluctuations
12 marine extinctions
9 land-based extinctions
10 periods of low ocean oxygenation
13 gigantic flood basalt volcanic eruptions
8 changes in the rate of seafloor spread
8 times there were global pulsations in interplate magmatism
The dates provided the scientists a new timetable of Earth's geologic history.
Tick, tick, boom
Credit: New York University
Putting all the events together, the scientists performed a series of statistical analyses that revealed that events tend to cluster around 10 different dates, with peak activity occurring every 27.5 million years. Between the ten busy periods, the number of events dropped sharply, approaching zero.

Perhaps the most fascinating question that remains unanswered for now is exactly why this is happening. The authors of the study suggest two possibilities:
"The correlations and cyclicity seen in the geologic episodes may be entirely a function of global internal Earth dynamics affecting global tectonics and climate, but similar cycles in the Earth's orbit in the Solar System and in the Galaxy might be pacing these events. Whatever the origins of these cyclical episodes, their occurrences support the case for a largely periodic, coordinated, and intermittently catastrophic geologic record, which is quite different from the views held by most geologists."
Assuming the researchers' calculations are at least roughly correct — the authors note that different statistical formulas may result in further refinement of their conclusions — there's no need to worry that we're about to be thumped by another planetary heartbeat. The last occurred some seven million years ago, meaning the next won't happen for about another 20 million years.
A new episode of "Your Brain on Money" illuminates the strange world of consumer behavior and explores how brands can wreak havoc on our ability to make rational decisions.
popular
Effective branding can not only change how you feel about a company, it can actually change how your brain is wired.
Our new series "Your Brain on Money," created in partnership with Million Stories, recently explored the surprising ways brands can affect our behavior.
Brands aren't going away. But you can make smarter decisions by slowing down and asking yourself why you're making a particular purchase.
How Apple and Nike have branded your brain | Your Brain on Money | Big Think youtu.be
Brands can manipulate our brains in surprisingly profound ways. They can change how we conceptualize ourselves and how we broadcast our identities out to the social world. They can make us feel emotions that have nothing to do with the functions of their products. And they can even sort us into tribes.
To grasp the power of brands, look to Apple. In the 1990s, the company was struggling to compete with Microsoft over the personal computer market. Despite flirting with bankruptcy in the mid-1990s, Apple turned itself around to eventually become the most valuable company in the world.
That early-stage success wasn't due to superior products.
"People talk about technology, but Apple was a marketing company," John Sculley, a former Apple marketing executive, told The Guardian in 1997. "It was the marketing company of the decade."
So, how exactly does branding make people willing to wait hours in line to buy a $1,000 smartphone, or pay exorbitant prices for a pair of sneakers?
Branding and the brain

For more than a century, brands have capitalized on the fact that effective marketing is much more than simply touting the merits of a product. Some ads have nothing to do with the product at all. In 1871, for example, Pearl Tobacco started advertising their cigarettes through branded posters and trading cards that featured exposed women, a trend that continues to this day.
It's crude, sure. But research shows that it's also remarkably effective, even on monkeys. Why? The answer seems to center on how our brains pay special attention to information from the social world.
"In theory, ads that associate sex or status with specific brands or products activate the brain mechanisms that prioritize social information, and turning on this switch may bias us toward the product," wrote neuroscience professor Michael Platt for Scientific American.
Brands can burrow themselves deep into our subconscious. Through ad campaigns, brands can form a web of associations and memories in our brains. When these connections are robust and positive, it can change our behavior, nudging us to make "no-brainer" purchases when we encounter the brand at the store.
Nike storeThamKC
It's a marketing principle that's related to the work of Daniel Kahneman, a psychologist and economist who won the 2002 Nobel Memorial Prize in Economic Sciences. In his book "Thinking Fast and Slow", Kahneman separates thinking into two broad categories, or systems:

System 1 is fast and automatic, requiring little effort or voluntary control.
System 2 is slow and requires subjective deliberation and logic.
Brands that tap into "system 1" are likely to dominate the competition. After all, it's far easier for us as consumers to automatically reach for a familiar brand than it is to analyze all of the available information and make an informed choice. Still, the most successful brands can have an even deeper impact on our psychology, one that causes us to conceptualize them as something like a family member.
A peculiar relationship with brands
Apple has one of the most loyal customer bases in the world, with its brand loyalty hitting an all-time high earlier this year, according to a SellCell survey of more than 5,000 U.S.-based smartphone users.
Qualitatively, how does that loyalty compare to Samsung users? To find out, Platt and his team conducted a study in which functional magnetic resonance imaging scanned the brains of Samsung and Apple users as they viewed positive, negative, and neutral news about each company. The results revealed stark differences between the two groups, as Platt wrote in "The Leader's Brain":
"Apple users showed empathy for their own brand: The reward-related areas of the brain were activated by good news about Apple, and the pain and negative feeling parts of the brain were activated by bad news. They were neutral about any kind of Samsung news. This is exactly what we see when people empathize with other people—particularly their family and friends—but don't feel the joy and pain of people they don't know."
Meanwhile, Samsung users didn't show any significant pain- or pleasure-related brain activity when they saw good or bad news about the company.
"Interestingly, though, the pain areas were activated by good news about Apple, and the reward areas were activated by bad news about the rival company—some serious schadenfreude, or "reverse empathy," Platt wrote.
The results suggest a fundamental difference between the brands: Apple has formed strong emotional and social connections with consumers, Samsung has not.
Brands and the self
Does having a strong connection with a brand justify paying higher prices for their products? Maybe. You could have a strong connection with Apple or Nike and simultaneously think the quality of their products justifies the price.
But beyond product quality lies identity. People have long used objects and clothing to express themselves and signal their affiliation with groups. From prehistoric seashell jewelry to Air Jordans, the things people wear and associate with signal a lot of information about how they conceptualize themselves.
Since the 1950s, researchers have examined the relationship between self-image and brand preferences. This body of research has generally found that consumers tend to prefer brands whose products fit well with their self-image, a concept known as self-image congruity.
By choosing brands that don't disrupt their self-image, consumers are able not only to express themselves personally, but also broadcast a specific version of themselves into the social world. That might sound self-involved. But on the other hand, humans are social creatures who use information from the social world to make decisions, so it's virtually impossible for us not to make inferences about people based on how they present themselves.
Americus Reed II, a marketing professor at the University of Pennsylvania, told Big Think:
"When I make choices about different brands, I'm choosing to create an identity. When I put that shirt on, when I put that shirt on — those jeans, that hat — someone is going to form an impression about what I'm about. So, if I'm choosing Nike over Under Armour, I'm choosing a kind of different way to express affiliation with sport. The Nike thing is about performance. The Under Armour thing is about the underdog. I have to choose which of these different conceptual pathways is most consistent with where I am in my life."
Making smarter decisions
Brands may have some power over us when we're facing a purchasing decision. So, considering brands aren't going away, what can we do to make better choices? The best strategy might be to slow down and try to avoid making "automatic" purchasing decisions that are characteristic of Kahneman's fast "system 1" mode of thinking.
"I think it's important to always pause and think a little bit about, "Okay, why am I buying this product?" Platt said.
As for getting out of the brand game altogether? Good luck.
"I've heard lots of people push back and say, "I'm not into brands,"" Reed II said. "I take a very different view. In some senses, they're not doing anything different than what someone who affiliates with a brand is doing. They have a brand. It's just an anti-brand brand."
Powerful branding can not only change how you feel about a company, it can actually change how your brain is wired.
Sponsored by Singleton
Powerful branding can not only change how you feel about a company, it can actually change how your brain is wired.
"We love to think of ourselves as rational. That's not how it works," says UPenn professor Americus Reed II about our habits (both conscious and subconscious) of paying more for items based primarily on the brand name. Effective marketing causes the consumer to link brands like Apple and Nike with their own identity, and that strong attachment goes deeper than receipts.
Using MRI, professor and neuroscientist Michael Platt and his team were able to see this at play. When reacting to good or bad news about the brand, Samsung users didn't have positive or negative brain responses, yet they did have "reverse empathy" for bad news about Apple. Meanwhile, Apple users showed a "brain empathy response for Apple that was exactly what you'd see in the way you would respond to somebody in your family."
Scroll down to load more…