Big ideas.
Once a week.
Subscribe to our weekly newsletter.
One Technology That Is Already Changing the Future Of Energy
31 July, 2013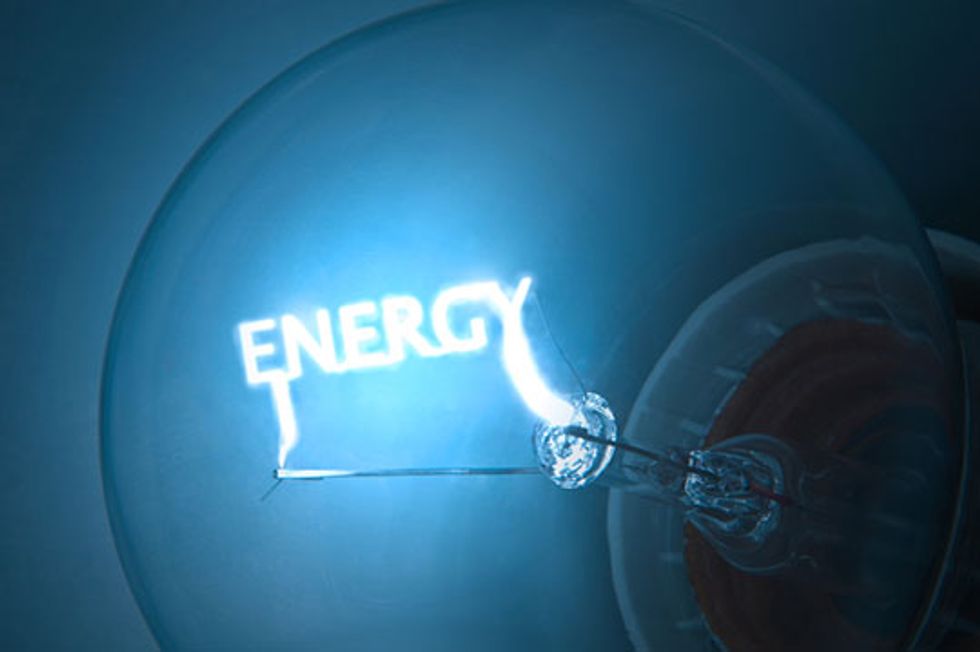 Accelerating technological change will define how efficiently we use energy, not how much. 
---
The accelerating change of technology we use commercially and personally is dramatically increasing the global demand for electric power. As consumers, we're gulping power at an alarming rate, from air conditioning systems, heating systems, household appliances, and all forms of home entertainment devices to cloud computing, computers, and consumer electronics. Over the past few years, we're also plugging in electric vehicles at an ever increasing rate. And let's not forget the industrial power needed to churn out all these products, as well as keep the other wheels of industry turning. In fact, global electricity demand has been projected to nearly double from the year 2010 to 2030.
It's clear we're already close to consuming more electricity than we can generate or distribute, as manifest through the rolling black and brown outs frequently seen during summer months where peak power demand is highest. The problem is we're adding more demand for electricity (from everything mentioned above and more) than we're adding capacity to supply it. With that said, we still need to stay cool and to turn on lights to see at night … and we're certainly not going to turn off our home theater and gaming systems.
So what's the answer? Expand power generation to meet growing demand? Not so fast. Investment in electric power generation and distribution is a slow, long-term proposition, and therefore has trailed well below the increase in GDP in most developed countries. In other words, no one has the appetite (or the capital) to build enough power plants and expand the grid to meet the rising demand for electricity.
A quick point of fact: Power generation—and the grid to distribute it—has to be scaled to meet peak demand. On average, power grids operate at around 80 percent capacity, so they're ready to cover peak demand when those hot summer days roll around. If demand rises above that peak capacity, we experience those black and brown outs.  
Additionally, 75 percent of the electricity generating capacity in the United States depends on the combustion of fossil fuels. This raises a multitude of other concerns, perhaps foremost that dependence on fossil fuels for electricity is causing severe environmental and health hazards, including large emissions of toxic air pollutants and greenhouse gases. 
Over the past few years, thanks to technology developments such as fracking, which were impossible just a decade ago, we can now extract natural gas in very large quantities, and that has put the United States in a position of being an exporter of energy. The good news is that natural gas is far less polluting than other fossil fuels, such as coal, and the U.S. has very large reserves. On the other hand, the United States does not have an infrastructure for capitalizing on natural gas powered vehicles, and natural gas is a fossil fuel and does have harmful emissions, even if less than the others.
When we look at renewable energy sources such as wind, solar, and waves, great strides have been taken, but until we find a way to store electricity for use at a later time, these will help but not be game changing. The good news here is that there is a technology that is already changing the game.
What if we could increase energy production without adding new capacity? What if we could use the power we already generate more efficiently, rather than have to dramatically expand power generation? Enter the work that is being done to enable smart grids, smart homes, and smart cities to help us accomplish this. But will peak power demand modeling and technology that turns lights off in empty rooms be enough? Probably not for some time. That's where promising energy storage technology comes in as a key change accelerator to help us use the electrical power we have now more efficiently.
One of the companies leading the way is Maxwell Technologies in San Diego, California. They have developed and are manufacturing one of the most promising clean-energy power storage technologies available: ultracapacitors, which use an electro-static field to quickly capture energy and then rapidly release it when needed. Conventional batteries and advanced lithium-ion batteries that rely on a chemical reaction cannot efficiently do this because they charge slowly and discharge slowly. When batteries are asked to charge and discharge quickly—which is the case in many applications today—they begin to fail and ultimately need to be replaced.
Ultracapacitors are being incorporated (where batteries cannot) into renewable energy power generation from solar, wind, and waves to improve efficiency and reliability. Because there are many disruptions in renewable energy output from clouds, wind fluctuations, and tides that last from a few seconds to a few minutes, output can swing as much as 50 percent at any time. This variability in power supply presents issues with power grid stability, causing the grid to disconnect from the renewable energy source.
The unique quick charge/discharge ability of ultracapacitors allows renewable energy installations to quickly store power and then deliver it back to the power grid "firming" output capacity and "ride through" during short-term disruptions. This increases renewable energy utilization by 30 – 50 percent so the power grid doesn't need to be built to such a large scale (at an incremental cost) as demand for electrical power grows. Additionally, we could further increase our use of clean energy and decrease reliance on fossil fuels for power generation.
From a very broad perspective, this is a major example of how ultracapacitors can help us use the energy we already generate more efficiently. But what about places off the grid where we waste energy every day? How about planes, trains, automobiles, trucks, and busses?
Regenerative braking systems in electric and hybrid vehicles are being used to generate and quickly store electrical energy when brakes are applied, then rapidly release it for acceleration. Conventional friction-based braking systems simply lose all this kinetic energy to heat. Ultracapacitors are being used to quickly capture and release this energy to improve fuel economy and extend battery life.  Regenerative breaking systems provide an average of 7 percent fuel efficiently and would save 12 million gallons of fuel in the U.S. each year.
Conventional internal-combustion vehicles are incorporating start-stop systems that kill the engine at stoplights and stop signs, and then restart it when the accelerator is applied. Ultracapacitors are being designed into these vehicles to stabilize starter systems, electrical systems, power steering, and onboard electronics. These start-stop systems improve fuel efficiency by up to 15 percent. In the U.S. alone we could save 25.5 million gallons of fuel annually if every conventional vehicle had this type of system. Image how much energy we could save and utilize if every vehicle on the planet had a start-stop system.
Finally, let's think at the micro-level. Small ultracapacitors can be combined with batteries in laptops, tablets, smart phones, and electronic toys to use electric power more efficiently. Unlike ultracapacitors, batteries begin to degrade when they are tasked to quickly charge and discharge, but they are great sources of long-term power. Because ultracapacitors can quickly be charged and discharged up to a million times without loss of performance, they are ideal for providing the bursts of power required by today's electronic devices, helping them perform better and batteries last longer.
There are a multitude of other applications where ultracapacitors can—and are starting to—help us use the power we're already generating more efficiently, instead of simply generating more power. Clean-energy ultracapacitors are a change accelerating technology that will enable energy's future and not inhibit the dizzying rate of technological, commercial, and social change we've come to expect and rely on.
Meanwhile, a question: Are there obvious or obscure places you can imagine where innovative power storage technology could help us use the electrical power we have now more efficiently?
###
DANIEL BURRUS is considered one of the world's leading technology forecasters and innovation experts, and is the founder and CEO of Burrus Research, a research and consulting firm that monitors global advancements in technology driven trends to help clients understand how technological, social and business forces are converging to create enormous untapped opportunities. He is the author of six books including The New York Times best seller Flash Foresight.
A new paper reveals that the Voyager 1 spacecraft detected a constant hum coming from outside our Solar System.
Credit: NASA / JPL - Caltech.
Surprising Science
Voyager 1, humankind's most distant space probe, detected an unusual "hum" in the data from interstellar space.
The noise is likely produced by interstellar gas.
Further investigation may reveal the hum's exact origins.
Voyager 1, humanity's most faraway spacecraft, has detected an unusual "hum" coming from outside our solar system. Fourteen billion miles away from Earth, the Voyager's instruments picked up a droning sound that may be caused by plasma (ionized gas) in the vast emptiness of interstellar space. Launched in 1977, the Voyager 1 space probe — along with its twin Voyager 2 — has been traveling farther and farther into space for over 44 years. It has now breached the edge of our solar system, exiting the heliosphere, the bubble-like region of space influenced by the sun. Now, the spacecraft is moving through the "interstellar medium," where it recorded the peculiar sound.
Stella Koch Ocker, a doctoral student in astronomy at Cornell University, discovered the sound in the data from the Voyager's Plasma Wave System (PWS), which measures electron density. Ocker called the drone coming from plasma shock waves "very faint and monotone," likely due to the narrow bandwidth of its frequency.
While they think the persistent background hum may be coming from interstellar gas, the researchers don't yet know what exactly is causing it. It might be produced by "thermally excited plasma oscillations and quasi-thermal noise."
The new paper from Ocker and her colleagues at Cornell University and the University of Iowa, published in Nature Astronomy, also proposes that this is not the last we'll hear of the strange noise. The scientists write that "the emission's persistence suggests that Voyager 1 may be able to continue tracking the interstellar plasma density in the absence of shock-generated plasma oscillation events."
Voyager Captures Sounds of Interstellar Space www.youtube.com
The researchers think the droning sound may hold clues to how interstellar space and the heliopause, which can be thought of as the solar's system border, may be affecting each other. When it first entered interstellar space, the PWS instrument reported disturbances in the gas caused by the sun. But in between such eruptions is where the researchers spotted the steady signature made by the near-vacuum.

Senior author James Cordes, a professor of astronomy at Cornell, compared the interstellar medium to "a quiet or gentle rain," adding that "in the case of a solar outburst, it's like detecting a lightning burst in a thunderstorm and then it's back to a gentle rain."
More data from Voyager over the next few years may hold crucial information to the origins of the hum. The findings are already remarkable considering the space probe is functioning on technology from the mid-1970s. The craft has about 70 kilobytes of computer memory. It also carries a Golden Record created by a committee chaired by the late Carl Sagan, who taught at Cornell University. The 12-inch gold-plated copper disk record is essentially a time capsule, meant to tell the story of Earthlings to extraterrestrials. It contains sounds and images that showcase the diversity of Earth's life and culture.
As the American population grows, fewer people will die of cancer.
Surprising Science
A new study projects that cancer deaths will decrease in relative and absolute terms by 2040.
The biggest decrease will be among lung cancer deaths, which are predicted to fall by 50 percent.
Cancer is like terrorism: we cannot eliminate it entirely, but we can minimize its influence.
As the #2 leading cause of death, cancer takes the lives of about 600,000 Americans each year. In comparison, heart disease (#1) claims more than 650,000 lives, while accidents (#3) take about 175,000 lives. (In 2020 and likely 2021, COVID will claim the #3 spot.)
Headlines are usually full of terrible news about cancer. Seemingly, you can't get away from anything that causes it. RealClearScience made a list of all the things blamed for cancer — antiperspirants, salty soup, eggs, corn, Pringles, bras, burnt toast, and even Facebook made the list.
The reality, however, is much more optimistic. We're slowly but surely winning the war on cancer.
Winning the war on cancer
How can we make such a brazen statement? A new paper published in the journal JAMA Network Open tracks trends in cancer incidence and deaths and makes projections to the year 2040. The authors predict that around 568,000 Americans will have died of cancer in 2020, but they project that number to fall to 410,000 by 2040. That's a drop of nearly 28 percent, despite the U.S. population being projected to grow from roughly 333 million today to 374 million in 2040, an increase of 12 percent. That means cancer deaths will decrease in both relative and absolute terms.
What accounts for this unexpected good news? The lion's share is the number of deaths attributable to lung cancer, which is projected to decrease by more than 50 percent, from 130,000 to 63,000. This drop is largely due to the decreasing use of tobacco products. Other deaths predicted to decline include those from colorectal, breast, prostate, and ovarian cancers, among others, such as leukemia and non-Hodgkin lymphoma (NHL).
The authors credit screening and biomedical advances for saving many of these lives. For instance, lead author Dr. Lola Rahib wrote in an email to Big Think that "colonoscopies remove precancerous polyps." She also noted that targeted therapies and immunotherapies have helped reduce the number of deaths from leukemia and NHL.
We'll never cure cancer
Now the bad news: We'll never cure cancer. There are at least three reasons for this. The first is obvious: We all die. The lifetime prevalence of death is 100 percent. The truth is that we are running out of things to die from. After a long enough period of time, something gives out — often your cardiovascular system or nervous system. Or you develop you cancer.
The second reason is that we are multicellular organisms and, hence, we are susceptible to cancer. (Contrary to popular myth, sharks get cancer, too.) The cells of multicellular organisms face an existential dilemma: they can either get old and stop dividing (a process called senescence) or become immortal but cancerous. For this reason, the problem of cancer may not have a solution.
Finally, there isn't really such a thing as a disease called "cancer." What we call cancer is actually a collection of several different diseases, some of which are preventable (like cervical cancer with the HPV vaccine) or curable (like prostate cancer). Unfortunately, some cancers probably never will be curable, not least because cancers can mutate and develop resistance to the drugs we use to treat them.
But the overall optimism still stands: We are slowly and incrementally winning the war on cancer. Like terrorism, it's not a foe that we can completely vanquish, but it is one whose influence we can minimize in our lives.
China has reached a new record for nuclear fusion at 120 million degrees Celsius.
Technology & Innovation
This article was originally published on our sister site, Freethink.
China wants to build a mini-star on Earth and house it in a reactor. Many teams across the globe have this same bold goal --- which would create unlimited clean energy via nuclear fusion.
But according to Chinese state media, New Atlas reports, the team at the Experimental Advanced Superconducting Tokamak (EAST) has set a new world record: temperatures of 120 million degrees Celsius for 101 seconds.
Yeah, that's hot. So what? Nuclear fusion reactions require an insane amount of heat and pressure --- a temperature environment similar to the sun, which is approximately 150 million degrees C.
If scientists can essentially build a sun on Earth, they can create endless energy by mimicking how the sun does it.
If scientists can essentially build a sun on Earth, they can create endless energy by mimicking how the sun does it. In nuclear fusion, the extreme heat and pressure create a plasma. Then, within that plasma, two or more hydrogen nuclei crash together, merge into a heavier atom, and release a ton of energy in the process.
Nuclear fusion milestones: The team at EAST built a giant metal torus (similar in shape to a giant donut) with a series of magnetic coils. The coils hold hot plasma where the reactions occur. They've reached many milestones along the way.
According to New Atlas, in 2016, the scientists at EAST could heat hydrogen plasma to roughly 50 million degrees C for 102 seconds. Two years later, they reached 100 million degrees for 10 seconds.
The temperatures are impressive, but the short reaction times, and lack of pressure are another obstacle. Fusion is simple for the sun, because stars are massive and gravity provides even pressure all over the surface. The pressure squeezes hydrogen gas in the sun's core so immensely that several nuclei combine to form one atom, releasing energy.
But on Earth, we have to supply all of the pressure to keep the reaction going, and it has to be perfectly even. It's hard to do this for any length of time, and it uses a ton of energy. So the reactions usually fizzle out in minutes or seconds.
Still, the latest record of 120 million degrees and 101 seconds is one more step toward sustaining longer and hotter reactions.
Why does this matter? No one denies that humankind needs a clean, unlimited source of energy.
We all recognize that oil and gas are limited resources. But even wind and solar power --- renewable energies --- are fundamentally limited. They are dependent upon a breezy day or a cloudless sky, which we can't always count on.
Nuclear fusion is clean, safe, and environmentally sustainable --- its fuel is a nearly limitless resource since it is simply hydrogen (which can be easily made from water).
With each new milestone, we are creeping closer and closer to a breakthrough for unlimited, clean energy.
Videos
The symbol for love is the heart, but the brain may be more accurate.
Scroll down to load more…