Watching the continuing Nabro eruption from space
Erik Klemetti
I write the Eruptions blog on Big Think. I've been mesmerized with volcanoes (and geology) all my life. It helps that part of my family comes from the shadow of Nevado del Ruiz in Colombia, where I could see first hand the deadly effects of volcanic eruptions. Since then, I've taken a bit of a winding path to become a volcanologist. I started as a history major at Williams College, almost went into radio, but ended up migrating to geology, including an undergraduate thesis on Vinalhaven Island, Maine. I followed this up by changing coast to get my Ph.D. from Oregon State University. Then I ran a MC-ICP-MS lab at University of Washington for a spell (and wrote for an indie rock website). I spent three years as a postdoctoral scholar at University of California - Davis studying the inner workings of magmatic systems. I am now an assistant professor at Denison University and have projects in New Zealand, Chile and Oregon.
I am fascinated by volcanoes, their eruptions and how those eruptions interact with the people who live around the volcanoes. I started this blog after getting frustrated with the news reports of volcanic eruptions. Most of them get the information wrong and/or are just sensationalistic. I will try to summarize eruptions as they occur, translate some of the volcanic processes that are happening and comment on the reports themselves.
And no matter what people tell you, I definitely do not have a cat named Tephra. (OK, I do).
You can find out more about my research by visiting my website. If you have any comments, questions or information, feel free to contact me at eruptionsblog at gmail dot com.
27 June, 2011
We're still getting little in the way of news about the Nabro eruption from Eritrea - I've been looking around and the best figure I've found is that at least 3,500 people and up to 9,000 that have been effected by the eruption (and 7 deaths) at the remote caldera, although that number is likely much higher when you include people in Ethiopia as well. According to this report, the flow has covered 20 km, but I'm not sure if that means it has travelled 20 km or covers 20 square kilometers (my guess is the former). The best evidence we have of what is going on are the excellent images taken from space of the activity at Nabro - you can check out the full gallery of images from the NASA Earth Observatory. The latest image (below) shows the strong plume coming from the southern edge of the caldera along with the lava flow to the west-northwest that is still degassing - not too surprising from a hot, low viscosity basaltic lava flow. The plume is still very robust, albeit very white suggesting a lot of steam in the plume with the significant ash as well. The latest VAAC statement from Toulouse says that no ash is visible in the satellite imagery, but as recently as yesterday there was still a small plume reported over eastern Africa - and a small plume (top left) was seen in the satellite imagery last week as well.
---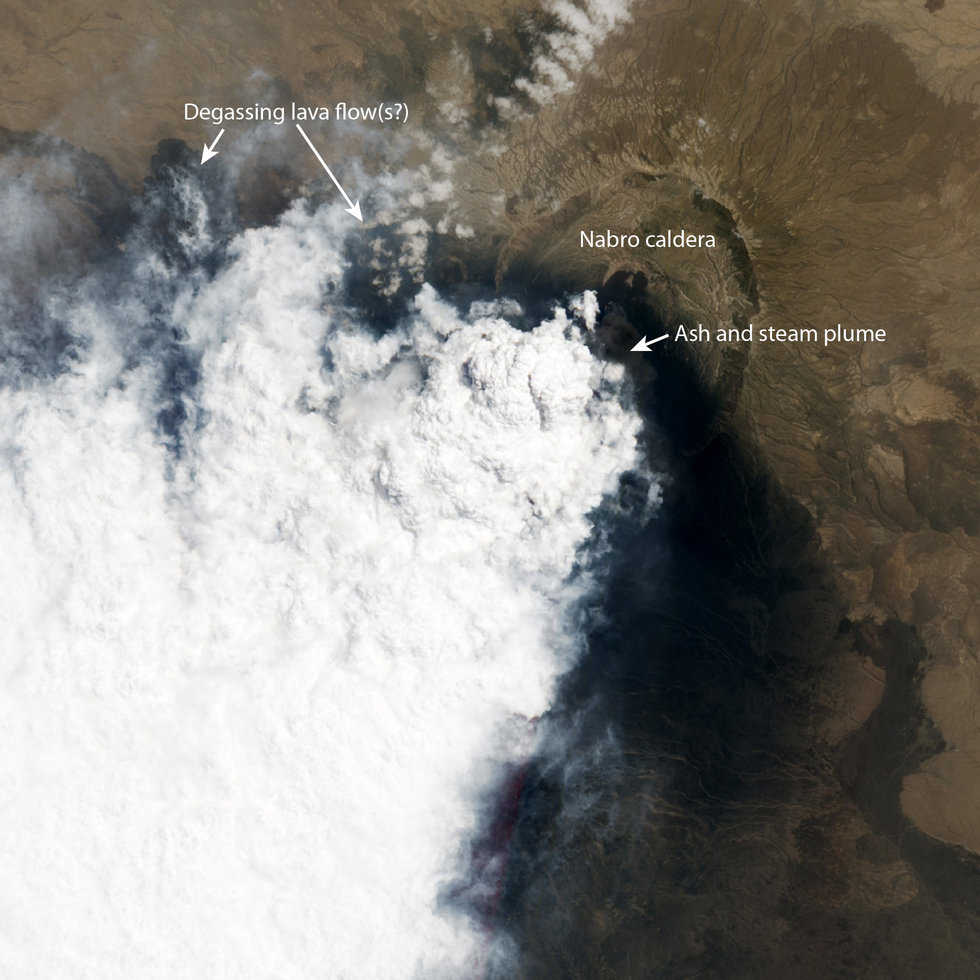 The activity at Nabro as seen on June 24, 2011. The eruptive activity continues to have both a prominent explosive component (plume) and lava flows. Image courtesy of the NASA Earth Observatory. Click here to see a larger version.
UPDATE 2:30 PM Eastern: I've added a short wave infrared/infrared/visible composite of the Nabro eruption as well (below; again, thanks to the folks at the NASA EO) that clearly shows the lava flows to the WNW.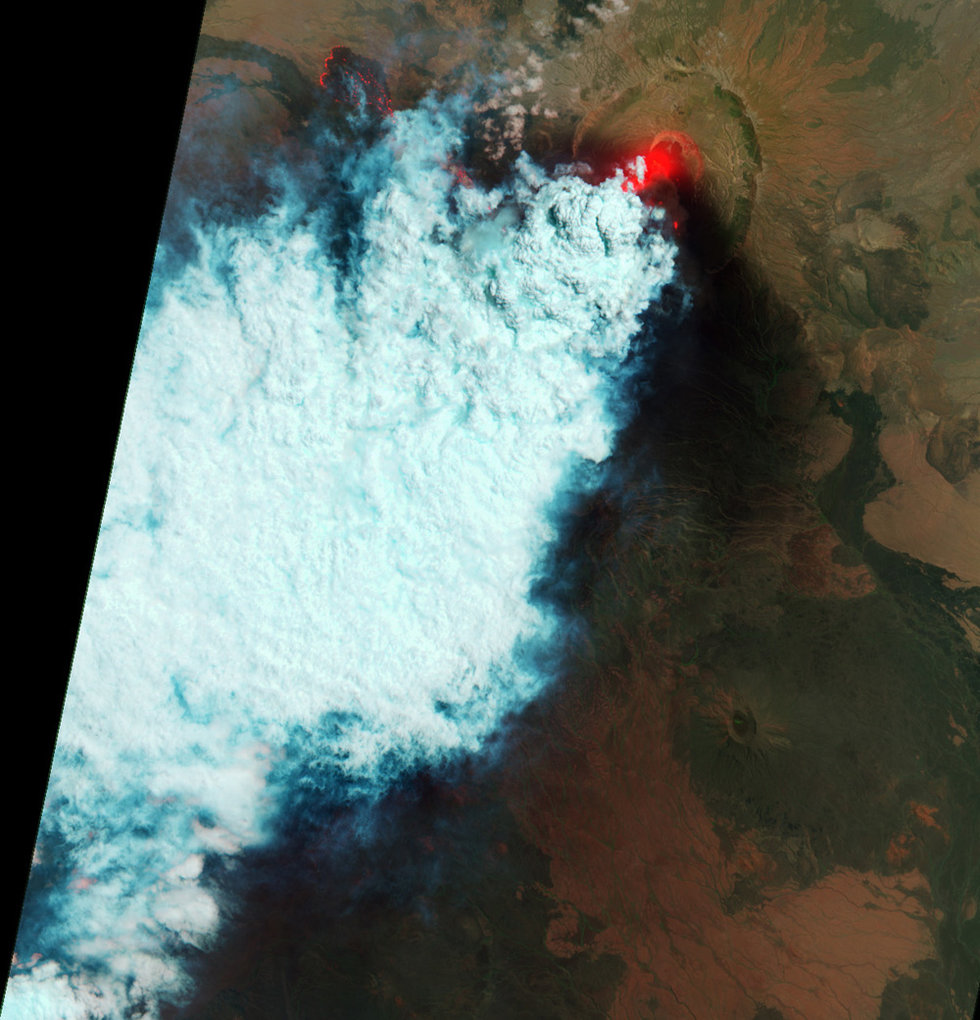 Short wave IR/thermal/visible composite image of the Nabro eruption as seen on June 24, 2011. Click here to see a larger version.
Top left: MODIS image of the Nabro eruption as seen on June 22, 2011. Image courtesy of the NASA Earth Observatory.
The best-selling author tells us his methods.
Videos
James Patterson has sold 300 million copies of his 130 books, making him one of the most successful authors alive today.
He talks about how some writers can overdo it by adding too much research, or worse, straying from their outline for too long.
James' latest book, The President is Missing, co-written with former President Bill Clinton, is out now.

Pfizer's partnerships strengthen their ability to deliver vaccines in developing countries.
Susan Silbermann, Global President of Pfizer Vaccines, looks on as a health care worker administers a vaccine in Rwanda. Photo: Courtesy of Pfizer.
Sponsored
Community healthcare workers face many challenges in their work, including often traveling far distances to see their clients
Pfizer is helping to drive the UN's sustainable development goals through partnerships.
Pfizer partnered with AMP and the World Health Organization to develop a training program for healthcare workers.
It's the first time the association hasn't hired a comedian in 16 years.
(Photo by Anna Webber/Getty Images for Vulture Festival)
Culture & Religion
The 2018 WHCA ended in controversy after comedian Michelle Wolf made jokes some considered to be offensive.
The WHCA apologized for Wolf's jokes, though some journalists and many comedians backed the comedian and decried arguments in favor of limiting the types of speech permitted at the event.
Ron Chernow, who penned a bestselling biography of Alexander Hamilton, will speak at next year's dinner.
Big think's weekly newsletter.
Get smarter faster from the comfort of your inbox.
See our newsletter privacy policy
here
Most Popular
Most Recent
Big think's weekly newsletter.
Get smarter faster from the comfort of your inbox.
See our newsletter privacy policy
here
© Copyright 2007-2018 & BIG THINK, BIG THINK EDGE,
SMARTER FASTER trademarks owned by The Big Think, Inc. All rights reserved.