Oil from the Drift River Terminal near Redoubt to be moved
Finally, after months of inaction, the Coast Guard has ordered the emptying of the Drift River Oil Terminal at the base of Redoubt.
Erik Klemetti
I write the Eruptions blog on Big Think. I've been mesmerized with volcanoes (and geology) all my life. It helps that part of my family comes from the shadow of Nevado del Ruiz in Colombia, where I could see first hand the deadly effects of volcanic eruptions. Since then, I've taken a bit of a winding path to become a volcanologist. I started as a history major at Williams College, almost went into radio, but ended up migrating to geology, including an undergraduate thesis on Vinalhaven Island, Maine. I followed this up by changing coast to get my Ph.D. from Oregon State University. Then I ran a MC-ICP-MS lab at University of Washington for a spell (and wrote for an indie rock website). I spent three years as a postdoctoral scholar at University of California - Davis studying the inner workings of magmatic systems. I am now an assistant professor at Denison University and have projects in New Zealand, Chile and Oregon.
I am fascinated by volcanoes, their eruptions and how those eruptions interact with the people who live around the volcanoes. I started this blog after getting frustrated with the news reports of volcanic eruptions. Most of them get the information wrong and/or are just sensationalistic. I will try to summarize eruptions as they occur, translate some of the volcanic processes that are happening and comment on the reports themselves.
And no matter what people tell you, I definitely do not have a cat named Tephra. (OK, I do).
You can find out more about my research by visiting my website. If you have any comments, questions or information, feel free to contact me at eruptionsblog at gmail dot com.
01 September, 2010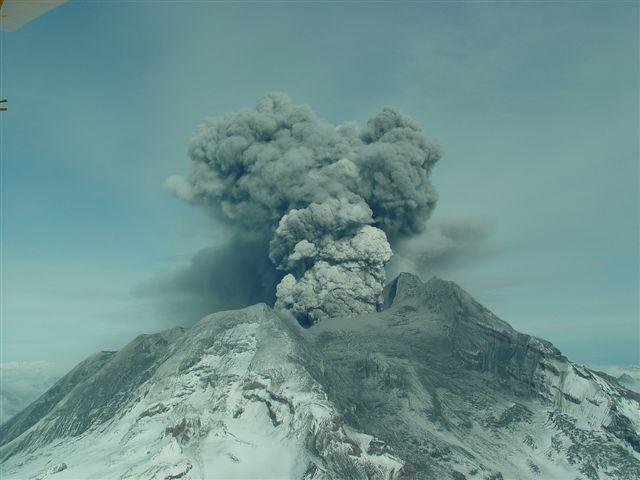 Image courtesy of AVO/USGS by James Isaak. Photo taken 3/31/2009.
---
No, this isn't Battlestar Galactica, but the same can be said for the Drift River Oil Terminal: this has all happened before and will all happen again. Coast Guard officials have (finally) decided to move ~6.3 million gallons of crude oil from the Chevron-owned Drift River Oil Terminal at the base of Redoubt. The oil terminal has been a flashpoint since Redoubt began to make noise earlier this year and even up until yesterday, it was unclear what, if any, action the Coast Guard might take with the facility. It had been shut down and evacuated since Redoubt began to erupt last week, but now the oil will be removed over the next few days (weather/volcano permitting).
It seems that the threat of dome collapse pyroclastic flows and the lahars/flood they might generate could have been the tipping point for the oil terminal. Even after the oil is moved, there will still be over 800,000 gallons of oil left in the tanks at the Terminal. The terminal was improved since the 1989-90 eruption of Redoubt, with the installation of dikes to protect it from potential floods and lahars that would travel down the Drift River valley from Redoubt - and so far, the dikes have withstood the floods of the 2009 eruptions. However, the public scrutiny and the uncertainty involved in, well, locating an oil terminal near an active volcano (see map above), has apparently forced the move. Groups near the Cook Inlet fear any breach of the dikes will spill millions of gallons of crude oil into the inlet, in a state that has already had to survive one major oil spill and is still recovering from that.
Hopefully, this will be the last time we have to deal with this issue at Redoubt. Either Chevron or the U.S. government should get the sense that keeping this terminal in operation is a detriment and a danger to both the ecology of Cook Inlet and the oil production in the region. However, I would also not be surprised if after Redoubt quiets after these eruptions, the oil returns and 10 years down the road we have to go down this road all over again. This problem won't go away unless we make it go away.
Related Articles
Explore how alcohol affects your brain, from the first sip at the bar to life-long drinking habits.
(Photo by Angie Garrett/Wikimedia Commons)
Mind & Brain
Alcohol is the world's most popular drug and has been a part of human culture for at least 9,000 years.
Alcohol's effects on the brain range from temporarily limiting mental activity to sustained brain damage, depending on levels consumed and frequency of use.
Understanding how alcohol affects your brain can help you determine what drinking habits are best for you.
If you want to know what makes a Canadian lynx a Canadian lynx a team of DNA sequencers has figured that out.
Surprising Science
A team at UMass Amherst recently sequenced the genome of the Canadian lynx.
It's part of a project intending to sequence the genome of every vertebrate in the world.
Conservationists interested in the Canadian lynx have a new tool to work with.
Artwork: Guillaume le Clerc / Wikimedia Commons
13th-century fantastical depiction of an elephant.
It is easy to see how one can look at 66,000 genomic sequences stored away as being the analogous equivalent of the Svalbard Global Seed Vault. It is a potential tool for future conservationists.
But what are the practicalities of sequencing the genome of a lynx beyond engaging with broad bioethical questions? As the animal's habitat shrinks and Earth warms, the Canadian lynx is demonstrating less genetic diversity. Cross-breeding with bobcats in some portions of the lynx's habitat also represents a challenge to the lynx's genetic makeup. The two themselves are also linked: warming climates could drive Canadian lynxes to cross-breed with bobcats.
John Organ, chief of the U.S. Geological Survey's Cooperative Fish and Wildlife units, said to MassLive that the results of the sequencing "can help us look at land conservation strategies to help maintain lynx on the landscape."
What does DNA have to do with land conservation strategies? Consider the fact that the food found in a landscape, the toxins found in a landscape, or the exposure to drugs can have an impact on genetic activity. That potential change can be transmitted down the generative line. If you know exactly how a lynx's DNA is impacted by something, then the environment they occupy can be fine-tuned to meet the needs of the lynx and any other creature that happens to inhabit that particular portion of the earth.
Given that the Trump administration is considering withdrawing protection for the Canadian lynx, a move that caught scientists by surprise, it is worth having as much information on hand as possible for those who have an interest in preserving the health of this creature—all the way down to the building blocks of a lynx's life.
The exploding popularity of the keto diet puts a less used veggie into the spotlight.
Purple cauliflower. (Photo: Shutterstock)
Surprising Science
The cauliflower is a vegetable of choice if you're on the keto diet.
The plant is low in carbs and can replace potatoes, rice and pasta.
It can be eaten both raw and cooked for different benefits.
Big think's weekly newsletter.
Get smarter faster from the comfort of your inbox.
See our newsletter privacy policy
here
Most Popular
Most Recent
Big think's weekly newsletter.
Get smarter faster from the comfort of your inbox.
See our newsletter privacy policy
here
© Copyright 2007-2018 & BIG THINK, BIG THINK EDGE,
SMARTER FASTER trademarks owned by The Big Think, Inc. All rights reserved.