Chilean earthquake fallout: MSNBC implies nature is "out of control"
MSNBC has jumped the shark when it comes to coverage of these recent earthquakes, implying that nature is "out of control".
Erik Klemetti
I write the Eruptions blog on Big Think. I've been mesmerized with volcanoes (and geology) all my life. It helps that part of my family comes from the shadow of Nevado del Ruiz in Colombia, where I could see first hand the deadly effects of volcanic eruptions. Since then, I've taken a bit of a winding path to become a volcanologist. I started as a history major at Williams College, almost went into radio, but ended up migrating to geology, including an undergraduate thesis on Vinalhaven Island, Maine. I followed this up by changing coast to get my Ph.D. from Oregon State University. Then I ran a MC-ICP-MS lab at University of Washington for a spell (and wrote for an indie rock website). I spent three years as a postdoctoral scholar at University of California - Davis studying the inner workings of magmatic systems. I am now an assistant professor at Denison University and have projects in New Zealand, Chile and Oregon.
I am fascinated by volcanoes, their eruptions and how those eruptions interact with the people who live around the volcanoes. I started this blog after getting frustrated with the news reports of volcanic eruptions. Most of them get the information wrong and/or are just sensationalistic. I will try to summarize eruptions as they occur, translate some of the volcanic processes that are happening and comment on the reports themselves.
And no matter what people tell you, I definitely do not have a cat named Tephra. (OK, I do).
You can find out more about my research by visiting my website. If you have any comments, questions or information, feel free to contact me at eruptionsblog at gmail dot com.
01 September, 2010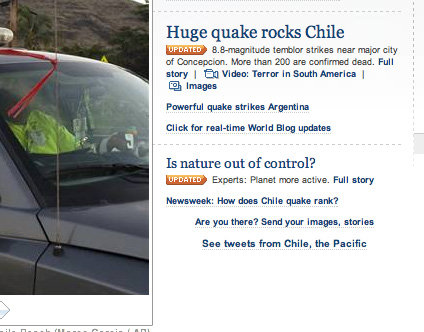 Screen capture of the MSNBC website on February 27, 2010 at ~5:30 PM eastern time.
---
Most of you have probably already heard about the magnitude 8.8 earthquake that struck today off the coast of Chile. This becomes one of the most powerful earthquakes on record and so far, the death toll has been relatively low - in the hundreds - especially compared to the horrific disaster of the Haiti earthquake from earlier this year. My thoughts go out to all in Chile recovering from the earthquake.
However, I am a little appalled at some of the coverage I've seen for this earthquake. MSNBC has become the vanguard of sensationalist drivel and shoddy science reporting - specifically, the article posted today titled: "Is Nature out of control?" (also seen with the headline "Big quake questions: are they getting worse?") This type of headline is irresponsible, reprehensible "journalism" that the worst hacks should be ashamed to print. I feel like I don't even have to justify it with a response, but honestly, two big earthquakes hours apart in Chile and Japan (or if you want to get bigger, two earthquakes months apart with Chile and Haiti) does not "out of control" make. No geologist would ever even imply this idea - yet somehow MSNBC finds it necessary to use this sensationalist garbage to promote their website. As of Saturday afternoon (2/27), no other major media outlet had such a headline on their front page.
Earthquakes happen, and they happen in a random distribution (more or less), meaning sometimes we get more, sometimes less. Spend any time looking at the USGS earthquake feed and you'll see sometimes we have lots of M3+ earthquakes in a day, sometimes we can go a day or two without really any around the world. More importantly, looking at any of these earthquake patterns in a short timescale (geologically - which means in a human lifetime, maybe two lifetimes) is not sufficient to understand the pattern. MSNBC found one scientist who said that in the last 15 years (relative to the 20 years before that), "the Earth has been more active" - whatever that means - and have blown it up into an armageddon-like story. What does "more active" even mean? Does it mean more total earthquakes? More big earthquakes ? More total seismic energy being released? Does it include volcanoes? What about landslides? Hurricanes? That sort of throwaway line is the sort of thing that feeds the doomsayers and gives science a bad name.
Honestly, I sometimes think I need to go on Cafe Press and get t-shirts made that say "Correlation does not mean causation". Humans perceive connections and patterns in events even when none are there - think about the so-called "Face on Mars". Yes, we've had a number of large earthquakes in the recent past, but have we had a Toba-scale volcanic eruption? Have we had another New Madrid earthquake? The Earth is a big place with a lot of active tectonic margins and even more faults that gather stresses and periodically release them. Sure, they may have some connection broadly speaking, the same goes for the volcano-earthquake connection. However, we have no conclusive proof that these systems are directly related - that is to say, they are not the same as turning your key to start your car engine. Complex systems have many inputs - maybe the volcano that erupts next week would have erupted with a magnitude 4 earthquake, maybe it would have erupted without an earthquake at all. To connect the two merely because they are temporally juxtaposed is not scientifically sound. There is evidence that there could be an effect on nearby volcanism after large earthquakes in some settings, however, it is far from proven.
The point here is that the Earth is an active place - and we have very short experience with seeing events on a global scale. Reckless speculation the likes of which MSNBC (and LiveScience) partook in should be a warning of how the media still has a long way to come when it comes to reporting the facts rather than the hysteria of the natural world.
A federal judge ruled that the Trump administration likely violated the reporter's Fifth Amendment rights when it stripped his press credentials earlier this month.
WASHINGTON, DC - NOVEMBER 16: CNN chief White House correspondent Jim Acosta (R) returns to the White House with CNN Washington bureau chief Sam Feist after Federal judge Timothy J. Kelly ordered the White House to reinstate his press pass November 16, 2018 in Washington, DC. CNN has filed a lawsuit against the White House after Acosta's press pass was revoked after a dispute involving a news conference last week. (Photo by Alex Wong/Getty Images)
Politics & Current Affairs
Acosta will be allowed to return to the White House on Friday.
The judge described the ruling as narrow, and didn't rule one way or the other on violations of the First Amendment.
The case is still open, and the administration may choose to appeal the ruling.
Progressive America would be half as big, but twice as populated as its conservative twin.
Image: Dicken Schrader
Strange Maps
America's two political tribes have consolidated into 'red' and 'blue' nations, with seemingly irreconcilable differences.
Perhaps the best way to stop the infighting is to go for a divorce and give the two nations a country each
Based on the UN's partition plan for Israel/Palestine, this proposal provides territorial contiguity and sea access to both 'red' and 'blue' America
The definition of a kilogram will now be fixed to Planck's constant, a fundamental part of quantum physics.
Surprising Science
The new definition of a kilogram is based on a physical constant in quantum physics.
Unlike the current definition of a kilogram, this measurement will never change.
Scientists also voted to update the definitions of several other measurements in physics.
Big think's weekly newsletter.
Get smarter faster from the comfort of your inbox.
See our newsletter privacy policy
here
Most Popular
Most Recent
Big think's weekly newsletter.
Get smarter faster from the comfort of your inbox.
See our newsletter privacy policy
here
© Copyright 2007-2018 & BIG THINK, BIG THINK EDGE,
SMARTER FASTER trademarks owned by The Big Think, Inc. All rights reserved.