Immigrant entrepreneurs and the American economy
22 February, 2011
\n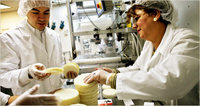 \nThe people in the picture may look like doctors, but they're actually two small business entrepreneurs from Queens making traditional Colombian flatbreads known as arepas. If you've ever spent any amount of time in the outer boroughs of New York City, then you know the city is positively teeming with these small mom-and-pop type stores run by thrifty, hard-working immigrant families. (To a lesser degree, these immigrant-run businesses exist in Manhattan, but it's much harder to do business next to a bunch of chain restaurants and big-box retailers). Anyway, the New York Times shines the spotlight on these immigrant-run businesses, calling them "entrepreneurial spark plugs" for the economy:
---
\n\n
As the flow of immigrants to suburban and small-town America\noutpaces the growth of bustling ethnic centers in New York, many\nforeign-born entrepreneurs... are facing an unfamiliar\ncrossroads. In the city, rising rents and density hamper growth, while\nswelling ethnic enclaves in the suburbs generate competitors. Yet in\nother places, opportunity beckons as never before, as immigrants expand\nthe tastes of mainstream America.

\n\n

Whether these businesses\nexploit the new chances to break out or succumb to the new perils, the\ncity's economy will feel the effects. "Immigrants have been the\nentrepreneurial spark plugs of cities from New York to Los Angeles,"\nsaid Jonathan Bowles, the director of the Center for an Urban Future, a\nprivate, nonprofit research organization that has studied the dynamics\nof immigrant businesses that turned decaying neighborhoods into vibrant\ncommercial hubs in recent decades. "These are precious and important\neconomic generators for New York City, and there's a risk that we might\nlose them over the next decade."
\n\n\n\n\n\n\n\n
What's amazing is that the city doesn't do more to encourage these businesses. As the article points out, these businesses tend to get caught up with language barriers, bureaucratic nightmares, and credit problems.
\n\n
Which sounds a lot like the state of innovation in many companies today. The people doing the innovating on the "edges" of the corporation are needlessly bogged down with bureaucratic nightmares and hoops to jump through. Yet, it is exactly this type of raw innovation that needs to be nurtured, protected and given an outlet to grow.
\n\n
[image: Immigrant Entrepreneurs]
\n
Pfizer's partnerships strengthen their ability to deliver vaccines in developing countries.
Susan Silbermann, Global President of Pfizer Vaccines, looks on as a health care worker administers a vaccine in Rwanda. Photo: Courtesy of Pfizer.
Sponsored
Community healthcare workers face many challenges in their work, including often traveling far distances to see their clients
Pfizer is helping to drive the UN's sustainable development goals through partnerships.
Pfizer partnered with AMP and the World Health Organization to develop a training program for healthcare workers.
The stories we tell define history. So who gets the mic in America?
Videos
History is written by lions. But it's also recorded by lambs.
In order to understand American history, we need to look at the events of the past as more prismatic than the narrative given to us in high school textbooks.
Including different voices can paint a more full and vibrant portrait of America. Which is why more walks of American life can and should be storytellers.

There is no doubt that the historical Jesus, the man who was executed by the Roman State in the first century CE, was a brown-skinned, Middle Eastern Jew.
Hans Zatzka (Public Domain)/The Conversation, CC BY-ND
popular
I grew up in a Christian home, where a photo of Jesus hung on my bedroom wall. I still have it. It is schmaltzy and rather tacky in that 1970s kind of way, but as a little girl I loved it. In this picture, Jesus looks kind and gentle, he gazes down at me lovingly. He is also light-haired, blue-eyed, and very white.
The controversy around the Torah codes gets a new life.
Michael Drosnin
Surprising Science
Mathematicians claim to see a predictive pattern in the ancient Torah texts.
The code is revealed by a method found with special computer software.
Some events described by reading the code took place after the code was written.
Big think's weekly newsletter.
Get smarter faster from the comfort of your inbox.
See our newsletter privacy policy
here
Most Popular
Most Recent
Big think's weekly newsletter.
Get smarter faster from the comfort of your inbox.
See our newsletter privacy policy
here
© Copyright 2007-2018 & BIG THINK, BIG THINK EDGE,
SMARTER FASTER trademarks owned by The Big Think, Inc. All rights reserved.