We spend 80% of our classroom time on the skills needed for 10% of our jobs
We continue to spend 80% of our classroom time (or more) on the skills needed for 10% of our jobs.
Scott McLeod
Scott McLeod, J.D., Ph.D., is an Associate Professor of Educational Leadership at the University of Kentucky. He also is the Founding Director of the UCEA Center for the Advanced Study of Technology Leadership in Education (CASTLE), the nation's only academic center dedicated to the technology needs of school administrators, and was a co-creator of the wildly popular video series, Did You Know? (Shift Happens). He has received numerous national awards for his technology leadership work, including recognitions from the cable industry, Phi Delta Kappa, and the National School Boards Association. In Spring 2011 he was a Visiting Canterbury Fellow at the University of Canterbury in New Zealand. Dr. McLeod blogs regularly about technology leadership issues at Dangerously Irrelevant and Mind Dump, and occasionally at The Huffington Post. He can be reached at scottmcleod.net.
16 February, 2011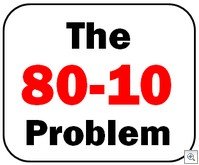 Linda Darling-Hammond notes:
---
The factory model high school as we now call it was designed in about 1910 or 1920. The idea of that comprehensive high school was to cream off about 5% of the kids for specialized knowledge work. They would go off to college and fill the very small number of jobs that required that kind of thinking. The rest of the kids were supposed to be prepared for the farm, the factory, the mills - for you know, fairly rote kinds of learning. And over time vocational programs were put in place and other kinds of general programs.
The notion of these schools was that they were to select and sort kids, decide who was going to go where in the economy. Most of the work was not going to be thinking work. And we were going to crank them out on this assembly line process.
Richard Elmore confirms that the factory-school model continues today:
When you code classroom practice for level of cognitive demand . . . 80% of the work is at the factual and procedural level. . . . [Teachers] will do low-level work and call it high-level work.
The average fifth grader received five times as much instruction in basic skills as instruction focused on problem solving or reasoning; this ratio was 10:1 in first and third grades.
The United States Bureau of Labor Statistics notes:
Agricultural workers = 2.12 million
Manufacturing workers = 11.67 million
All workers = 138.98 million
Overall share of agricultural and manufacturing workers = 10%
It's 2010, and the vast majority of American jobs are in the services sector. Yet we continue to spend 80% of our classroom time (or more) on the skills needed for 10% of our jobs.
Principals, superintendents, school board members, and policymakers: Could the problem be any clearer? Isn't this a pretty damning indictment of our inability to change? Aren't you all supposed to be leaders?
Related Articles
Both schizophrenics and people with a common personality type share similar brain patterns.
(shutterstock)
Mind & Brain
A new study shows that people with a common personality type share brain activity with patients diagnosed with schizophrenia.
The study gives insight into how the brain activity associated with mental illnesses relates to brain activity in healthy individuals.
This finding not only improves our understanding of how the brain works but may one day be applied to treatments.
It's a development that could one day lead to much better treatments for osteoporosis, joint damage, and bone fractures.
Image: Nissim Benvenisty
Surprising Science
Scientists have isolated skeletal stem cells in adult and fetal bones for the first time.
These cells could one day help treat damaged bone and cartilage.
The team was able to grow skeletal stem cells from cells found within liposuctioned fat.
Gut bacteria play an important role in how you feel and think and how well your body fights off disease. New research shows that exercise can give your gut bacteria a boost.
National Institutes of Health
Surprising Science
Two studies from the University of Illinois show that gut bacteria can be changed by exercise alone.
Our understanding of how gut bacteria impacts our overall health is an emerging field, and this research sheds light on the many different ways exercise affects your body.
Exercising to improve your gut bacteria will prevent diseases and encourage brain health.
Big think's weekly newsletter.
Get smarter faster from the comfort of your inbox.
See our newsletter privacy policy
here
Most Popular
Most Recent
Big think's weekly newsletter.
Get smarter faster from the comfort of your inbox.
See our newsletter privacy policy
here
© Copyright 2007-2018 & BIG THINK, BIG THINK EDGE,
SMARTER FASTER trademarks owned by The Big Think, Inc. All rights reserved.