Big ideas.
Once a week.
Subscribe to our weekly newsletter.
Who Needs Antioxidants? No One.
17 April, 2013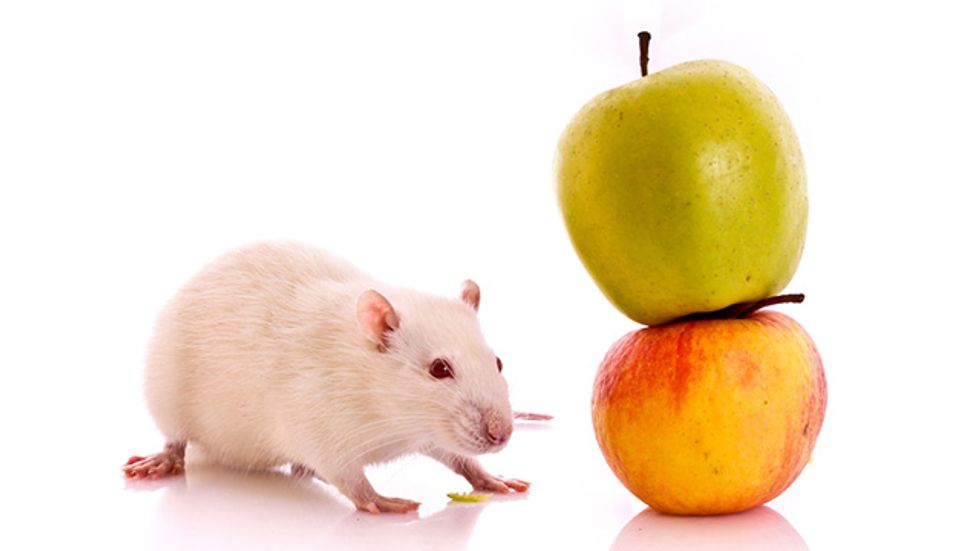 It's hard to walk down a grocery aisle these days and not notice the many food labels that shout out "Rich in Antioxidants!" or "Good source of Antioxidants!" or "Fights free radicals!" The labels don't just beckon; they taunt you. They dare you to be stupid enough to turn your back on a good source of antioxidants. "You don't really want to go around unprotected against oxidants, do you?" they seem to ask. Meanwhile you slink out of the supermarket with a bad case of pomegranate remorse, unsure if heart disease will strike you dead in the parking lot because you failed to start the day with a pint of blueberries.
---
Here's the thing, though. The story you've been fed about antioxidants being good for you because they stave off the buildup of toxic free radicals (which supposedly are a major cause of aging and disease)? That's all rubbish, basically. The food industry uses the antioxidant rap, along with the "low trans fat" come-on (and several other well-known gimmicks), to guilt-trip gullible consumers into preferring, paying more for, and consuming more of the very foods and beverages that many of us are trying to cut back on. This is the well-studied health halo effect, whereby extraordinary nutritional claims have the effect of tricking people into making irrational food decisions. (For more, see this study in The Journal of Consumer Research and this one in The Journal of Consumer Psychology showing that dieters are more likely than non-dieters to be tricked.) Food labels that promise "Rich source of antioxidants" are crass marketing ploys. They have nothing to do with health.
Why all the fuss, then, about antioxidants?
The Free Radical Theory of Aging, proposed in the 1950s by Denham Harman, says that oxygen-containing free radicals play a key role in the aging process because of their tendency to increase oxidative damage to macromolecules. The theory gained credence when it was found that oxidative damage to lipids, DNA, and proteins does tend to accumulate with age in a wide variety of tissues, across a wide variety of animal models. In studies of the life-extending effect of severe caloric restriction (discussed here), animals who lived the longest showed the most resistance to oxidative stress. Likewise, overexpression of antioxidative genes extends the life of fruit flies, and variations in longevity among different species inversely correlate with the rates of mitochondrial generation of superoxide radical and hydrogen peroxide. (See this paper.) From these and other highly suggestive lines of inquiry, we know that oxidative damage and aging go hand-in-wrinkly-hand.
The trouble with what we know thus far is that it's all correlative: damage from oxidative stress correlates with aging. That's different from being able to say it causes aging.
If we take a few steps back and ask a few fundamental questions, we find that the whole Free Radical Theory of Aging (which has lately morphed into the Oxidative Stress Theory of Aging) rests on surprisingly weak foundations.
First, there's no evidence that free radicals are produced in toxic amounts in living cells. In vivo, superoxide anion is efficiently converted to hydrogen peroxide, which, on its own, is "poorly reactive: it does not oxidize most biological molecules including lipids, DNA, and proteins" (Halliwell et al., "Hydrogen peroxide: Ubiquitous in cell culture and in vivo?", IUBMB Life, 50: 251–257, 2000, PDF here). Concentrated hydrogen peroxide is toxic (it's a fine disinfectant), but at the dilute concentrations found in living cells, hydrogen peroxide is harmless.
Secondly, peroxides are ubiquitous in living systems (again see the Halliwell paper, mentioned above). In higher life forms H2O2 is produced in vivo by monoamine oxidase, xanthine oxidase, various dismutases, and other enzymes, under homeostatic control. Hydrogen peroxide is actually a widely used signalling molecule (see references 21 to 26 in the Halliwell paper) and recent work has shown a role for hydrogen peroxide in reparative neovascularization. (Recruitment of immune cells to wounds likewise appears to require hydrogen peroxide.)
So the familiar catechism about peroxides (and aldehydes and other "reactive oxygen species") causing harmful free radical buildup, while it makes a good story, is not well substantiated. Even if peroxides were harmful, aerobic organisms have a very powerful and efficient enzyme called catalase that converts any excess hydrogen peroxide directly to molecular oxygen and water. Molecular oxygen is, of course, extremely valuable to an aerobic cell, since oxygen drives respiration. As a secondary source of oxygen, peroxide is likewise valuable. (Anaerobic life forms such as tetanus bacteria lack catalase, for the simple reason that they have no use for molecular oxygen.) If the Free Radical Theorists were right, air-breathing animals that had no catalase should choke on accumulated hydrogen peroxide. In point of fact, acatalasemia (a genetic condition that results in lack of catalase in humans) was first reported in Japan in the 1950s. Sufferers exhibit no pathology other than increased susceptibility to periodontal infection.
Until recently, there was no direct way to test (experimentally) the idea that aging and oxidative stress are causally related. But with the advent of genetically modified mice, that's changed.
Viviana Pérez and her colleagues at the University of Texas Health Science Center in San Antonio, Texas did a thorough investigation into the life-extending (or -reducing) effects of various mutations involving oxidative enzymes in mice. (From here, the discussion gets a bit technical. Feel free to skim over the next half dozen paragraphs if the biology gets too intense.) The results of the Pérez group's mouse studies are of huge importance to the debate around antioxidants.
The ultimate test for any antioxidant-based theory of aging would be to see whether mice show fewer signs of aging (e.g., less DNA damage with age)—and actually live longer—when enzymes involved in combating oxidative stress are increased (over-expressed). The Pérez team tried exactly this approach.
There are two major superoxide dismutases that break down superoxides in cells: CuZnSOD and MnSOD (genetic markers SOD1 and SOD2). When mice were made to over-express SOD1 (so that they had two to five times the normal activity of the CuZnSOD enzyme), the mice were indeed more resistant to oxidative stress as measured by standard tests involving tolerance of paraquat and diquat. But the mice lived no longer than ordinary mice.
The same was observed for mice that over-expressed SOD2.
When Pérez et al. created mice that over-expressed catalase, they found the mice were less prone to DNA damage—but lived no longer than normal.
In mice with upregulated glutathione peroxidase 4 (another important antioxidative enzyme), enhanced protection against various kinds of oxidative stress was demonstrated. But the mice lived no longer than normal wild-type animals.
The Pérez group also tried over-expressing more than one antioxidative gene at once. No combination produced any lifespan extension.
In sum, mice do not live longer when they over-express antioxidant enzymes (singly or in combinations), even though they show heightened protection against DNA damage, lipid damage, and other typical signatures of oxidative stress.
Pérez et al. concluded:
We believe the fact that the lifespan was not altered in the majority [of] the knockout/transgenic mice is strong evidence against oxidative stress/damage playing a major role in the molecular mechanism of aging in mice.
Until the Pérez research came out, the U.S. Department of Agriculture, on its web site, maintained a large public database of ORAC (oxygen radical absorbance capacity) values for various foodstuffs. In 2010, USDA took the entire database down "due to mounting evidence that the values indicating antioxidant capacity have no relevance to the effects of specific bioactive compounds, including polyphenols, on human health."
U.S. regulatory agencies (FDA and FTC) take a dim view of unsupported claims for antioxidant benefits. European agencies are, if anything, even stricter. The European Food Safety Authority issued a lengthy opinion on antioxidants in February 2010. It stated:
A cause and effect relationship has not been established between the consumption of the food(s)/food constituent(s) evaluated in this opinion and a beneficial physiological effect related to antioxidant activity, antioxidant content, or antioxidant properties.
From time to time, food makers get a slap on the wrist for violating food labeling laws around antioxidants. In 2010, for example, the Federal Trade Commission sanctioned Kellogg's (the cereal maker) for making unsubstantiated claims regarding the ability of antioxidants in Rice Krispies to bolster children's immune systems. Unfortunately, action of this sort comes rather late. The food and beverage makers (aided by their shills in the media) have already brainwashed a trusting public into thinking "antioxidants" (an absurdly broad chemical category that includes most food preservatives) have a magical ability to neutralize "harmful free radicals." Which is nonsense. Free radicals are essential to respiration; mitochondria cannot function without them. Superoxides are an unavoidable byproduct of lipid breakdown. Nitric oxide (a free radical) is an essential neurotransmitter and vasodilator. Hydrogen peroxide (supposedly a harmful Reactive Oxygen Species) is an essential signalling molecule. Antioxidants? We're an oxygen-breathing species. Our metabolism has evolved to deal with oxidants.
Perhaps the most damning evidence against the Free Radical/Oxidative Stress Theory of Aging is that after 60 years of intensive research into antioxidants, with billions of dollars spent looking for nutrients that can retard cell aging, not a single antioxidant compound has been found that can extend human life. In fact, in a shocking number of human trials, antioxidants (beta carotene, Vitamin E, Vitamin A) have actually increased all-cause mortality.
The Free Radical/Oxidative Stress Theory (like Ancient Astronaut Theory) is founded on correlation, supposition, and a nice-sounding story—and not much else. Its core assumption, namely that the buildup of Reactive Oxygen Species in normal tissues is the main driver of aging, is contradicted by the findings of Pérez et al. and many others. At this point the theory can and should be considered discredited.
If research into aging has proven one thing, it's that in order to live longer, your best strategy isn't to eat more antioxidants. It's to eat less—of everything.
A Harvard professor's study discovers the worst year to be alive.
Credit: Pieter Bruegel the Elder. (Museo del Prado).
Politics & Current Affairs
Harvard professor Michael McCormick argues the worst year to be alive was 536 AD.
The year was terrible due to cataclysmic eruptions that blocked out the sun and the spread of the plague.
536 ushered in the coldest decade in thousands of years and started a century of economic devastation.
The past year has been nothing but the worst in the lives of many people around the globe. A rampaging pandemic, dangerous political instability, weather catastrophes, and a profound change in lifestyle that most have never experienced or imagined.
But was it the worst year ever?
Nope. Not even close. In the eyes of the historian and archaeologist Michael McCormick, the absolute "worst year to be alive" was 536.
Why was 536 so bad? You could certainly argue that 1918, the last year of World War I when the Spanish Flu killed up to 100 million people around the world, was a terrible year by all accounts. 1349 could also be considered on this morbid list as the year when the Black Death wiped out half of Europe, with up to 20 million dead from the plague. Most of the years of World War II could probably lay claim to the "worst year" title as well. But 536 was in a category of its own, argues the historian.
It all began with an eruption...
According to McCormick, Professor of Medieval History at Harvard University, 536 was the precursor year to one of the worst periods of human history. It featured a volcanic eruption early in the year that took place in Iceland, as established by a study of a Swiss glacier carried out by McCormick and the glaciologist Paul Mayewski from the Climate Change Institute of The University of Maine (UM) in Orono.
The ash spewed out by the volcano likely led to a fog that brought an 18-month-long stretch of daytime darkness across Europe, the Middle East, and portions of Asia. As wrote the Byzantine historian Procopius, "For the sun gave forth its light without brightness, like the moon, during the whole year." He also recounted that it looked like the sun was always in eclipse.
Cassiodorus, a Roman politician of that time, wrote that the sun had a "bluish" color, the moon had no luster, and "seasons seem to be all jumbled up together." What's even creepier, he described, "We marvel to see no shadows of our bodies at noon."
...that led to famine...
The dark days also brought a period of coldness, with summer temperatures falling by 1.5° C. to 2.5° C. This started the coldest decade in the past 2300 years, reports Science, leading to the devastation of crops and worldwide hunger.
...and the fall of an empire
In 541, the bubonic plague added considerably to the world's misery. Spreading from the Roman port of Pelusium in Egypt, the so-called Plague of Justinian caused the deaths of up to one half of the population of the eastern Roman Empire. This, in turn, sped up its eventual collapse, writes McCormick.
Between the environmental cataclysms, with massive volcanic eruptions also in 540 and 547, and the devastation brought on by the plague, Europe was in for an economic downturn for nearly all of the next century, until 640 when silver mining gave it a boost.
Was that the worst time in history?
Of course, the absolute worst time in history depends on who you were and where you lived.
Native Americans can easily point to 1520, when smallpox, brought over by the Spanish, killed millions of indigenous people. By 1600, up to 90 percent of the population of the Americas (about 55 million people) was wiped out by various European pathogens.
Like all things, the grisly title of "worst year ever" comes down to historical perspective.
A simple trick allowed marine biologists to prove a long-held suspicion.
Surprising Science
It's long been suspected that sharks navigate the oceans using Earth's magnetic field.
Sharks are, however, difficult to experiment with.
Using magnetism, marine biologists figured out a clever way to fool sharks into thinking they're somewhere that they're not.
For some time, scientists have suspected that sharks belong among the growing number of animals known to navigate using Earth's magnetic field. Testing anything with a shark, though, requires some care.
"The reason this question has been withstanding for 50 years is because sharks are difficult to study," says Bryan Keller of the Save Our Seas Foundation. "To be honest, I am surprised it worked."
The key was selecting the right candidate. Keller and his colleagues chose the bonnethead shark, Sphyrna tiburo, a small critter that summers at Turkey Point Shoal off the coast of the Florida State University Coastal and Marine Laboratory with which Keller is affiliated.
Bonnetheads elsewhere have been known to complete 620-mile roundtrip migrations. As the lab's Dean Grubbs puts it, "That's not bad for a shark that is only two to three feet long. The question is how do they find their way back to that same estuary year after year." There's a report of a great white shark migrating between two locations, one in South Africa and another in Australia, year after year.
The research is published in Current Biology.
Shark tank
These are the three places the bonnethead sharks were magnetically fooled into thinking they were located.Credit: Keller et al. / Current Biology
Keller and his team rounded up 20 local juvenile bonnetheads and transported them into a holding tank at the marine lab. For the tests, the researchers simulated three real-world magnetic fields. As the various magnetic fields were activated, the sharks' movements were captured by GoPro cameras and their average swimming orientations calculated by software.

The first simulation, serving as a control, mimicked the magnetic field of the nearby shoal from which the sharks had been captured. When this field was activated, the sharks essentially acted like they were "home," just swimming around as they do.
A second field was the magnetic equivalent of a location 600 kilometers south of the lab within the Gulf of Mexico. When this field was activated, the sharks, apparently mistaking themselves for being far south in the Gulf, began swimming northward toward the shoal.
The opposite occurred with a field standing in for a location in continental North America 600 km north of their home shoal — the sharks began swimming southward.
Suspicion confirmed
"For 50 years," says Keller, "scientists have hypothesized that sharks use the magnetic field as a navigational aid. This theory has been so popular because sharks, skates, and rays have been shown to be very sensitive to magnetic fields. They have also been trained to react to unique geomagnetic signatures, so we know they are capable of detecting and reacting to variation in the magnetic field."
His team's experiments confirm what's long been suspected, Keller says: "Sharks use map-like information from the geomagnetic field as a navigational aid. This ability is useful for navigation and possibly maintaining population structure."
A machine learning system lets visitors at a Kandinsky exhibition hear the artwork.
Culture & Religion
Have you ever heard colors?
As part of a new exhibition, the worlds of culture and technology collide, bringing sound to the colors of abstract art pioneer Wassily Kandinsky.
Kandinsky had synesthesia, where looking at colors and shapes causes some with the condition to hear associated sounds. With the help of machine learning, virtual visitors to the Sounds Like Kandinsky exhibition, a partnership project by Centre Pompidou in Paris and Google Arts & Culture, can have an aural experience of his art.
An eye for music
Kandinsky's synesthesia is thought to have heavily influenced his painting. Seeing yellow summoned up trumpets, evoking emotions like cheekiness; reds produced violins portraying restlessness; while organs representing heavenliness he associated with blues, according to the exhibition notes.
Virtual visitors are invited to take part in an experiment called Play a Kandinsky, which allows them to see and hear the world through the artist's eyes.
Kandinsky's synesthesia is thought to have heavily influenced his 1925 painting Yellow, Red, Blue.Image: Guillaume Piolle/Wikimedia Commons
In 1925, the artist's masterpiece, "Yellow, Red, Blue", broke new ground in the world of abstract art, guiding the viewer from left to right with shifting shapes and shades. Almost a century after it was painted, Google's interactive tool lets visitors click different parts of the artwork to journey through the artist's description of the colors, associated sounds and moods that inspired the work.
But Google's new toy is not the only tool developed to enhance the artistic experience.
Artist Neil Harbisson has developed an artificial way to emulate Kandinsky by turning colors into sounds. He has a rare form of color blindness and sees the world in greyscale. But a smart antenna attached to his head translates dominant colors into musical notes, creating a real-world soundtrack of what's in front of him. The invention could open up a new world for people who are color blind.
Reprinted with permission of the World Economic Forum. Read the original article.
Politics & Current Affairs
A new study suggests that private prisons hold prisoners for a longer period of time, wasting the cost savings that private prisons are supposed to provide over public ones.
Scroll down to load more…