Vitamin D, Sun, and Cancer
Kas Thomas: The evidence is substantial enough that people should start thinking about taking substantial amounts of vitamin D as prophylaxis against cancers of all kinds.
15 October, 2013
One of the most striking findings regarding cancer incidence is that for many forms of the disease, cancer incidence is higher the further you live from the equator. Also, studies have found that the most serious cases of cancer are diagnosed in the winter.
---
This is true, for example, of colorectal cancer.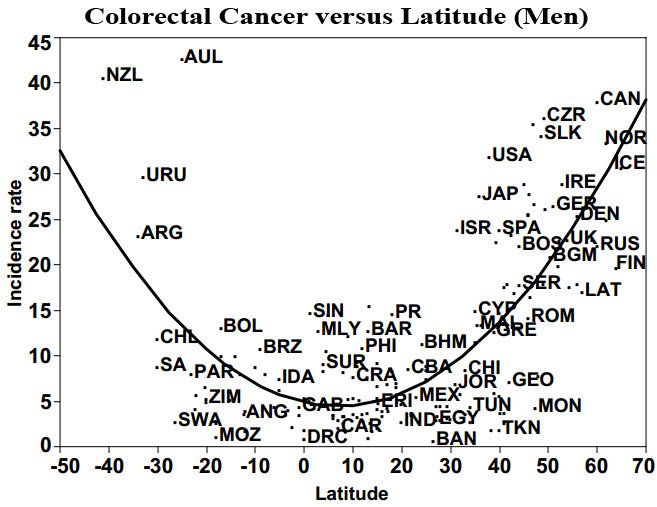 The accompanying graph comes from a 2005 paper by Mohr et al. that correlates cloud cover and distance from the equator with colorectal cancer (CRC) incidence in 175 countries. It shows quite clearly that colorectal cancer incidence varies with latitude. The countries with the lowest CRC rates are near zero degrees latitude (the equator).
The trend doesn't just apply to colorectal cancer. It also applies to breast cancer. (See graphic below.)
Breast cancer and colorectal cancer are distinctly different cancers, so in order for these graphs to be as similar as they are, there must be a common denominator of extremely broad applicability underlying the latitude trend. And there is. It turns out the common denominator is vitamin D.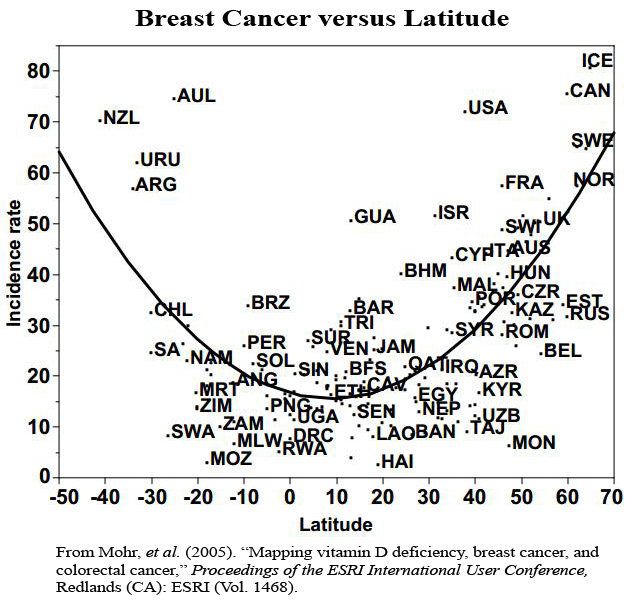 More than 2,500 research studies have been published in biomedical journals investigating the inverse association between vitamin D (and its metabolites) and cancer, including almost 300 epidemiological studies. For a good overview, I recommend the review article by Garland et al. (2009). As you review the literature, you might notice (as I did) a certain amount of hesitancy on the part of big-name researchers to come right out and pronounce vitamin D a bonafide cancer-preventive agent, due to the relative dearth of prospective (intervention-based) randomized controlled trials. (One intervention study worth reading is the 2007 trial by Lappe et al. in Am J Clin Nutr.) After the CARET disaster, no one wants to get caught recommending a vitamin regimen based on epidemiological happy-talk, and I can understand that.
Nevertheless, I think the weight of the evidence in favor of vitamin D, at this point, is substantial enough (and any down side negligible enough) that people should start thinking about taking substantial amounts of vitamin D as prophylaxis against cancers of all kinds (not just CRC and breast). If you can get adequate sun exposure, your body will make ample vitamin D on its own. (As a rough guide, 20 minutes of exposure over 40% of your body gives the equivalent of 10,000 IU, although this can vary considerably depending on skin color.) Absorption of supplemental vitamin D varies. Your doctor can suggest guidelines applicable to your body type.
My advice is: Read the literature and decide for yourself whether or not to start a vitamin D regimen. Don't wait for FDA, CDC, the National Cancer Institute, or anyone else to give you the green light on this one. They've got their own agendas to worry about.
If you found this post worthwhile, please share the link with someone you love. Thanks!
What can 3D printing do for medicine? The "sky is the limit," says Northwell Health researcher Dr. Todd Goldstein.
Northwell Health
Sponsored by Northwell Health
Medical professionals are currently using 3D printers to create prosthetics and patient-specific organ models that doctors can use to prepare for surgery.
Eventually, scientists hope to print patient-specific organs that can be transplanted safely into the human body.
Northwell Health, New York State's largest health care provider, is pioneering 3D printing in medicine in three key ways.
An ordained Lama in a Tibetan Buddhist lineage, Lama Rod grew up a queer, black male within the black Christian church in the American south. Navigating all of these intersecting, evolving identities has led him to a life's work based on compassion for self and others.
Think Again Podcasts
"What I'm interested in is deep, systematic change. What I understand now is that real change doesn't happen until change on the inside begins to happen."
"Masculinity is not inherently toxic. Patriarchy is toxic. We have to let that energy go so we can stop forcing other people to do emotional labor for us."
We were gaining three IQ points per decade for many, many years. Now, that's going backward. Could this explain some of our choices lately?
The Flynn effect appears to be in retrograde. (Credit: Shutterstock/Big Think)
popular
There's a new study out of Norway that indicates our—well, technically, their—IQs are shrinking, to the tune of about seven IQ points per generation.
Here's why generalists triumph over specialists in the new era of innovation.
Videos
Since the explosion of the knowledge economy in the 1990s, generalist inventors have been making larger and more important contributions than specialists.
One theory is that the rise of rapid communication technologies allowed the information created by specialists to be rapidly disseminated, meaning generalists can combine information across disciplines to invent something new.
Here, David Epstein explains how Nintendo's Game Boy was a case of "lateral thinking with withered technology." He also relays the findings of a fascinating study that found the common factor of success among comic book authors.
Big think's weekly newsletter.
Get smarter faster from the comfort of your inbox.
See our newsletter privacy policy
here
Most Popular
Most Recent
Big think's weekly newsletter.
Get smarter faster from the comfort of your inbox.
See our newsletter privacy policy
here
© Copyright 2007-2019 & BIG THINK, BIG THINK EDGE,
SMARTER FASTER trademarks owned by The Big Think, Inc. All rights reserved.