TSA-Proof 4th Amendment Underwear
24 November, 2010
When the TSA dramatically upped the level of intimacy for airport security scans this month, public outrage ensued, ranging from tongue-in-cheek mashups to grassroots activism. Now, designers are taking their stab at the TSA with 4th Amendment Underclothes – "a way to protest those intrusive TSA scanners without saying a word."
---
The metallic ink-printed undershirts and underwear blend the actual copy of the 4th Amendment – "The right of the people to be secure in their persons, houses, papers, and effects, against unreasonable searches and seizures, shall not be violated, and no Warrants shall issue, but upon probable cause, supported by Oath or affirmation, and particularly describing the place to be searched, and the persons or things to be seized." – with a healthy dose of snark.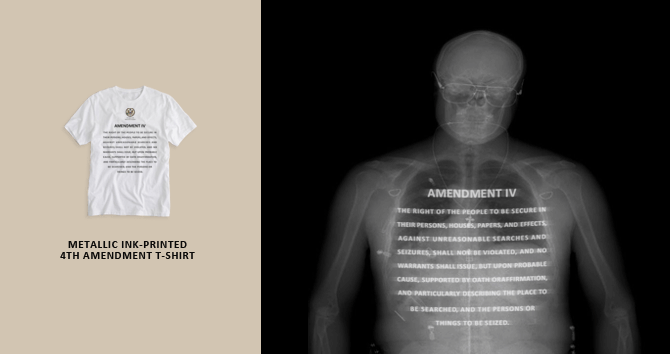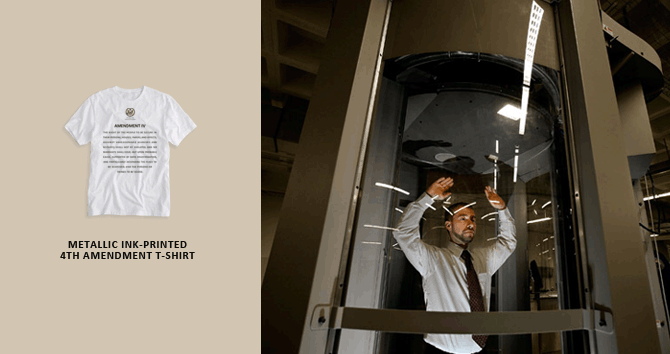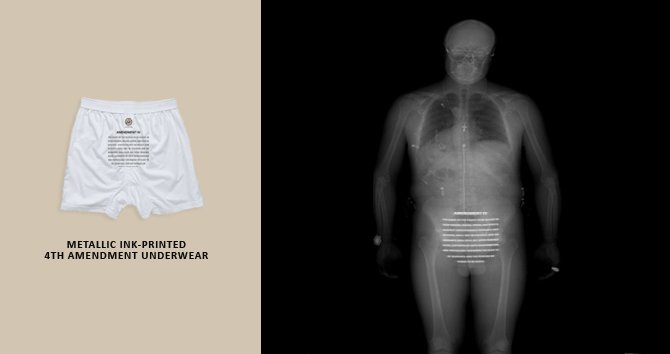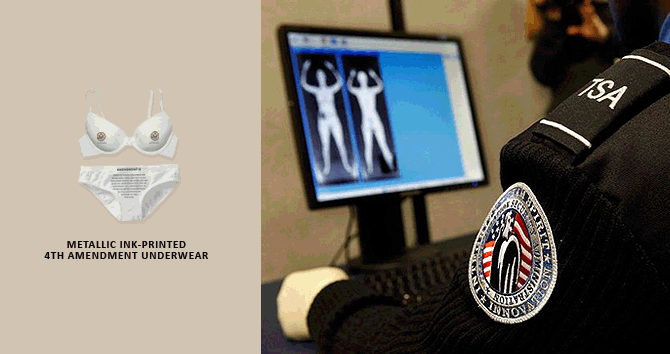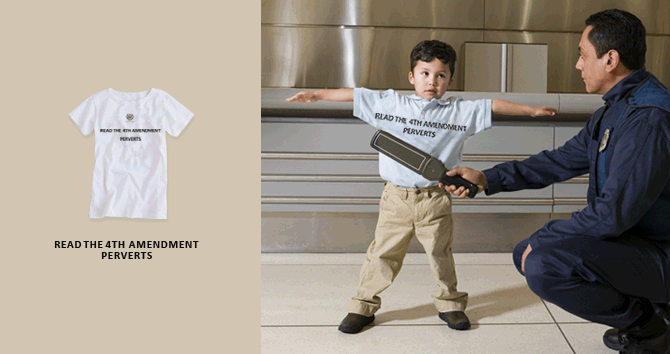 The gag-garments are available in the form of a t-shirt, either plain 4th amendment or pervert-alert, men's boxers, socks, and kid gear, ranging from $10 to $34.
via @hoogs
Maria Popova is the editor of Brain Pickings, a curated inventory of miscellaneous interestingness. She writes for Wired UK, GOOD Magazine, Design Observer and Huffington Post, and spends a shameful amount of time on Twitter.
To create wiser adults, add empathy to the school curriculum.
Sponsored by Charles Koch Foundation
Stories are at the heart of learning, writes Cleary Vaughan-Lee, Executive Director for the Global Oneness Project. They have always challenged us to think beyond ourselves, expanding our experience and revealing deep truths.
Vaughan-Lee explains 6 ways that storytelling can foster empathy and deliver powerful learning experiences.
Global Oneness Project is a free library of stories—containing short documentaries, photo essays, and essays—that each contain a companion lesson plan and learning activities for students so they can expand their experience of the world.
Philosophers like to present their works as if everything before it was wrong. Sometimes, they even say they have ended the need for more philosophy. So, what happens when somebody realizes they were mistaken?
Numerous U.S. Presidents invoked the Insurrection Act to to quell race and labor riots.
Photo by Michael Ochs Archives/Getty Images
Politics & Current Affairs
U.S. Presidents have invoked the Insurrection Act on numerous occasions.
The controversial law gives the President some power to bring in troops to police the American people.
The Act has been used mainly to restore order following race and labor riots.
Got any embarrassing old posts collecting dust on your profile? Facebook wants to help you delete them.
Facebook
Technology & Innovation
The feature is called Manage Activity, and it's currently available through mobile and Facebook Lite.
Manage Activity lets users sort old content by filters like date and posts involving specific people.
Some companies now use AI-powered background checking services that scrape social media profiles for problematic content.
Surprising Science
Researchers from Japan add a new wrinkle to a popular theory and set the stage for the formation of monstrous black holes.
Scroll down to load more…