TSA-Proof 4th Amendment Underwear
Maria Popova
Maria Popova is a reader and a writer, and writes about what she reads on Brain Pickings (brainpickings.org), which is included in the Library of Congress archive of culturally valuable materials. She has also written for The New York Times, Wired UK, and The Atlantic, among others, and is an MIT Fellow. She is on Twitter @brainpicker.
24 November, 2010
When the TSA dramatically upped the level of intimacy for airport security scans this month, public outrage ensued, ranging from tongue-in-cheek mashups to grassroots activism. Now, designers are taking their stab at the TSA with 4th Amendment Underclothes – "a way to protest those intrusive TSA scanners without saying a word."
---
The metallic ink-printed undershirts and underwear blend the actual copy of the 4th Amendment – "The right of the people to be secure in their persons, houses, papers, and effects, against unreasonable searches and seizures, shall not be violated, and no Warrants shall issue, but upon probable cause, supported by Oath or affirmation, and particularly describing the place to be searched, and the persons or things to be seized." – with a healthy dose of snark.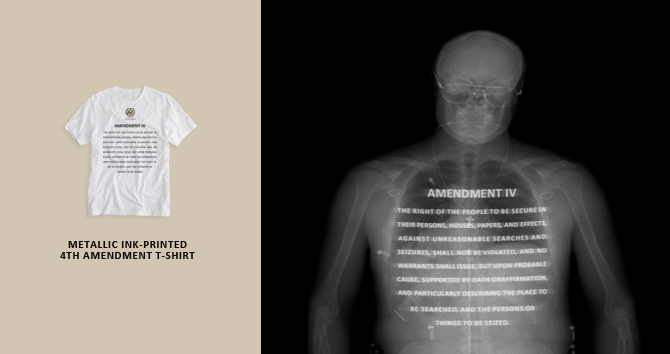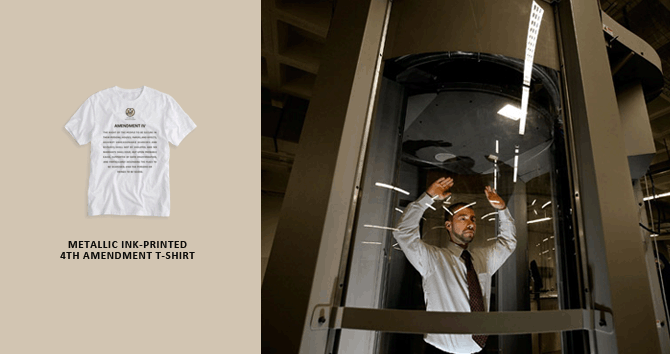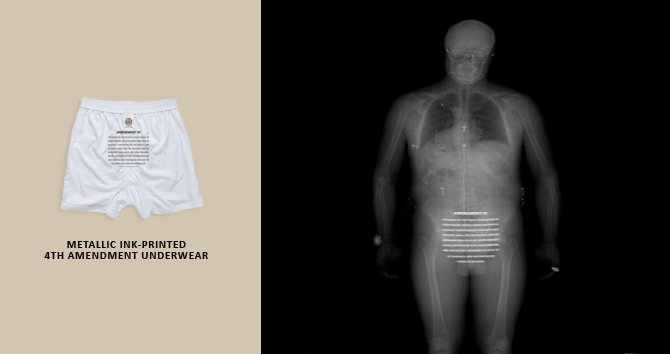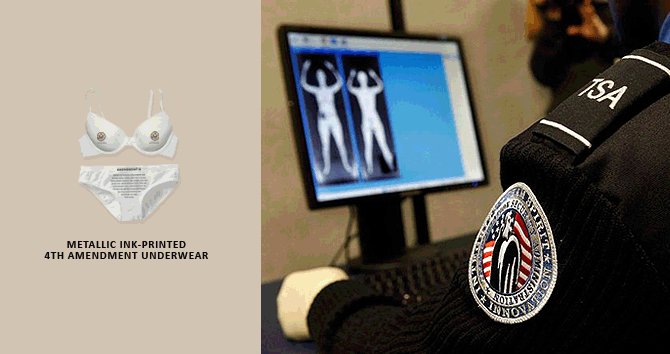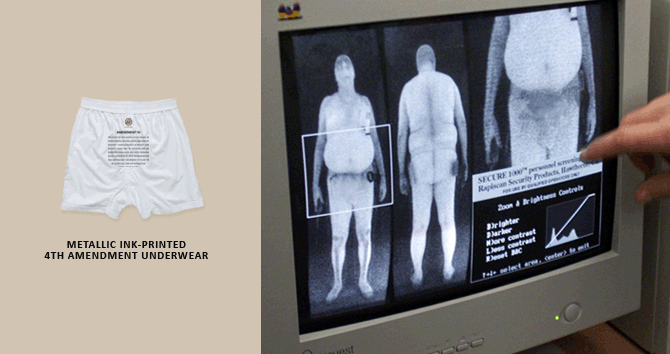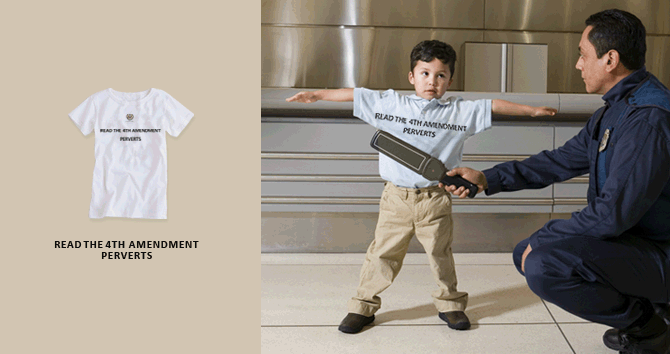 The gag-garments are available in the form of a t-shirt, either plain 4th amendment or pervert-alert, men's boxers, socks, and kid gear, ranging from $10 to $34.
via @hoogs
Maria Popova is the editor of Brain Pickings, a curated inventory of miscellaneous interestingness. She writes for Wired UK, GOOD Magazine, Design Observer and Huffington Post, and spends a shameful amount of time on Twitter.
New research identifies an unexpected source for some of earth's water.
Surprising Science
A lot of Earth's water is asteroidal in origin, but some of it may come from dissolved solar nebula gas.
Our planet hides majority of its water inside: two oceans in the mantle and 4–5 in the core.
New reason to suspect that water is abundant throughout the universe.
Progressive America would be half as big, but twice as populated as its conservative twin.
Image: Dicken Schrader
Strange Maps
America's two political tribes have consolidated into 'red' and 'blue' nations, with seemingly irreconcilable differences.
Perhaps the best way to stop the infighting is to go for a divorce and give the two nations a country each
Based on the UN's partition plan for Israel/Palestine, this proposal provides territorial contiguity and sea access to both 'red' and 'blue' America
SpaceX plans to launch about 12,000 internet-providing satellites into orbit over the next six years.
Technology & Innovation
SpaceX plans to launch 1,600 satellites over the next few years, and to complete its full network over the next six.
Blanketing the globe with wireless internet-providing satellites could have big implications for financial institutions and people in rural areas.
Some are concerned about the proliferation of space debris in Earth's orbit.
Big think's weekly newsletter.
Get smarter faster from the comfort of your inbox.
See our newsletter privacy policy
here
Most Popular
Most Recent
Big think's weekly newsletter.
Get smarter faster from the comfort of your inbox.
See our newsletter privacy policy
here
© Copyright 2007-2018 & BIG THINK, BIG THINK EDGE,
SMARTER FASTER trademarks owned by The Big Think, Inc. All rights reserved.