Kansas is Rebuilding its Entire Educational System
Kansas has launched such an ambitious educational project that public officials are likening it to the NASA moon missions of the 1960s.
Teodora Zareva
Teodora Zareva is an entrepreneur, writer, board games geek and a curious person at large. Her professional path has taken her from filmmaking and photography to writing, TEDx organizing, teaching, and social entrepreneurship. She has lived and worked in the U.S. and Bulgaria and is currently doing her MBA at Saïd Business School at the University of Oxford. Her biggest passion lies at the intersection of media and youth development. She is the co-founder of WishBOX Foundation, a Bulgarian NGO that helps high school students with their professional orientation by organizing events, courses, summer camps and developing digital media resources.
29 November, 2017
In August this year, Kansas officially launched an exciting educational reform with the goal to completely redesign the educational system in the state. It is called Kansas Can School Redesign Project and public officials are likening it to the NASA moon missions of the 1960s. They have even named the pilot school districts that will launch the new school designs in 2018 "the Mercury Seven."
---
The foundations of the school redesign project were laid in 2015 during a state-wide listening tour where state officials met with community and business leaders, parents and educators and asked them one question: "What are the characteristics, qualities, abilities and skills of a successful 24-year old Kansan?" The answers defined the bones of the redesign project.
Interestingly, the majority of the attributes mentioned were non-academic. Business leaders in particular cited non-academic skills with the most frequency (81%) and the most often mentioned one was "conscientiousness." 
Kansans overwhelmingly replied thаt in addition to academic skills, they wanted schools to teach character, citizenship, work ethics and, most importantly, for the schools to be able to address students' individual needs, talents and interests.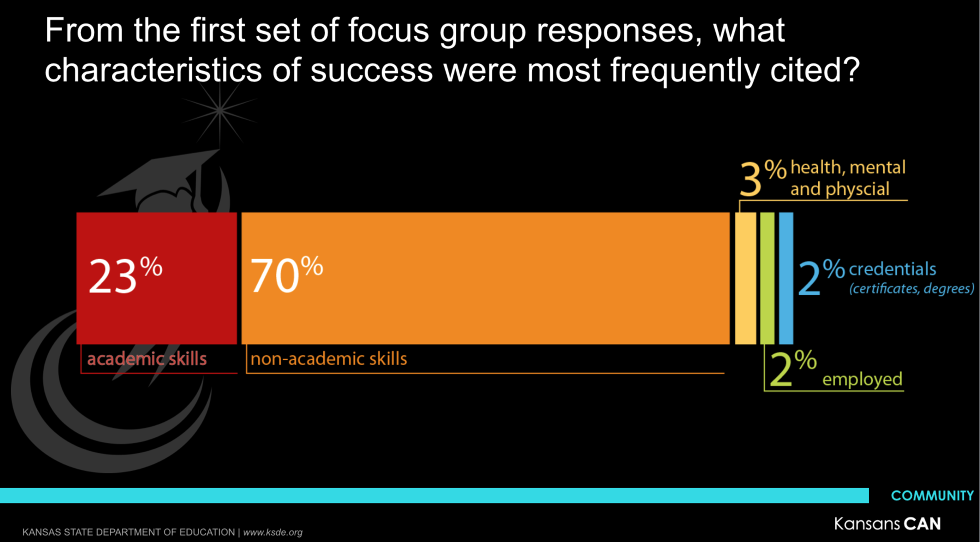 Based on the collected information, as well as plenty of additional data like academic performance and graduation trends in the state, the Kansas State Department of Education (KSDE) came up with a new vision for its schools, that it aims to materialize in the next 10 years. 
State Education Commissioner Randy Watson said:
"We have likened this to when Kennedy issued a challenge to land a man on the moon. We have a 10-year journey […]. It's a serious journey. We're trying by 2026 to totally redesign K-12 education for all 286 school districts."
He elaborated on the need for an entirely new educational system:
"[The old system] has worked for a long time, but it was predicated on two concepts. The first of those is that most workers were either going to be on a farm or they were going to go to assembly line work. Employers in Kansas and across the nation are saying that's not what work looks like today. We need different workers, we need higher skill workers. We don't need low skilled workers."

"It was also predicated on a home life that had very supportive parents that could see delayed gratification – you study this thing now, you don't know if that makes any sense, but later on you'll use it. And we had a more homogeneous clientele. So when you looked at a third grade, the (achievement) gap – there was a gap, but it wasn't that wide. Now it's pretty wide."
The new vision is built on five pillars: social and emotional growth, kindergarten readiness, individual plan of study, high school graduation rates, and post-secondary completion. As long as they follow the vision, school districts will be given freedom as to how to reorganize themselves in order to achieve it. What is important is that the schools are reorganized "around the student not the system."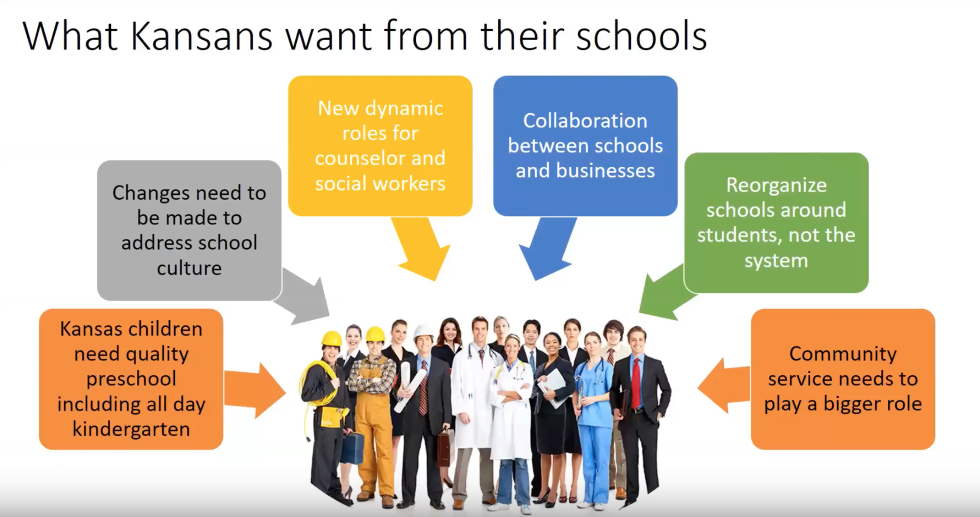 Source: KSDE
Schools will be encouraged to focus on strategic activities like improving school climate and culture, engaging the family from birth, collaborating with the community and implementing project-based learning. In addition to improving graduation rates and academic success, they should also focus on improving non-academic skills, developing critical thinking, employability and financial skills. 
Brad Neuenswander, the deputy commissioner in charge of learning services, says that someone walking into a transformed school will not see a traditional setting. For example, there maybe group of kids not based on age, but on their experience. Many adults may be supporting the kids in the group. What he describes sounds similar to what Montessori schools are like.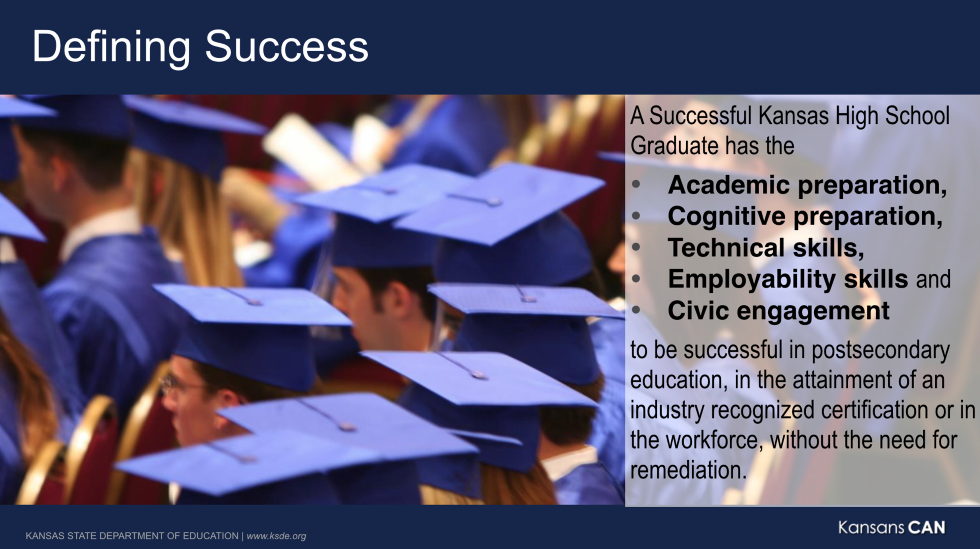 The pilot districts - "the Mercury Seven" - will be the first to encounter the difficulties in impleneting this new vision and provide valuable knowledge and experience for the rest of the state. They will also help create new measures for the skills that are prioritized by the project. Different measures will be eventually needed at state level - for employability skills or cognitive abilities as well as new assessment methods different than tests.
Still, testing is certainly not at the center of the new vision. Tammy Mitchell, one of the school redesign specialists said during a conference with pilot school representatives:
"Test scores are important but they shouldn't be what drives our work. What should drive our work is what our kids need, who they are and who they can become."
The department of education is already actively working with the first 7 school districts (14 schools) that will start the 2018-2019 academic year with their new individualized structures.
Plenty of information about the Kansas Can project and its different components can be found on the KSDE youtube channel. 
It's the first time the association hasn't hired a comedian in 16 years.
(Photo by Anna Webber/Getty Images for Vulture Festival)
Culture & Religion
The 2018 WHCA ended in controversy after comedian Michelle Wolf made jokes some considered to be offensive.
The WHCA apologized for Wolf's jokes, though some journalists and many comedians backed the comedian and decried arguments in favor of limiting the types of speech permitted at the event.
Ron Chernow, who penned a bestselling biography of Alexander Hamilton, will speak at next year's dinner.
Progressive America would be half as big, but twice as populated as its conservative twin.
Image: Dicken Schrader
Strange Maps
America's two political tribes have consolidated into 'red' and 'blue' nations, with seemingly irreconcilable differences.
Perhaps the best way to stop the infighting is to go for a divorce and give the two nations a country each
Based on the UN's partition plan for Israel/Palestine, this proposal provides territorial contiguity and sea access to both 'red' and 'blue' America
A study on flies may hold the key to future addiction treatments.
Scott Barbour/Getty Images
Mind & Brain
A new study suggests that drinking alcohol can affect how memories are stored away as good or bad.
This may have drastic implications for how addiction is caused and how people recall intoxication.
The findings may one day lead to a new form of treatment for those suffering from addiction.
Big think's weekly newsletter.
Get smarter faster from the comfort of your inbox.
See our newsletter privacy policy
here
Most Popular
Most Recent
Big think's weekly newsletter.
Get smarter faster from the comfort of your inbox.
See our newsletter privacy policy
here
© Copyright 2007-2018 & BIG THINK, BIG THINK EDGE,
SMARTER FASTER trademarks owned by The Big Think, Inc. All rights reserved.