Interior Design Spacehacking: Chair Made of 8,000 Chopsticks Unfolds Into Sofa
25 January, 2011
Spacehacking is a common craft among urban dwellers who want to make the most out of their less-than-generous floor plans. From Japanese-born, German-based designer Yuya Ushida comes Sofa_XXXX – an ingenious chair that expands into a 3-person couch. Meticulously engineered and made of 8,000 custom-made wooden chopsticks of four different lengths, the couch took three months to build.
---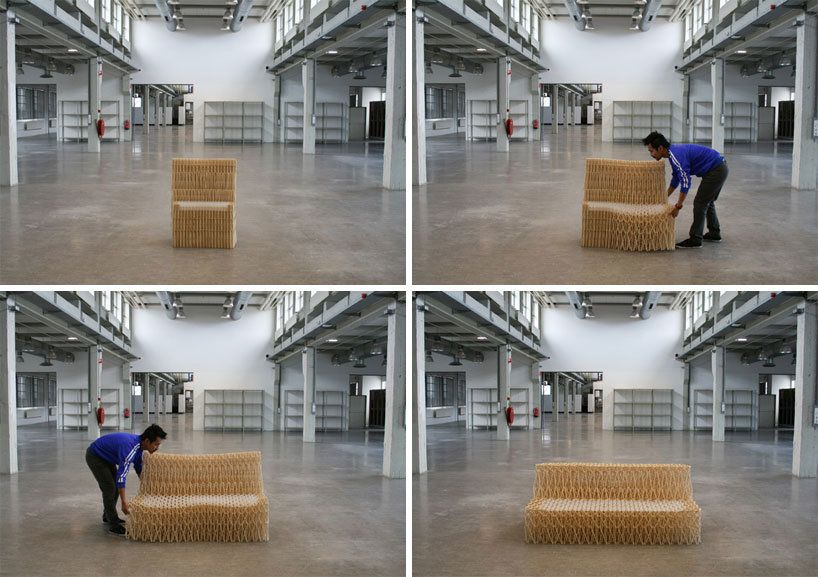 Made of biodegradable materials and remarkably space-efficient, the sofa is a pinnacle of design ingenuity and a clever solution for the spatially challenged urbanite.
via designboom
Maria Popova is the editor of Brain Pickings, a curated inventory of miscellaneous interestingness. She writes for Wired UK, GOOD Magazine, Design Observer and Huffington Post, and spends a shameful amount of time on Twitter.
A new study estimated the untapped potential of wind energy across Europe.
Pixabay
Surprising Science
A new report calculated how much electricity Europe could generate if it built onshore wind farms on all of its exploitable land.
The results indicated that European onshore wind farms could supply the whole world with electricity from now until 2050.
Wind farms come with a few complications, but the researchers noted that their study was meant to highlight the untapped potential of the renewable energy source in Europe.
Scientists make an important discovery for the future of computing.
Pixabay
Surprising Science
Researchers find a new state of matter called "topological superconductivity".
The state can lead to important advancements in quantum computing.
Utilizing special particles that emerge during this state can lead to error-free data storage and blazing calculation speed.
You want one. Now you may be able to survive one.
Technology & Innovation
Cats live in a quarter of Western households.
Allergies to them are common and can be dangerous.
A new approach targets the primary trouble-causing allergen.