Awesome Solar Roadways Project Raises $1.5 million
Teodora Zareva
Teodora Zareva is an entrepreneur, writer, board games geek and a curious person at large. Her professional path has taken her from filmmaking and photography to writing, TEDx organizing, teaching, and social entrepreneurship. She has lived and worked in the U.S. and Bulgaria and is currently doing her MBA at Saïd Business School at the University of Oxford. Her biggest passion lies at the intersection of media and youth development. She is the co-founder of WishBOX Foundation, a Bulgarian NGO that helps high school students with their professional orientation by organizing events, courses, summer camps and developing digital media resources.
29 May, 2014
Roads, pavements, and other impervious surfaces, cover 112,610 square kilometers in the US alone, which is almost exactly the size of my home country – Bulgaria. According to these calculations it will take 4 times as much surface area, or about 496,805 square kilometers of solar panels to power the world. Put the two numbers together and you get the idea of Scott and Julie Brusaw: replace all concrete roads with solar panels and solve the energy problem.
---
The idea is certainly exciting, its feasibility definitely questionable. Still, the Solar Roadways project has already won the support of the U.S. Federal Highway Administration, World Technology Award For Energy, Google, and thousands of backers on indiegogo who have secured the $1 million required for the next phase of the project – moving from prototyping to manufacturing. So, what is the project, anyway? 
Solar Roadways is a modular paving system comprised of glass solar panels that have already been tested for load, traction and impact resistance (and can withstand the heaviest of trucks - 250,000 pounds). The panels can be installed on roads, parking lots, driveways, sidewalks, bike paths, playgrounds, you name it... and, of course, generate electricity. In addition, the panels are equipped with microprocessors that make the road "intelligent" and also come with heating elements that will keep the roads snow and ice free all year long. The panels have many other features as well, like LEDs to make road lines and signage (imagine a playground made of solar panels which is one day a soccer field, another a basketball field and so on), and attached Cable Corridor to store and treat stormwater and provide a "home" for power and data cables (no more cables hanging above ground). According to the inventors, EVs will be able to charge from parking lots and driveways and after a roadway system is in place, mutual induction technology will allow for charging while driving.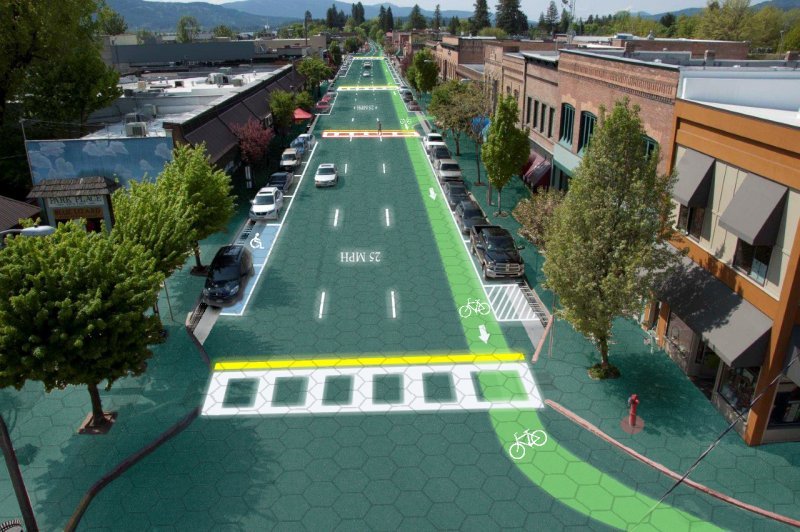 On the other side of this visionary project is the reality of its cost. According to some calculations, it will cost $56 trillion to actually cover all roads in the U.S with the solar panels. Nevertheless, the creators say that "Many have been waiting on redoing driveways, parking lots, etc. hoping that we will be ready to give them the solar option they want." 
Solar Roadways can also become the Smart Grid. The roads that already traverse each country are perfect for becoming the grid that carries our power. It will allow us to create an organized system, a decentralized system which is secure and protected, unlike the current centralized power stations. Solar Roadways can become the hub which welcomes other types of renewable energy and other inventions into the Smart Grid for distribution.
I, personally, choose to share the sentiment of the following video: imagine a world with solar freaking roadways, man!
Related Articles
Both schizophrenics and people with a common personality type share similar brain patterns.
(shutterstock)
Mind & Brain
A new study shows that people with a common personality type share brain activity with patients diagnosed with schizophrenia.
The study gives insight into how the brain activity associated with mental illnesses relates to brain activity in healthy individuals.
This finding not only improves our understanding of how the brain works but may one day be applied to treatments.
It's a development that could one day lead to much better treatments for osteoporosis, joint damage, and bone fractures.
Image: Nissim Benvenisty
Surprising Science
Scientists have isolated skeletal stem cells in adult and fetal bones for the first time.
These cells could one day help treat damaged bone and cartilage.
The team was able to grow skeletal stem cells from cells found within liposuctioned fat.
Gut bacteria play an important role in how you feel and think and how well your body fights off disease. New research shows that exercise can give your gut bacteria a boost.
National Institutes of Health
Surprising Science
Two studies from the University of Illinois show that gut bacteria can be changed by exercise alone.
Our understanding of how gut bacteria impacts our overall health is an emerging field, and this research sheds light on the many different ways exercise affects your body.
Exercising to improve your gut bacteria will prevent diseases and encourage brain health.
Big think's weekly newsletter.
Get smarter faster from the comfort of your inbox.
See our newsletter privacy policy
here
Most Popular
Most Recent
Big think's weekly newsletter.
Get smarter faster from the comfort of your inbox.
See our newsletter privacy policy
here
© Copyright 2007-2018 & BIG THINK, BIG THINK EDGE,
SMARTER FASTER trademarks owned by The Big Think, Inc. All rights reserved.