Big ideas.
Once a week.
Subscribe to our weekly newsletter.
Daylight Atheism: The Book
23 June, 2012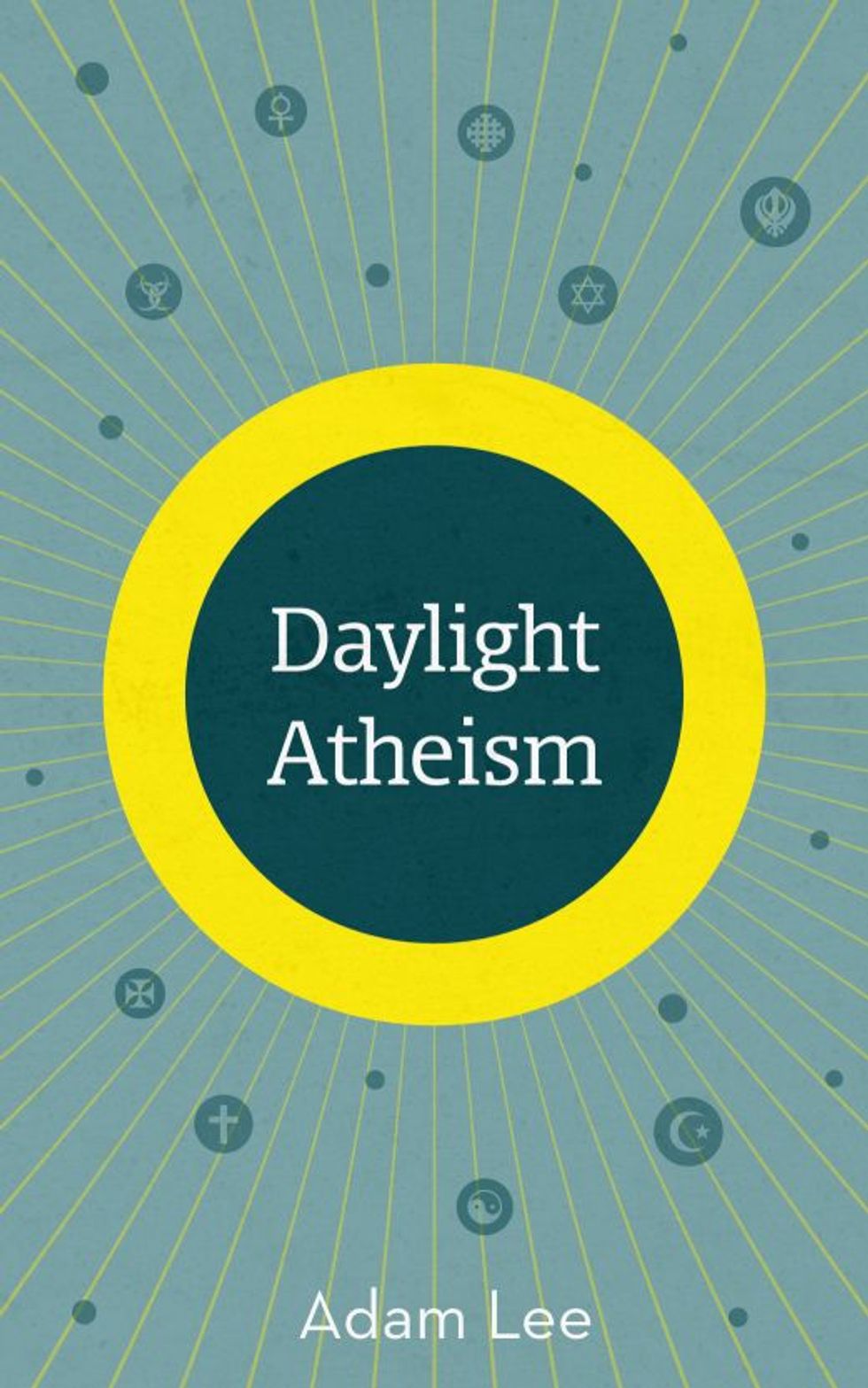 Longtime readers of this blog may remember that I wrote a book some time ago. What happened to it is something I've only alluded to a few times. Suffice to say that the full story could be a book in itself: an epic tale with more delays, false starts, and reversals of fortune than I care to remember.
---
But past is prologue. The upshot of it all is this: Today, I'm extraordinarily happy to announce that Daylight Atheism, the book, is being published by Big Think! It's currently available in e-reader and paperback formats on the following platforms:
Amazon Kindle: $9.99, http://amzn.to/NgiFgR
Smashwords (PDF, ePub, RTF, etc.): $9.99, http://bit.ly/P1tVms
Paperback (Amazon CreateSpace): $12, http://amzn.to/Pisznf
The image accompanying this post is the official cover art. Each chapter of the book is based on expanded versions of some of my favorite essays from this site and from Ebon Musings. Following is a brief synopsis and some short (but very flattering) blurbs:
* * *
Over the past few decades, atheism in America has seen explosive, unprecedented growth in its numbers, influence, and political clout. Daylight Atheism both springs from and taps into the passionate energy and intensity of this nascent social movement. Following in the footsteps of other bestselling atheist manifestos, it paints a compelling picture of the dangers we face from rampant, unchecked religion, weaving together barbarous verses from ancient texts with all-too-familiar stories from today's headlines to make the case that superstitious belief is a crutch upon which we can no longer afford to depend.
In response to religious claims that atheism is too negative, that it tears down people's faith without offering anything in return, this book also presents atheism as an uplifting and even joyous worldview, one that includes a strong moral compass governed by reason and conscience, an exhilarating freedom to steer our own destiny, and a powerful feeling of transcendent awe and wonder at the glorious vastness and complexity of the universe. Daylight Atheism metaphorically recalls the emergence of atheism from the shadows into the daylight of society's discourse, and conveys the message that being an atheist isn't something to be ashamed of, but something to be proud of.
* * *
"Adam Lee has been a voice of reason for atheists (and curious Christians) online for many years and this book, as with all of his writing, makes a strong case for the atheist worldview. I suspect you'll find it very convincing since Adam does such a thorough job of laying out the evidence against faith and sharing what many other atheists before you have said about it. Whether you're brand new to atheism or a seasoned philosopher, there's something in here to help you leave the darkness of faith and come into the daylight."
—Hemant Mehta, blogger at Friendly Atheist, author of I Sold My Soul On eBay
"For those who have left biblical religion or are wavering, Adam Lee's book is an intellectual and spiritual journey. Lee looks at Bible-belief with both compassion and unflinching honesty, but he doesn't stop there. Through a window into his own inner life and the words of leading freethinkers, he opens up the rich depth that can be found in life – and death - beyond religion."
—Valerie Tarico, blogger at Away Point, author of Trusting Doubt
"Adam Lee has long been one of my favorite atheist writers. (In fact, his blog is a big part of why I get into the game.) And this book is a perfect example of why. His writing is both clear and passionate - a tricky balance. He dismantles theism with precision and righteous anger, and offers an optimistic vision of the alternative. Atheists will find both ammunition and inspiration here - and theists who care whether the things they believe are true are encouraged to test their faith in this white-hot furnace."
—Greta Christina, blogger at Greta Christina's Blog, author of Why Are You Atheists So Angry? 99 Things That Piss Off the Godless
"Adam Lee's writing has made him one of the most widely-read atheist bloggers - and rightfully so. This effort should secure him a place amongst atheism's most informative and relatable authors."
—J.T. Eberhard, blogger at What Would JT Do?, campus organizing coordinator for the Secular Student Alliance
"Atheists---and their argument---inspire so much fear because they're so unknown. Unlearn your fear by reading Adam's book and realizing that atheists really are just like everyone else. In fact, you probably know one and just don't know it yet."
—Amanda Marcotte, blogger at Pandagon, author of It's a Jungle Out There and Get Opinionated
"To a believer, atheism can seem dark, cold, and frightening. Adam Lee opens the shutters and lets the sunlight in. Daylight Atheism speaks clearly and passionately of the joy of living a reality-based existence guided by respect for each human person. Highly recommended."
—Mary Johnson, former member of the Missionaries of Charity, author of An Unquenchable Thirst: A Memoir
* * *
If you've got questions about the book, please post them below! I'll answer to the best of my ability.
Why mega-eruptions like the ones that covered North America in ash are the least of your worries.
Image: USGS - public domain
Strange Maps
The supervolcano under Yellowstone produced three massive eruptions over the past few million years.
Each eruption covered much of what is now the western United States in an ash layer several feet deep.
The last eruption was 640,000 years ago, but that doesn't mean the next eruption is overdue.
The end of the world as we know it
Panoramic view of Yellowstone National Park
Image: Heinrich Berann for the National Park Service – public domain
Of the many freak ways to shuffle off this mortal coil – lightning strikes, shark bites, falling pianos – here's one you can safely scratch off your worry list: an outbreak of the Yellowstone supervolcano.
As the map below shows, previous eruptions at Yellowstone were so massive that the ash fall covered most of what is now the western United States. A similar event today would not only claim countless lives directly, but also create enough subsidiary disruption to kill off global civilisation as we know it. A relatively recent eruption of the Toba supervolcano in Indonesia may have come close to killing off the human species (see further below).
However, just because a scenario is grim does not mean that it is likely (insert topical political joke here). In this case, the doom mongers claiming an eruption is 'overdue' are wrong. Yellowstone is not a library book or an oil change. Just because the previous mega-eruption happened long ago doesn't mean the next one is imminent.
Ash beds of North America
Ash beds deposited by major volcanic eruptions in North America.
Image: USGS – public domain
This map shows the location of the Yellowstone plateau and the ash beds deposited by its three most recent major outbreaks, plus two other eruptions – one similarly massive, the other the most recent one in North America.
Huckleberry Ridge
The Huckleberry Ridge eruption occurred 2.1 million years ago. It ejected 2,450 km3 (588 cubic miles) of material, making it the largest known eruption in Yellowstone's history and in fact the largest eruption in North America in the past few million years.
This is the oldest of the three most recent caldera-forming eruptions of the Yellowstone hotspot. It created the Island Park Caldera, which lies partially in Yellowstone National Park, Wyoming and westward into Idaho. Ash from this eruption covered an area from southern California to North Dakota, and southern Idaho to northern Texas.
Mesa Falls
About 1.3 million years ago, the Mesa Falls eruption ejected 280 km3 (67 cubic miles) of material and created the Henry's Fork Caldera, located in Idaho, west of Yellowstone.
It was the smallest of the three major Yellowstone eruptions, both in terms of material ejected and area covered: 'only' most of present-day Wyoming, Colorado, Kansas and Nebraska, and about half of South Dakota.
Lava Creek
The Lava Creek eruption was the most recent major eruption of Yellowstone: about 640,000 years ago. It was the second-largest eruption in North America in the past few million years, creating the Yellowstone Caldera.
It ejected only about 1,000 km3 (240 cubic miles) of material, i.e. less than half of the Huckleberry Ridge eruption. However, its debris is spread out over a significantly wider area: basically, Huckleberry Ridge plus larger slices of both Canada and Mexico, plus most of Texas, Louisiana, Arkansas, and Missouri.
Long Valley
This eruption occurred about 760,000 years ago. It was centered on southern California, where it created the Long Valley Caldera, and spewed out 580 km3 (139 cubic miles) of material. This makes it North America's third-largest eruption of the past few million years.
The material ejected by this eruption is known as the Bishop ash bed, and covers the central and western parts of the Lava Creek ash bed.
Mount St Helens
The eruption of Mount St Helens in 1980 was the deadliest and most destructive volcanic event in U.S. history: it created a mile-wide crater, killed 57 people and created economic damage in the neighborhood of $1 billion.
Yet by Yellowstone standards, it was tiny: Mount St Helens only ejected 0.25 km3 (0.06 cubic miles) of material, most of the ash settling in a relatively narrow band across Washington State and Idaho. By comparison, the Lava Creek eruption left a large swathe of North America in up to two metres of debris.

The difference between quakes and faults
The volume of dense rock equivalent (DRE) ejected by the Huckleberry Ridge event dwarfs all other North American eruptions. It is itself overshadowed by the DRE ejected at the most recent eruption at Toba (present-day Indonesia). This was one of the largest known eruptions ever and a relatively recent one: only 75,000 years ago. It is thought to have caused a global volcanic winter which lasted up to a decade and may be responsible for the bottleneck in human evolution: around that time, the total human population suddenly and drastically plummeted to between 1,000 and 10,000 breeding pairs.
Image: USGS – public domain
So, what are the chances of something that massive happening anytime soon? The aforementioned mongers of doom often claim that major eruptions occur at intervals of 600,000 years and point out that the last one was 640,000 years ago. Except that (a) the first interval was about 200,000 years longer, (b) two intervals is not a lot to base a prediction on, and (c) those intervals don't really mean anything anyway. Not in the case of volcanic eruptions, at least.
Earthquakes can be 'overdue' because the stress on fault lines is built up consistently over long periods, which means quakes can be predicted with a relative degree of accuracy. But this is not how volcanoes behave. They do not accumulate magma at constant rates. And the subterranean pressure that causes the magma to erupt does not follow a schedule.
What's more, previous super-eruptions do not necessarily imply future ones. Scientists are not convinced that there ever will be another big eruption at Yellowstone. Smaller eruptions, however, are much likelier. Since the Lava Creek eruption, there have been about 30 smaller outbreaks at Yellowstone, the last lava flow being about 70,000 years ago.
As for the immediate future (give or take a century): the magma chamber beneath Yellowstone is only 5 percent to 15 percent molten. Most scientists agree that is as un-alarming as it sounds. And that its statistically more relevant to worry about death by lightning, shark, or piano.
Strange Maps #1041
Got a strange map? Let me know at strangemaps@gmail.com.

Measuring a person's movements and poses, smart clothes could be used for athletic training, rehabilitation, or health-monitoring.
Technology & Innovation
In recent years there have been exciting breakthroughs in wearable technologies, like smartwatches that can monitor your breathing and blood oxygen levels.
But what about a wearable that can detect how you move as you do a physical activity or play a sport, and could potentially even offer feedback on how to improve your technique?
And, as a major bonus, what if the wearable were something you'd actually already be wearing, like a shirt of a pair of socks?
That's the idea behind a new set of MIT-designed clothing that use special fibers to sense a person's movement via touch. Among other things, the researchers showed that their clothes can actually determine things like if someone is sitting, walking, or doing particular poses.
The group from MIT's Computer Science and Artificial Intelligence Lab (CSAIL) says that their clothes could be used for athletic training and rehabilitation. With patients' permission, they could even help passively monitor the health of residents in assisted-care facilities and determine if, for example, someone has fallen or is unconscious.
The researchers have developed a range of prototypes, from socks and gloves to a full vest. The team's "tactile electronics" use a mix of more typical textile fibers alongside a small amount of custom-made functional fibers that sense pressure from the person wearing the garment.
According to CSAIL graduate student Yiyue Luo, a key advantage of the team's design is that, unlike many existing wearable electronics, theirs can be incorporated into traditional large-scale clothing production. The machine-knitted tactile textiles are soft, stretchable, breathable, and can take a wide range of forms.
"Traditionally it's been hard to develop a mass-production wearable that provides high-accuracy data across a large number of sensors," says Luo, lead author on a new paper about the project that is appearing in this month's edition of Nature Electronics. "When you manufacture lots of sensor arrays, some of them will not work and some of them will work worse than others, so we developed a self-correcting mechanism that uses a self-supervised machine learning algorithm to recognize and adjust when certain sensors in the design are off-base."
The team's clothes have a range of capabilities. Their socks predict motion by looking at how different sequences of tactile footprints correlate to different poses as the user transitions from one pose to another. The full-sized vest can also detect the wearers' pose, activity, and the texture of the contacted surfaces.
The authors imagine a coach using the sensor to analyze people's postures and give suggestions on improvement. It could also be used by an experienced athlete to record their posture so that beginners can learn from them. In the long term, they even imagine that robots could be trained to learn how to do different activities using data from the wearables.
"Imagine robots that are no longer tactilely blind, and that have 'skins' that can provide tactile sensing just like we have as humans," says corresponding author Wan Shou, a postdoc at CSAIL. "Clothing with high-resolution tactile sensing opens up a lot of exciting new application areas for researchers to explore in the years to come."
The paper was co-written by MIT professors Antonio Torralba, Wojciech Matusik, and Tomás Palacios, alongside PhD students Yunzhu Li, Pratyusha Sharma, and Beichen Li; postdoc Kui Wu; and research engineer Michael Foshey.
The work was partially funded by Toyota Research Institute.
Reprinted with permission of MIT News. Read the original article.

How imagining the worst case scenario can help calm anxiety.
Credit
: OLIVIER DOULIERY via Getty Images
Personal Growth
Stoicism is the philosophy that nothing about the world is good or bad in itself, and that we have control over both our judgments and our reactions to things.
It is hardest to control our reactions to the things that come unexpectedly.
By meditating every day on the "worst case scenario," we can take the sting out of the worst that life can throw our way.
Are you a worrier? Do you imagine nightmare scenarios and then get worked up and anxious about them? Does your mind get caught in a horrible spiral of catastrophizing over even the smallest of things? Worrying, particularly imagining the worst case scenario, seems to be a natural part of being human and comes easily to a lot of us. It's awful, perhaps even dangerous, when we do it.
But, there might just be an ancient wisdom that can help. It involves reframing this attitude for the better, and it comes from Stoicism. It's called "premeditation," and it could be the most useful trick we can learn.
Practical Stoicism
Broadly speaking, Stoicism is the philosophy of choosing your judgments. Stoics believe that there is nothing about the universe that can be called good or bad, valuable or valueless, in itself. It's we who add these values to things. As Shakespeare's Hamlet says, "There is nothing either good or bad, but thinking makes it so." Our minds color the things we encounter as being "good" or "bad," and given that we control our minds, we therefore have control over all of our negative feelings.
Put another way, Stoicism maintains that there's a gap between our experience of an event and our judgment of it. For instance, if someone calls you a smelly goat, you have an opportunity, however small and hard it might be, to pause and ask yourself, "How will I judge this?" What's more, you can even ask, "How will I respond?" We have power over which thoughts we entertain and the final say on our actions. Today, Stoicism has influenced and finds modern expression in the hugely effective "cognitive behavioral therapy."
Helping you practice StoicismCredit: Robyn Beck via Getty Images
One of the principal fathers of ancient Stoicism was the Roman statesmen, Seneca, who argued that the unexpected and unforeseen blows of life are the hardest to take control over. The shock of a misfortune can strip away the power we have to choose our reaction. For instance, being burglarized feels so horrible because we had felt so safe at home. A stomach ache, out of the blue, is harder than a stitch thirty minutes into a run. A sudden bang makes us jump, but a firework makes us smile. Fell swoops hurt more than known hardships.
What could possibly go wrong?
So, how can we resolve this? Seneca suggests a Stoic technique called "premeditatio malorum" or "premeditation." At the start of every day, we ought to take time to indulge our anxious and catastrophizing mind. We should "rehearse in the mind: exile, torture, war, shipwreck." We should meditate on the worst things that could happen: your partner will leave you, your boss will fire you, your house will burn down. Maybe, even, you'll die.
This might sound depressing, but the important thing is that we do not stop there.
Stoicism has influenced and finds modern expression in the hugely effective "cognitive behavioral therapy."
The Stoic also rehearses how they will react to these things as they come up. For instance, another Stoic (and Roman Emperor) Marcus Aurelius asks us to imagine all the mean, rude, selfish, and boorish people we'll come across today. Then, in our heads, we script how we'll respond when we meet them. We can shrug off their meanness, smile at their rudeness, and refuse to be "implicated in what is degrading." Thus prepared, we take control again of our reactions and behavior.
The Stoics cast themselves into the darkest and most desperate of conditions but then realize that they can and will endure. With premeditation, the Stoic is prepared and has the mental vigor necessary to take the blow on the chin and say, "Yep, l can deal with this."
Catastrophizing as a method of mental inoculation
Seneca wrote: "In times of peace, the soldier carries out maneuvers." This is also true of premeditation, which acts as the war room or training ground. The agonizing cut of the unexpected is blunted by preparedness. We can prepare the mind for whatever trials may come, in just the same way we can prepare the body for some endurance activity. The world can throw nothing as bad as that which our minds have already imagined.
Stoicism teaches us to embrace our worrying mind but to embrace it as a kind of inoculation. With a frown over breakfast, try to spend five minutes of your day deliberately catastrophizing. Get your anti-anxiety battle plan ready and then face the world.
Jonny Thomson teaches philosophy in Oxford. He runs a popular Instagram account called Mini Philosophy (@philosophyminis). His first book is Mini Philosophy: A Small Book of Big Ideas.
Personal Growth
A study on charity finds that reminding people how nice it feels to give yields better results than appealing to altruism.
Scroll down to load more…